So, you've decided to spend some time in Brussels, you've brushed up on your French, Googled the best waffles in Brussels and made a small to-do list. Now all you need is to find a hotel in Brussels.
Brussels, the lively capital of Belgium, has long been a hit with European city-breakers for a number of different reasons. Firstly, it isn't too big, which makes working out where to stay in Brussels pretty easy as everything is reasonably close. Secondly, it oozes history and culture (and beer).
These are some of the best hotels in Brussels, Belgium, which you should be able to find on most any hotel booking site out there.
Budget Accommodation in Brussels Under $30
When I say budget I mean dorm beds that come to less than $30. The ones I have curated are also located either in or within walking distance of the city center and have good reviews. As you probably know already, cheap accommodation is the key to long-term travel so let's check out the budget accommodation in Brussels:
1. 2GO4 Hostel in Brussels
Bang smack in the city center, this chic hostel is where all the action is. From the hostel, it is just a quick walk to Brussels' bars, restaurants, and clubs. The rooms are comfy and spacious and they have fantastic WiFi and a well-equipped kitchen. If you're traveling alone then this is a great place to meet people as they have a great little common room. This is definitely one of the cooler hostels in Brussels.
2. Urban City Centre Hostel
The Urban City Centre Hostel in Brussels ticks all the boxes when it comes to what makes the perfect hostel. It has clean, modern rooms with a simple design and comfortable beds. The bathrooms are equipped with everything you need and there is a common area where you can mingle or work. Tick, tick, tick.
3. Meininger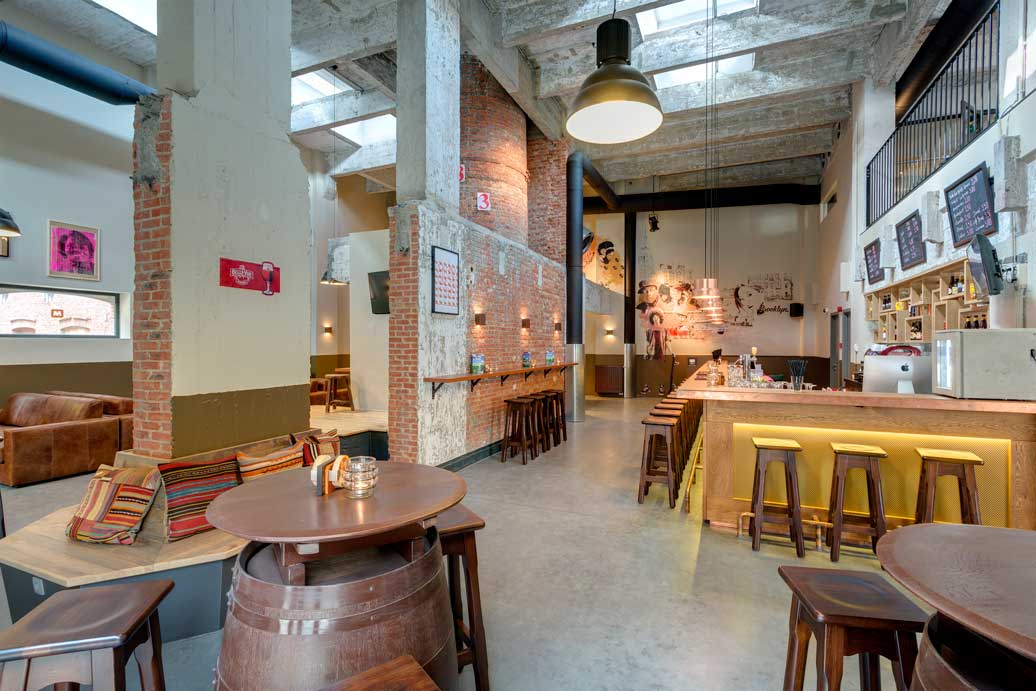 Interior design is important for a hostel. Get it wrong and you could cost yourself a lot of business. Luckily, The Meininger Hostel will never have this problem. With plenty of exposed brick and dashes of comic strips printed on various walls, this place is the very definition of cool. It also prides itself on being eco-friendly and CO2 neutral but the best part really is that it's a budget accommodation in Brussels.
Mid-Range Places to Stay in Brussels Under $150
If you want to splash out a bit but you don't want to break the bank then one of these mid-range options could be ideal. They are a head and shoulders above your standard youth hostel but you won't get your own private butler. For all the inbetweeners out there, this is where to stay in Brussels.
4. The Augustin
This lavish hotel certainly leaves nothing to be desired in the comfort department. The rooms are bright and breezy with a neutral color scheme and big, plush beds. If you're the kind of person who likes to exercise on holiday (weirdo) there is a fitness center. If you would rather spend your trip drinking (sensible) there is a bar in the hotel and a number of other drinking dens within walking distance.
5. NH Brussels Louise
Stylish and comfortable, this huge and rather regal looking hotel is well-located and jam-packed with mod-cons. There is a restaurant downstairs if you're too lazy to go searching for food and a fitness center to burn off what you've just eaten. There are cafés and bars nearby and all of Brussels' most famous sights are within a 10-30 minute walk.
6. Thon Hotel
Just 10 minutes away from the Belgian Comic Strip Centre (which is actually cooler than it sounds), the Thon Hotel makes a great base to explore the sights and sounds of Brussels. The décor is quirky, combining white and cream with splashes of lime green and the facilities are all new and shiny. Previous guests have rated this place highly for food and service – see what you think.
Luxury Hotels in Brussels Under $300
Ah, luxury hotels. Fluffy pillows, fuzzy slippers, cushy robs, and bathrooms large enough for a party. There's room service at your beck and call and in the morning, the most extravagant breakfast display waiting for you to dig in.
This is where to stay in Brussels should you want to treat yo'self to the luxury hotels Belgium offers.
7. Stanhope Hotel
A far cry from anything you saw in the 'budget' section, the Stanhope Hotel combines a vintage décor with a range of modern comforts. Tasteful and stylish, this luxury hotel also boasts a rather opulent dining area and a library. This isn't the place to stay if you're looking for wild parties but is more for those travelers looking for a bit of sophisticated elegance and class.
8. Hotel Sofitel Brussels Le Louise
You can always count on the Sofitel to bring bliss into your life and this branch, located in the heart of Brussels, is no exception. The rooms are bathed in natural light and have snazzy little ensuites attached to them. In the main part of the hotel, you will find a gym, restaurant and business center. You probably won't use the business center but it's always nice to know it's there, right? Finally, everything you will want to see and do in Brussels is within walking distance so you don't need to faff around with buses and taxis.
9. Rocco Forte Hotel Amigo
Last but not least may I present the Rocco Forte Hotel Amigo. Palatial in size and featuring sumptuous rooms, you probably won't want to actually leave the hotel once you check-in. I don't blame you. With gourmet dining and a well-stocked bar on hand, this place has you covered. But, if you do decide to leave the hotel you will be even more delighted with its proximity to places like the Cathedral of St Michael and the City Hall. This place is the epitome of luxury hotels in Brussels.
So which of these hotels in Brussels will you find yourself in during your stay?