When I first arrived in Brussels a couple months ago, I had only a few things on my mind: waffles, chocolate, frites, and beer (but let's be honest, it was mostly beer).
Since then, I've done my due diligence and I've explored the best in Brussels. For the sake of everyone involved (but mostly my taxes), let's call it "research."
If you're looking for the best waffles, the best chocolate, the best frites, and the best beer in Brussels, this is everything you need to know.
Where to Eat and Drink in Brussels, Belgium
The Best Waffles in Brussels
Waffles are one thing the Belgians don't mess around with. When nearly every food truck in the country sells the exact same food item, you know they've got to be serious. But the real irony here, from an American standpoint, is that the Belgian waffle we've come to know isn't actually anything like the real thing (though it's no surprise, really, that America would make its own version).
In Belgium, waffles are served as street food, usually wrapped in a piece of paper and eaten with your hands. Here, because they're so well made, the real highlight is the waffle itself, not the plethora of toppings you might smother it in (though there are plenty of toppings to go around). And maple syrup? Get lost. Powdered sugar, fruit, whipped cream, and chocolate are what you'll find on real Belgian waffles. But make no mistake–a waffle with no toppings is just as good.
Before any visit to Belgium, there are two main types of waffles you need to know about: the Brussels waffle and the Liege waffle. The Brussels version is a fluffier, lighter waffle with deeper pockets made from yeast-leavened batter. The Liege waffle is more doughy, with chunks of sugar in the batter that caramelize as it cooks. The result is a more dense, chewy waffle with golden chunks of melted sugar baked right in.
Hungry yet?
1. Maison Dandoy
One of the ultimate waffles stops in Brussels is the acclaimed Maison Dandoy (pronounced: may-SON don-DWAH). The motto of this waffle paradise is "We want to make your senses twinkle and dance." I'll happily buy a waffle from any establishment with a slogan like that!
Maison Dandoy has been family owned for generations, and they use 100% all natural ingredients to produce one the best artisan waffles in Brussels. Sure, you can get a Leige waffle just about anywhere, but the one at Dandoy is top notch.
2. The Waffle Factory
The Waffle Factory might be a chain, but it's by no means average. While they do serve your traditional Brussels and Leige waffles, try something a little different: The Lunchwhaf, a lunch waffle stuffed with meats and cheeses (croque monsieur, anyone?), vegetables, and even curry!
If your sweet tooth is calling, order The Waffine, a crispy waffle stuffed with the gooey goodness of Nutella and little bits of white chocolate! Frankly, you can't go wrong with anything on the menu.
3. Le Funambule
If you like variety when it comes to your waffle, then let Le Funambule (pronounced: few-nam-BYUL) take you for a spin. It's self-serve, meaning you can smother your gaufres (the French word for waffles) in whatever you so desire. If you choose the classic 1 euro waffle, though, I guarantee no judgements will be passed.
It's also right next to Manneken Pis, so you can watch a little bronze boy taking a wee while you eat. Just perfect.
4. Mokafé
Mokafé is where you go if you like your waffle as a part of a balanced breakfast (that's a thing, right?). They have a beautiful tea room with lots of sitting space, which makes it perfect for a mid-morning waffle and cup of tea.
There are plenty of options to choose from on the menu, but you'll melt when you bite into one of these crispy, fluffy waffles topped with fresh fruit or even just some powdered sugar. But whatever you do, don't forget the chocolate.
5. Peck 47
Peck 47 is a beautiful little Greenwich Village-esque cafe found in downtown Brussels. They serve "fresh food made with lots of love," that makes me feel like I'm out for brunch on a Sunday afternoon in NYC. They're known for having an interesting menu, with some unique ingredients making up their lavish dishes. It's their waffle combos, though, that really stand out–like the one with feta and chorizo inside!
The Best Chocolate in Brussels
Belgian chocolate is world-renowned and is known to be some of the best chocolate in the world. The cacao itself usually doesn't come from Belgium, though–it's sourced from numerous places around South America, Africa, and beyond. The chocolatiers in Belgium have learned a few tricks over hundreds of years of chocolate trading, and coupled with the high level of competition for quality chocolate, it's almost guaranteed that the best chocolate in Belgium really is the best in the world.
6. Pierre Marcolini
Pierre Marcolini is known for having exotic chocolates from all over the world. They mark each morsel with the different ingredients inside, where they come from, and any other flavors that blend into the chocolate. The Madagascar chocolate, for example, tastes like yellow fruit since they're grown in the same soil.
Try the truffles, eclairs, or limited edition dark chocolates; this is also a top spot for macaroons, if that's your thing (but whose thing is it not?).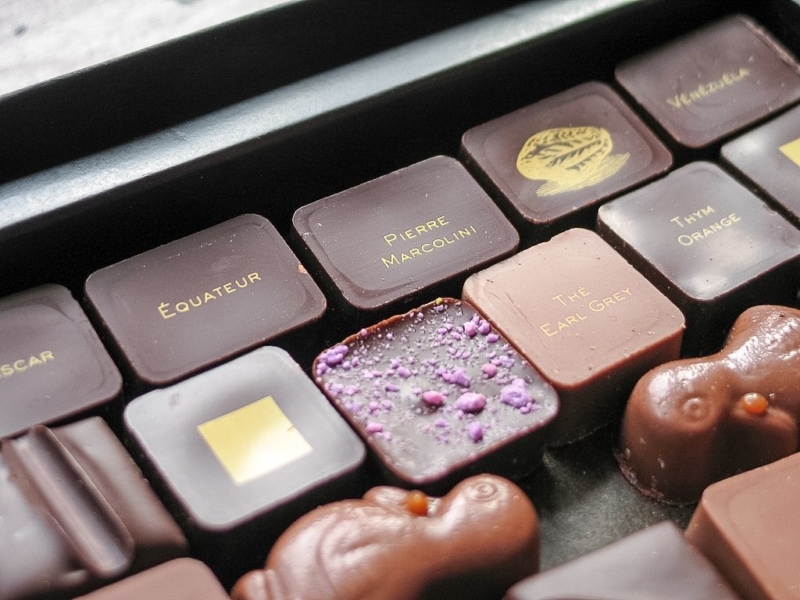 7. Laurent Gerbaud
Laurent Gerbaud is a world-famous, upscale chocolatier who really knows cacao. He doesn't sell much milk-chocolate, though–he makes and sells mostly dark chocolate, sourced primarily from Ecuador and Madagascar, which have no added sugar, no butter, no alcohol, no preservatives, no artificial flavors, and no additives. In other words it's all about the chocolate.
After picking a few tasting items, grab a cup of their famous hot chocolate and relax in their comfy tea-room.
8. Zaabär
If you're interested in the lifecycle of chocolate, visit the Zaabär chocolate factory for a one-of-a-kind learning experience. Their chocolate workshops teach the entire chocolate-making process, from the raw cacao to the moment it melts in your mouth.
At Zaabӓr, you'll find some of Brussels' most unique types of chocolates–from blocks to tutti fruttis to Napolitains–all authentic, all to die for. You can sample all of them, but don't leave without trying their chocolate bars; how can you pass up chocolate stuffed with banana and Belgian gingerbread?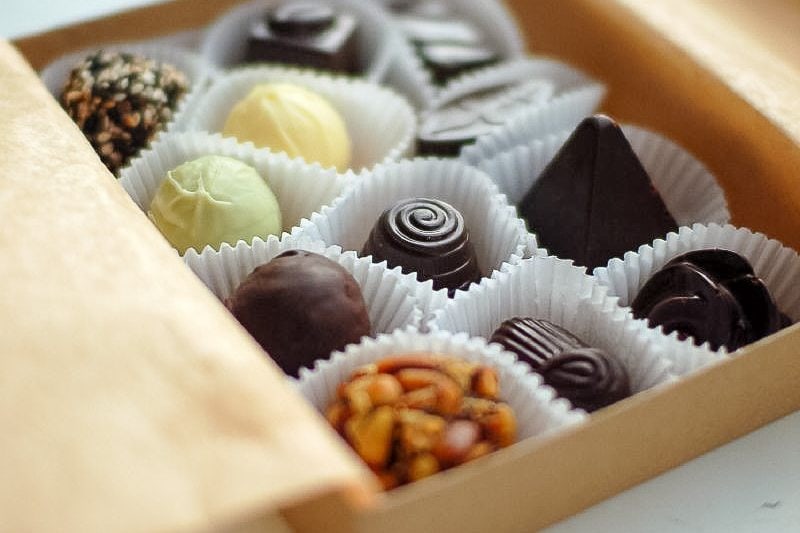 9. Neuhaus
Though Neuhaus chocolates are exported all over the world, there's nothing quite like visiting the original Neuhaus chocolatier right here in Brussels. In the Neuhaus stores (there are more than 30 of them in Brussels alone!), try any type of flavor you like, but don't miss the ones filled with Speculoos gingerbread, Italian ristretto, or bourbon! Those are my favorites.
10. Wittamer
Wittamer is the Belgian chocolatier who delivered their chocolates to the royal palace. If you're looking for chocolates fit for a king, this is your stop. But they don't sell just chocolates–they sell entire desserts. So why don't you get comfy in their tea room and relax for a while…and enjoy one of these?
11. Planète Chocolat
If the place is named "Planet Chocolate," then you can be pretty sure it's going to be good. This chocolatier, like many others, guarantees only the highest quality ingredients in their chocolate. But, what makes Planète Chocolat unique is that they're always coming up with innovative chocolate pairings. Planète Chocolate is essentially a chocolate museum, with workshops and demonstrations, but they also sell some of the best chocolate in Brussels!
The Best Frites in Brussels
Thick cut fries are not Belgian frites. And you may call it a "French fry" but it's definitely not the same thing.
Most restaurants around the world serve frozen potatoes sticks, deep fried in vegetable oil. Belgian frites are always hand cut from fresh potatoes, often cooked in animal fat, and definitely fried twice, occasionally three times. The second or third frying gives them a crispy, golden outside while keeping the inside soft and fluffy. They're usually served in a cone with your choice of sauce. And don't worry, there's more than just ketchup here–most frite stands offer ten or more sauces! Andalouse is always a house favorite.
12. Frit' Flagey
Frit' Flagey is just an old stand on the side of the road, but you can't ever judge the quality of frites based off of that. If the lines are long, you know it's good, which is exactly what's going on here. Famously known to be the best frites in Brussels (and I'll attest to that), the portion sizes are also huge, meaning you'll walk away feeling happy and full.
Their list of sauces is extensive, but the Brazil sauce is by far my favorite. If you'd rather sit down and enjoy a beer with your frites, Le Pantin and Le Pitch Pin, two venues in Flagey Square, let you BYOF.
13. Maison Antoine
Maison Antoine, like Frit' Flagey, has been voted as one of the best places to score frites in Brussels, and they've famously been visited by numerous celebrities over the years. Here, both the portions and the prices are generous, and the dozens sauces are the real "cherry on top." Get your golden goodness with some Andalouse sauce, and bite into a hand-cut frite that you know was made with love.
There are plenty of bars nearby where you can nibble on your treat while having a drink–just look for the "happy cone" on the window, which is a signal that Antoine's frites are more than welcome.
14. Chez Clémentine
Chez Clémentine, opened twenty years ago by the daughter of the proprietor of Antoine, is the only eco-friendly friterie in Brussels (with no effect on price!). So, you already know they're good, and since they're open until 6am on Friday and Saturday, I already know exactly where you'll be after a night out at the pubs.
15. Chez Eugène
Chez Eugène is a bit off the beaten path, but that's exactly what makes it so special. Located in Uccle, away from the mainstream frites (but close to Clémentine), Chez Eugène keeps things old school. Their fries are thick cut, their menus are handwritten and, as far as I can tell, they don't even have a website or Facebook page!
16. Chez Fernand
Not far from Maison Antoine, at Chez Fernand you'll avoid the long lines but still get a veritable portion of golden brown fries! Their shop doesn't have the standard feel of most friteries in Belgium, though–it's modern and trendy, with fresh paint and flatscreen TVs. But, if the weather is nice, you can take them to Park Meudon right across the street.
The Best Beer Bars in Brussels
Since the 12th century, monks in Belgium have been selling beer to raise money for their abbeys. Nowadays, much of the beer is made by the Trappists, a specific order of monks that produce goods to provide income for their monastery. Only ten monasteries in the world are certified to brew and sell Trappist beer, however, and six of them are in Belgium.
Though the term Trappist beers are often used to suggest Belgian beers, the Trappist style is just one of many you'll find in Belgium. It would literally take months to sample them all! From dubels to tripels to lambics to sour brown, there is a lot of exploring to do when it comes to beer, and the Belgians take it very seriously. Here's where to get started.
17. Toone
It's easy to walk by this place since it's pretty small, kind of dark and very old. The thing is, the Théâtre Royal de Toone (pronounced: tone) has an extensive history dating back to the 1600's that makes it well worth a visit–the tavern doubles as a puppet theater! Who doesn't want to watch a puppet show while having a beer? (Hint: I do!) This cozy place serves up a great selection of Belgian beers and is sure to provide you with a memorable night out in Brussels.
18. Delirium Cafe and Little Delirium
These two sister bars may sound familiar. To answer your question, yes, it's the same Delirium that makes the beer! Delirium Cafe and Little Delirium are two funky bars that are not to be missed in Brussels–they're a bit touristy, but they're great nonetheless, and they're something of a Belgian icon. Their wide range of more than 3,000 beers (not a typo) means you can order anything from the classic Tremens to something a little more unique–like a cookie beer!
19. La Porte Noire
If you like drinking in a 16th-century cellar (who doesn't?), and you're after a real Belgian night out, then La Porte Noire is for you. Located in the heart of Brussels, La Porte Noire is a small, local favorite that offers a more alternative vibe for a 20-something crowd. You're guaranteed a great night out at La Porte Noire!
20. Moeder Lambic
If you're a lambic lover (I'm not), make your way to Moeder Lambic. It's their house specialty, but they've got plenty of beer on tap, too. The staff are very knowledgable and friendly and they'll kindly introduce you to some new brews you've never tried before. What's more, Moeder Lambic has some great bar food to go along with your drinks. Bon appetit!
21. À La Mort Subite
À La Mort Subite dates back to the early 20th century, and it hasn't changed much since then (which is a good thing). The history here is what makes it such a great place, and a cold Belgian beer will transport you to a simpler time. If you want some good beer but don't want the raucousness of a night out, you'll find a more sophisticated drinking crowd at À La Mort Subite.
Have you been to Brussels? Where did you find the best waffles, chocolates, frites or beer? Tell us in the comments below!
---
READ NEXT: Where to Stay in Brussels, Belgium