To many travelers, living in Europe is the ultimate dream. I mean, who doesn't want to wake up on the coast of Spain or spend the afternoon skiing down the Alps? Once you know how to move to Europe permanently, you can spend your days traveling, eating, and trekking your way around this magnificent continent.
Last year, I spent eight months backpacking through Europe. After falling in love with the place, I decided to pack up my life in America and move to the land of flowing beer and pretzels—Germany!
And I can tell you from my experience that moving to Europe could be the best decision you will ever make!
Although planning to move abroad is very exciting, you should be prepared for a long, complicated, and not always well-explained process. But I'll explain how you can move to Europe permanently, and what to expect when it comes to long-term visas.
How Long Can I Stay in Europe?
If you're planning on visiting or moving to Europe permanently, then you'll first need to figure out how long you're allowed to stay. And in most cases, the amount of time you can be in Europe will depend on your nationality, visa type, and purpose of visit.
For short term stays, most people can visit Europe for 90 days. Some nationalities might need a visa before you step on European soil. Other nationalities, like Americans, Canadians, and Australians can enter most countries in Europe without a visa for three months.
If you want to stay longer than a few months, then the answer is a little more complicated. You'll need to get a long-term visa, which will allow you to stay in Europe anywhere from six months to several years.
What Is the Schengen Agreement?
Before we discuss how to move to Europe permanently, you should familiarize yourself with the Schengen agreement.
To put it simply, countries in the Schengen Agreement have agreed on border-free travel. That means residents and foreigners can freely move from one Schengen country to another, without needing to go through border control.
If you're traveling through the Schengen area, your passport may not be checked at the airport or train station. However, you should still carry your passport in case of emergencies.
It's also important to note that the Schengen area is not the same as the European Union. While many European countries are part of Schengen, some countries like the U.K. and Ireland are excluded.
At the moment, 26 countries (22 EU and 4 non-EU) participate in the Schengen agreement:
Austria
Belgium
Czech Republic
Denmark
Estonia
Finland
France
Germany
Greece
Hungary
Iceland
Italy
Latvia
Liechtenstein
Lithuania
Luxembourg
Malta
Netherlands
Norway
Poland
Portugal
Slovakia
Slovenia
Spain
Sweden
Switzerland
How Long Can I Stay in Europe Without a Visa?
Fortunately, it's relatively easy to visit Europe for a short time without a visa. But the exact length of time you're allowed to stay will depend on a variety of factors, most importantly, your nationality and the country you plan to visit.
For example, Americans are able to stay visa-free within the Schengen area for up to 90 days within a 180-day period. Once your 90 days are up, you'll technically need to leave the Schengen area for a minimum of 90 days before entering again.
Likewise, Canadian and Australian visitors can also stay in the Schengen area for up to 90 days without a visa.
During your stay, you'll be able to travel to any country within the Schengen area. That means you can arrive in Italy, take a train to Germany and end up in France without needing to show your passport.
Keep in mind that your 90-day stay is only valid for travel in the Schengen area. If you plan to visit another E.U. country that's not in the Schengen area, such as the UK, Ireland and Croatia, then different visa rules may apply.
If you come from a country that requires a Schengen visa, then you will need to apply before entering a country in the Schengen area.
How to Get a Visa for Europe
Most people can stay for three months in a European Schengen country without a visa. But, some nationalities must obtain a Schengen visa before entering Europe, even as a tourist.
With the Schengen Visa, you'll be able to stay for up to 90 days in Europe.
However, you may be wondering how to move to Europe for longer than three months. If this is the case, then you'll need to apply for a long-term visa.
It's important to realize that there isn't one generic visa for moving to Europe permanently. Each country operates independently and offers a variety of long-term options. After you decide where you want to live, you'll need to figure out if you're eligible for one of the available visa types.
Unfortunately, getting a long-term visa isn't easy for everyone. The requirements for each type of visa will vary, and some can be extremely difficult to obtain. Not to mention, the process for visa approval can take months or even years.
How to Move to Europe Permanently from the U.S.
As an American citizen, you'll have plenty of exciting opportunities waiting for you in Europe. Whether you come to work abroad, study, or simply to spend time traveling—it's relatively easy to make Europe your new home.
Just like any other foreigner, Americans need to obtain a long-term visa for stays in Europe longer than 90 days. And if you're planning on finding a travel job during your stay, you must apply for a visa with a work permit, such as an E.U. Blue Card.
Some countries have special agreements with the US, which means it can be easier to get a long-term visa as an American. For example, being an American entitled me to a residence permit in Germany. All I had to do was register my address, purchase health insurance, and prove I had sufficient funds in my bank account.
As an American, you can also apply for a working holiday visa in Ireland. Although Ireland is the only country in Europe with a working holiday program for the U.S., it still gives you the chance to move abroad. While there's no age limit, you must be a current university student or a recent graduate to apply.
How to Travel in Europe for a Year (or More!)
Why limit yourself to a short two week trip in France or a long overdue vacation to Spain?
If you know how to move to Europe, you could spend months exploring multiple countries and cultures. In fact, you can actually spend an entire year in Europe without needing a visa!
Although you can only stay in a Schengen country for up to 90 days, there are still ways to work the system. To start, you can alternate between living in a Schengen and non-Schengen country. These countries create their own immigration rules, which would exclude them from the 90-day limit.
That means you could spend an exciting year hopping around from country to country. Spend your first three months in a Schengen country before heading to England, Ukraine, Croatia, or another non-Schengen country.
Many of these places allow you to stay for up to 90 days as well. Which means by the time you're done spending a few months in the Balkans or the U.K., you can go back to France or Italy and restart the 90-day clock.
Ultimately, you can move between Schengen and non-Schengen countries as many times as you'd like. And while you won't be able to work or file taxes, you can still live in Europe for a year as a tourist. And if you're not bored of the nomadic lifestyle, you can realistically do this for as long as you'd like!
How to Move to Europe Permanently
I won't beat around the bush; knowing how to move to Europe permanently is challenging.
Rules and long-term visa options vary from one country to another. And in many cases, there may be strict guidelines and long wait times.
But despite what you may think, it's still possible to move to Europe. Although some countries are easier to move to than others, there are a few common ways to obtain a long-term visa.
Find a Job with a European Company to Get a Work Visa
One of the easiest ways to stay in Europe permanently is to get a job with a European country. Once you have a job, you can apply for the E.U. Blue Card which allows you to live, stay, and work in Europe for the duration of your work contract.
E.U. Blue Cards are for highly-skilled employees who make an income of more than 53,000 Euros per year.
You must also have a university degree, and a full-time contract at the time of applying for the Blue Card.
Alternatively, you can apply for a six month Job Seeker/Employment visa. This visa would allow you to initially move to Europe and spend the next few months looking for employment. Once you find work, you can apply for the E.U. Blue Card.
Websites like Linkedin, Indeed, Glassdoor and CareerBuilder list thousands of available positions throughout Europe.
Most countries also have their own local job sites for foreigners. For example, Germany has Xing, France has Jobs in Paris and Norway has Finn.no.
Get a Student Visa from a University to Stay in Europe
Most European countries provide student visas to people enrolled in college or university. With a student visa, you'll be able to live in Europe until your program is complete. And in some countries, you might be allowed to work part-time to earn extra cash for your travels.
A few countries—like Spain and Germany—also give visa for students learning a foreign language. That means you can enroll in a language school for a few hours a week, and get a long-term visa to stay in Europe fur the duration of your lessons.
One downside of the student visa is that you'll need to pay for the classes themselves. Depending on your curriculum, this could cost anywhere from a few hundred to several thousand dollars.
However, many countries have embraced free higher education for residents and expats. The universities in Germany, Finland, and Norway are completely free to attend. While the schools in France, Austria, and Sweden aren't exactly free, they are very affordable in comparison to schools in the U.S.
Get European Citizenship by Descent or Ancestry
If you have ancestors from a European country, you might be eligible for European citizenship. Many countries in Europe allow you to apply for citizenship if you have a parent, grandparent or great-grandparent that was born in Europe.
Essentially, claiming European citizenship would allow you to live, work and study throughout Europe without ever having to apply for a visa!
Best of all, your dual citizenship will allow you to live in most European countries. So, even if you have an Irish passport, you can still live in Italy or France, since both countries are in the EU.
In some countries, like Germany and Ireland, citizenship by descent is only given to people whose parents or grandparents were born in Europe.
On the other hand, Lithuania and the Czech Republic will grant you citizenship if you're great-grandparents were native. And other countries, like Italy, Hungary and Poland, will give you citizenship as long as you can trace your lineage back to a native relative.
Marry a European to get a Long-Term Visa!
Last but not least, you can always get married for a long-term marriage or family reunion visa! This residence visa is valid for five years and can be renewed for the duration of your marriage. With a marriage visa, you'll be able to work and get benefits like a regular E.U. national.
Although it might cost money to have a wedding, the marriage visa itself is free of charge. And while I highly recommend falling in love first, getting a visa through marriage is one of the more unique ways to move to Europe permanently.
Easiest Countries to Immigrate to in Europe
With 44 countries in Europe to choose from, finding the right home for your next move can be a real challenge.
Each country has its own set of rules and regulations for long-term expats. However, there are a few notable places where it's easier for foreigners to obtain visas.
Immigrate to Belgium
Home to mouth-watering waffles, rich chocolates, and craft beer—Belgium is an ideal place to live in Europe. English is commonly spoken throughout large cities, and the country's central location makes it easy to travel to other places.
Not to mention, Belgians enjoy a higher quality of life compared to other countries in Europe.
If you want to stay longer than 90 days in Belgium, you can apply for either a non-immigrant or immigrant visa.
Non-immigrant visas are for people who plan to stay in Belgium for a few months or years but who don't plan on moving to Europe permanently. For example, non-immigrant visas are issued for students, temporary workers and au pairs.
If you want to stay in Belgium indefinitely, then you can apply for different types of immigrant visas. Long-term immigrant visas are given to full-time employees, entrepreneurs starting a business, and self-employed workers.
Immigrate to Estonia
Estonia is an up-and-coming expat destination that's overflowing with natural beauty and ancient architecture. This affordable, tech-savvy country openly welcomes foreigners from all walks of life.
So, if spending your free time swimming in a lake or trekking up the mountain sounds enticing, then Estonia might be the right place for you.
You can apply for a visa in Estonia for work, study, or self-employment. This type of visa is referred to as the D visa, or long term visa. With a D visa, you can stay for up to one year in Estonia.
If your school program or employment contract goes longer than one year, you can register for a residence permit after you arrive. This would allow you to continue living in Estonia for longer than what your visa states.
Get a Long Term Visa in Italy
Italy is often considered one of the best vacation destinations on the planet.
It's easy to see why you would want to move to Italy. After all, you'll be able to enjoy gourmet foods, jaw-dropping scenery, and outstanding culture every day of the year!
With enough money in your savings, you can apply for a long-term visa in Italy. For your application, you'll need to prove you have enough money to financially support yourself for the duration of your stay.
You stand a higher chance of being approved if you have at least €30,000 in savings (about $33,000). But keep in mind that the exact total isn't clear.
The only stipulation is that you cannot work while living in Europe. But if lounging in Tuscany or venturing through Rome sounds up your alley, then moving to Italy may be a good option.
Apply for a Germany Artist Visa
Unlike other countries in Europe, Germany makes it relatively easy for you to move to Europe. Especially considering that they support creative freelancers and artists through the artist visa.
This visa is granted for a variety of professions. As long as you have a decent portfolio and work experience, you can probably persuade the immigration officer to approve your application. For example, painters, musicians, photographers, and dancers are frequent recipients of the visa.
However, the artist visa is only eligible if you live in Berlin. If you plan to move to another city in Germany, you can only apply for the generic freelance visa. Although this visa has more requirements to meet, it's still another option for self-employed workers and digital nomads. It's also safe to travel to Germany, and the country offers very fair wages–in other words, it's an excellent place to live that expat life.
Get a Long-Term Residence Visa in Spain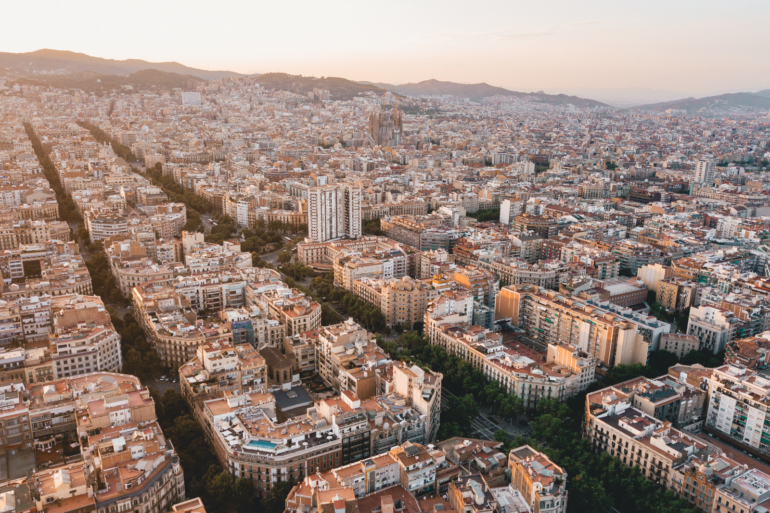 Spain is often considered one of the easiest places for foreigners to move to in Europe permanently. And fortunately, Spain is also brimming with beautiful cities and diverse landscapes, which makes it an excellent option for expats.
You can apply for a long-term visa as an employee, student, au pair, entrepreneur, and real estate investor. The length of time you're able to spend in Spain will depend on many factors, like your school program or work contract.
And if you have enough funds to support yourself, you'll be eligible for the non-lucrative resident visa. The visa itself is only valid for three months. However, you can apply for a residence permit once you arrive. This permit is valid for two years and you can extend it for up to seven years.
Spend a Year in Albania Visa-Free
As an American citizen, you could spend a year relaxing on the Adriatic coast or trekking the Albanian Alps in Albania.
You can enter Albania without a visa, and stay without a residence permit for an entire year. Once the year is over, you will need to leave for 90 days to restart the clock on your time limit. This is a great opportunity to travel around Europe, as you can stay in the Schengen area for up to three months without a visa.
Once the 90-day restriction is up, you can return back to Albania for another year!
Get a Year-Long Visa in France
If you want to spend time in France, then you can apply for a long stay visa. This extended visitor visa will allow you to stay in France for up to a year.
To apply, you will need proof of accommodation, health insurance for the duration of your stay, and enough money to support yourself. There isn't a specific amount of money required, but I've heard that having at least €2500 per month should be sufficient.
You cannot work on this visa, so you will also need a formal notarized letter stating that you won't engage in any work-related activities.
Apply for a Temporary Residence Permit in Germany
Germany was one of the first places I looked at when I was looking up how to move to Europe permanently.
While most German long-term visas are granted for students and employees, there's actually another type of permit that's given to citizens privileged countries, including the US.
This is the type of visa that allows me to live in Munich and travel throughout Europe. I actually didn't even know this type of permit existed until another American friend of mine got approved!
I applied for a temporary residence permit, or Aufenthaltserlaubnis, for privileged countries. While you cannot work on this visa, you can live and travel around Europe. You will need to have a German address, proof of health insurance and enough funds savings to support yourself.
According to the German government, these permits are only granted for a year (although they can be renewed). However, I was given a residence permit for the duration of my health insurance plan, which is 1.5 years.
Schengen Visa Expired Overstay Rules
Technically speaking, you cannot stay in the Schengen area past 90 days unless you have a long-term visa. Doing so may result in hefty fines, deportation, and in some cases, getting banned from returning to Europe in the future.
For this reason, it's illegal to overstay by even one day. This rule is not enforced equally throughout Europe.
Some countries are more relaxed about overstaying than other countries. Many people believe that Italy, Spain, and Greece are easier to enter and leave from. On the other hand, officers in Germany, Switzerland, and the Netherlands may be more strict about visa regulations.
But at the end of the day, it's completely up to the discretion of the immigration officer that checks your passport at the airport or train station.
Try This Secret Tip for Moving to Europe
You may get away with overstaying if you enter and leave from different countries. That's because it's unclear if your entry and exit dates are shared by all countries in the Schengen area.
For example, let's say you arrived by plane in France. Your passport will receive a stamp with your date of entry, and your arrival logged by the French government. 
You then spend the next few months traveling around Europe and finally decide to fly back from Italy. It's believed that the Italian computer system is independent of the French one. Therefore, the Italian immigration officer won't know when you first arrived in the Schengen area.
To see if you overstayed, he would need to manually calculate the time between your entry and exit stamps in your passport. And based on my experience, these officers don't have the time, or desire, to look through every stamp in your book.
But again, this assumption is based on past experience and information from other travelers. I've heard of people staying several weeks without any problem, while others have been caught by overstaying just a few days. In fact, I've even overstayed in Germany for two weeks, and the airport officials didn't bat an eye!
So while you can technically overstay in your time in Europe, it's hard to say if it will work. It's definitely illegal. You may also get yourself deported or banned from Europe.
Now You Know How to Move to Europe Permanently
Whether you're coming to work, study, or simply to start a new life, Europe is a fantastic place to call home. And with so many ways to stay in Europe long term, you'll have plenty of options to choose from.
You can probably visit Europe for a few months without a visa as a tourist. But if you want to stay longer, then you'll need to apply for a long-term visa.
Or, if you're really savvy, you can use the Schengen and non-Schengen loophole to your advantage. By spending 90 days in Schengen and 90 days in a non-Schengen country, you can realistically live in Europe forever!
With so many options for staying long-term, you don't even have to consider overstaying your visa. Europe is simply too beautiful to risk never coming back.
---
READ MORE: