Colombia is an up-and-coming destination in South America that has something to offer everybody. With a diverse range of landscapes, from stunning beaches to the snow-capped Andes, you will be hard-pressed to find somewhere else in the world quite like it. That's why creating a comprehensive Colombia itinerary is no easy feat—especially if you only have 2 weeks!
Sure, the country has a bad rap from the days of Colombian drug lords, but those times of needing to ask yourself "is it safe?" are mostly behind this country. It's quickly modernizing and opening its arms to the world.
So, if you are looking for a culturally rich destination with a range of jaw-dropping scenery and sprawling cities, then look no further. Here's how to spend 2 weeks in Colombia the right way.
How to Get Around Colombia
Colombia is a pretty big country, which means that getting around it can take some time. This is especially true because there are so many places to visit that are spread apart from one another.
That said, there are two easy ways of getting between major destinations in Colombia: bus and plane. And the good news is that plane prices are actually quite cheap. During our journey around Colombia, we found Avianca to be the most reliable and reasonably priced airline, which took us almost everywhere we wanted to go.
But if you have more time, the buses are even cheaper. You can use sites like Busbud to find buses to take you from Point A to Point B. Or you can go to any of the nearby bus stations and ask to see the schedules and prices — this is usually the most reliable way.
2 Weeks in Colombia Itinerary
Colombia is actually a huge and diverse country, and there is absolutely no way you can see everything here in just 2 weeks. The following itinerary is designed to take in some of the best that the country has to offer and to show you the highlights.
Although you can certainly cram more into a 2-week trip, I would not recommend it. It is far better to spend some quality time getting to know a destination than just ticking off "must-sees" and never truly experiencing the country.
Having said all that, let's get started in the steamy Caribbean city of Cartagena to kick off your 2 weeks in Colombia!
Day 1-3: Cartagena
Cartagena is the perfect place to arrive in Colombia because it's easy to get around and has a lot of nearby attractions. You can combine rest and relaxation on a beach with a little nightlife and exploring in town. It's the perfect introduction to Colombian culture.
Explore Downtown Cartagena
One of the best ways to get an overview of the city is to head to Castillo de San Felipe de Barajas, which is strategically located on a hill outside of town. Of course, the Spanish built it here for that very reason, as it has a commanding view of all approaches to the city.
Next on the agenda is a walking tour of the historic Cartagena. You can always do this yourself, ticking off the items as you go, but I prefer to take the free walking tours in Colombia. They are not actually "free" as you should give a tip at the end.
However, they are run by locals, and it provides them with a job. Plus, you get real, local insider info into the city, and they'll cover all of the highlights of the city and some places you would not normally get to see.
Head to Playa Blanca
Some of the best beaches in the country are located up north, so Cartagena is well located to get you a little beach time. One of the most picturesque and also convenient beaches is Playa Blanca, just outside of Cartagena.
You can reach it either by boat or road. I prefer the water, as it takes just 45 minutes from the port. Otherwise, you can take local transport, but it can take at least two hours.
Party With the Locals
If there is one place to party while you are in Colombia, it's in Cartagena. It's renowned with both the locals and backpackers, and there are a couple of great options to live it up here.
The first is the Chiva Bus, which is quite a local thing. It includes a tour around the different barrios of the city, along with an on-board bar and musicians playing local Vallenato music.
If that doesn't sound like your kind of thing, the other popular option is the Media Luna Hostel party, which takes place every Wednesday night.
Where to Stay in Cartagena
Luxury Hotels: Estelar Cartagena de Indias Hotel y Centro de Convenciones, Bastión Luxury Hotel, Hotel Casa San Agusti, Charleston Santa Teresa
Boutique Hotels: Bourbon St Hostal Boutique, Hotel Casa Tere, Casa Pizarro Hotel Boutique, Hotel Boutique Casona del Colegio, Casa Cochera del Gobernador
Mid-Range Hotels: Nico Apartasuites, Hotel Casa Mara By Akel Hotels, Hotel La Gran Via, Hotel Casa la Tablada By GB Collection
How to Get From Cartagena to Tayrona
The only way to get to Tayrona from Cartagena is by road. You will have to get on a couple of buses and make your way slowly there via Santa Marta.
Santa Marta is around four hours by bus from Cartagena, and it's a further hour to Tayrona. If you choose, you can spend a night in Santa Marta. It is not the most stunning city to visit, but it's a convenient spot to stop for the night, and it's also a launching point for Minca and the famous Lost City Trek.
Day 3-5: Tayrona National Park
Tayrona National Park is perhaps the most popular park in Colombia, and for good reason. It combines stunning beaches, with untouched beauty—and all just a day away from Cartagena.
Tayrona is stunning and there is lots to see there, but don't expect action-packed parties. It's a National Park, after all.
Hike to the Various Beaches
Tayrona is one of the best places to come if you want to do some hiking in Colombia. And even if you are not normally into hiking, this is a great place to just go for a walk.
Take some time to hike to the various beaches, starting with the most popular, Cabo San Juan. But also be sure to spend some time at the less-visited ones, too. Some are not only just as picturesque, but they are often deserted, too.
Visit El Pueblito
This Kogi settlement is a great way to get a taste for the culture and people whose land this actually is. Of course, you will also come across some of the people when you are making your way around the park, but this is a little more special for your Colombia itinerary.
Relax a Little
One of the best things to do while in Tayrona is to just spend a little downtime on the beaches or in your accommodation. There are few distractions in the park because there is no WiFi, no noise and it might sometimes seem like nothing to do. So, enjoy it, and catch yourself a little R&R.
Where to Stay in Tayrona
Luxury Hotels: Kantawa Hotel & Spa – Calabazo, Playa Pikua Ecolodge Guachaca, Villa Mariea Tayrona, a Kali Hotels – Los Naranjos, Senda Casa Tayrona Los Naranjos
Boutique Hotels: Tayrona Tented Lodge – Guachaca, Blue Mango Beach Hotel – Guachaca, Hostal Monte Verde – El Zaino, Quetzal Dorado Eco-Lodge – El Zaino
Mid-Range Hotels: Posada Ecoturistica Wiwa – Los Naranjos, Hostal Agroturístico Ecológico Brisas del Campo – Guachaca, The Journey Hostel – Los Naranjos, Eco Hostal Yuluka – El Zaino
How to Get From Tayrona to Medellin
There are lots of flights each day out of Santa Marta airport, and given the distance to Medellin, it's the best option. Of course, getting to the airport can also be done a variety of ways. Some hotels and hostels offer shuttles, but the cheapest option is a colectivo bus to Santa Marta, then a taxi from downtown.
If you absolutely have to torture yourself and go by bus, it will take the best part of a day (15 to 20 hours) and might not even save you any money.
Day 6-9: Medellin & Guatapé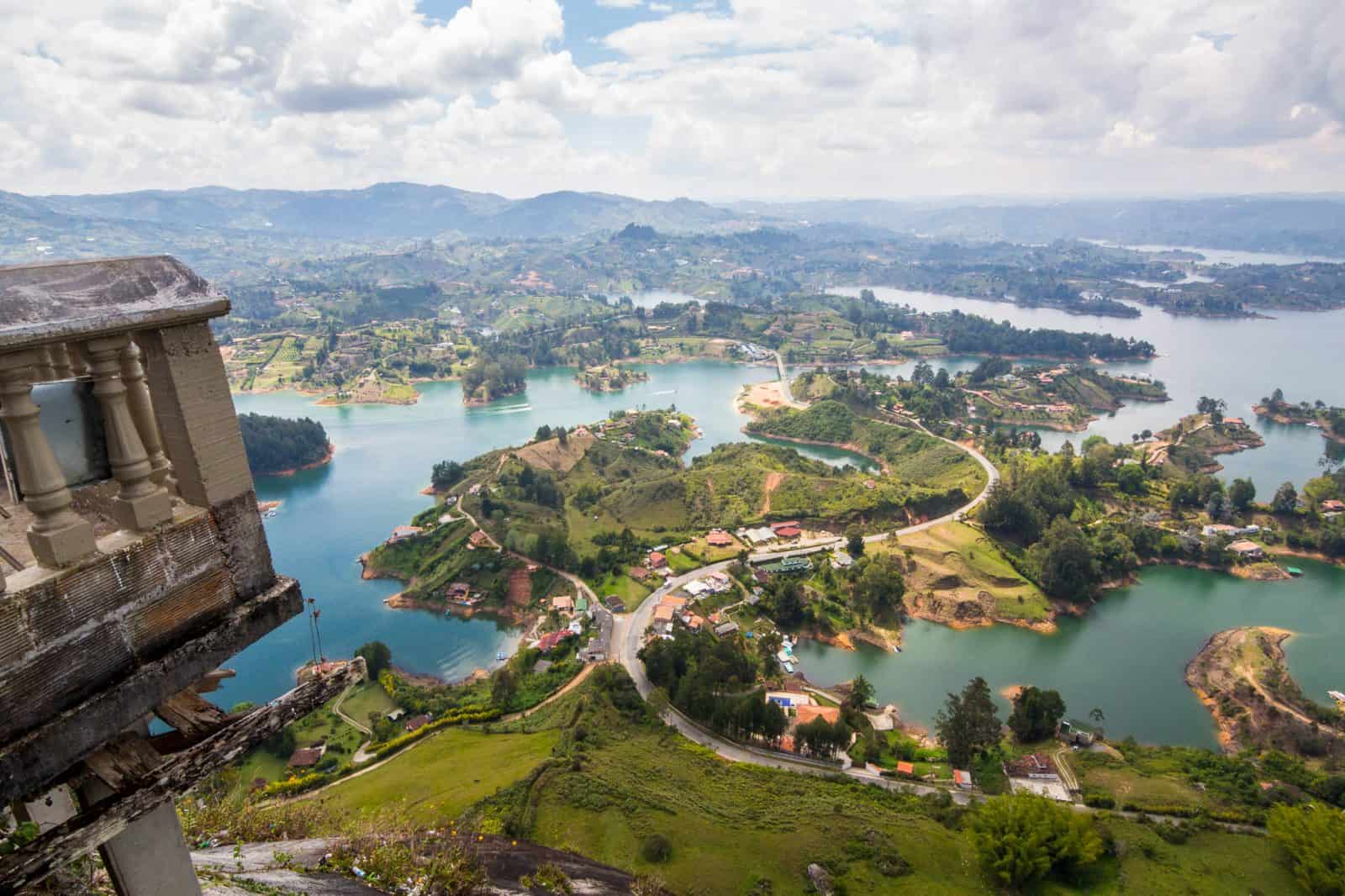 Getting to Medellin can be done easily by internal flight from Santa Marta, and it takes just over an hour. As you land, you will see the sprawling metropolis that seems to fill every crevice and hill in this valley.
Medellin has moved on from the days of Pablo Escobar, and the people here are actually not a huge fan of his, so don't run around asking about him. There is very little in the way of danger here, as long as you take the usual precautions of staying away from iffy areas at night and not flaunting your valuables.
Take a Free Walking Tour
There are a few things you should absolutely do here to make the most of your time in Medellin and, ultimately, to make the most of your Colombia itinerary. The first, like in Cartagena, is to take a Free Walking Tour and get to know the city as a whole, along with its sordid history.
This will not only give you a great overview of the downtown area, but it will also offer you some insider tips and knowledge, too. You also get to see some of the highlights like Botero Plaza, where you can see the fun "fat" artwork of Botero, who hails from here.
Ride the Metro Cable to Arvi Park
Another fun half-day (or even full-day) tour is to head out to the Metrocable that climbs slowly up and over the hills to Arvi Park. This gives you an interesting perspective into the less-well-off population of the city, as well as a spectacular view of the area.
And, the final stretch is through the middle of a quite wild park, where you can spend the whole day hiking if you wish. Or you can simply return to Medellin again.
Check out Comuna 13
On the other side of Medellin is Comuna 13. This was once a place you would never head as a tourist. Now, it is full of them.
You can take a tour with a local and learn all about their lives here, or simply ride the escalators to the top of this hillside community and explore the graffiti-adorned roads. You might even get lucky and see some super-talented break dancers at the top.
Go to Guatapé
Guatapé is a popular side trip from Medellin for a reason. The town is located in a water-filled, picturesque region of the country and has some great activities to keep you busy for a day. It's a must-see on your Colombia itinerary.
It takes around two hours to reach there from Medellin, so leave early and come back late if possible. You can also spend a night, but it's not necessary.
The two main things you will want to see while you are here are the giant monolith, El Peñol (also known as the Guatape Rock), as well as the beautiful colonial town itself. The hike to the top of the Guatape Rock is a climb up 740 steps. It should only take about 15 to 20 minutes, and you'll have spectacular views from there.
Where to Stay in Medellin
Luxury Hotels: Hotel Dann Carlton Medellín, Hotel Estelar Milla De Oro, The Charlee Hotel, NH Collection Medellin Royal
Boutique Hotels: Patio del Mundo, Celestino Boutique Hotel, Las Rosas Boutique Hotel, Hotel Du Parc Royal
Mid-Range Hotels: Inntu Hotel, Hotel Estelar Square, Hotel Portón Medellín, Hotel Asturias Medellin, Nutibara Hotel
How to Get From Medellin to Salento
Salento is a fair distance from Medellin, so if you are pressed for time, I recommend flying, which only takes 50 minutes. However, you do not land in Salento itself, but rather the closest big city, Pereira. From here you have to either take a taxi directly or head just downtown to the bus station, and then take a bus to Salento. Direct with a taxi is around an hour; with the bus combo, it might take you two or more, depending on connections.
If you choose to take a bus to Salento directly from Medellin, just be aware that it is at least six hours over long, winding roads, which, although scenic, are super time-consuming. If you don't want to eat that time up from your Colombia itinerary, we don't recommend the bus journey. That said, it might save you a few dollars.
Day 9-12: Salento Coffee Region
Salento is one of the premier coffee regions in Colombia, so if you are a coffee lover, you will never want to leave. It is a lush, hilly area covered with coffee plantations, as well as well-kept colonial villages like Salento and many others.
Take a Coffee Plantation Tour
One of the best things you can do in Salento is a deep dive into the world of coffee. There are a variety of places you can do tours in the hills around town. I recommend taking as in-depth a tour as you can, as this is truly the place to see how coffee comes to your cup and explore the tastes.
Go on a Valle de Cocora Hike
The next most popular thing to do in the Salento region is to hike through the Valle de Cocora, which is peppered with the world's tallest palm trees. There are a number of options depending on your fitness level—this Colombia itinerary is for everyone!
There is a full loop down the valley, along the river and then back via the wax palms, which is actually what people come to see. This takes around four hours. Or, you can head straight to the wax palms, which is around one and a half hours return. There are even horse rides, for those so inclined.
Explore the Town
Although actually pretty small, it is worth spending a few hours walking around Salento and seeing it from all sides. There's something for everyone, from the yummy fresh juice sold at the town square to the viewpoint (Mirador de Salento) to the little nightlife and local night markets on the weekends.
Where to Stay in Salento
Luxury Hotels: Ecoresort Gran Azul, Montana Guesthouse, Casa de las Dos Palmas, Hotel Terasu Salento
Boutique Hotels: Hotel El Mirador del Cocora, Hotel Boutique Palmas de Salento, Coffee Tree Boutique Hostel, Hotel Salento Real Eje Cafetero, Finca Cardonales
Mid-Range Hotels: Ecohotel Piedemonte, Balcones del Ayer, El Rancho De Salento Alojamientos, Hostal La Divisa
How to Get From Salento to Bogota
Again, it is far easier to get here by plane, which is only 50 minutes from Periera. Keep in mind that you will need to get to the airport again. This can add at least a few hours.
There is a day-long bus option, as well, if you want to save a little money. The journey is split in two parts. The first is a 45-minute ride to Armenia, where you then catch the Bogota bus. This can take anywhere from seven to nine hours, so many people prefer the overnight option.
Day 12-14: Bogota
The last stop on your 2-week tour of Colombia is the capital, Bogota. The city itself is not the jewel of the Carribean like Cartagena, but there are still a few things you should see while you are here. After all, part of getting to know any country is to visit its capital city!
Take a Bicycle Tour of Bogota
Unlike most other cities in Colombia, the best way to see Bogota is by bike. The tours run out of La Candelaria are the best, and they also give you a chance to explore this barrio, as well. The tours run twice a day, and they don't require booking. They take you to all the most important landmarks, as well as the local fruit market and a few other local highlights.
Climb Montserrat
To get the best views of Bogota, you absolutely have to head to Montserrat during your Colombia itinerary. You can take the easy way up via cable car or you can hike. Just be aware that there have been some reports of safety issues when hiking early or late in the day. Locals warn of robberies and attacks, but rumors abound as usual. So do your due diligence before heading up there and err on the side of caution.
Visit the Museo Del Oro
Before the Spaniards came to South America and kind of "borrowed" all the gold, the continent was flush with the stuff. And, lucky for us, they have collected a lot of what was left in the fabulous Museo del Oro. It's right in the heart of Bogota. If you have some spare time, this place is definitely worth a visit. If only to put some future jewelry on your wish list.
Where to Stay in Bogota
Luxury Hotels: The Orchids, Four Seasons Hotel Casa Medina Bogota, Casa Legado, W Bogota
Boutique Hotels: Hotel bh La Quinta, BOG Hotel a member of Design Hotels, Hotel 84 DC, Casa Gaitan Cortes Boutique Hotel
Mid-Range Hotels: Clarion Bogota Plaza, NH Bogota Pavillon Royal, GHL Hotel Capital, Hotel Santa Barbara Real
Hostels: Hostal Casa Cubil , Bababuy Hostel, Hostal R10 , Casa Platypus
How Much Will 2 Weeks in Colombia Cost?
Colombia is actually pretty cheap, so this Colombia itinerary may even cost a lot less than 2 weeks at home for some of us. The following are some rough costs for different types of travelers:
The Cost of Transportation in Colombia
Buses typically cost around $30 to $40 for trips between Bogota and Salento, Salento and Medellin, Cartagena and Santa Marta.
Flights typically cost between $50 and $100 depending on the airline, how far ahead you book, etc. Just be aware that the cheapest airlines like VivaAir often don't have luggage included. So, although they look cheap, they come with more costs and often more delays than Avianca.
The Cost of Accommodation in Colombia
On the lower end of the spectrum, you can find hostel dorm beds ranging from $10-15 a night. Hostels around Colombia are pretty decent, ranging from the bare basics to more "luxury" hostels in certain cities.
Not about that hostel life? You can find private double rooms for two people ranging from between $25-50 per night in budget hotels. These won't be five-star luxury hotels, but you'll be comfortable and you'll have your privacy!
The Cost of Food and Drinks in Colombia
If you're on a tight budget in Colombia, you can easily eat on $10-15 per day if you stick to local family-owned restaurants and street vendors. You can find delicious street food like grilled meats and rice and bean dishes for sometimes just a few dollars. Go where the locals go!
With a bigger budget, expect to pay $20-40 per day for food. With this budget, you can pretty much eat wherever you want.
What to Pack for 2 Weeks in Colombia
Colombia is actually quite a diverse country in terms of weather. You will need to pack for both very warm and sunny weather, as well as cooler and potentially rainy weather.
It is also a country that has a few mosquitoes, and some of them can carry disease. So you want to be prepared for that, as well, before shipping out on your Colombia itinerary.
Here's what we recommend you pack.
Swimming Gear
In Tayrona and Cartagena, you will find some of the most spectacular beaches in Colombia. So be sure to bring your swimming gear, even if it's only for a quick dip.
Kenny Flowers has some of the best swimwear options for both men and women, with a variety of wild colors and patterns (like cheetah print and tropical florals). If you've got a wild side and want to show it off, look no further.
Microfiber Towel
Whether it's to dry off after a quick dip or because you don't like the look of that hotel towel, a microfiber towel will come in handy.
They're fast-drying, SUPER soft, and incredibly lightweight. Microfiber towels pack up into compact pouches so that they take up virtually no space in your backpack. They're built for adventure travelers, so you'll have this thing for years to come.
Daypack
You will be out and about every day, whether it's in a city or hiking. So a comfortable travel daypack is an absolute must.
Our top pick for a daypack is the REI Co-op Flash 18 Pack. This daypack is the best all-around backpack for ANY type of adventure, whether you're hiking, commuting, or just exploring a new city!
It's practical, it's unisex, and it comes at a great price, too.
Cap or Hat
The sun is always high overhead. So keep yourself protected at all times, especially when on the beach or hiking. A classic ball cap like the Patagonia Fitz Roy Bear Trucker Hat will do just fine. (It comes in women's sizes too.)
But ladies, if you want something more beachy and less sporty, go with a packable shade goddess hat. The wide brim offers the ultimate sun protection, and it packs nicely in any luggage.
Sunscreen
The Colombian sun can fry an egg at midday. So take a lot of sun protection with you and apply it liberally, especially in the middle of the day.
If you're going to be swimming or generally enjoying Colombia's natural beauty, we suggest TropicSport Mineral Sunscreen. It's biodegradable and eco-friendly, and water-resistant to boot. Protect yourself AND the environment!
Light, Packable Rain Jacket
Something that will definitely come in handy in Bogota and Salento is a rain jacket. Keep this at the bottom of your bag.
The REI Drypoint GTX is our favorite all-around rain jacket. Why? It's extremely breathable yet still waterproof, it has a very customizable and comfortable hood, and it's fantastic for hiking thanks to its stretchiness.
It's a bit boxy in shape, but it packs nicely and is light as well. And of course, there's a version for women!
Hiking Sandals
Many of the places you will be walking are hot. So, in most cases, hiking boots are not fun to wear. Grab some hiking sandals instead.
Keen is a great brand for airy, lightweight hiking sandals like the Newport H2 (available in women's too). These sandals have excellent toe protection and they're waterproof, so you can ford all the rivers and streams you like! Admittedly, they're not the most attractive sandals going, but they're more than worth your weight in gold when you're hiking in tropical places.
Mosquito Repellant
DEET is one of the best ways to deter mosquitoes. And, given the potential danger in areas in the north, it's worth taking a bottle or two. Malaria is a very real threat here, as well as the zika virus that hit the country hard in 2016.
If you are not a fan of chemicals, this mozzie repellent will keep those critters at bay.
Mosquito Net
Depending on where you're staying, many of the higher-end places will have mosquito nets. But you can never be 100% sure, and sometimes they have holes. So always bring your own.
Not only will this help protect against diseases and viruses, but you'll have a much more peaceful sleep if you're not slapping away these annoying little buggers all the time.
A net will pack nicely, but keep it separate from smaller items that may get tangled up when you're packing in a hurry.
Travel Insurance in Colombia
I never go anywhere in the world without coverage from one of the best travel insurance companies, and Colombia is certainly somewhere you will want it. Whether it's just to cover common cold medicine or to replace any stolen items, you can never be too safe. That is not to say you are going to have these things happen to you. But bad things can happen to anyone anywhere — even the most prepared person.
One of the best options for travel insurance in Colombia is World Nomads because they specialize in travel insurance and are aware of the many and varied issues we have when traveling overseas. Be sure to check them out in our full World Nomads travel insurance review or fill out the form below for a quote.
Summing up Your 2 Weeks in Colombia
Colombia has so much to offer that it's hard to pick exactly where to go. But, with the above Colombia itinerary, you will get to see some of the best this country has to offer. And that's without missing out on any of the top attractions.
With just 2 weeks in Colombia, you can go everywhere from historic towns to stunning beaches and coffee plantations to fields of towering wax palm trees. Colombia is an up-and-coming destination for a reason!
---
READ MORE: