Rain, rain, go away! We all wish the dark clouds away so they don't spoil our outdoor adventures. But I'm sorry to tell you that crossing your fingers is probably not enough to drive those drops away. What you need, then, is a good rain jacket to keep you snug and dry.
But outdoor adventure gear like raincoats seem to be a dime a dozen. High-quality rain jackets usually come at a high cost. But I've done a lot of research and testing, and I've waded through all the different materials.
This list of the best rain jackets of the 2023 season will protect you from the elements. And the detailed guide on materials, features and jacket types to follow will prep you with all the information you need to pick out the absolute best rain jacket for your needs.
The XeroDry certainly lives up to its namesake by staying bone-dry. Add to this the extremely comfortable fit and highly mobile construction, and you have a coat that is ready to stand fast in the face of any rainstorm the world over.
The XeroDry owes its badge of the top rain jacket in part to its two-layer Gore-Tex design. This is certainly one of the most waterproof jackets I've ever come across. The hood compliments this by cinching down perfectly, regardless of headwear, and it offers excellent periphery sight-lines.
Amongst my jacket pet-peeves is turning my head only to see the lovely inside of my hood. The XeroDry hood, however, completely eliminates this by traversing with my head even during intense activities or wind. That's absolute gold in my book!
For the fit, you'll find the XeroDry to be comfortable and stretchy. This makes the jacket optimal for just about any aerobic activity.
The shape, however, is a little boxy/roomy for most tastes. While this is perfect for layering in cold conditions, it can be a bit of a hindrance or eyesore if you're trying to maintain a sleek profile. The material itself, while light, seems a little thin for the more intense activities that this jacket is marketed for, so try to take care.
The XeroDry is by far the greatest rain jacket for overall use in my book for all uses. Stay dry, keep moving and keep stylish throughout the worst the weather can throw at you. (It's also available in women's).
Pros
Waterproof AND breathable to a great extent
Comfortable, highly adjustable hood
Excellent Gore-Tex waterproofing
Lightweight for hiking
Cons
Thin material may compromise durability 'Tent' cut?good for layering but very roomy otherwise
REI Drypoint GTX Specs:
| Features | Details |
| --- | --- |
| Waterproofing | 2-layer GORE-TEX |
| Insulation | No |
| Weight | 12.5 oz |
| Material | Polyester |
| Price | $$ |
2. Patagonia Storm Racer: Best Lightweight Rain Jacket for Travel
Extreme outdoor adventurers – I'm talking to you ultralight runners and hikers out there – know what it's like to count ounces. Every single piece of gear must earn its place and be worth the weight. It's for exactly those situations that Patagonia created the Storm Racer. A mere six ounces of awesome water repellency that can pack down to just about nothing definitely makes this the ideal rain jacket for you gram counters!
The zippered chest pocket of this jacket cleverly becomes a stuff sack. The whole jacket packs away into this nifty little package, which features a reinforced carabiner loop. So you can easily clip it onto a backpack strap or belt loop if the sun comes out.
The Storm Racer achieves its lightweight status with a very thin 12D Nylon ripstop material and H2No water repellency shell. While I love how packable and light it is, I am worried about its overall durability as 12D as close to paper-thin as we'll see on this list. There's one for women too!
The nice trim fit offered by the Storm Racer is also a win as it maintains a very low profile for trail running or hiking. The hood continues this trend with a very low profile that is comfortable and offers a great field of view. Be aware, however, that with this snug design you won't be able to get the hood over most helmets.
For the diehard runners and hikers out there, you can't go wrong with the Patagonia Storm Racer. Lightweight, trim fit and entirely waterproof in the face of any rainstorm; this is certainly the top rain jacket for you. But if you tend to dabble in rock climbing, mountaineering or mountain biking, I'd recommend getting a tougher jacket.
Pros
Very for extreme runners and hikers
Packs down very small
Great breathability
Cons
Poor durability, very thin material
Patagonia Storm Racer Specs:
| Features | Details |
| --- | --- |
| Waterproofing | 3-layer H2No |
| Insulation | No |
| Weight | 6 oz |
| Material | 12D Nylon |
| Price | $$$ |
Budget world travelers and frugal spenders unite. REI has an impenetrable reputation when it comes to quality outdoor adventure gear, and their Rainier Rain Jacket is no exception.
Excellent waterproofing along with comfortable mobility, and all for a price that won't result in tear-swollen eyes.
A Durable Water Repellent (DWR) finish keeps you dry on those wet days, and the shell makes a great windbreaker on the blustery ones. You'll stay nice and dry in everything from a morning mist to a full-on deluge, and the jacket is very comfortable and easy to use to boot.
But what really makes this jacket stand out is its very reasonable price tag. This jacket is absolutely perfect for folks who want all the benefits of a high quality rain jacket without the premier price tag. It's available in women's too.
Pros
Excellent waterproofing at a reasonable price.
Armpit zips for improved ventilation.
Jacket packs away into its own pocket for easy storage!
Cons
Not as breathable as similar jackets.
Mixed reviews on if it's good for heavy rain or not.
REI Rainier Rain Jacket Specs:
| Features | Details |
| --- | --- |
| Waterproofing | DWR Finish |
| Insulation | No |
| Weight | 11.4 oz |
| Material | Recycled Nylon Ripstop |
| Price | $ |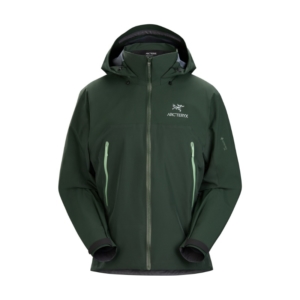 When it comes to quality craftsmanship, Arc'teryx often comes to mind. They're one of the best outdoor clothing brands on the market and they are one of the best jacket brands as well.
Firmly entrenched in the intense outdoor adventure niche, you can always expect top-tier quality and their Beta AR jacket perfectly follows this trend. Nearly indestructible construction and impenetrable waterproofing both come together to make the ideal rain jacket for year-round adventurers. From light rains on a summer day to the heaviest of torrential downpours, the Beta AR will have you covered.
The tough construction is courtesy of 40-80D Gore-tex layering that will hold up to just about everything short of a full-on rock slide, and will help keep you nice in warm in every frigid condition. I absolutely love Arc'teryx's foresight where the tougher 80D material is reserved for high impact areas such as shoulders and forearms. The 40D material conversely covers the rest of the coat to provide excellent durability and waterproofing where you most need it without driving the weight of the whole jacket through the roof.
Atop this is a very handy drop-hood-collar combination. The adjustable hood is large enough to shield any helmet but adjustable enough to stay in place, while the collar protects your chin and neck. And yes, there's a style for women!
The one primary drawback I found is the waist. The rest of the coat is perfectly designed to allow for layering during cold conditions, but the waist seems just a little short to me. When wearing a hip-belt and bending over, the bottom of the coat can scoot up into the hip-belt which is always uncomfortable and makes for an awkward shimmy as you work it back into place.
Nevertheless, the Beta AR is a powerhouse of durability and protection that clearly earns its title of the top rain jacket for all seasons.
Pros
Incredibly durable construction
Armpit zips for improved ventilation
Helmet-friendly adjustable hood
Cons
Waist seems a little short
Very expensive
Arc'teryx Beta AR Specs:
| Features | Details |
| --- | --- |
| Waterproofing | Gore-Tex |
| Insulation | No |
| Weight | 16 oz |
| Material | 40-80D Gore-Tex |
| Price | $$$$ |
Gentlemen, from walking the dog on a rainy day to pushing your way through a rainforest with a pack on your back, you'll need a reliable and comfortable barrier between you and shivering, damp misery. The versatile Foray by Outdoor Research is my best recommendation to achieve that barrier and the finest rain jacket for any occasion. It's the
The Foray's versatility is derived from an exceptionally hefty and durable build that at the same time boasts a surprising amount of ventilation to keep it comfortable in all conditions. You have a thick, 50D, Gore-tex material to thank for this durability that will see you safely from cities to mountains. And massive, ventilated pit zips that zip all the way down for "poncho mode."
What the 50D material buys you in durability, however, it'll cost you in weight. Coming in at 16.3 ounces, this is definitely one of the heaviest rain jackets I've seen and will make its bulky presence felt. If you don't mind the bulkiness, or simply need the tough construction, then definitely rock on.
For men anywhere in the world who are caught out in wet conditions, the Foray is the tough bulldog of a jacket. A beefy build, comfy fit and reliable performance all come together to make this coat the best rain jacket for men currently on the market.
Pros
Excellent Gore-Tex Waterproofing
Good durability
Large Armpit
Zips for ventilation
Outdoor Research Foray Specs:
| Features | Details |
| --- | --- |
| Waterproofing | Gore-Tex Paclite |
| Insulation | No |
| Weight | 16.3 oz |
| Material | 50D Polyester |
| Price | $$ |
Outdoor Research once again makes my list for the best rain proof jackets, but this time for the women adventurers. Like its male counterpart, the Foray, the Aspire jacket does an excellent job of blending comfort, breathability and, of course, waterproofing for all-around solid performance in nearly every damp circumstance out there.
The 50D polyester Gore-Tex blend works wonders to make this article both entirely waterproof and very durable. Whether you're pushing your way through bushes and trees on a hike, scrabbling over rock or simply climbing in your own window after forgetting the key, you'll find the Aspire up to any challenge.
Unfortunately, these thick materials and intense waterproofing usually puts a damper on breathability. Outdoor Research's Gore-Tex with Paclite, however, maintains excellent airflow to keep you comfortable while facing down a storm. The waterproof rain jacket even artfully includes full-length arm-pit zippers to turn this jacket into a poncho for a quick heat dump, if needed. It also features a zippered chest pocket for convenient storage and hand pockets which can keep your digits toasty on cooler days.
While this jacket is certainly heavier than your average rain shell, rest assured that you're bringing a tough and dependable heavyweight into the ring that will stand up to all the rain beatings the weather dishes out.
Pros
Excellent Gore-Tex Waterproofing
Good durability
Large Armpit
Zips for ventilation
Outdoor Research Aspire Specs:
| Features | Details |
| --- | --- |
| Waterproofing | Gore-Tex Paclite |
| Insulation | No |
| Weight | 13.7 oz |
| Material | 50D Polyester |
| Price | $$ |
Here we have the lighter cousin to the Beta AR that is specifically designed for the trail. Get all the benefits Gore-tex and wind-proofing, but in a wonderfully light shell that packs down to almost nothing to make it easily one of the best rain jackets for hiking. It's also designed with range of motion in mind, so you'll be able to move freely and comfortably during your adventures.
The light weight is thanks to an effective two-layer Gore-tex fabric Paclite blend that provides an excellent shield against the elements, yet cuts down ounces at the same time. But what we gain in portability and packability, however, we oftentimes lose in durability. The Zeta waterproof rain jacket eliminates the thicker reinforcing material often found in high abrasion areas – shoulders and forearms – and I, therefore, worry about the durability in the long run with backpack shoulder straps rubbing constantly.
It's just for that reason that Arc'teryx markets this as an emergency shell. It's not meant for the everyday grind of the trail. But if those clouds do happen to burst, this is by far your best option for impenetrable waterproofing and ease of packing. The women's version works the same way.
When you're therefore hitting the trail for anything from a single-day hike to multiple days out in the elements, the Zeta SL is a must-have in case of rain! Lightweight, great waterproofing, and specially designed with the trail in mind; this is definitely one of the best waterproof jackets.
Pros
Excellent Gore-Tex Waterproofing
Very packable
Lower weight than other gore-tex options
Cons
Emergency shell only
Little bit pricy
Arc'teryx Zeta SL Specs:
| Features | Details |
| --- | --- |
| Waterproofing | Gore-Tex |
| Insulation | No |
| Weight | 10.6 oz |
| Material | 40D Gore-Tex + Paclite 2 Layer |
| Price | $$$ |
Columbia uniquely cuts out the standard outer layer of a rain jacket, instead, relying solely on the waterproof membrane. And they've certainly created a fine piece of backpacking rain gear in the process.
The Outdry waterproof breathable membrane does a fantastic job of shedding water during prolonged rain exposure and allowing for air transfer at the same time to keep you comfortable. This is due to the fact that eliminating the typical outer layer also eliminates an extra layer that air has to pass through. Therefore, it's much easier for air exchange, and thus you're much more comfortable!
So long-lasting waterproofing and breathability? Sounds like a backpacking winner to me for multiple days on the trail!
The danger in putting the waterproof membrane on the outside, however, is durability. If that membrane is scraped, scratched or otherwise damaged, then your waterproofing is immediately compromised. After extensive testing, I have to admit that I haven't damaged it yet, but it's something I'm definitely aware of.
This Outdry system also results in a uniquely shiny appearance. I've met folks that have either loved or hated it, so take a good long look before you go ahead with your purchase!
Appearances aside, this coat is undoubtedly a solid and refreshingly light rain jacket that is sure to keep the wet out and cool air in. While not boasting as many bells and whistles as other highly technical oriented coats, this is still the best waterproof jacket for backpacking that you can find. It's available in women's, too.
Pros
Excellent breathability for such good waterproofing
Very lightweight and packs down into its own pocket
Fully seam-sealed, with a bonded hood brim
Cons
Shiny look is a bit of an acquired taste
Less durable than other options
Columbia Outdry Ex Featherweight Shell Specs:
| Features | Details |
| --- | --- |
| Waterproofing | Outdry |
| Insulation | No |
| Weight | N/A |
| Material | Nylon |
| Price | $$$ |
The North Face is a trusted brand for mountaineers and adventurers in every corner of the planet, and I'm constantly impressed by their consistent quality and craftsmanship. This all holds true for the Venture 2 to make it the best rain jacket for travel with solid performances in almost every criteria.
In the weatherproofing criteria, North Face's DryVent tech-utilizing layered polyurethane?works very well to keep the damp out in most conditions. The DWR finish at the same time reliably repels rain for the long run to keep the coat performing admirably for city or trail use.
I'm also impressed by the very durable construction that you get for such a low price tag. The 70D thick material definitely holds up to hiking. As you might expect, however, having such a thick coat does come with a couple of drawbacks.
For one: the bulky fit. Great for layering, but it can feel a little baggy and unwieldy. The hood is, surprisingly, the exact opposite of this description and won't fit over helmets. So look out traveling climbers! Nevertheless, the overall hood design is very straightforward plus comfortable, and it works nicely to protect your dome from the rain and wind.
The different color options will spice up your entire trip too, to easily make the Venture 2 the best packable rain jacket for travel. It's available for both male and female travelers, too.
Pros
Huge number of color options
Budget friendly
Good venting options
Armpit zips Packable
Cons
Smaller hood – doesn't fit over most helmets
Could be more breathable
North Face Venture 2 Specs:
| Features | Details |
| --- | --- |
| Waterproofing | DryVent |
| Insulation | No |
| Weight | 11.6 oz |
| Material | Nylon Ripstop |
| Price | $ |
We all like breathing, and so does your skin. To keep that clammy, progressing-towards-jungle-conditions-air away from the inside of your coat, we have the Teton HS Hooded Jacket by Mammut. Soft inner lining, armpit zips and excellent air flow all come together to form what is definitely the best breathable rain jacket and one that's ideal for keeping cool in all conditions!
Mammut expertly puts their Gore-Tex Paclite material to use by completely locking out all moisture for entering, and yet allowing enough airflow to prevent you from turning into a mobile sweat machine. However, heavy hiking or running can inevitably result in some heat buildup. In that case, the armpit zips are perfect for a quick and seamless heat dump without having to fully unzip, or remove the jacket.
I'm also a huge fan of the very smooth and comfortable inner material that not only makes this breathable jacket a pleasure to wear, but it also keeps it from sticking to your skin in those hotter circumstances. Exteriorly speaking, the Teton HS Hooded Jacket cuts a very trim and sleek profile that looks natural in just about every situation. The same goes for the similarly designed women's Heritage HS Hoody. Nobody said your adventure raincoat couldn't be classy too!
The exceptional airflow, heat-dumping capacity and comfortable fit easily make the Teton HS Hooded Jacket the ideal rain jacket for a cool and comfortable experience. To be fair, the tough design has resulted in a fairly hefty coat at 1lb, but to have all that durability and still maintain great breathability is a unique success right there!
Pros
Excellent breathability
Great trim fit
Very durable construction
Mammut Teton HS Hooded Jacket Specs:
| Features | Details |
| --- | --- |
| Waterproofing | Gore-Tex Paclite |
| Insulation | No |
| Weight | 16 oz |
| Material | Nylon |
| Price | $$ |
For stuffing a rain jacket into your pack, car, or pocket, the Versalite by Montbell is definitely the ideal rain jacket. Extremely light with its own dedicated stuff-sack and impressive waterproofing, just fold and forget!
Weighing in at a mere 6.4 ounces, this jacket is a trifle to stuff in an unused nook or cranny. While not quite as light as my best lightweight waterproof jacket?Patagonia Storm Racer?what sets the Versalite apart is the included stuff sack.
Almost nothing makes me shiver and curse more when whipping out a raincoat than to find it's already wet! Horrible, right? Well, the included stuff sack is also water resistant, which is absolutely glorious for storing on the outside of a hiking pack for easy access! The women's jacket works the exact same way.
Now the downside, at a mere 10D thickness, this raincoat is incredibly thin. Again, great for packing, cramming, stashing, or whatever you do; but poor for long term durability. Therefore, I suggest treating it gently for optimal lifespan.
The Montbell Versalite is without a doubt the top rain jacket for you space constrained individuals! These jackets will fit just about anywhere, be protected by its stuff sack, and be bone-dry when the time comes to throw it on in a hurry!
Pros
Very lightweight
Dedicated water resistant stuff-sack
Excellent waterproofing for a two-layer coat
Cons
Very thin which may compromise durability
Montbell Versalite Specs:
| Features | Details |
| --- | --- |
| Waterproofing | Gore Windstopper |
| Insulation | No |
| Weight | 6.4 oz |
| Material | 10D Ripstop Nylon |
| Price | $$ |
Rain Jacket Buying Considerations
Not all rain jackets are the same! Some are heavy-duty constructions that are meant to hold up to absolutely everything you can throw at them, while others are very lightweight shells for the weight counters out there. There are also differences in quality, material and function to consider that all add up to a daunting quagmire of options, so how do you decide?
That's why I'm here! I've itemized the critical coat criteria from start to finish so you know exactly what you're looking at along with its strengths and weaknesses. So let's jump straight in.
1. Weight
In general, heavy duty thick jackets will weigh more than the ultralight shells out there. Now for standard day-to-day use, this can become a non-issue where a few ounces won't keep you from getting to work on time. But there are circumstances where weight is everything!
Think ultralight distance hikes or extreme trail running and marathons. In those situations, every single ounce counts and must earn its place. Getting hold of the best ultralight rain jacket that keeps the rain at bay and packs down to almost nothing is very valuable.
Therefore, depending on your intended activity, keep an eye on jacket weight!
2. Waterproofing
All rain jackets are completely waterproof, right? Well, not exactly. Nearly every brand has its own method to achieve their waterproofing?and all with varying degrees of success.
The basic system seen on the market is a bare two-layer system that features a waterproof coating plus a mesh layer to protect it. These tend to be on the bulky side and often lack breathability. They're therefore very basic and I'd only recommend them for occasional and casual use, except with a couple notable exceptions above.
The tried-and-true method is the standard three-layer system in which the waterproofing is sandwiched between two protective and durable layers. These tend to be the most effective and, therefore, the most expensive options on the market, with excellent moisture protection and breathability to keep you comfortable at the same time.
The actual method of waterproofing, however, also varies greatly. Many companies have their own proprietary method, such as Columbia's OutDry or Marmot's NanoPro or Patagonia's H2No, and most work extremely well. But remember that water is incredibly persistent and can sometimes seep through with prolonged exposure, and not all jackets are immune. So reference the reviews above and remember that established adventure brands are the best bet.
But there's yet another avenue for water to find its way under your coat, and that's due to poor feature design.
3. Features
What are you hoping to get out of your new rain jacket? Will you be using it for running or traveling or rainy commutes? Whatever the reason is, it drastically influences what features you want to be on the lookout for.
Hoods, for one, vary drastically from coat to coat. Basic models will feature an equally basic hood with maybe one, or no, cinch cords to help tighten it around your head. More premium models will feature more technical, adjustable hoods with two or more levels. Sometimes these jackets include a way to secure the hood to ensure that it moves with you from side to side, gives you a wide field of view and, of course, keeps your head out the rain the whole time. Finally, if you're planning on helmet wearing activities, make sure your hood is big enough to cover it, or comfortable enough to wear under!
Cinching wrists, or adjustable cuffs, are another feature that are incredibly useful as nobody enjoys the sensation of dampness creeping up their arm from a leaky wrist. Similarly, a sealable or adjustable waist is also very useful for the exact same reason!
You may also want to keep an eye out for pockets. Pockets come in a healthy variety of shape, size, purpose, and position. From the humble chest pocket to hand pockets and a series of small pouches serving a variety of purposes, most high-quality jackets have a pretty comprehensive range. But different pocket arrangements work for different people, depending on a host of factors, such as the type of items you plan on carrying and at what height your pocketed-hands feel most comfortable. So it's well worth checking what the jacket you're considering has to offer before making a purchase.
A final feature that I'd like to cover is armpit zips. When the heat starts to build up inside a coat from hard activity, it's like a breath of fresh air to be able to unzip and dump some warmth without having to take off the whole coat. I'm particularly fond of coats with full-length zips so you can transition into poncho mode when needed. But also remember, another culprit of heat buildup can be poor jacket breathability.
4. Breathability
Almost nothing is worse than slipping into a raincoat and later finding that you're just as wet anyway from your own humidity and sweat. You might just as well rinse off in the rain! The trick for coat manufacturers is, therefore, to develop a material that keeps rain and dampness from getting in, yet allows moisture and vapor to escape.
The general leader of the pack in this department is Gore-Tex. It's been applied far and wide for both raincoats and boots, and it's generally a fairly safe option. Other companies have recently been developing alternatives?recall Columbia's OutDry or Marmot's NanoPro or Patagonia's H2No??that all also work to combine waterproofing and breathability.
One important note to consider is that high-quality, and equally high pricing, ultralight (UL) raincoats typically do not include extraordinary breathability. They are focusing on trimming weight wherever they can, cutting out all non-essentials, and breathability often does not make the cut.
UL options aside, the better the coat you opt for from an established brand, the better breathability you're paying for. But you don't only benefit from just a cool ride by choosing high-quality items. I truly cannot overstate that the more you focus on superior products from reputable brands, the more likely you are to buy your favorite rain jacket of all time with regard to every criterion.
5. Cost and Quality
I know it hurts, but if you want the ideal rain jacket, you're probably going to have to pay for it. The jackets with top-tier durability, waterproofing, breathability and features will undoubtedly set you back a pretty penny. But I find it always helps to consider this point: Would you rather be stuck out in the woods, on a mountain or even on your way to work in the driving rain with a mediocre coat that essentially just filters the water for you? I think not! So take the time, consider your options and intended activities, and pick out the rain jacket that fits your lifestyle and will benefit you the most!
The next time you're hiking, biking, running, just commuting to work or doing just about anything caught in the rain, you're going to be glad you've been prepped on the finest rain jackets on the market.
You know the materials, you have your required features in mind and you understand the importance of breathability. And, finally, you have a complete list of the top rain jackets for nearly every occasion. So take a look, pick out the jacket that will work best for you and let the adventuring begin rain or shine!
Have fun and stay safe, eh?
---
READ MORE: