Decades of civil war and infamous cartels — you've certainly heard stories of Colombia's most infamous drug lord, Pablo Escobar. Inevitably, you might be wondering "is Colombia safe?"
There was a time when you certainly shouldn't have gone.
Still, today, the United States government warns tourists to exercise "increased caution due to crime and terrorism." According to the Department of State, crimes such as homicide, assault and armed robbery are common. And organized criminal activities such as extortion, robbery and kidnapping for ransom are widespread in certain parts of Colombia.
So if you're thinking of traveling to Colombia, you should, of course, consider safety. As with anywhere you travel, some areas and activities are more dangerous than others. Things can always go wrong and plans can always go awry.
So, is Colombia safe to travel? The short answer is "yes." But the reality of how to stay safe in Colombia is a bit more complicated, and really depends on who you ask.
Officially, many governments still have travel advisories in place for Colombia. The US government's warning to "exercise increased caution" is why the country currently ranks at a Level 2 with regards to safety. In addition, the U.S. has even stronger "Do Not Travel" warnings for specific regions of Colombia, which are more well-known for crime and potential terrorism.
Likewise, the Canadian government warns tourists to "exercise a high degree of caution." They also have regional travel advisories to avoid all travel in major border areas. And you will find similar warnings from the Australian and UK governments.
That all said, most tourists who visit Colombia don't experience any major complications or issues. The UK Foreign Travel Advice page for Colombia reads, "Despite the high levels of crime, most visits to Colombia are trouble-free".
The truth is that most crime in Colombia committed against tourists is small petty theft or the occasional scam—a not-so-legit tour or a taxi ride ripoff. And, with good travel insurance, you shouldn't have to spend your trip worrying about these kinds of situations.
When it comes to other major crimes, Colombia has seen drastic improvements in crime rates.
There has been a 90 percent decrease in kidnappings over the last 15 years, for example. And, in 2017, the capital, Bogota, had lower violent crime rates than cities like Miami, Florida.
But travel to Colombia (as opposed to travel in Colombia) can be a little riskier. The border regions of Colombia are, by far, home to the country's higher crime rates. I recommend only using the Pan-American Highway Ipiales crossing if traveling to Colombia by land from Ecuador.
Is Colombia Safe to Travel Right Now?
Travel to Colombia is safer now than it has been in decades.
Historically, a lot of the violence and crime in Colombia was related to armed militant groups and/or cartels. But while the cartel held extreme power in the 1980s and 1990s, the major organizations are mostly broken up today. Cartel violence has, in general, relocated to other Latin American countries.
Likewise, as of 2016, the long-running armed conflict between the Colombian government and the militant group, FARC, has officially ended with a peace agreement.
There are still other armed groups, paramilitary and drug trafficking issues in Colombia. However, compared to the past, these are relatively smaller concerns. These issues are also largely limited to rural regions with little tourism.
That said, newer issues still arise, such as the influx of Venezuelan refugees, which has caused tension at the border. Over the last few years, millions of Venezuelans have left their country due to conflict, crime, rising unemployment and an economic crisis. The vast majority of these migrants have come to Colombia.
With such a high number of refugees, the border areas of Colombia have become very volatile. There is also the ever-present threat of armed conflict between the ruling party in Venezuela and outside powers.
Considering these issues, I recommend investing in travel insurance when booking your trip. With trip protection, you can rest assured that, if things change, you can cancel or change your travel plans without losing your money.
Being able to cut your trip short and change your flight with trip protection is also a great option if things were to become more volatile during your trip.
Travel Insurance in Colombia
No matter where you're traveling, you should purchase a travel insurance policy every time you travel abroad. While certain countries might officially be considered safer or less safe, the reality is that petty crime, travel scams and violence can happen almost anywhere in the world.
Purchasing travel insurance in Colombia is a must. While violent crime is at all time lows and the Venezuela situation unlikely to affect vacation tourists, having travel insurance is not just about covering the big stuff.
In Colombia, your travel insurance is more likely to give you peace of mind in the case of the more common travel scams and petty theft in case you get robbed. These types of crimes are unfortunately more common in Colombia than some places in the world.
In Colombia in particular, be cautious in bus terminals and on buses. Thieves are more likely to swipe bags here. You might also notice that some bus companies videotape all passengers before departure. This is a deterrent to thieves who might consider robbing the bus but you should still keep an eye on your bag throughout your journey.
Other petty theft includes pickpocketing, especially on crowded public transportation. Always be aware of your surroundings, and keep your valuables in zippered, hard-to-reach pockets and safe spaces. And never leave your bag underneath or above your seat—keep your bags attached to your body at all times.
It's best not to take out major valuables if you plan to be walking. Street muggings are one of the most common types of crimes, and a foreign traveler with an expensive phone, watch or camera is a preferred target.
What's more, you never really know what's going to happen. On top of covering theft and loss, should you sustain an injury abroad, travel insurance covers you from top to bottom.
It's best to be prepared just in case of the aforementioned crimes. I highly recommend travel insurance for Colombia.
To get a quote just fill out the form below!
Colombia Travel Safety Tips by City
While it is easy to generalize Colombia safety on a country-wide scale, the truth is that safety issues vary quite a bit depending on which part of the country or which city you are visiting. Below, I've broken down Colombia safety travel tips for most of the major cities of Colombia.
Is Cartagena, Colombia Safe?
Located on the Caribbean coast, Cartagena is one of Colombia's most beautiful cities. The historic center is known for some of the best-preserved Spanish architecture in the country. The whole historic area also has lots of quaint plazas, boutique hotels, and amazing restaurants.
Cartagena is also one of the safest cities in Colombia for tourists. This is in part due to the dual-nature of the city.
The tourist areas are physically separated from most of the city. Travelers largely remain in the secure Bocagrande, Castillogrande, Getsemani, or El Centro neighborhoods. In these areas, police officers are very present and the most likely crime is petty theft.
On the beaches in these neighborhoods, be sure to watch your stuff as bags are sometimes snatched. In the historic areas, you will find a number of scams—from people selling fake tours to sketchy money exchange businesses.
While most visitors remain in the above neighborhoods for the majority of their visit, there are a number of tourist sites located further into the heart of the city. You should be much more vigilant when visiting these sites.
For example, the Castillo San Felipe Fort is a must-see and located within walking distance of the historic center. However, I don't recommend walking to or back from the fort at night.
Likewise, the La Popa convent offers one of the best views in the city. However, it should only be visited via car. The surrounding neighborhoods on the mountainside are known to be very rough. For more adventurous travelers, you might also want to check out the local market—Bazurto. If you do so though, make sure you keep a tight grip on your camera.
Is it Safe to Travel to Medellin, Colombia?
While once known as one of the murder capitals of the world and as the home of the notorious Pablo Escobar, today Medellin is a reborn city.
Over the last decade, Medellin has become known not as a city of crime but a city of innovation.
In 2013, the city received the Innovative City of the World award and also an Urbanism Award from Harvard University. In addition to the above, Medellin is beautiful with countless parks, modern architecture and great public transportation.
All that being said, Medellin still has high crime rates, especially in certain neighborhoods. I recommended that you do a bit of research and book accommodation in one of the safer neighborhoods.
The city of Medellin sits in a valley and if you are staying further up in the hills, it is recommended that you don't walk home at night. Even in the nicer neighborhoods, streets on the steep hillsides can be dark and deserted after sunset.
The public transportation in Medellin is top-notch for South America. However, like any bus or metro system, pickpocketing can and does happen.
Finally, there are a few "tourist" sites that are located in slightly more dangerous neighborhoods. Many of these destinations and tours benefit local communities and I don't recommend skipping them.
Consider booking a Comuna 13 Graffiti Tour or taking a ride on one of the Metrocables. These will both give you a chance to see and support local, working class neighborhoods.
That being said, it helps to stay vigilant.
Is Bogota, Colombia Safe?
The capital of Colombia, Bogota sits in the center of the country. At 8,660 feet (2640 meters) above sea level, the most common issue visitors face in Bogota is not crime but, rather, mild altitude sickness.
The city has a number of great neighborhoods with lots of museums, world class restaurants, parks, and theaters. Depending on what part of the city you are visiting or staying in, you might find yourself walking historic cobblestone streets, dancing at a world-class nightclub, or enjoying a coffee at a quaint local cafe.
Which neighborhood you are visiting will also largely determine how safe you are and what sort of crime you might want to be wary of avoiding.
In La Candelaria, the historic center, you will find the countries top museums and most of the city's backpacker hostels. Unfortunately, this neighborhood is also quite sketchy at night and I don't recommend walking around by yourself or with any major valuables. Further south, the city gets very rough and few tourists should or do venture much further than La Candelaria.
To the north, you have neighborhoods like Zona G (lots of great restaurants) and Zona T (great nightlife options). In these neighborhoods, you will find lots of tourists and plenty of police. That being said, mugging and pickpocketing do occur, especially late at night when bars and restaurants close. Parque 93, Virrey and the Usaquen areas of Bogota are also very upscale and safe but again, avoid walking alone late at night.
Something else to consider in Bogota is whether or not you will be taking public transportation. The Transmilenio system in Bogota is often very crowded and prone to pickpockets. The stations are also often not the safest areas late at night. Consider grabbing a taxi or uber at night instead.
Cali, Colombia Safety
Located in the southern part of the country, Cali is another one of Colombia's largest cities. The city is the gateway to Southern and the Southeastern parts of the country, making it an important economic center. When it comes to Colombia travel, Cali is known for another reason—salsa!
Some of the best salsa dancers in the world come from Cali and if you are considering taking some lessons on your trip, this is the place to do it. Cali style salsa has a lot of soul and you will find people dancing in nightclubs throughout the city every weekend.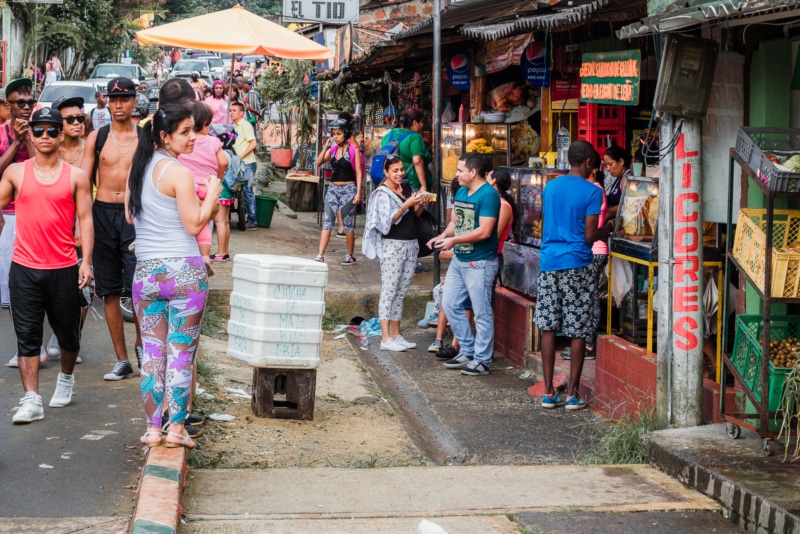 Crime wise, Cali does have larger problems than some of Colombia's other major cities. In large part, the issue is the city's location. Close to the southern border and the volatile Pacific region, Cali is also unfortunately one of the city's closest to the main areas of the historic armed conflict. While the 2016 peace agreement has improved things, a visit to Cali still requires a bit more vigilance.
In the city, again the most common issues are petty theft and scams. If you are leaving the city by bus, make sure to book a ticket with a reputable bus company. If you are heading south by bus, this is especially important. This is one of the few places left in Colombia where there are occasional highway robberies.
Pereira, Colombia Safety
One of the major cities in Colombia's coffee region, Pereira is not necessarily a popular tourist destination itself. That being said, it is the gateway to some of Colombia's most loved destinations—Salento, Manizales and numerous coffee farms.
If you are visiting Pereira, you are more likely than not, using it as a layover destination while waiting to catch a bus to somewhere else. If you do stay overnight, you will find that there are a few things to see but in general, it is a city for locals, not tourists.
As such, the crime here against tourists is almost exclusively related to issues at the bus terminals. It is common that, due to bus schedules, you might find yourself spending a few hours at the terminal. If so, watch your bag!
If you decide to stay overnight, you will probably want to stay close to the bus terminal but as this is not the best neighborhood, I recommend not walking to your accommodations, especially at night.
Is Barranquilla, Colombia Safe?
Barranquilla is one of Colombia's less popular tourist cities. That being said, it is a modern port city on the Caribbean coast with more than a few things to do and see as a tourist.
By far, the main draw to Barranquilla though is the city's yearly Carnaval celebrations. The party is not just Colombia's most impressive yearly celebration, it is actually the second largest carnival in the world. Since this is when most people are visiting, it is also the most likely time for safety issues for travelers to pop up.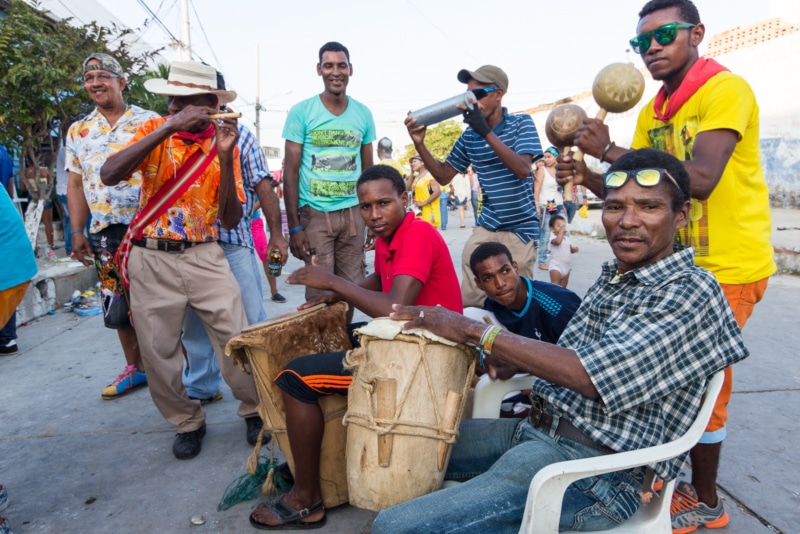 If you will be visiting for Carnaval, and want a smooth trip, there are a few things to consider. First, finding a hotel, hostel, or Airbnb alternative during the festival can be difficult and scams are much more common. Make sure you book a reputable place and only hand over money if using a secure platform, or once you actually get keys to the place.
Unfortunately, theft is also more common in the city during Carnaval. The streets are often packed with people and purse-snatching and pickpocketing becomes a lot easier for potential thieves, especially if the target has been drinking. There are armed police officers, sure, but the number of people far outnumber them, so make sure not to show off large sums of cash and leave valuables back at your hotel room.
Santa Marta, Colombia Safety
Another of Colombia's beautiful Caribbean cities, Santa Marta is a bit of a mix of the old, the new, and the laid back. The city has a nice historic center with similar colonial architecture to Cartagena. It also has nice, beachfront neighborhoods with modern sky-rise apartment buildings with great views.
If you aren't much of a city person, Santa Marta is also the gateway to some of the country's best natural parks and laid back beach towns.
Security wise, Santa Marta is a bit split. Some areas, like upscale El Rodadero, are quite safe. Other areas, especially the neighborhoods right outside the historic center, can be a bit more sketchy.
Another consideration when visiting Santa Marta is the city's location. Sitting just a few hours from Venezuela, the city is experiencing a bit more of the volatility spilling out from the border region.
Overall, the city is relatively safe but it is worth noting that over the last year, there has been a 12 percent increase in robberies. This is in contrast to many other Colombian cities which saw reductions or much lower increases in crime rates.
Is Colombia Safe to Travel Alone?
Solo travel can be an amazing experience and that is just as true in Colombia as in many other places in the world. Colombians are known for being incredibly friendly and welcoming. Even if you are traveling alone in Colombia, you are not likely to feel lonely.
As far as staying safe in Colombia, when it comes to traveling alone, you should take the same precautions you would take anywhere else. Letting someone back home know where you are, where you are heading, and sending regular updates is a great idea.
You will also want to make sure someone back home has access to your information—a copy of your passport, travel insurance information, etc. If anything happens, it is good to have an ally, even if you are technically alone.
While Colombia is relatively safe for solo travel, you should consider yourself a bit more of a target for any criminals.
Take extra caution to watch your bag especially in bus terminals and on the street. Walking alone at night, almost anywhere in Colombia, is also not recommended. If you are staying at a hostel, you can usually find someone else to tag along for any late night adventures but if not, grab a taxi or Uber home.
At the end of the day, the best piece of Colombia travel advice—especially when traveling on your own—is to use common sense.
How Safe is Colombia for Americans?
When it comes to South America, Colombia is the country with one of the closest political connections to the United States. The countries worked closely together to fight the cartels of the '80s and '90s. They also have similar political climates and lots of cultural similarities as well.
As such, people from the United States are usually welcomed to Colombia with warmth and enthusiasm. Colombian people have a love for U.S. culture and you are sure to quickly make friends.
As far as Colombia safety, United States citizens shouldn't have any more difficulty visiting or traveling around Colombia than anyone else from a similar country. Being from a wealthier country, you will naturally be more of a target for scams. If you show off valuables, you will likewise be more of a target for theft. Being from the U.S. won't make you more of a target alone though.
That said, because of the current Venezuela issues, some Colombians are a bit more wary of a U.S. presence in the country. Rumors of U.S.-led military action are common. The debate of whether such action is warranted is also far from settled among most Colombian citizens.
The average American traveler shouldn't be much affected by this and it's very unlikely to cause security issues for tourists. It is good to keep in mind though, especially if discussing politics in any heated situation.
Is Colombia a Safe Country for Solo Female Travelers?
Traveling alone as a woman has its own set of risks and security concerns. In Colombia, you will find many women traveling alone but it isn't necessarily the safest or easiest place in the world to do so.
Colombia, like many Latin American countries, has a bit of a machismo issue.
It is commonplace for men to catcall, whistle, and even follow women on the streets. A strong, aggressive response will usually cause them to back off, but not all the time. Most local Colombian women take the approach of ignoring it.
If you are traveling solo as a woman in Colombia, I don't recommend going out drinking or partying alone. The nightlife in Colombia is amazing but as a solo woman, you will be targeted aggressively in any nightclub. While violence or outright assault is rare, harassment at nightclubs is prevalent.
At the same time, local Colombians are very welcoming and if you are alone as a tourist it is easy to make friends. You will find both men and women eager to show you the best of their country.
Is the Water Safe to Drink in Colombia?
The last thing you want to do on any trip is get sick. We all know that the quickest way to pick up a stomach bug is by drinking bad water. Thankfully, in most of Colombia's major cities, tap water is perfectly safe.
Colombia regulates and tests tap water for drinking quality in Bogota, Medellin, Cali, and Cartagena. In these cities, you should be fine but it is worth noting that there are occasional issues.
If you have a very sensitive stomach, you still might want to filter your water. Also, consider the option if you are staying in an older building. They don't always keep plumbing pipes up to quality standards.
In more rural areas and smaller cities, drinking tap water is much riskier. Many Colombians outside the major cities chose to boil all drinking water in their homes. Wealthier Colombians, both in rural areas and in major cities, sometimes also opt to have filtered drinking water delivered to their homes.
Unless you are sticking solely to the major cities, it might be a good idea to pack a water filter. A great travel option is the Grayl Geopress water bottle, which is small enough to pack and convenient not just as a filter but as a water bottle.
Is the Food Safe to Eat in Colombia?
Colombia is infamous for having quite bland food. The truth, however, is that gastronomy in the country can be top-notch—if you know where to find it.
Bogota is home to not one but three of Latin America's best restaurants. There are equally great restaurants in Cartagena, Medellin and other major cities. In Medellin, for example, El Cielo is a well-known and highly rated restaurant with a tasting menu in molecular gastronomy.
Eating at most city restaurants is completely safe. In more rural areas, water quality can be a bit riskier and you will want to opt for fully cooked food options.
When it comes to street and market food, you will want to take a bit more caution. In general, it's probably safe, but use your common sense and avoid anything that looks off, old or less than cooked.
Rural areas are more prone to food poisoning. Besides bad water, you will also want to watch out in rural areas where power outages are common. Keeping food, especially meat, cool is very hard when there are frequent power outages. This is especially true in Colombia's rural, hot coastal regions or the Amazon region.
Is it Safe to Take a Taxi in Colombia?
Colombia regulates all taxis and in general, they are safe. However, they are also the most common places in Colombia for local scammers to take advantage of tourists.
Each city in Colombia has its own sort of "rules" when it comes to taxis. In Bogota, the meter should always be running. In Cartagena or Santa Marta, meters are not really a thing. Instead, prices are based on distance. The problem is that if you don't know the set price, you will be overcharged.
A prevalent scam to watch out for is taxi drivers claiming the meter doesn't work. In some cities (again Cartagena or Santa Marta), they might be telling the truth but in Bogota or Medellin, if the meter isn't working, find another cab.
Another problem is taxi drivers quoting a higher price than the meter shows at the end of a ride. In taxis with meters, there should be a chart available that shows you the meter number and the price. Drivers usually add a surcharge of 2,000 COP to meter prices on weekends and at night.
Alternatively, Uber is also available in a few Colombian cities. While not quite legal, you can usually pick up an Uber without any problems.
With Uber, you are sure to pay the official price but with the legality issue, there are occasional problems. Uber drivers often ask passengers to sit upfront as they don't want to be a target for police. If police officers stop the car, you shouldn't have any problems. They might question you though and possibly fine the Uber driver.
Is Colombia Safe to Live?
Colombia is becoming a popular expat destination with thousands of people moving to the country each year. While people back home might wonder if Colombia is safe to travel to, the many expats in the country have decided the answer is: "safe enough."
With security improving and violent crime rates continuing to drop, it has become relatively safe to live in Colombia. On top of general Colombia safety, the country also has a great health care system. This makes living in the country longterm a viable, safe option for many.
Additionally, if you choose to move to Colombia, the longer you stay, the safer it will get for you.
This is based on the logic that the longer you stay anywhere, the more familiar you get with the place. You learn which neighborhoods to avoid. You're familiar with the travel advisories and are able to learn the typical scams (and how to avoid them). Making friends and building a community that can look out for you also helps.
The truth is that Colombia, while not the most safe place in the world, is a great place to live overall.
So, is it Dangerous in Colombia?
Many people's first introduction to Colombia is the Netflix show, Narcos. And while it's a fantastic show, the truth is that Colombia is a much different place than it was a few decades ago.
Today, Colombia is modern and sophisticated. It is one of the most beautiful and diverse places on earth. It is home to world-class dining and nightlife. Hundreds of thousands of travelers visit each year.
Colombia is far from the kidnapping and murder capital it once was. Today it is safer and more secure than many Latin American countries.
All that said, prepare yourself.
Colombians have a saying "no dar papaya," which literally means "don't give papaya." The true meaning, though, is that you shouldn't give people an opportunity to take advantage of you.
Don't count money on the street, don't flash your valuables and stay alert.
In this same line of thinking, use common sense and don't leave yourself open to risk. Don't give the papaya. And most importantly, make sure you get insurance from one fo the best travel insurance companies to cover yourself, no matter what happens. I hope these safety tips help you travel through this beautiful country safely and with peace of mind knowing that you're well prepared.