The thought of sleeping in your car in unfamiliar places might be intimidating at first. But today, with a variety of campsite options, exceptional camping gear, and easy access to information about the outdoors, a car camping adventure doesn't have to be all that scary.
In fact, it's a lot of fun!
As someone who has spent hundreds of nights car camping, I can assure you that it's worth the hype. It's hard to beat spending nights under starry skies, waking up to sunrises over beautiful mountains and staying in remote locations without city traffic.
From established National Park campgrounds to city parks to remote sites hours from the smallest of towns, I've camped all over the place.
It's not uncommon if you're nervous at first (I sure was), but I've learned a lot along the way. This guide is here to provide you with car camping tips and hacks to make your first trip a smooth and enjoyable experience!
What is Car Camping?
Car camping is sleeping in your car. Instead of pulling into a campsite and setting up your tent, you stay sheltered from the elements by sleeping in the backseat, usually with the seats folded down in an SUV or hatchback. Car camping is usually done at local, state and National Parks around the US, or you can find your own camp sites in areas that allow "dispersed camping" for free.
Is Car Camping Safe?
Yes, car camping is safe. In all my car camping experience, I've rarely been bothered by a person or wildlife. However, occasionally things do happen and where you decide to park for the night is usually the biggest factor.
When you go car camping, campgrounds and public lands are typically safer than parking lots and truck stops.
Many people pass through truck stops and these lots are often crowded and dark. Campgrounds and public lands offer more privacy than truck stops. Also, other car campers frequent these areas which can add to a feeling of security.
In the case that an issue arises it helps if you're prepared.
How to Stay Safe When Sleeping In Your Car
While nothing is likely to go wrong, it's best to prepare for situations that may arise. This is for your safety and can make you more comfortable when sleeping in your car.
Orient Your Car So You Have an Exit
Always be prepared for a precipitous escape.
To that end, the most important tip I can provide is to always back in when car camping. Whether you're in a parking lot, campground, or rocky pull-off, keep your car pointed out. If you need to jump into the front seat to leave all of a sudden, you have an easy way out.
Ultimately, try to think about how to maximize space to easily pull out. If someone else parks in front of you, make sure you have enough space to get out around them.
Always Be Ready To Go
Keep your keys and other personal essentials in an easily accessible space. Vehicles with open access from the front to the back of the car (like hatchbacks and SUVs) make this much easier. Built-out pickup trucks sometimes don't allow for this. In that case, it is a good idea to put in a sliding window system to make this possible.
If you wear glasses or contacts, keep your glasses next to you. Don't wear earplugs or headphones when falling asleep so you can stay aware of your surroundings and wake up if needed. Also, make sure to always keep a headlamp next to you in case you quickly need light.
Don't Share Too Much Information
This is especially important if you're car camping alone. If you meet someone creepy they shouldn't know where you are going. If a stranger finds out I'm car camping I usually say I'm meeting some friends or make up a different location than where I'll actually sleep.
However, the more time you spend car camping, the more people you'll meet who are also on the road. Use your best judgment. I have received great information about the best camping spots and met people who I've felt comfortable car camping near.
Use your instincts before deciding to share too much.
Find a Camp Spot Before Dark
This makes life so much easier. Finding a campsite before dark helps you orient yourself and, as it gets late, visibility decreases and other vehicles will likely have taken the best spots already. This is especially important on weekends and holidays.
If you find a campsite early in the day, bring something to set up and claim the spot. I usually carry an old tent I don't mind leaving and put some rocks or water in the tent to hold it down.
I've never had a problem with anyone tampering or stealing my belongings but, of course, I'm more comfortable leaving an old tent than something new.
Always Tell A Friend Where You Are
You might not always have cell service but when you do, send your friends a pin of where you are car camping. If you know the area will not have service, try to notify a friend where you plan to stay when you're in a town.
You can also use the Find My option on your smartphone to share your location with family and friends. If you have service, they'll have your exact location at all times. If you leave service, they'll at least have the last location where you did have service, which is close enough to know the general area where you're spending the night.
Carry Extra Supplies and Essentials
I'll later discuss what you should always have with you but extra water, food, fuel for a stove, and a water filter are all must-have items.
Ultimately, you want to be prepared to survive for at least a couple of days, should something go drastically wrong or if you decide to change your plans last minute.
Also, keep your gas tank full and carry important car essentials like jumper cables and a spare headlight. Make sure your spare tire is filled to the right pressure—this is often easily overlooked.
Check-In at a Ranger Station
Depending on where you're camping, rangers have plenty of useful advice about the best and safest areas to car camp. A stop at the visitor center or ranger station can give you important knowledge and up-to-date news for a good car camping trip.
Sleeping in Your Car: Car Camping Tips for Beginners
As a beginner, car camping may seem intimidating but if you follow these tips you will have a comfortable, cozy experience making an enjoyable trip.
Use Comfortable Bedding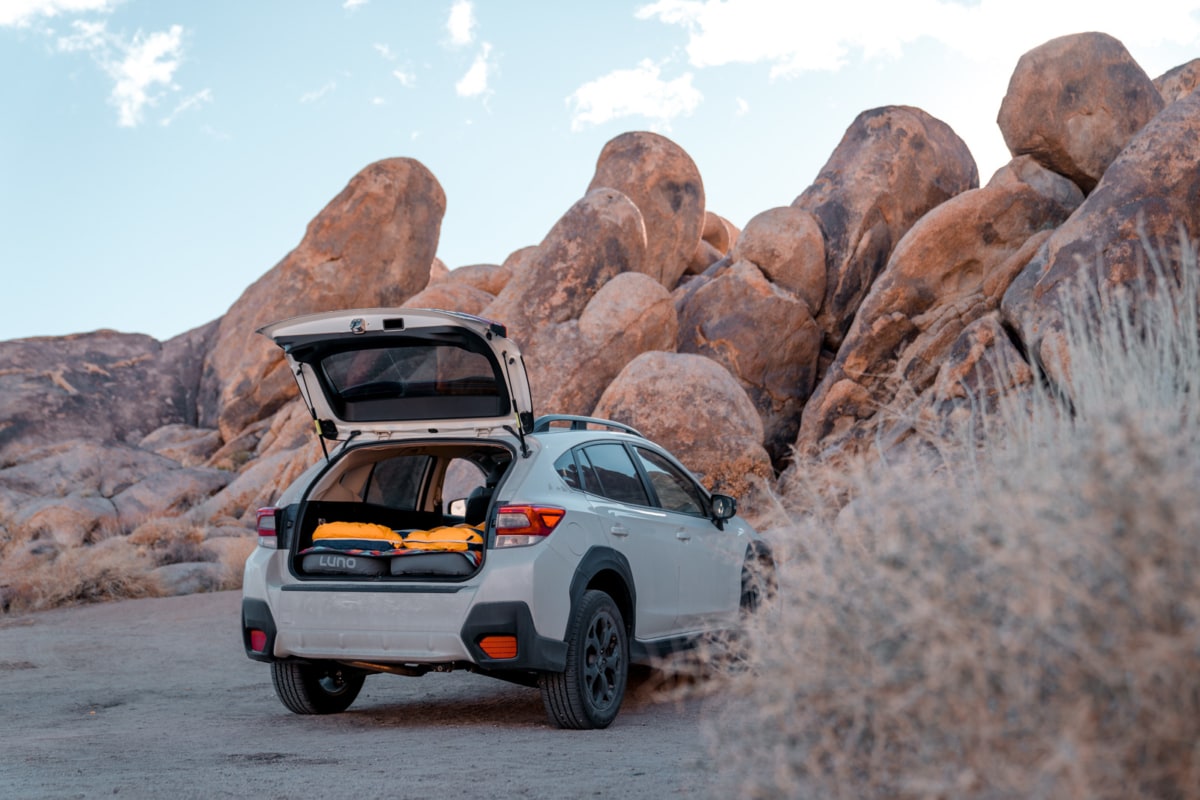 There are a few options for bedding when sleeping in your car. An air mattress, foam mattress, and sleeping pad are all great options.
By far the most comfortable option is an air mattress. You can bring your own, or look at a company like Luno Life who makes custom-fit air mattresses specifically for your vehicle.
You'll be surprised by how comfortable it is. Click here for a full Luno Life air mattress review.
For a more budget-friendly approach, try using some foam padding from a craft store like JOANN. The one I use is about 4 inches thick, 2 feet wide, and 6 feet long. For a long-term car camping trip, I've found this very comfortable.
Lastly, the easiest route is to use what might you already have for tent camping—a sleeping pad like the Kammok Pongo Pad. It's quick and easy to lie down in the back of your vehicle, but if you're car camping for longer periods, you might want to upgrade.
Sleep With Your Head Towards the Front of the Car
Cars often have more room in the center of the car compared to the back. When you sleep in your car it's more comfortable to have your head forward for extra elbow room where the doors bump out.
To maximize the space you have available, push your front seats all the way forward, and lean the backrest forward as much as you can. Depending on the size of your car, this may or may not be necessary.
Park on Flat Surfaces
Check to see if your vehicle is at a slant. It's not always possible to find a completely flat campsite and it's better to sleep with your head slightly elevated rather than your feet.
Crack a Window
Ventilation is essential when car camping, otherwise the interior of your car will fog up as you breathe all night. This forms condensation on the inside of your car which can later turn into mold.
To keep the air flowing, crack your windows or sunroof a couple of inches. This will keep animals or people out, but still, provide enough ventilation to prevent condensation. If you're in a buggy area, cut some mesh to put over the windows like netting.
Luno Life also sells mesh windscreens which is an easy way to deal with it!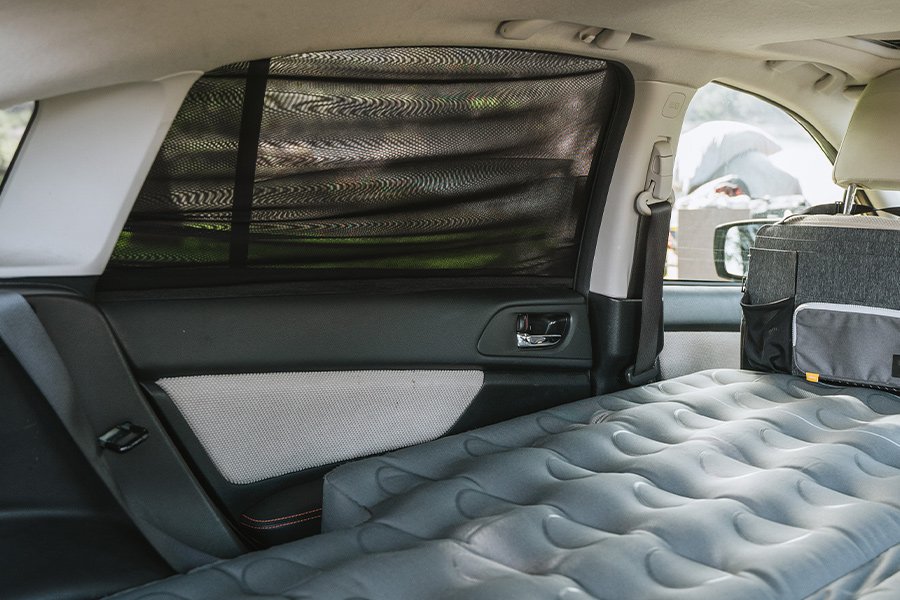 Put Up Curtains or Reflective Shades
Privacy is nice when sleeping in your car. If temperatures are average, making some curtains will suffice great to give you privacy when car camping. This is especially valuable if camping in a public location.
The easiest option is to purchase a full set of SunShades from WeatherTech which are custom-cut to fit your specific vehicle.
You can also look at Luno's mesh window shades which aren't completely blackout but do provide privacy and keep bugs out at the same time.
For a DIY option, reflectix insulation is a budget-friendly way forward. It's easy to cut these to the exact shape of your window and they pack down small for storage.
Stay Charged
On your car camping trip, access to power is a luxury. While driving, you should always take advantage of charging your electronics.
During the night it helps to have a portable power pack or power station to keep your devices alive.
For something simple, small and straightforward, a power bank from Anker is a perfect choice.
If you want something to power a laptop, charge your camera and any other electronics along the way, look into higher-capacity power stations from Goal Zero or Jackery.
The great thing about these is that you can leave them plugged into your car so that when you're driving, it's always charging the power station. Then, when you post up for the night, your power station is fully charged and ready to go.
Alternatively, you can use a solar generator to charge your power station if you won't be doing much driving or plan on being off the grid for a while.
Bring a Lantern or Fairy Lights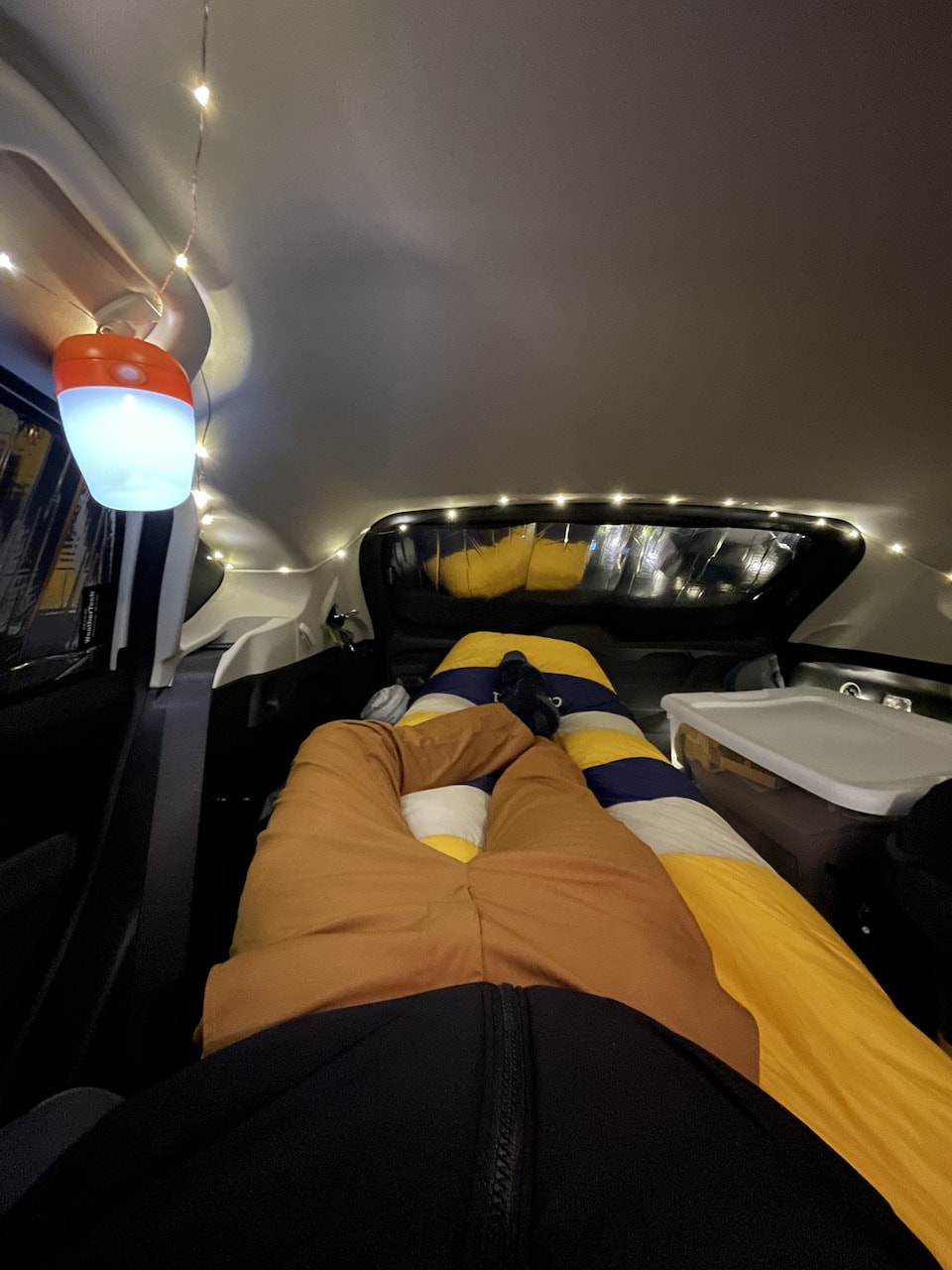 A light source that doesn't drain your car battery is essential for an evening in your vehicle and is easier than wearing a headlamp.
Hang a solar-powered lantern like the BioLite Alpen Glow up on one of the many car hooks or handles.
If you have a power station, it is nice to have fairy lights lining the inside of your vehicle and they help distribute light equally.
Check out REVEL GEAR for a good string light option.
Properly Store Food
In most cases, plan to store your food in your vehicle when you car camp. Bring containers for leftovers and use a cooler to keep food fresh and at the right temperature. This eliminates the chance of food going bad and causing your car to stink.
However, if you are in Bear Country, if avoidable, do not store food in your car. No matter how careful you are with food storage, some bears can still smell the food, especially if you have a window cracked for air.
I spent a night sleeping at an unpopular trailhead in the North Cascades and woke up in the middle of the night to a bear circling my car because it smelled what I had cooked. Another time, when in Lake Tahoe, a bear started rattling the trailer I stored my food in.
The best place to store food when in Bear Country is in bear boxes or a bear canister. A BearVault food container is worth the money and approved by national parks and forests.
When in Bear Country, most campsites and trailheads with lots of bear activity have bear boxes. These are shared boxes so put all your food and scented toiletries in a bag inside the bear box.
It might seem inconvenient but—trust me—it's better than waking up in the middle of the night with a bear trying to get into your car!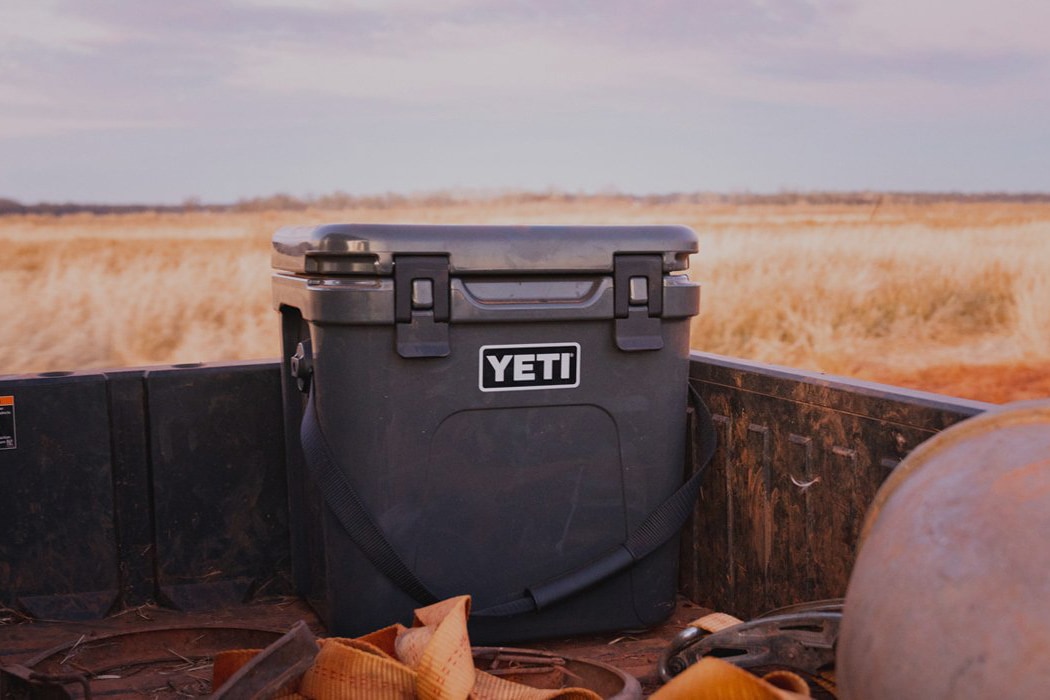 Properly Dispose of Waste
Don't let trash build up in your car—you should always properly dispose of waste. Don't leave it behind at a campsite and if the bin at the campsite is full, find another one so animals don't get to your trash.
That said, if you do have trash, you should always keep it in your vehicle at night. You don't want animals ripping through your waste bag outside of your car because that's a big mess to clean up in the morning.
You can keep your food in a trash bag or Sea to Summit makes a trash dry sack that is easy for cleaning and disposal.
If you are in Bear Country, store your trash in the bear box alongside your food.
Fill Up Your Tank
Before traveling into remote areas it's especially important to start with a full tank of gas. You won't want to run out of fuel on an unpaved forest service road without service.
Even when driving from one small town or national park to your next site, fill up whenever you get the chance. Too much is always better than not enough in this case.
Carry Jumper Cables
Every once in a while you might forget you left your phone charging all night or left a light on too long. In older vehicles with an old battery, this is more likely to happen. Jump-starting your car is a simple fix if you have another vehicle and jumper cables.
But if you plan to travel to very remote areas where it's uncommon to see anyone, carry a portable car jump starter. This way you're self-reliant if your car battery dies.
For general safety, I am most comfortable knowing my battery is in good condition. Check your battery capacity before heading out and if you're concerned, most auto shops like AutoZone or O'Reilly's will run a quick diagnostic test for free to check the battery's remaining power.
Bring Plenty of Water
Always bring plenty of water. As a general rule of thumb, plan to carry at least a gallon per person per day. Generally, you can fill up at visitor centers and grocery stores, but if you don't know when you'll have access to water next, make sure you have extra with you.
If your car breaks down or you find yourself lost in a remote area, you will need water to survive. Also, if your radiator starts overheating and you don't have coolant, you can fill that with water until you're able to make it to a shop or gas station.
Carrying a water filter is also very beneficial. Depending on the area you're visiting you can refill your water supply from streams, creeks, and rivers.
There are a few great options for water filters.
GRAYL makes water bottles with a built-in filter.
A SteriPen filters both bacteria and viruses out of clear water.
The Katadyn filters water very quickly and efficiently.
Obtain a Fire Permit
Some places require fire permits for campfires or even just cooking on a gas stove. This varies depending on fire season and location however, it is the law to obtain this permit in those areas. The permit helps you understand fire potential and impact and how to eliminate any issues.
Typically you can find this permit online or at ranger stations or visitor centers. Every state is different so it's best to look online about how to obtain one. Some states have you watch a short video, take a quiz, and print out your permit.
You must carry the permit with you at all times if you plan to have any type of fire.
How to Find Campsites That Allow Camping in Cars
Established campsites, primitive camping, and parking lots are all options for your car camping trip. While some places require reservations ahead of time, you can also roll up and figure it out at other locations when you arrive.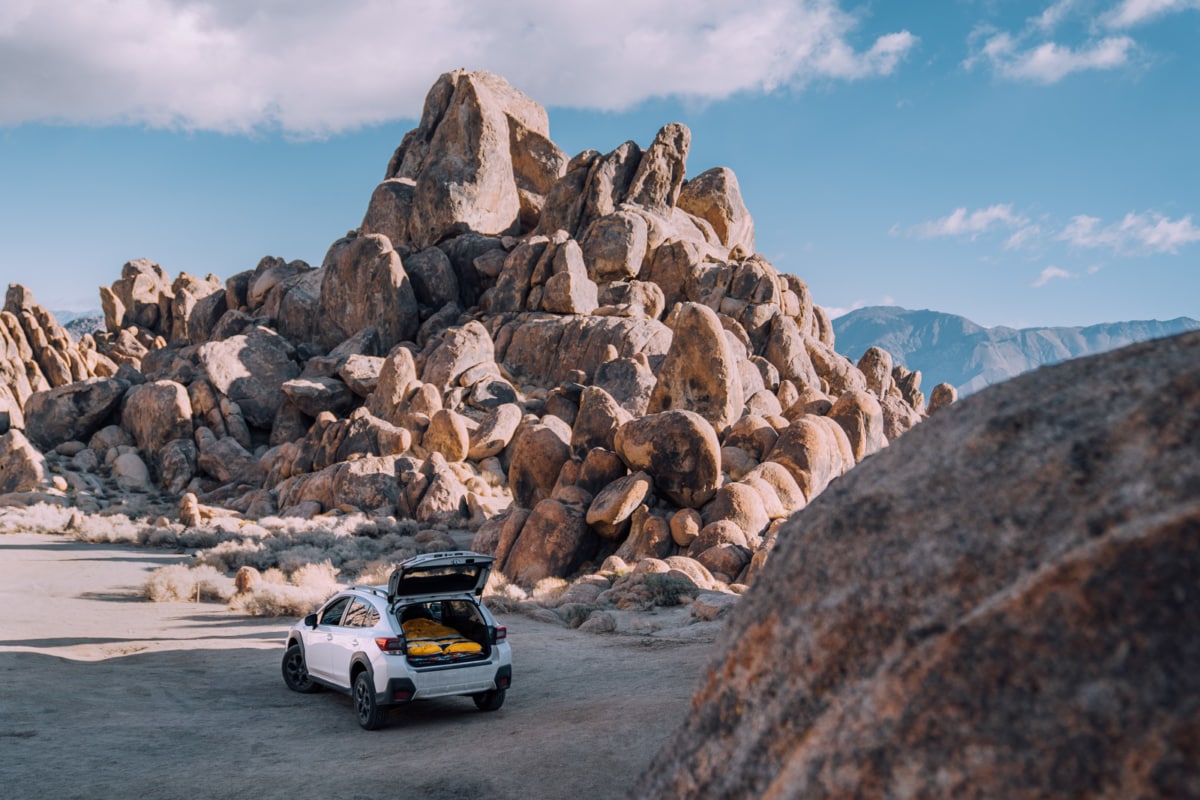 Reserve a Campsite for Your Car Camping Trip
Campsite reservations are available in National Parks, National Forests, and privately run campgrounds, often located in well-visited areas. For all national park and forest campgrounds, you reserve these on Recreation.gov. During the high season, these are fairly popular so it's helpful to book ahead.
Many National Park and privately run campgrounds have amenities including toilets, showers, fire rings, grills, picnic tables, and RV hookups. National Forest campgrounds and more primitive National Park campgrounds will not so check park websites to research what is included.
These campsites are usually conveniently located near popular tourist sites and because other people are around it's a great way to get into car camping!
Use Apps to Find Free Campsites
Nowadays, we're lucky to have numerous apps that list campsites and lesser-known spots for boondocking to make car camping easier.
Most of these apps have the same general idea, showing primitive, semi-established, and established campgrounds on a map as well as listing truck stops and parking lots where overnight parking is allowed.
My preferred app is iOverlander. It lists camping spots and public lots and shows where to refill water, public showers, laundry spots, gas stations, and other common services needed when car camping.
On iOverlander, people post reviews of these camp spots for up-to-date information like whether or not there is cell service, and how quiet or loud the site may be.
Campendium is another app that displays public campgrounds, RV parks, public lots, and dumpsites on a map. You can also check out reviews and look for what type of camping is allowed- car camping, tents, RV, etc.
The Dyrt is another app with the same idea, showing the different types of campsites and what services are available at each car camping spot. It also lists whether the site is drive-in, walk-in, hike-in, or boat-in. What's unique about this app is you can pin your locations and create a road trip map of the camping spots you visited.
Car Camp on BLM Land
BLM Land is public land managed by the Bureau of Land Management (BLM). Its mission is to sustain healthy, diverse, and productive public land for the enjoyment of current and future generations of visitors.
This land is very popular in the western United States and is commonly located outside of national parks and other beautiful sites. It is very common in desert regions.
It is almost always free to camp on BLM land. The one exception is the very few basic campsites that usually have a pit toilet and occasionally a tap to fill water. Outside of these areas, it's full-on primitive camping. No services, just drive in and find a place to park.
I usually find BLM campsites by using the suggested apps. Otherwise, I'll purchase a local map to see what areas are BLM land or I'll ask rangers or locals for advice.
In areas where car camping on BLM land is common, you'll notice spots that have already been camped on. It is best to stick to solid ground where little to no vegetation is growing. It's important not to drive through vegetation—even grasses—because this ruins the homes of many insects and animals.
While camping on BLM land there generally are few services so it's important to properly pack out all waste and come ready with extra supplies. General knowledge of the wildlife and weather is important too.
Car Camp in National Forests
National Forests offer many free options for car camping as well as semi-established and basic campsites.
The semi-established and basic campsites usually cost a few dollars depending on the area and an information sign is usually posted at the front. Most semi-established campsites will usually have a communal pit toilet and occasionally a picnic table.
If you don't care for services, start driving through the woods on forest service roads. These are roads throughout the national forest commonly used for logging, mineral extraction, and livestock. Often they are gravel or dirt roads.
There are often pull-offs on the side of these roads. They vary in size, some as small as a parking space for a compact vehicle and some are large enough to fit multiple cars.
Once again, I generally find these national forest campsites using the free campsite apps or looking at detailed local maps. Forest Service roads are often labeled "FH" and then a number; ie. FH401.
I love camping off of forest service roads but it can be difficult to find a spot if you don't know the area so be prepared to search for a while. There are times where I've searched for a camp spot for over two hours so it helps to do so during daylight.
Park in Well-Lit Parking Lots
Not every area has BLM or National Forest land to camp on so you may find yourself searching for a parking lot. Many Walmarts, Costco's, Home Depots, 24 Hour Fitness, and Anytime Fitness allow overnight parking, however, this varies by location.
Always read and follow any posted signs and choose to stay in well-lit areas.
While car camping in a parking lot it's a good idea to have curtains or something covering your windows.
Don't give yourself away, keep everything contained in your vehicle, keep the lights off, and don't go to the bathroom in public; that's a dead giveaway you're sleeping in your car. Not to mention, it's not respectful.
Use the bathrooms provided where you're staying, but avoid brushing your teeth in public lots or bathrooms (or do so in the stall) as that's a dead giveaway, too.
Lastly, if you're unsure of the area you're parked in and think you might be asked to move, avoid drinking or using any substances before falling to sleep.
In some cities, it's actually illegal to sleep in your car and DUI laws are funky in different states when sleeping in your car. So it's best to avoid any substances that could get you in trouble if asked to move.
Truck Stops Aren't Just for Trucks
I would reserve truck stops as a last resort option since I'm a female often traveling solo but it's not impossible. Actually, at most truck stops, anyone can sleep there. Pilot's, Love's, or any well-known chain truck stop with lots of amenities are your best options.
When car camping at a truck stop, find a well-lit area where trucks can easily see you. They're much bigger and in the dark, at night, this can be an issue. Don't park in front of no parking or limited parking hour signs.
Once again, don't make it obvious you're camping in your car. Use inside bathrooms and turn off all electronics or lights when sleeping in your car.
When car camping at a truck stop it's generally safer to do so in rural areas compared to cities.
With that said, keep in mind that, at any truck stop, you'll have huge 18-wheelers in and out of the lots all night, so expect lots of noise and not a lot of rest if you're a light sleeper.
What Gear to Pack When Sleeping in Your Car
Make yourself as comfortable as you are at home when sleeping in your car. With the right gear, the following car camping essentials can help make a good car camping trip great and maximize your comfort.
Sleeping Gear
Temperature-appropriate sleeping bags are essential for car camping.
In the summertime, 40-degree sleeping bags generally work well. You can also get away with a blanket like the Rumpl Original Puffy.
In colder temperatures, invest in a 0-20 degree sleeping bag.
Sea-to-Summit makes great sleeping bags. The Ascent Down Mummy Sleeping Bag comes in 0, 15, and 25-degrees for comfort in all conditions.
For a bit more comfort, don't forget to pack a pillow! There's no reason you need a camping pillow, either. You can take your pillows from home for a bit of added comfort.
Hiking Gear
The location and duration of where you plan to hike when you go car camping will depend on what you should pack but generally, you should bring:
Daypack. The REI Flash series and Osprey Talon packs are great options
Water
Food and snacks like power bars, lunch
Trekking poles. I love my ultralight Kelty Cairn poles
Water filter if on a long day hike near water sources. I personally love the GRAYL GEOPRESS.
Navigation tools like a topographic map and compass or a GPS map on your phone. I prefer Gaia GPS but Garmin makes great GPS units, too.
First aid kit. MyMedic makes great kits for a variety of trips
Knife or multi-tool like the Leatherman Squirt
Proper clothing layers
Good hiking shoes. These are best to try on at a store because every foot is different but hiking boots, trail runners, or shoes with good grip are all great options
Headlamp for when it gets dark. Black Diamond, Petzl and BioLite all make great options.
Power Source
It's easy to charge your electronics in your car while you drive but that isn't helpful at night or while you sleep in your car.
Bring a portable power source to keep your electronics charged when camping.
Anker makes a variety of quality power banks, but if you're looking for something larger and more self-sustainable, Goal Zero has power stations that can last you for days..
Camping Stove
Campfires are fun however, sometimes fire restrictions are in place. Fires also require more work to cook your food. A great option for car camping is a two-burner stove.
I love my Coleman Classic 2-Burner Propane Stove. It's simple, affordable, and after years of use, still works great. All you need is a can of propane and you're good to go.
First Aid Kit
While you should always take a first aid kit hiking, you should also have one for camping in your car too. It should be larger than your hiking kit. Check out MyMedic for some great first aid kit options.
Carry bandages, gauzes, ointments, medications, safety pins, triangle bandages, antiseptic, a splint, scissors, tweezers, and eye drops to just name a few items.
If you want to make your own, The Red Cross has a decent list of things you should pack in your first aid kit.
How to Cook While Car Camping
A solid kitchen setup helps when car camping. Luckily, you have a few options.
Create a Table Set Up
It's possible to spread your kitchen across the ground but a folding table can make cooking a lot more comfortable. A simple one from Target suffices.
If you spend a lot of time car camping and ever plan to build out your car, a sliding or fold-out plank of wood to use as a table is quite a luxury.
Use a Camp Stove
If you plan to cook bigger meals or for multiple people, a two-burner stove is the best option. I love my Coleman 2-Burner Stove. I've had mine for years and it still works great. All you'll need is propane to fuel this stove.
Backpacking or lightweight stoves are also a great option. I prefer my MSR Pocket Rocket. It packs down very small and is fueled by IsoPro. It's great for cooking a variety of meals.
If your primary goal is to boil water for coffee, ramen, or a dehydrated meal, check out a Jetboil. These are another compact and portable cooking system and work great for car camping and hiking.
Purchase Camp Cooking Accessories
A cast-iron pan is a great addition to your kitchen because they don't need soap to be cleaned. Just wipe away the scraps and leave the grease to season your next meal.
For a multipurpose dish, I love my Fozzils Snapfold Bowl. You can fold it into a bowl, use it as a plate, or as a cutting board. They are durable, lightweight, and pack away easily.
What to Wear Car Camping
Proper clothing is important when car camping to stay comfortable in a variety of temperatures. It's important to have day clothes separate from what you wear at night. Here are some tips on how to layer your clothing and what to wear while sleeping.
How to Layer Your Clothes
Different weather and climates call for different clothing layers but there are a few main layers that help with comfort.
Start with a wicking base layer. They're great when hiking during the day and are usually a thin, quick-drying, synthetic material. Have a spare clean one for nighttime.
Your mid-layers are insulating and thicker to keep you warm. I usually have two of these- a fleece layer followed by a puffy jacket.
Your outer layer should be windproof and waterproof so a good quality rain jacket usually suffices for this.
What to Wear when Sleeping in Your Car
Clean clothes keep you warmer in cool temperatures because wearing dirty clothes will cause your sweat to absorb into you making you cold and smelly.
Therefore, during the evening it's nice to have a second base layer and fleece layer. However, when you go to sleep it is actually beneficial to not over layer.
If sleeping in a down sleeping bag you'll stay warmest when your body is closest to the sleeping bag.
Even in 20-degree temperatures, if you have a good sleeping bag you can probably get away with a fleece and base layer, or sometimes just one of those.
How to Leave No Trace
While car camping it is important to follow the Seven Principles of Leave No Trace. Whether you're camping in a remote area or parked at a truck stop all these rules apply.
Stay up to date on area-specific information.
Park your car on durable surfaces free of vegetation.
Pack out everything and leave your campsite clean.
Help pick up other folks' trash.
Bury any solid human waste at least 6 inches deep and 200 feet from any water source or trail.
Follow fire regulations and carry a fire permit if applicable.
Car Camping Conclusion
Knowing the basics of sleeping in your car will make your first car camping experience an adventure of a lifetime. With the right gear and car camping essentials, you will find yourself as comfortable in your car as you are at home.
With so many campground options in beautiful places across the United States and around the world, it's no wonder why a car-camping road trip is one of the best ways to adventure!