Over the past year and a half, I've spent most of my time living in my Subaru Outback. I've learned the ins and outs of the car camping lifestyle and am here to share everything I've learned on how to turn your Subaru Outback into the perfect vehicle for car camping and Overlanding.
Whether you simply want to start going on more road trips, or if you're a hiker who flees the city to hit the trails at the crack of dawn, or a photographer who needs a place to crash after shooting the milky way, car camping in your Subaru is a great way to make these adventures happen.
Why a Subaru is Perfect for Car Camping
Whether you drive a Subaru Outback, Forester, Crosstrek or another model, Subaru SUVs are the perfect adventure vehicle. Subaru's are great for:
High Ground Clearance
The Subaru Outback, Crosstrek, Forester, and Ascent all have a ground clearance of 8.7 inches. You can travel over rocky, tough terrain, knowing that the risk of scraping the underbody of your vehicle is minimal.
All Wheel Drive
All Subarus (except the BRZ) have all-wheel drive (AWD), making them the perfect off-road vehicle. According to Subaru, with symmetrical all-wheel drive, Subarus gain more power, traction, stability, and control. This helps maintain a solid grip on the road in a variety of conditions.
Spacious Cargo Area
The Outback and other Subaru models have plenty of cargo space. Folding down the rear seats creates more leg room for sleeping. Plus, both the spare tire well and space under the front seats provide room for additional storage.
How to Turn Your Subaru Outback into a Camper
Turning your Subie into a camper actually takes less work than you'd think! You can go the DIY route if you're comfortable with that, or there are plenty of custom-made gear options fit specifically to different vehicles—Subarus in particular.
With just about everything you can imagine out there on the market, and an endless number of ways to turn your Subaru into a camper, sleeping in your car can actually be incredibly comfortable. There's almost no reason not to!
Of course, everyone has a different budget for turning their vehicle into their camper. Whether you're a gear junkie looking to build out a sick rig for overlanding, or you're more of a DIY budget explorer, I'll run you through all the information you need to know before you set out on your adventures.
Fold-Down the Back Seats for Your Bed
One of the best features of a Subaru is that the back seats fold relatively flat. This makes sleeping in your vehicle more comfortable as you can lie completely flat in your bed. With the entire back row of seats folded down, you have almost as much room as a full-sized bed.
Different Subaru models and years have slightly different dimensions when the seats are folded down but most average about 4 feet of space across from the narrowest point by 6 feet in length if you move your front seats forward.
Even if you're tall—and even if there are two of you—sleeping in your Subaru will not be a problem!
Use a Mattress to Sleep Comfortably
When car camping there are plenty of mattress options depending on how much time you spend in your Subaru and how much money you're willing to spend. Your sleeping area is at the core of your list of car camping essentials.
Air Mattress
For maximum comfort check out Luno Life! They create durable air mattresses that are custom cut to fit the exact shape of your vehicle. It inflates via a pump that draws power from your cigarette lighter, and it packs down small and easily when not in use.
Foam Mattress
I personally went a different route and use a 6ft x 2ft x 4in piece of cushioning foam from JOANN Fabrics. This foam is commonly used to make chair pads, boat seating, and camper cushions—but I use it as a bed!
Because I always keep my seats down I keep my bed setup full time. And despite it only costing about $80, it's very comfortable and durable.
Sleeping Pad
Lastly, if you're trying to make do with what you already have, a regular camping sleeping pad works great too! I love my Therm-a-Rest NeoAir XLite. It works great in my Outback and as an ultralight sleeping pad, it works great for backpacking too. With a weight of less than a pound, it packs down to about the size of a water bottle.
Alternatively, Use a Rooftop Tent or Pack a Regular Tent
A comfortable night of rest is essential to enjoy multiple days of car camping. With a variety of tent brands on the market, there are so many different options depending on your comfort level and budget.
Tent Camping
If you have the space to set up a tent, the easiest option when camping outside your Subaru Outback is a camping tent. They eliminate the extra weight on top of your vehicle, are easy to put up, simple to take down and provide the same amount of space and durability as a rooftop tent.
A camping tent also provides more room than sleeping in your car.
Ultralight tents are the most popular tents nowadays. These tents work great as both backpacking tents and for car camping. For the lightest tests out there, check out the Big Agnes Copper Spur line, the Nemo Dagger, or the Nemo Hornet.
While ultralight tents are great for their lightweight feature, you might sacrifice some durability. If you are only in the front country some good options for great quality tents, which are still decent for backpacking are the MSR Hubba Hubba or the REI Half Dome 2.
Rooftop Tent
In recent years, rooftop tents have become very popular. These tents allow you to camp just about anywhere—in parking lots, on the side of the road, or on uneven terrain. Also, if you're in an area with a lot of wildlife, a rooftop tent can provide more protection from animals.
However, a rooftop tent is significantly more expensive, heavy, and often requires multiple people to set up. A rooftop tent is best recommended for people who are serious overlanders who love to off road, or car living dwellers who have the time and money to make a rooftop tent worth it. Also, some rooftop tents require the use of brand-specific roof racks for the system to work.
If you purchase one, you have two options: a soft or a hard shell tent. A softshell tent typically opens on the sides while a hardshell tent pops up on top. A hardshell tent has a higher weight than softshell tent. In addition, it's important to keep in mind that as a small SUV, the Subaru Outback does not have the highest weight capacity.
There are a lot of brands to choose some, but these are some of the best rooftop tents on the market:
All of these brands make both hardshell and softshell tents. They are all durable, waterproof, multi-season tents worth checking out.
A Simple Bed Platform Can Help Create Space
If you plan to spend a lot of time in your Subaru Outback, building a bed platform utilizes upward space while still providing a comfortable place for sleeping. This helps maximize storage if you plan to spend a lot of time in your vehicle.
I recently built a bed platform in the back of my Subaru. I have hinges so it can fold up small and I can still use the seats while creating plenty of storage room underneath the bed.
Utilize Built-In Storage Space
I love all the additional, hidden space that Subaru vehicles have. The cargo area that stores the spare tire has plenty of extra room to store gear! Many Subaru's have foam around the tire. You can pack things into those spaces or even remove the foam if you have a lot to store. The trunk area of the car gave me plenty of extra space I didn't even realize was there.
Also, use space around the seats for storage. These vehicles have a bunch of storage room under the front seats. When the seats are folded down there is a bit of storage room between them.
Tips for Car Camping in a Subaru
As you begin spending more time camping in your Outback, you'll probably want some additions to make your experience more comfortable. These gear suggestions are not necessities, however, they will surely make for a more pleasant experience while adventuring out of your vehicle.
1. Give Yourself Privacy—and Block the Sun—with Sunshades
Privacy, shade during the day, and warmth during the winter are nice luxuries to have when camping in your Subaru Outback.
WeatherTech makes a full set of shades custom-made to fit your windows. They help keep the car cool in the summer and warm in the winter. When not in use, WeatherTech shades roll up neatly for compact storage.
If you're the crafty type, it's pretty easy to make sunshades/insulation yourself. You can buy a roll of Reflectix Insulation from most home improvement stores. Just outline the shape of your window and cut them out. For the same result, this option will cost you less if you put in the effort to make them!
2. Always Crack a Window (with Mosquito Netting)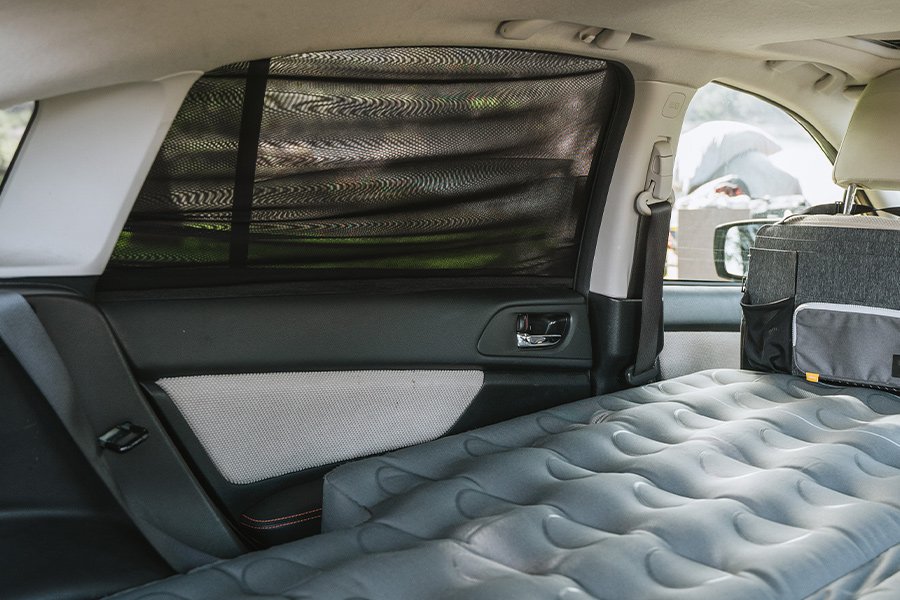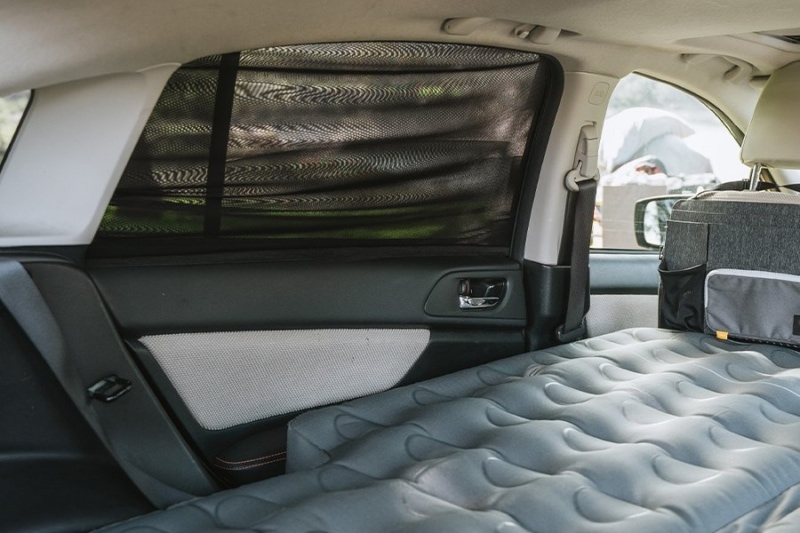 Cracking a window prevents your Outback from filling with condensation and allows for circulation. Many people find that even in cooler temperatures, it's beneficial to crack a window to keep your windows from fogging.
If in a buggy area you'll definitely want to invest in mosquito netting to keep the bugs out of your vehicle. Luno comes in with car window screens that keep bugs out, help prevent UV radiation and add a layer of privacy, too. They easily slide over the window and have a convenient storage pouch.
Coghlan also makes mosquito netting. While these aren't cut perfectly to frame your windows they are a great alternative if on a budget. Made of mesh polyester, these serve the same purpose. Just cut the netting as needed. You can often find this brand at Target, Walmart, or general stores when camping.
3. Bring a Cooler to Keep Food Cold
YETI makes amazing products that are heavy-duty, long-lasting, and keep your food cold. The 24L Roadie is a great option for Subaru's because it fits well in the rear footwell and is perfectly sized to fit a Luno air mattress. The handle makes it easy to carry and with a bunch of sizes and models, you'll surely find something to suit your needs.
RTIC also makes great coolers that cost a bit less than YETI coolers. They are also durable and have a variety of sizes, colors, and models.
On my DIY budget, I chose to spend a bit less on a cooler and bought a Coleman. While this cooler probably isn't the best of the best because you might have to refill the ice more often, the cost difference is one thing that makes it worth it for me.
4. Bring Your Own Power for Off-Grid Camping
Having power while car camping in your Outback is a luxury and it's more convenient than most people think. Both Goal Zero and Jackery make awesome products for off-grid power including generators, power stations, solar panels, lights, and other accessories to upgrade your setup.
5. Attach Crossbars on Your Car
Whether you're driving an Outback, Forester, Crosstrek, or other Subaru model, attaching a retractable crossbar system is very useful.
With a crossbar running the length of the vehicle you can easily attach your roof rack cargo box or bag for storage. The crossbars make it much easier to attach other items too, such as kayaks, bikes, skis, etc. Check out the crossbars made by Thule if you're looking for the best quality.
6. Use a Roof Rack for Extra Storage
Using a roof rack and cargo carrier is a great way to maximize storage inside your Subaru Outback while still allowing easy access to less commonly used items. Thule, Yakima, and SportsRack all make incredible products at varying prices but most importantly it's necessary to understand what style of rooftop storage you want.
Pro Tip: Always check Craigslist and local buy and sell pages before you purchase! Many travelers use roof racks and storage for a few trips then try to sell them. I got my $400 value cargo box for $100 on Craigslist!
Rooftop Basket
Baskets sit on top of your roof rack and because they are an open storage platform they can hold many items, including oddly-shaped ones. Therefore, you can pile on as much or little as you want and tighten them with cam straps, a bungee, or a net.
Rooftop Box/Cargo Carrier
A box or solid cargo carrier is secure and the safest way to lock your valuables. They keep water out and you don't have to worry about extra straps. They are also aerodynamically designed to minimize wind resistance that can gobble up fuel. However, you are limited to the space inside of them and they are large in storage.
Thule is known for a variety of sized rooftop cargo boxes. Whether you need them to fit the length of your skies, or you need a wider option, Thule has plenty to choose from.
Rooftop Bag
A bag is fairly similar to a box in terms of size, however, they store much smaller when not in use. They fit oddly shaped items and don't require a roof rack to mount them. They are not as ideal in adverse weather conditions but they are cheaper than a cargo box.
7. Have a Reliable Camping Stove
A good camping stove gives you the comfort of making your own food and helps save money.
The Coleman 2-burner stove is a simple propane stove that has been around for years, yet it is one of the best out there for the price and quality. With the two burners, I've easily made dinner for a group of friends. It's just as good as cooking on a kitchen stove!
Campers: when you're cooking outdoors, follow these leave no trace principles to learn all the information you need to help keep the environment healthy.
Best Subaru Car Camping Accessories
As you begin spending more time car camping there are some additional things that can help deck out your vehicle. While many of these things are not necessities, they can make your experience more convenient and comfortable.
Sleeping Bags
For campers, a good sleeping bag is a big thing to factor into your quality of sleep. Depending on the season and environment you are in will determine what temperature rating you need.
When camping in your Outback in the summer, a 40-degree bag is usually a good choice. In cooler temperatures, you'll want to get about a 20-degree bag. If you plan to spend any time in your vehicle in the winter in the mountains you will definitely want a 0-degree bag.
For a great year-round sleeping bag check out the Sea-To-Summit Ascent. This bag comes in 3 temperature ratings; 0°F, 15°F, and 25°F. These down-filled sleeping bags pack down small and depending on the temperature range you choose they can work for multiple seasons.
Or, if you're looking for something else, check out this list of the best sleeping bag brands.
When buying a sleeping bag, keep in mind:
Sleeping bags have two types of temperature ratings. The tested lower limit states the minimum temperature that the bag will keep you alive; this does not mean it will keep you warm.
The tested comfort is usually 10-15 degrees higher and this is a better indication of what temperature you will stay warm at.
There are male-specific and female-specific sleeping bags. Generally, men have a body temperature of about 10 degrees warmer than women. In cold temperatures, gender-specific sleeping bags can make a difference as women's are usually packed with more insulation.
The length and size of the sleeping bag also contribute to warmth. The better the fit, the warmer you'll stay.
A mummy fit helps with warmth too, especially when it covers your head. Be sure to leave a space for your mouth so you don't end up with condensation inside!
As someone who has lived out of her car in all conditions, winter is definitely the hardest. During the colder months, or anytime it's below 20 degrees outside, it also helps to have additional blankets and a comforter. Layer these blankets on top of you for maximum warmth. The Rumpl Original Puffy is a great outdoor blanket for adding some extra warmth to your sleep system.
Rooftop Awning
One awesome thing about the Subaru Outback? The trunk opens upward. If you're short, you're in luck as the door makes an awesome awning! But you might want more room or if you are a bit taller, a rooftop awning keeps you dry and provides shade when cooking or relaxing next to your Subaru.
Thule OverCast, Roam, and CVT all make durable, waterproof rooftop awnings, in varying sizes. All prices start around $250-$300 for the basic rooftop awning set up for your vehicle.
If you're looking for a budget awning, a great alternative is using a tarp with some hooks or carabiners to attach the tarp to the vehicle. On the other side, you can use tent poles and paracord to secure it to the other side of the vehicle. This one might not withstand all conditions as well, but is a great, inexpensive alternative.
Camping Table
With a variety of table options to choose from, the type of table you choose will depend on the way you want to store it.
For the cheapest option, you can buy a folding table at Target. Often these are a bit bulkier but they get the job done. Typically they don't pack down as well but are a great piece if not car camping too frequently.
If weight and size are your concern as opposed to cost, I would recommend the Helinox collection. They sell sturdy, lightweight tables and chairs that pack down small and serve many uses.
Rear Hitch Cargo Carrier
A cargo carrier attached to the trunk of your Subaru opens up space for additional gear storage and can double as a cooking table!
If you plan to off-road keep in mind how low your rear hitch sits. Also, it will add additional weight to your car setup which is something to note.
The Yakima EXO is a great option for a cargo hitch carrier. It has multiple configurations and can hold two units of storage whether that's two gearlockers, a gearlocker, and a bike, or a solo gearlocker with a shelf on top to use as a cooking table!
The Wilco HitchSwing and RIGd UltraSwing are great alternatives to the Yakima. While they don't have the double system they do carry bikes, luggage, or a cargo box with the option to swing to the passenger or driver side when attached. This makes it easy to access the trunk of the car while providing additional storage room.
RinseKit or Shower
If you're lucky, your campsite might have a shower. However, when that isn't the case, many campers still want to find a way to stay clean which makes camping much more enjoyable.
Check out RinseKit as a portable shower option. With a pressurized system similar to a garden hose, these kits are able to store water then generate hot or cold water in just 30 seconds.
Cleanwaste GO Portable Toilet
If digging a hole and pooping in one isn't your cup of tea, Cleanwaste makes a portable toilet that you can take anywhere! These are great if you have a base camp set up. Whether you're traveling with kids or you're no longer comfortable squatting, it makes going to the bathroom much more comfortable and you can easily wrap waste up to pack out.
Sea-To-Summit Trash Drybag
Sea-to-Summit makes a Trash Dry Sack that comes in handy to keep your Subaru Outback clean and helps avoid leaving trash at your campsite. This dry bag is waterproof, durable, packs down small, and is easy to take on backpacking trips too.
***
The ability to take your Subaru model SUV off-road for adventures is a great way for people to distance themselves from other campers while enjoying their lives in the great outdoors.
With so many options and ideas to upgrade your camper setup, there are ways for everyone to enjoy this lifestyle. As more people are adventuring into outdoor places, having a solid camping situation based from your car is the newest, trendy way to vacation!