Choosing lightweight luggage can be challenging. And as a frequent flier, I know how important traveling with a good suitcase is, and how hard it is to come by.
It's not just about choosing the the cheapest or most stylish option. When purchasing a lightweight suitcase, you'll want to consider a few things like durability, style, materials, warranty, smart features, packing capacity, and organization structure.
I spent years traveling with flimsy lightweight luggage before ever finding a suitcase that was not only functional but durable as well. Now, having circled the globe dozens of times, I've learned a thing or two about what to look for in lightweight luggage.
No matter what you're looking for, this curated list of the best lightweight luggage should help you find it. Before narrowing it down to a specific bag, be clear about what you'll be using it for. Each bag is purpose-built and provides unique features. So, as with life, make sure you know what you want first.
Travelpro is known worldwide for having some of the best quality lightweight luggage for over 25 years. The brand gained international recognition when its founder, a professional pilot, invented the world's first upright rolling luggage.
Created for and most notably used by flight attendants and professionals, Travelpro is known for its constant innovation of soft-sided suitcases and intricate knowledge of the industry. They listen to the needs of professionals who are constantly traveling and adapt that knowledge to create luggage suitable for civilian use—which they've truly perfected with their Maxlite Luggage Collection.
Their Maxlite line has some of the lightest luggage (and most spacious) in the game, with unique features suited for frequent fliers. The Travelpro Maxlite 5 21'' Expandable Carry-On Spinner has a high-tensile-strength expandable zipper that grants storage up to two additional inches
This bag is made with high-quality ballistic nylon and features a Duraguard coating that allows the luggage to remain water- and stain-resistant. High-quality spinner wheels grant you better maneuverability and easier control regardless of the terrain you're conquering.
It has a full-length interior lid pocket, several side zippered pockets and adjustable hold-down straps to keep your things organized. The Maxlite Pro series comes in a variety of colors and offers matching checked suitcases for those who are traveling long distances.
Travelpro offers a Limited Lifetime Warranty for luggage under the Maxlite 5 collection. The warranty covers defective carrying and extension handles, zippers, and spinner wheels. If you register your suitcase within 120 days, you're eligible for a first-year warranty upgrade under Travelpro's Trusted Companion Promise.
This is truly one of the best lightweight luggage options out there!
Travelpro Maxlite 5 Specs:
| | |
| --- | --- |
| Dimensions | 21" x 14" x 9" in |
| Capacity | 46L |
| Weight | 5.4 lbs |
| Warranty | Limited Lifetime Warranty |
A favorite among budget-conscious travelers, Amazon Basics' 21-Inch Hardside Spinner offers a ton of value at a lower price point.
Let's be honest, Amazon is one of the first places any budget shopper looks for cheaper suitcases, and although sometimes the products aren't as high-quality as other luggage brands, I will say their Softside bag is a winner in the travel community.
The AmazonBasics 21-Inch Hardside Spinner is lighter than most hard-shell luggage and can squeeze into some spaces that hard shells can't, much like a duffel bag.
This luggage also comes with four double spinner wheels that use a double "tire" construction that offer a streamlined, buttery ride on the go. Plus, these multi-directional wheels also reduce the amount of strain on your shoulders and arms, so you can bid those painful trips to the airport goodbye.
This carry-on is highly expandable and can stretch up to 25 percent, giving you the extra storage space you need, and more. It also features a large exterior pocket that can easily house bigger items like a laptop or other items you may need quick access to. Inside, the luggage contains a 150D-polyester interior organizer with three zippered pockets that aid in storing smaller items.
When packed, this bag does tend to topple, so it's best to load their heavier items at the bottom when packing to prevent this. It also comes with a basic telescopic handle, which does not offer any adjustability other than the preset height. This means that you will need to be careful before purchasing to make sure it's the right height for you.
AmazonBasics 21-Inch Hardside Spinner Specs:
| | |
| --- | --- |
| Dimensions | 15″ x 10″ x 21.6″ |
| Capacity | 39L |
| Weight | 7.34 lbs |
| Warranty | Limited 3 Year Warranty |
3. July Carry-On Light: Best Lightweight Carry-On Suitcase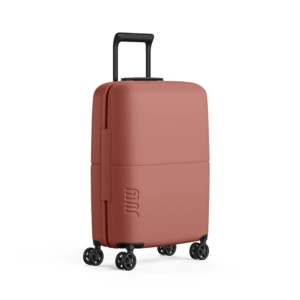 At just 3.9 lbs, July's Carry-On Light prides itself on being the lightest double-wheel suitcase on the market. This is definitely my favorite lightweight carry-on luggage, as it hits all of my preference boxes: it's super lightweight, has smooth 360-degree double spinner wheels, 32L of packing capacity, and a stylish exterior.
All of the materials used to craft this ultra lightweight luggage—the German polycarbonate shell, YKK Zippers, water-resistant and stain-proof nylon lining, PVC hinges and trimmings, and wheels—are vegan friendly and extremely high-quality. As one of the lightest carry-on bags on the market, you may expect the materials to be flimsier, but they really do pass the durability test.
Quality wheels are a non-negotiable for me when searching for lightweight carry-on luggage. Wheels typically weigh down luggage, so when I heard that July claimed to have the lightest double-wheel suitcase, I was interested to learn more.
July luggage has SilentMove Series 2 double spinner wheels that are covered under their extensive lifetime warranty. They glide seamlessly, prevent loud rolling noise, and weigh next to nothing—a rarity for double spinner wheels.
If you're looking for one of the lightest suitcases out there that will fit all your belongings for a weekend trip in a piece of carry-on luggage, I highly recommend July. As far as carry-on luggage goes, this is the lightest one that still maintains its packing capacity, durability, and design.
July Carry-On Light Specs:
| | |
| --- | --- |
| Dimensions | 21.25" x 14.25" x 7.5" in |
| Capacity | 32L |
| Weight | 3.9 lbs |
| Warranty | Limited Lifetime Warranty |
A luggage set from Monos is a great option if you're looking for both a carry-on bag and lightweight checked luggage that provide similar features and a stylish look.
Luggage sets are especially handy for international travel—having carry-on luggage for those items you need easily accessible and lightweight checked luggage with extra space for bulkier items.
These bags offer a sleek, simple design that carries over to each of their different sizes. They have several carry-ons and checked bags that you can mix and match to create the perfect lightweight luggage sets.
Offered in 10 beautiful colors, everyone can find a monochrome or mix-and-match set that fits their aesthetic. Both bags also have four double spinner wheels that are super lightweight.
The Monos Carry-On Pro is outfitted with a hard-side front zipper pocket that can fit a 15" laptop—something I'm always having to squeeze in my backpack at the last minute! I love this feature because I often use my laptop to work while waiting in the airport or on the flight.
The unbreakable polycarbonate shell, telescopic handle, built in TSA lock, and quiet, sturdy wheels compare to most of the other major lightweight luggage brands in the market today. These features seem to be new must-haves for travelers!
Their Check-In Medium bag is the perfect partner to bring along on your adventures. Not only do they match their smaller bags perfectly, but you can even nest the Carry-Ons inside of the Check-In bags for easy, compact storage.
With all the same great features as the Carry-On, minus the front zip pocket, this checked luggage makes for a great addition on those longer trips where you need a bit more packing space. It is also one of the most lightweight suitcases when it comes to checked luggage!
Pairing these two bags makes one of the best lightweight suitcase sets on the market! Monos isn't the most affordable option, though. Check out this list of cheap luggage sets for more options.
Or, for more information on Monos suitcases, check out our Monos luggage review.
Monos Luggage Set Specs:
| | Carry-On Pro | Check-In Medium |
| --- | --- | --- |
| Dimensions | 22″ × 14″ × 9″ | 26.5″ × 18.5″ × 10.5″ |
| Capacity | 36L | 70L |
| Weight | 7.8 lbs | 9.59 lbs |
| Warranty | Limited Lifetime Warranty | Limited Lifetime Warranty |
5. Away The Carry-On: Lightweight Luggage with the Best Warranty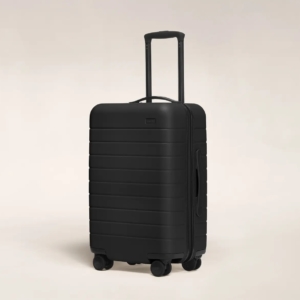 Away is an extremely popular up-and-coming luggage brand. The Carry-On is Away's best-selling model, following minimalist and clean design cues with smart features and thoughtful organization
Made with 100% polycarbonate, it's no wonder that The Carry-On is extremely strong, flexible, yet lightweight––qualities that have become the gold standard for all hard-side luggage to achieve.
Away really shines when it comes to their warranty. Their lifetime warranty covers any damage sustained to the shell, spinner wheels, handles, zippers, tie down straps, and many other functional elements of the luggage.
I actually had a cross-country move to NYC last summer, and when I shipped one of my Away bags in the mail, the shell ended up cracking (thanks FedEx). I emailed Away and they replaced my bag with a brand new one in just a few days!
The luggage features a fully lined interior with a robust design that keeps your things organized without overcomplicating matters or clogging up valuable space. The main compartment contains a deep pocket covered by a full-zip divider, which makes it good for bulkier items; the other side contains a detachable, buckle-down compression system that wrings out every last space in the 39.8 L bag.
It also comes with a larger zip pocket that's fitted with extra padding, making it the perfect space for your delicate electronics. The bag is even equipped with a TSA-approved combination lock (I use this every time I travel to ensure my belongings are safe)!
This carry-on bag also comes with YKK zippers and four double Hinomoto spinner wheels, giving a luxurious finish to the luggage. This allows it to glide effortlessly on smooth pavements, rocky roads, hardwood, and grass!

It is also available in a battery model, which includes a removable, rechargeable lithium-ion TSA-approved battery to charge your devices on the go. You will no longer be tied down to charging ports and sitting on the floor, as you can always have easy access to power.
For more information, read our Away luggage review.
Away The Carry-On Specs:
| | |
| --- | --- |
| Dimensions | 21.7" x 13.7" x 9" in |
| Capacity | 39.8L |
| Weight | 8.1 lbs |
| Warranty | Limited Lifetime Warranty |
The Calpak Ambeur line offers quality hard-sided luggage at a stellar value. The best-selling Ambeur Carry-On Luggage is a sleek and modern-looking hard-side suitcase that makes it a dream to bring along at the airport.
Fitted with an adjustable telescopic handle, the luggage is easily tailored to your ideal height, so that you're able to move around with ease. The luggage's interior has several compartments that enable you to pack things on both sides of the carry-on. The well-made elastic cross straps and zippered pockets allow for a comfortable and efficient packing process in the main compartment.
This is one of the lightest suitcases out there, and it even features expandable storage up to two inches, which comes in handy when you want to cram in last-minute souvenirs without any worry. Lastly, the bag contains a removable mesh accessory pocket which enables you to access all your belongings easily.
With hard-side luggage, it's important to ensure it will fit in any overhead compartment, and the Ambeur Carry-On fits the bill, even with the extra 2 inches of expandable storage.
Though a small selection, the colors the Ambeur line does come in are gorgeous! It is protected against scratches and fades, thanks to its durable polycarbonate hard sides, so the color will last.
This also means you don't have to worry about scratching up your carry-on when stuffing it in the overhead bins with other luggage! It also has a limited warranty of one to two years which only covers defects in workmanship and material.
Calpak Ambeur Carry-On Specs:
| | |
| --- | --- |
| Dimensions | 21" x 14" x 9" in |
| Capacity | 46L |
| Weight | 6 lbs |
| Warranty | Limited 2 Year Warranty |
Briggs & Riley began in New York, the travel mecca of the U.S., with the promise of revolutionizing the luggage market.
Their Torq Collection of hard-side luggage is the ultimate powerhouse, with a scratch-proof case and a versatile handle system made with aircraft-grade aluminum. The bag is made from three strong layers of top-quality Makrolon polycarbonate, the toughest thermo-plastic in the world.
Inside, there are compartments and accessory pockets to make organization simple. The main compartment holder contains enough for a week-long trip, a zippered mesh pocket to keep excess garments, and an additional folder to keep your business suits wrinkle-free.
The luggage also features a host of exterior zippered pockets for easy access to your important items like passports and laptops. These pockets are fitted with popular YKK zippers, which are known to be one of the strongest and most expensive zippers for high-end luxury.
Do note that if any of the zipper heads for Briggs & Riley bags break, you can replace them easily by using a pen to remove them from the zip, and claiming warranty under Briggs & Riley's insurance. Briggs & Riley's 'Simple as that' lifetime warranty covers everything from workmanship defects to airline damage.
Briggs & Riley Torq Domestic 22" Carry-On Spinner Specs:
| | |
| --- | --- |
| Dimensions | 22" x 14" x 9" in |
| Capacity | 44.9L |
| Weight | 6.9 lbs |
| Warranty | Limited Lifetime Warranty |
8. Victorinox Connex: Best Lightweight Soft-Shell Luggage
Victorinox's Connex Medium Softside Case is a great soft-shell luggage option for those who want a reliable and spacious bag. The outer material is made out of extremely durable nylon that will easily withstand airport baggage processing (we've all seen how careless the airlines can be with throwing bags around)!
The Connex Medium Softside offers a spacious main compartment that can expand 1.6 inches. Its expandability affords it great utility, particularly for those who may pick up unexpected extra baggage on their travels and need the storage to hold it all.
Additionally, there are elastic tie-down straps that will keep the bulk in your luggage secure and tight, along with zippered dividers and pockets. It also has a zippered front pocket for easy access to items that you may need to get out in a hurry. No one likes to unpack their entire luggage just to get their passport.
The Victorinox Connex Medium Softside Case also comes with 2.4-inch dual caster Hinomoto smooth rolling wheels. They are built to be silent and durable and will allow you to glide through the airport without much effort. All zippers are also manufactured by YKK, a renowned zipper brand.
Following what Victorinox is most famous for, this luggage also features a multi-tool that has all the things a traveler may need: TSA-approved locks, a SIM card replacement tool, an ID tag, and a pen for any emergencies.
Want more options? Check out our full list of the best soft side luggage.
Victorinox Connex Medium Softside Case Specs:
| | |
| --- | --- |
| Dimensions | 11.8" x 17.3" x 25.6" in |
| Capacity | 68L |
| Weight | 9.5 lbs |
| Warranty | Limited 11 Year Warranty |
Samsonite is the largest luggage retailer in the world. Unsurprisingly, they have luggage that is designed for almost any and every purpose. From their lower-end market items to their high-end models, Samsonite luggage has always been regarded as the popular and safe choice for many travelers.
The Eco Advance Wheeled Underseater is a budget-friendly and durable competitor to other small bags on the market.
The best part about this underseat bag is that it's the perfect width to fit in between the narrow aisles of airlines, under the seat, and other tight spaces. It stands at 18.25" x 14" x 8.5" inches and weighs 5.95 pounds.
Made entirely out of post-consumer recycled plastic bottles and recycled fabrics, the Eco Advance's ripstop fabric and reinforced stitching give it a ton of durability. The bag comes with wheels that are specifically designed to reduce frictional resistance, giving it a light, airy feel.
It also comes fitted with a retractable handle that provides easy maneuverability for all users. Once the handle is fully extended, it locks into place and doesn't flop around.
A standout feature of the Samsonite Eco Advance Underseater is the smart sleeve, which allows you to have an external case over the bag that can hold small personal items. Be it passports, wallets, or flight tickets, it's a great and convenient way to store and access them in a pinch.
Its interior is spacious and compartmentalized, allowing you to sort your electronics and other items neatly. It even has an exterior pocket which makes storing items like documents and printouts easy.
The best part is you really don't have to worry about weight allowance, as airlines almost never check your underseat bag!
Samsonite Eco Advance Wheeled Underseater Specs:
| | |
| --- | --- |
| Dimensions | 18.25" x 14" x 8.5" in |
| Capacity | N/A |
| Weight | 5.95 lbs |
| Warranty | Limited 10 Year Global Warranty |
Lipault is a French company that focuses on bringing Parisian style, color, and flair to the luggage industry. Despite being a relative newcomer to the market, Lipault has not stopped at stealing the hearts of travelers.
The Lipault Plume Cabin Spinner is designed and colored with the Parisian runways in mind, aiming to give that chic and effortless look. This carry-on luggage keeps things stylish with its nylon twill exterior, which gives it an air of soft modern luxury.
This PVC reinforced nylon material gives this carry-on a robust and waterproof exterior, allowing it to withstand rough handling and weather wherever you are. It also comes with soft padded handles to allow for a comfortable experience.
This luggage has buttery smooth 360-degree spinner wheels that allow it to move easily and in all directions on the majority of surfaces. It also does not tip over easily thanks to the weight distribution design. Lastly, it comes in many different colors for those who like a slight personal touch to their bags (guilty).
The Lipault Plume Cabin Spinner's biggest downside is its packing space and organization. The main compartment does not have as much space as would be expected for its size, and the compression straps are not the best for squeezing things down and holding them in place. This carry-on also does not have many pockets or dividers, which can make packing a little less organized.
Additionally, the interior pockets on the side and front are often found to be too thin to fit a lot of items inside, even laptops. This makes the Lipault Plume Cabin Spinner an option that is most practical only for light packers or a short getaway.
Lipault Plume Cabin Spinner Specs:
| | |
| --- | --- |
| Dimensions | 21.6" x 13.8" x 8.3" in |
| Capacity | N/A |
| Weight | 4.8 lbs |
| Warranty | Limited 3 Year Global Warranty |
The Tumi Latitude International Carry-On, the smallest in the Latitude line, is constructed out of woven SRPP (self-reinforced polypropylene) ballistic material and has reinforced corners. This will keep your Tumi Latitude in great condition, as the durable materials are abrasion-resistant.
Because SRPP is also a light material, this carry-on is extremely lightweight for its size and for being a hard-shell luggage. It also comes in a select range of colors, keeping to a more professional and minimalistic color palette.
The inside has a spacious main compartment with a divided area and plenty of pockets, making it easy to pack and sort your items. To further help with packing, the Tumi Latitude also comes with a hanger bracket as well as mesh tie-down straps to keep things compact.
The Latitude International is pricier than most carry-on options that can offer the same features, but if you are looking for luxury, they definitely deliver.
Tumi is also renowned for its customer service, offering repairs at their dealers and luggage tracking anywhere in the world. Every Tumi luggage features a metal plate engraved with a 20-digit ID number used to track the bag. This means that even if you happen to lose your luggage, you're still able to track it with the one-of-a-kind Tumi Tracer program.
In a nutshell, Tumi is the epitome of you-get-what-you-pay-for luggage!
Tumi Latitude International Carry-On Specs:
| | |
| --- | --- |
| Dimensions | 22" x 14" x 9" in |
| Capacity | 35L |
| Weight | 6.24 lbs |
| Warranty | Limited 5 Year Warranty |
What to Look for in Lightweight Suitcases
While every feature of a suitcase has varying importance to different people, having a lightweight bag is a pretty universal need for travelers. Ensuring your luggage is lightweight means less of a struggle getting to and from your trips, and with airlines' weight limits, increases the amount of items you can stuff in your luggage.
Although we are primarily focused on features that affect weight, there are other features that we encourage you to look out for, as well. Here are some things to keep in mind when searching for your ideal suitcase:
Weight
Purchasing the lightest weight luggage is important as it gives you the most packing space. Most lightweight luggage options are expandable, which can give you that additional space for last-minute items or ones you acquire on your trip.
I suggest considering lightweight luggage for international travel, as not all airlines are as generous in accommodating heavier baggage allowance. The lighter your luggage is, the more essentials you can pack with you in the cabin and the more likely you are to avoid excess baggage fees.
Lightweight bags are also much easier to lift, which makes it a selling point for those who want an easier experience getting their luggage into the overhead compartment, or transporting it places.
Want in on a little-known secret? Wheels are the hidden weight sink of luggage. Ensure that the wheels are constructed out of lightweight materials that roll smoothly. Spinner wheels made out of polyurethane and lightweight bearings are the optimum choice for those looking to cut weight.
Hard vs. Soft Luggage
Not sure whether to choose hard or soft luggage? Generally, hard side luggage weighs more due to the materials used for that more rigid and solid exterior. But this shell makes damaging the bag much more difficult, thus protecting your valuables inside. Its hard exterior also makes it less prone to theft, as it's difficult to cut or slit open.
Also, hard side luggage is known to be extremely weather-resistant. This protects your valuables from wind, sunshine and moisture.
Lastly, hard side luggage is much easier to clean –– all you need to do is wipe the surface and you're done! Soft luggage, on the other hand, absorbs water and is more prone to retaining smells and stains.
Made with flexible and softer materials, soft side luggage is best when you're packing for more than what you've planned for. It's much easier to stuff things inside your soft side luggage, and they often have handy external pockets. This allows you to store last-minute items such as toiletries or jackets.
Its soft exterior also comes in handy when you want to squeeze it in the overhead compartment, luggage racks, or buses. While soft side luggage may not be as "hardy" as its counterpart, it's often more than capable of withstanding your typical airport and transport conditions.
Price
As the primary concern for many, the price of a piece of luggage is very important. In this article, we'll offer luggage options with a range of price points, but in general we recommend frequent travelers think of their luggage as an investment.
A higher price tag often means features like durability, tracking services, and warranties. When you travel a lot, you want luggage that is reliable. Avoiding the inconvenience of buying another one or sending it in for repairs all the time is a huge relief for any traveler.
Build Quality and Design
The amount of interior packing space is one of the biggest things to consider when purchasing luggage. Ensure that the frame does not eat into the interior area of the luggage and that there are no unnecessary bulges that reduce packing space.
Similarly, look for frames that are made out of light yet rigid materials. We are talking aluminum, graphite or fiberglass. Cheaper materials like steel or iron will often add a lot of weight to the overall body of the luggage.
Extra compartments, elastic cross straps, separators, and pockets is another thing to consider. These features can help compress your packed items and keep them organized. Expandability is also a great way for you to increase your storage capacity without adding on extra weight.
Materials
The lightest luggage is built out of fabric like nylon or materials like polycarbonate. These materials, although lightweight, provide a great deal of durability.
Some manufacturers may try to lower the overall weight of luggage by using cheaper, lighter materials. Having light luggage shouldn't come at the cost of its durability, and manufacturers have plenty of options that offer durability at a low weight. This is why this list only includes luggage made of material I know will last you.
Warranty
Always buy luggage that comes with a warranty. Search for brands with extensive warranties covering a wide range of issues and damages.
The length of the warranty is also a key element to look out for. A comprehensive warranty shows that the luggage company is confident that its product will last you a long time.
Sizing
You need to consider the type of traveling you will be doing to get the right lightweight bag. If you're typically just going on weekend trips, you will likely benefit from a carry-on size bag. Instead of blowing that money on heavier, larger-than-you-need luggage, invest in size-appropriate luggage that is built with lighter and stronger materials.
For longer, more intensive trips, consider investing in a full-size bag or luggage set.
Lightweight Luggage FAQs
Here are some of the common questions people ask when searching for the best lightweight suitcases, and my answers to them.
What is considered lightweight luggage?
This varies depending on the size of luggage that you are intending to buy. 10 pounds and below for a carry-on is generally accepted as lightweight.
Which brand of luggage is the lightest?
There is no consensus on the lightest luggage as it varies according to the type of luggage, but July, IT World and Lipault make the lightest carry-on bags currently available.
What is the lightest soft-side luggage?
Coming in at 3.8 pounds, the lightest luggage on the market is currently the IT Luggage World's Lightest 21.8 Inch 2-wheel carry-on bag.
What is the lightest four-wheel suitcase?
The lightest carry-on four-wheel suitcase is the IT Luggage New York 22-Inch. The lightest checked luggage is the four-wheel American Tourister Stratum XLT 28-Inch.
What is the lightest 25-Inch luggage?
The lightest 25-Inch bag is the Travelpro Maxlite 25-Inch Checked luggage, weighing in at 7.3 pounds.
What is the lightest 28-Inch luggage?
The lightest large luggage available is the AmazonBasics Softside expandable 28-Inch Case, weighing in at only 8.2 pounds. Be aware, however, that it may not be the best quality.
Final Thoughts on Lightweight Bags
With many airlines charging increasingly exorbitant prices for overweight bags, it's become a necessity to travel light. Thankfully, with so many lightweight options available, you're able to choose one that is resilient enough to withstand wear and tear while not adding extra pounds to your bag.
We hope that our guide has helped you figure out what kind of luggage suits you best. Do remember to do research before making any purchases, and check for any product warranty just in case!