When it comes to choosing a suitcase for traveling, the decision-making process can be daunting. There are so many different types of suitcases available, and they all come with pros and cons to consider.
But when it comes to hard vs. soft luggage, there are important differences to consider between the two: on one hand, you have the performance and durability of hardside luggage; on the other hand, you have the lightweight flexibility and convenience of soft side luggage.
Ultimately, it all boils down to personal preference — what do you prioritize in your suitcase?
Let's take a closer look.
Soft Shell Luggage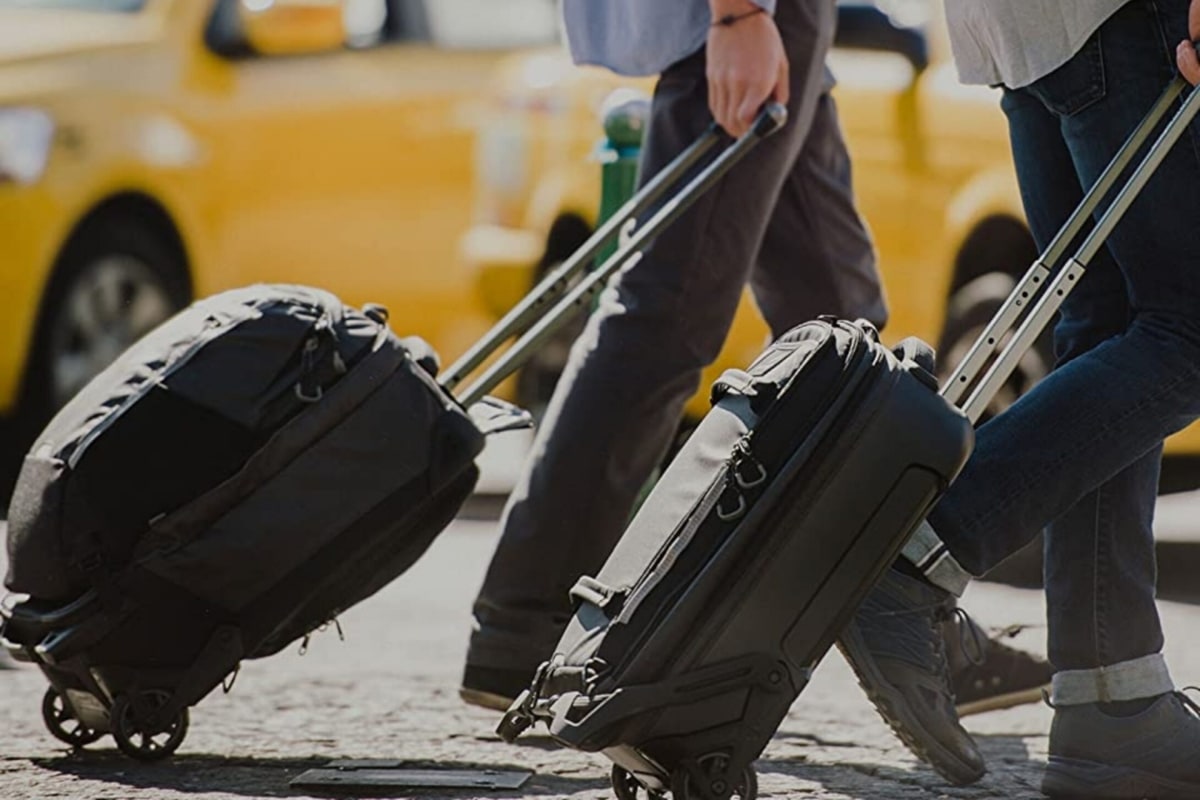 Soft shell luggage offers a lightweight and durable option. It typically comes with a variety of compartments and pockets, making it easy to organize your belongings while on the go. Plus, it's more flexible than hardside luggage, meaning with soft luggage you can fit a lot of items into a relatively small suitcase.
Materials
When it comes to selecting the materials that compose soft luggage, there are a few popular options.
One of the best choices for this type of luggage is Cordura. This material is a densely woven fabric that is highly durable, lightweight, and resistant to wear and tear. Its strength makes it ideal for use in soft shell luggage as it can effectively protect all of your belongings from getting damaged during travel.
The second material commonly used in soft luggage is Ballistic nylon. This fabric has many of the same qualities as Cordura but with an even higher level of durability and resistance to abrasion and punctures than standard nylon fabrics. The dense weave of this material also provides maximum protection against tears and scuffs, making it a great choice if you plan on taking your bag on more rigorous trips or adventures.
Finally, Ripstop nylon is another popular material used in soft-sided luggage. Unlike Cordura or Ballistic nylon, Ripstop has a unique weave pattern that contains small squares throughout the fabric. These squares are woven in such a way that they provide added reinforcement against tears and rips that may occur after frequent use or during rough handling of the bag.
Design
Many soft-sided luggage designs feature multiple inside and outside compartments for organization, with different sizes for larger items like clothing and books, as well as smaller areas for items such as cosmetics or toiletries.
The zippers used on soft-sided luggage are usually heavy-duty, ensuring that the bag stays secure while in transit and while being handled at airports or other travel locations.
Some types of soft luggage also come with removable shoulder straps or handles for carrying, offering a comfortable way to carry items when needed.
Price
The price of soft-sided luggage varies greatly depending on the size, materials, and features of the bag.
Generally, smaller bags tend to be more affordable than larger checked bags. You can find some great budget options that are perfect for short trips or weekend getaways for as little as $50, while more deluxe designs may cost upwards of $500 or more.
Durability
The lifespan of soft-sided luggage depends on the materials and construction used in the bag, as well as how often it is used. Generally, these bags are designed to stand up to regular use without any major signs of wear and tear for several years.
To ensure your soft-sided luggage lasts longer, there are a few measures you can take.
Be sure to use the handles and straps carefully when moving the bag as this will help minimize any stress on the material and zippers.
If your bag does become wet, be sure to let it air dry completely before storing it away.
Finally, check for any tears or weak spots periodically so that you can repair them quickly.
Properly caring for your soft-sided luggage and using it as directed will help extend its lifespan.
Capacity
Soft-sided luggage typically has plenty of room for packing all the essentials you may need while traveling. Depending on the size and design of the bag, it is possible to pack clothing, books, toiletries, electronics, and other items with ease.
Most soft-sided suitcases come in a variety of sizes ranging from carry-on bags to full-sized suitcases. In addition, many designs feature multiple pockets and compartments that can help make packing and organizing items much easier.
Security
The strong materials used in these bags are designed to withstand frequent use, handling, and rough conditions while still protecting the contents inside. Many soft-sided bags feature additional reinforcement against tears and rips, providing an added level of security.
Depending on the brand, the suitcase might come with built-in locks. If not, you can always secure a lock on the zipper for additional security.
Accessibility
Soft-sided luggage makes traveling a breeze, thanks to its lightweight construction and easy accessibility. The compartments and pockets are designed to keep items organized and accessible, so you can easily find what you need without rummaging through the bag.
Organizational features like interior compartments or rollers help you find what you're looking for quickly and easily.
In addition, most suitcases come with external pockets for storing items you need to access quickly, such as a book or charger.
Mobility
In most cases, the lightweight construction of soft-sided luggage makes it easy to move around, even when filled with items. Many soft-sided suitcases come with smooth-rolling wheels and telescopic handles ensuring that your bag can be easily maneuvered in tight spaces or through crowded airports.
Customization
Softside luggage comes in many different colors and styles. You can find great carry-on luggage, checked luggage, and even duffel bags in almost any color or design. Whether you're looking for a classic black bag or something more vibrant and eye-catching, there's something out there to suit your style.
You can also find customizable luggage with pockets designed specifically for certain items such as laptops or tablets.
Plus, you can also purchase additional accessories like locks and special compartments to make it easier to organize your things.
Pros and Cons of Soft Shell Luggage
In sum, let's look at some of the key pros and cons of soft-sided luggage:
Pros
Lightweight and easy to move around
Plenty of room for packing all essentials
Strong materials designed to protect items inside
Wide price range to fit your budget and needs
Built-in locks or the ability to attach a lock to the zipper
Extra pockets and compartments for organization
Variety of sizes and styles available
Customizable with additional accessories
Cons
Can become damaged more easily than hard-sided luggage
Zippers can get stuck or break
Not as protective against impacts and shock as hard-sided luggage
Hard Shell Luggage Considerations
But what about hard-shell luggage?
Hard-shell luggage offers a more secure storage option for items that need extra protection, such as cameras or fragile electronics. Plus, it typically comes with reinforced corners and shells that keep your belongings safe from potential damage caused.
But let's take a closer look.
Materials
ABS, Aluminium, and Polycarbonate are some of the most common materials used to construct hard shell luggage. Here's what you should know about each of them.
ABS (Acrylonitrile Butadiene Styrene)
ABS is a lightweight thermoplastic that provides excellent resistance to impact and shock. It is also highly durable and resistant to cracking, chipping, or warping, making it an ideal material for use in hard-shell luggage. Its strength and durability make it suitable for cases with large capacities.
Aluminium
Aluminium is another popular material used in hard-shell luggage. It has superior strength, durability, and lightweight properties when compared to ABS, making it an ideal material for larger-capacity cases or those requiring additional protection from shocks and drops.
The metal's light weight makes it easy on the arms when carrying a suitcase around for long distances, while its rigidity gives added protection against sharp objects or heavy items placed inside the case.
Polycarbonate
Finally, polycarbonate is increasingly being used as an alternative material in hard-shell luggage thanks to its combination of both rigidity and lightweight properties. Unlike ABS and Aluminium which are prone to scratches and dents over time due to their relatively softer nature,
Polycarbonate remains resilient even after multiple impacts ensuring it can stand up against tough conditions whilst still providing enough flexibility for storage requirements.
Additionally, polycarbonate is not as prone to temperature changes as other plastics such as ABS, which can become brittle under lower temperatures. This makes Polycarbonate particularly suited for colder climates where travel gear needs greater protection from extreme temperatures encountered during transit.
Design
When it comes to hard-shell luggage, you'll find a wide variety of designs and materials that offer plenty of room for packing all your essentials. Overall, this type of luggage usually looks very sleek with a simple exterior design.
Most hard-shell luggage pieces come with reinforced hinges, handles, and straps for increased durability. Some of them also feature TSA-approved locks to keep your belongings safe and secure during travel.
Additionally, some designs may include inside pockets or compartments for extra organization and storage making it easier to find what you need quickly when on the move.
Price
Hard-shell luggage is generally more expensive than soft-sided luggage as it tends to be made of more durable materials with reinforced corners and shells for increased protection. The price range of a good, durable hard shell suitcase can vary depending on the materials used, size, weight, and brand. Generally, a good quality hard shell suitcase will cost anywhere from $200 to $400.
Of course, there are many options available on the market depending on your budget. But I highly recommend investing a bit more in a sturdy and reliable hard shell suitcase that will keep your belongings safe and secure during all your travels.
Durability
When it comes to the durability of hard-shell luggage, the lifespan can vary considerably depending on the quality of materials used, how often it is used, and how well it is maintained. Generally speaking, high-quality hardside luggage should last a lifetime if properly cared for and maintained.
One of the most important factors to consider when it comes to the durability of a piece of hardside luggage is its ability to protect the contents from shocks and drops. Most good quality cases are made with reinforced corners and shells to provide extra protection against impacts, while lighter designs may be less durable but still offer adequate protection for short trips.
Capacity
Hard-shell luggage is renowned for its superior storage capacity. Generally speaking, depending on the size of the hard-shell case, you may be able to fit several weeks' worth of clothes, toiletries, books, gadgets, and other items in a single case. Larger pieces of hard-shell luggage can also come with extendable compartments for additional storage space.
Security
Hard-shell luggage offers superior protection when it comes to keeping your belongings safe and secure during travel. The reinforced corners, shells, and other features make it highly resistant to impacts that can occur while in transit.
Additionally, many pieces come with TSA-approved locks built into the case, allowing you to quickly and securely close the bag without having to worry about anyone else accessing its contents.
Accessibility
Hard-shell luggage is easy to use. It can hold many items and has compartments inside it to help you stay organized.
It's also very easy to stack on top of each other for storage purposes, insert into overhead bins, or when traveling with more than one bag.
Mobility
Hard-shell luggage is a practical option for travelers who need to pack a lot of their belongings in an organized and secure fashion.
The hard casing ensures that all items are kept safe from drops and shocks, while the reinforced corners and shells provide additional protection against impacts.
Most hard-shell luggage on the market today has a four-spinner wheel system, making it extremely easy to move around with, despite the heavier weight.
Customization
Hard-shell luggage often comes in various sizes, colors, and features to suit individual preferences and needs. From carry-ons to oversized luggage, there are many options to suit your needs.
Depending on the brand and model, some hard-shell suitcases come with additional interior pockets or compartments for extra organization and storage.
In addition to this, most models offer a range of colors and patterns, allowing you to personalize the suitcase and make it stand out from the crowd.
Pros and Cons of Hard Shell Bags
In sum, let's look at some of the key pros and cons of hard-shell luggage:
Pros
Highly durable and secure
Longlasting investment travel piece
Superior storage capacity
Easy-to-use four-spinner wheel system for easy mobility
Available in many sizes, colors, and features to suit individual needs
Cons
Heavier than soft shell luggage
Can be more expensive than a soft suitcase
Does not have exterior pockets
Overall, a good quality hard-shell luggage piece is an excellent choice if you're looking for a dependable travel companion that provides maximum protection for your belongings. It is lightweight, durable, and stylish making it the perfect
Hard or Soft Luggage: Our Favorite Suitcases
Hard-shell suitcases are a great choice for anyone looking for a long-term investment in a durable and protective piece of luggage. Monos Luggage, for example, is one of the best luggage brands on the market. You can read more about them here in our Monos luggage review.
The hard exterior provides superior protection against wear and tear, ensuring your possessions are safe during transport. Additionally, the rigid structure of hard-shell suitcases makes it easier to keep items organized inside, helping to prevent clothes or other items from shifting during the journey. Finally, their hard-shell suitcases come with additional features such as combination locks, multiple handles, and wheeled styles that make traveling easier.
On the downside, a hard-shell suitcase tends to be heavier than a soft-shell bag due to its thicker material. Additionally, these suitcases tend to be more expensive than soft-shell ones due to their extra layers of protection and sturdiness.
Soft-shell bags are an excellent choice for those who value lightweight luggage above all else. Our favorites are the Travelpro suitcases with a wide range of size options. Soft-shells tend to be more affordable than their hard-shell counterparts since they use lightweight construction materials like nylon or canvas rather than metal frames and locking mechanisms.
On the downside, soft cases don't offer as much protection against wear and tear as hard shells do so precious possessions may be at risk of damage while in transit.
Overall, whether you choose hard or soft luggage, both types of suitcases provide advantages depending on your needs. If you're looking for an investment piece with maximum protection should opt for a hard shell; but if lightweight and flexible are key features for you, stick to a soft shell suitcase instead.
FAQ
Given the pros and cons of hard-shell and soft-shell suitcases, you might have questions about which type of suitcase is best for your needs. Common questions include:
Do hard suitcases crack?
On rare occasions, a hard-shell suitcase can crack, but this has become increasingly uncommon with the improvements in the materials and engineering used in modern hard-shell suitcases. A suitcase made from polycarbonate ABS or aluminum will stand up to the rigors of travel.
Which luggage is better? Two wheels or four wheels?
Because of mobility advantages, four-wheel suitcases are becoming more popular and rapidly taking over the market. Four-wheel suitcases allow travelers to easily maneuver their luggage in any direction and require less effort than two-wheeled bags.
Which luggage is best for flying?
When it comes to choosing the best luggage for flying, there is no right or wrong answer. Ultimately it depends on your needs and preferences. A hard or soft suitcase can do the trick. The most important thing is that your luggage meets all of the airplane requirements and is in good condition for the flight.