What are the best hiking boot brands? Loaded question! There are a lot of great brands out there—and each one excels at a very specific thing. Some are more stylish than others. Some are more supportive. Some have better grip and others have better waterproofing.
Having been through dozens of pairs myself, I know that picking a hiking boot is hard. But hopefully this list of my favorite hiking boot brands will help you find a pair that fits just right!
1. Danner: Best Overall Hiking Boots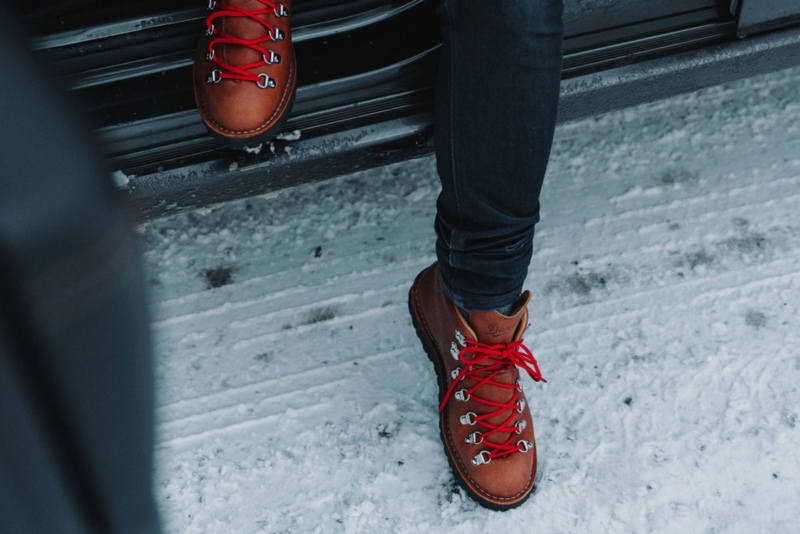 Danner is easily one of the best hiking boot brands (a personal favorite!), and they make, in my opinion, the best hiking boots overall! They check all the boxes really well—they're sturdy, durable, stylish and comfortable.
They are also probably the most iconic hiking boots to date, most well-known for their red laces adorning many an Instagram photo. Their hiking boots are handmade in the Pacific Northwest—Portland, OR, to be exact.
Their ethos is to honor its roots in the logging industry but with upgraded classic designs and modern materials like Vibram soles for better stability and grip.
Want that classic Danner hiking boot? It's the Mountain Light for you. Choose tan or dark brown uppers bearing the Danner name. If you choose a waterproof model, GORE-TEX liners keep your feet dry (unless water flows over the tops, obviously) and Vibram outsoles provide stability and support without weighing you down.
The Free Spirit (Jag for women) is one of their newer releases—a retro-inspired hiking boot reimagined from the original designs in the late '80s. With a breathable GORE-TEX liner, it's entirely waterproof. It's made from durable suede and has a Vibram outsole. All this is to say, it covers all the bases—they're waterproof, durable, comfortable and grippy. Check, check, check…check.
2. Merrell: Best Hiking Shoes
Don't need the full ankle support of a hiking boot? Consider hiking shoes from Merrell. They're one of the most popular names in outdoor footwear, mostly because of the company's insanely comfortable hiking shoes.
It's generally easy to pick Merrell hiking shoes out of a lineup because of the striping criss-cross patterns on the uppers that blend mesh with leather in complementary colors. They tend to be more versatile than most hiking boots because they can double as street shoes.
These hiking boots look like sneakers but offer the stability and support you need for trails. Plus, you can choose from a wide range of colors, high or low top designs, and even waterproof models.
Consider the Moab 2 shoe. It features a waterproof lining with sweat-wicking properties to keep your feet dry. A custom-designed Vibram rubber sole features the Merrell name and a unique tread system to provide plenty of traction, even on damp surfaces without weighing you down. Choose from several neutral color combinations, medium or wide widths, and low or mid-rise styles.
If having a waterproof hiking shoe doesn't matter, you might want to consider the Moab Edge. This style successfully blends the lightweight feel and comfort of a running shoe with a sturdier sole featuring deep treads for traction.
While the shoe won't seal out the elements, it does provide protection against typical trail hazards, like stones and branches.
3. KEEN: Best Day Hiking Boot
You might recognize the KEEN name because of the ultra-popular hiking sandals, but the company also makes hiking footwear. If you like the sandals, then the chances are good that you will like the boots which use similar soles and have the same wide footbed.
If you stick to trails, especially ones that are gravel to slightly rocky, then KEEN could be a solid choice. They work well for casual hikers who don't plan to brave treacherous trails or scale rocks. Excellent for wide feet, comfortable for light to moderate trails, rocky or gravel trails
The Targhee III is one of the more popular styles for men and women because it's waterproof and features reinforced ankles for better support. This style includes an all-terrain sole with lugs running in multiple directions to handle muddy and rocky trails.
For those seeking something a touch lighter, the Durand EVO might fit the bill. It's still waterproof but features more mesh than the Targhee III. The Durand EVO provides more flexibility while keeping the heels secure so your foot doesn't slide around inside the boot.
4. Salomon: Best Trail Running Shoes
Trail runners have slightly different needs for traversing trails, namely a lightweight shoe with plenty of tread for grip. Salomon boots might be comfortable and supportive, but the company's trail running footwear could be some of the best on the market. There's a reason they made it onto my list of the best trail running shoes three times.
The uppers are breathable and lightweight so they won't weigh you down or leave your feet soaked in sweat. Salomon rounds out the trail running shoe line with a cushioned footbed and deeper treads to provide a better grip for navigating light to moderate trails.
Salomon's Ultra Glide might be the most popular option with a range of colors and sizes for men and women. You'll feel the bounce but not the pricks and pokes from every stone and twig you touch. The only drawback is that these shoes are not waterproof.
If you need a waterproof shoe, Salomon offers the Wildcross 2 GORE-TEX that's designed specifically for wet and muddy conditions. Along with the waterproof GORE-TEX uppers, these trail runners feature special soles with unique, multi-shaped treads to provide better traction in the mud. Note that you don't get as much cushion or color selection with this style.
5. La Sportiva: Best Mountaineering Hiking Boots
La Sportiva specializes in mountaineering boots with more than two dozen styles available. The company developed a line that offers plenty of support and protection against hazards and the elements without being clunky.
La Sportiva took extra care with key features to reduce wear and tear while increasing protection. For example, the Trango Tower Extreme GTX mountaineering boots stand out thanks to two design features.
The uppers offer more protection against rocks, branches, and general wear thanks to the Honeycomb Guard™ insets at key points on the boot. Plus, the collar tip gaiter design adds protection and keeps the feet warmer in snow and cold.
La Sportiva also offers an option for skilled hikers tackling technical terrain. The Nepal Cube GTX is versatile enough to manage everything from mixed terrain to vertical ice. The design includes flexible ankle gaiters and multiple Honeycomb Guard™ insets. Plus, the boot covers more of the lower leg and features an adjustable tongue for a custom fit.
6. Altra: Best Lightweight Boots
Altra doesn't make many hiking boots, but they have a few versatile options. At first glance, Altra footwear looks more like stylish sneakers than rugged trail gear.
Dig a little deeper into these hiking boots to find some surprising features. Signature footbed mold to your feet, extra cushioning provides exceptional support, and the Duratread™ outsole has varied treads to handle nearly any terrain.
Of the three styles, Altra's Lone Peak All-Weather Mid is the top choice with plenty of cushion and ankle support for comfort. It also features a unique tread design with special lugs positioned under the toes to give you better traction.
Altra also crafted a Lone Peak Running Shoe that's a lighter trail shoe with a slightly lower, more contoured ankle. This style is perfect for trail runners because it still features a unique traction system on the sole, though not as thick or pronounced as the All-Weather Mid.
7. Oboz: Best Waterproof Hiking Boots
Not much feels worse than having wet feet with miles to go on your trail, even if you have spare socks to change out as needed. While Oboz isn't the only company to manufacture waterproof boots, they do it a little differently.
Oboz doesn't rely on GORE-TEX to make this hiking boot waterproof. The company uses its proprietary B-DRY system that doesn't just keep water out, but also has sweat-wicking properties to keep feet cozy and dry for multi-day backpacking adventures.
Perhaps the best example is the Bridger Premium that embraces all things rugged, including uppers with full-grain and nubuck leather. Oboz uses a Vibram Megagrip outsole with thick, multi-directional lugs to help you navigate nearly any terrain without feeling the accompanying bumps and nicks underfoot.
Hikers seeking more ankle support might prefer the Sawtooth II because it features a sturdier, yet flexible mid-ankle cut. Plus, these hiking boots have a molded rubber heel with plenty of cushion to provide comfort and stability.
8. Vasque: Best Hiking Boot for Narrow Feet
If you have narrow feet, you know how painful it is to find footwear that works with active lifestyles. For those who don't know the pain, it's all about feet sliding around and rubbing in all the wrong places until you develop blisters.
Vasque's hiking boots represent a game-changer for narrow feet. While the company offers wide-width sizes in popular styles, the standard sizing works well for those with narrower feet.
Other than the fit, there's nothing especially flashy or earth-shattering about these hiking boots. However, you can get a solid pair of hiking boots to meet your needs, including lightweight and rugged terrain styles.
If you want rugged, heavy-duty hiking boots, try the St. Elias with GORE-TEX lining to keep your feet warm and dry, a toe cap for protection, and full-grain leather uppers. These hiking boots make a solid choice for rough trails and backpacking, but be aware that they run a little heavy.
Lighter hikes might warrant a little less boot, like the Breeze LT with mesh and suede uppers. These hiking boots have Nature-Tex for waterproofing and cross designs for treading, making them superior for recreational hikers.
Lowa specializes in outdoor footwear, including the best backpacking boots around. For starters, the company offers a range of size options, including narrow, medium, and wide widths to accommodate all hikers.
The backpacking boot line features leather uppers designed to protect against the elements and trail hazards while providing enough flexibility to move easily. Further, Lowa boots feature Vibram soles with lug patterns designed to handle wet and rocky terrain without you feeling it in the tender parts of your feet.
One of Lowa's most popular styles is the Renegade GTX Mid that's versatile enough for light backpacking trips or more intense excursions, like the Appalachian Trail. This leather boot features a climate-control footbed and GORE-TEX lining to keep your foot cozy and dry.
The Tibet LL is another backpacking boot for longer trips and off-trail adventures. The slightly higher ankle provides support but has some flexibility to keep you comfortable. Lowa mixed a leather upper with glove leather lining and the standard climate control insole to give you maximum comfort.
10. REI Co-Op: Best Budget-Friendly Boot
It's possible to be budget-conscious and still score some decent hiking footwear. REI Co-Op makes one style with options for men and women, but it's an affordable alternative. These might not be the best hiking boot style, but they offer most of what you need for safety and support while on the trail.
This hiking footwear features recycled materials for the environmentally conscious among us. The uppers on these hiking boots have overlays that are 30% recycled TPU and the multi-directional TerraGrip™ tread is made from 20% recycled rubber.
The REI Co-Op Flash hiking boot covers the ankle, features HydroWall™ for waterproofing, and synthetic uppers to keep it lightweight. There's extra space in the toe boxes to accommodate swelling and custom insoles that mold to your feet.
REI Co-Op also makes the Flash hiking boots for women with a range of sizes and two color options. The women's hiking boot runs slightly narrower but still has a wider toe bed.
Final Thoughts on Choosing Hiking Boot Brands
It's important to consider your needs and usage when choosing hiking footwear. The best hiking boot for a trail runner can have different features than a backpacking boot for multi-day adventures.
When considering waterproof qualities, remember that even the best hiking boot won't keep out water that flows over the tops.
Finally, don't forget to factor in your budget when choosing hiking boots.