With sites like Airbnb dominating headlines in recent years, the very nature of travel is in the stages of reform. Gone are the days of hotels and hostels serving as our only options for accommodation. As the number of Airbnb alternatives grows, so do our potential travel possibilities.
With the advent of home rental booking sites and vacation rentals, renting a room or a property straight from another person can save you a sizable amount of cash, and you might even be helping the host to pay their bills in the process.
Often you'll get a relaxed, homey feel with a complete set of amenities. Other times you'll get an entire vacation rental all to yourself. And if you're traveling abroad and renting a room from a local family, you might get a slice of cultural immersion, with a chance to stay in an authentic neighborhood.
That all being said, by using some of these Airbnb competitors, not only can you find rooms, apartments and vacation rentals, but you can actually stay at timeshares and resorts at a fraction of the price.
There are so many other sites like Airbnb, which makes it hard to know which ones to use and when. Every apartment and spare room has the potential to serve as a boutique hotel, and there are some top-notch alternatives to Airbnb for booking a vacation home or vacation rental that you might not know about.
Whether you're looking to make bookings or sign up as a host, these are some Airbnb competitors you are definitely going to want to check out.
1. Vrbo: Best Site Like Airbnb for Short-Term Rentals
Vrbo is the more refined, older brother of Airbnb. You'll find more polished listings for vacation homes on Vrbo, since the hosts and property owners tend to be professionals who list for a living. If you're looking for a higher standard of rental, Vrbo is the obvious choice.
Vrbo (an acronym of Vacation Rentals by Owner) is yet another solid Airbnb alternative. It is very similar Airbnb, with the main difference being the properties it has on offer.
Vrbo has around 2 million house rentals around the world and the thing that differentiates it is the size of the properties. Generally speaking, the properties on Vrbo are bigger and have backyards. This means that if you are a big group or a family with children, Vrbo is better than Airbnb as a booking option.
As with most of these booking sites, Vrbo has its own built-in review system. Owners cannot delete unflattering reviews so you can be sure that if there is a problem with a property, the reviews will let you know.
2. Booking.com: Now Offers Alternatives to Airbnb!
Booking.com has long been the standard for booking hotels online, and now you can book apartments and vacation rentals with their same easy-to-use (and easy-to-book) interface. That also means you won't have much interaction with the host, though, so what you'll get is an apartment with the booking and check-in process of a hotel. This is a rare bonus when dealing with companies like Airbnb.
When searching for places to stay on their site, their filtering system proves to be one of the best on the market, which means your search results can be refined to show exactly the type of place that you need. Plus, because they have such a high inventory of properties, the competition is fierce, which means you get better properties at better prices.
3. Flipkey: Best Airbnb Alternative for Small Group Bookings
Flipkey offers an abundance of vacation homes and Airbnb alternatives around the world. Since their parent company is TripAdvisor, it seamlessly integrates with their encyclopedia of real user reviews. With such a comprehensive set of data on every property in their database, you can filter your results by the type of amenity you're looking for. Jacuzzi anyone?
Though there are plenty of options available on the site for single travelers, Flipkey excels at group bookings in popular tourist destinations. The large majority of their properties are vacation rentals and holiday homes which fit four, five, six or more people. You may not get that homely feel, and you may not get insight from a local host, but if you're traveling in a larger group, that's not always very important anyway.
4. Hello Landing: Flexible Short-Term Apartment Rentals
If you are looking to live with more flexibility and not be tied down to one place, Hello Landing is an alternative to Airbnb that offers furnished apartments for rent with no long-term contracts. Whether you are a digital nomad who can work from anywhere, you have a job that lets you (or requires you to) move locations, or you just want to try out living in different places, this may be a great option.
They have over 20,000 apartments in 375+ cities from San Francisco to Miami, so it's easy to find options for your next place.
Hello Landing is different from many of the other Airbnb alternatives on this list because it is designed specifically for full-time living, not vacation rentals. Their apartments are available for rent by the month, rather than by the day. The great thing is that you are always month-to-month and never have to sign a contract for a fixed amount of time. You can stay somewhere for three months or ten months, and leave whenever you want.
One thing to be aware of is that the prices will be significantly more expensive than standard rent rates in a given area, but there is a trade-off for the flexibility to live anywhere.
5. cozycozy: Best Search Engine for Vacation Rentals
Like HomeToGo, cozycozy is another search engine for finding all of the best short-term vacation rentals in one spot. They search dozens of sources across the entire vacation rental market, including sites like Airbnb, Vrbo, Expedia, and Hotels.com, to give you a huge range of options to choose from.
I've found that HomeToGo and cozycozy will give you slightly different vacation rental search results, so it's definitely worth trying both of them out when you're looking for your next place to stay.
6. Blueground: Flexible Furnished Appartments for Rent
Blueground is a platform similar to Hello Landing; they also offer flexible month-to-month rentals for fully furnished apartments.
The biggest difference between Blueground and Hello Landing is that Blueground offers rental locations outside the US. If you want to try living in London, Barcelona, or Singapore, this may be a fantastic way to find a place to live. They have a good selection of cities in Europe but also locations in other areas around the world. I found some surprisingly affordable rentals in Berlin, and now it's got me considering relocation to Germany.
Inside the US, Blueground has a smaller selection of locations than Hello Landing, so you won't have as much flexibility in where you live. As long as you're sticking to major cities, though, you should be covered.
7. Plum Guide: Best Luxury Airbnb Alternatives
Plum Guide takes the cake for quality vacation homes. Their Home Critics put every single one of their vacation rental sites through a grueling vetting process, and most applicants are actually rejected. That means you're pretty well guaranteed an exceptional, magnificent place to stay, simply because it meets the Plum Guide standard. Browse the listings and you'll see they're all exceptionally beautiful.
Thanks to this strict vetting process, you don't have to worry about any unwanted surprises or fake reviews. Plus their concierge team of Experts are on hand seven days a week to help you if you need it. Plum Guide prides themselves not only on their properties but their customer service, too.
And not only do they have short term rentals in key cities throughout Europe and the United States—everywhere from San Francisco to New Orleans—but they also have vacation rental homes in smaller regional locations. So if you're seeking a staycation with a side of luxury, you'll find it. A villa in the Catskills with an enormous pool, maybe? How about an estate filled with antique furniture in a wooded hamlet of the Cotswolds? Perhaps a dreamy desert vacation rental in Joshua Tree?
My favorite thing about these guys is their "Home Truths" section in each listing. From a rental in the Hamptons:
"Your host, Jack, provides bikes, but there are only two at the moment."
I LOVE that kind of transparency!
8. Outdoorsy: Airbnb Alternative for RVs and Campervans
Hit the road and explore the great outdoors by renting an RV or campervan with Outdoorsy. If cruising down the California coast or driving cross-country on Route 66 sounds like an ideal vacation, then think about RV travel.
Outdoorsy is the Airbnb of the motorhome world, with over 14 million RV rentals to choose from. Browse through vintage airstreams, modern campers, and luxury Winnebagos made for every type of trip.
Similar to Airbnb, each listing has a built-in review system so you can see what previous drivers have to say about the rentals. Not only is Outdoorsy a great alternative to Airbnb, but it's also an awesome alternative to staying in a traditional apartment or hotel.
9. Homestay: Ideal for Living Like a Local, with a Local
The main difference between Homestay and most other rental companies like Airbnb is that you are always living with a host. Naturally, this has its pros and cons depending on what kind of traveler you are. You might find it awkward living with someone you don't know in their home. On the other hand, it could be the most unique and enriching experience you have on your travels.
The point of Homestay is to give travelers a taste of authentic local life, whether you're visiting a beach town in South America or cultural centers in Europe. By living with someone who calls your destination home, you will get a genuinely hosted experience that's completely different from what you would normally have had. You also don't have any hidden booking fee like you often see with Airbnb.
Your host will also be able to give you some background history of their city, tell you about the regional dish you simply must try and help you avoid the tourist traps!
10. Sonder: Ideal Alternative to Airbnb that Feels Like a Luxury Hotel
Sonder takes all the perks of Airbnb (like rentals at great prices) and combines them with the experience of staying in a hotel—right down to luxurious sheets and mini toiletries.
All of Sonder's listed rentals are private room apartments, so you never share a space with its owners. Whether it's a studio space in New York or a giant six-bedroom apartment in Montreal, your property will have a full kitchen and living area to use as your own.
One of the best things about Sonder is their wonderfully efficient app. You rarely have to interact with the homeowner, but you can use the app to check in, request fresh towels, and even get dinner recommendations in your area.
There's a 24/7 concierge service you can call or text for all the little details, like getting locked out or a light bulb burning out. Now that's customer service.
Right now Sonder has over 5,000 listings in 35+ cities, and they're still growing.
11. onefinestay: An Airbnb Competitor with Luxury "Unhotels"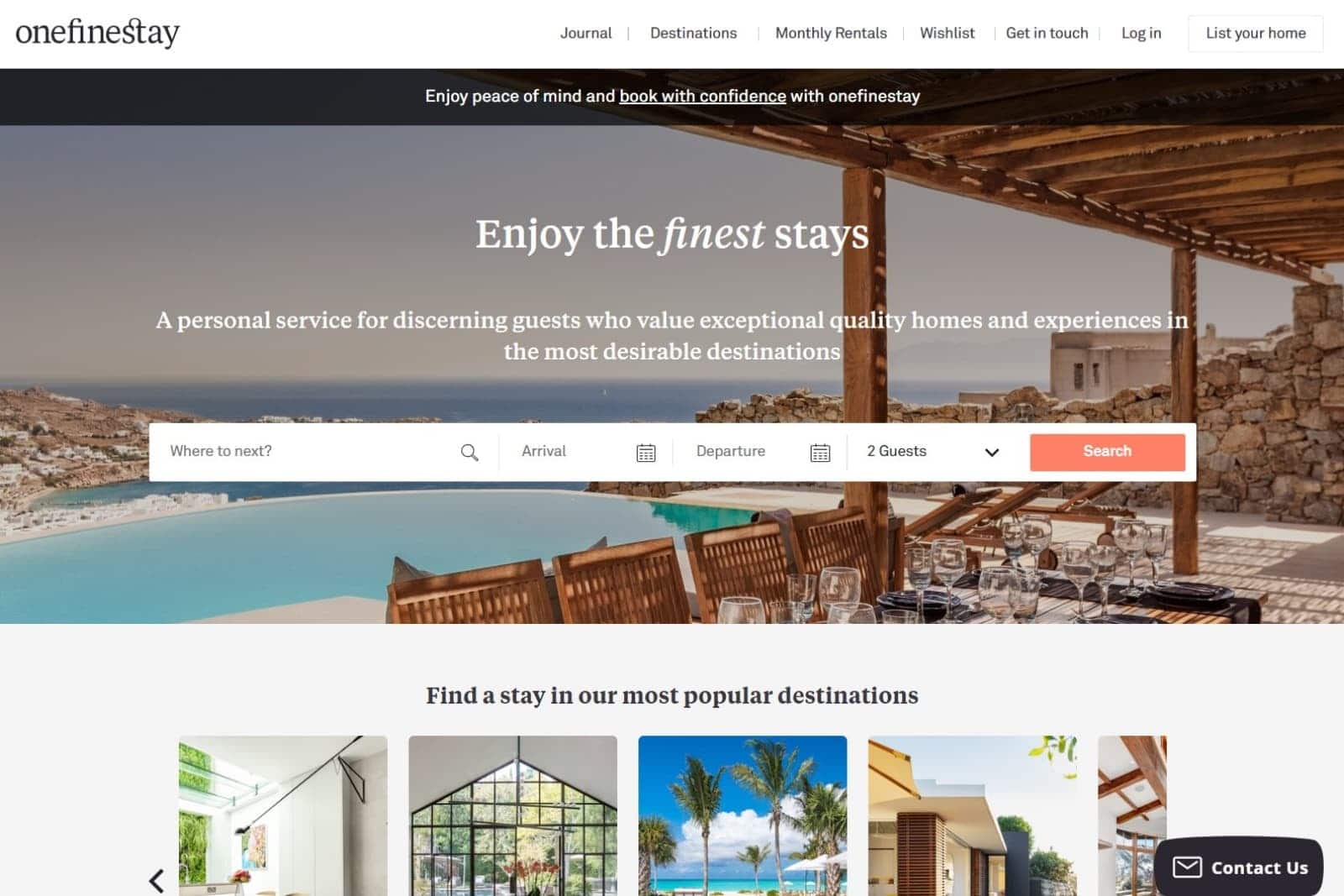 onefinestay is the opposite of the other services like Airbnb on this list. It offers upscale vacation rentals in London, Los Angeles, New York, Paris, and Rome. And onefinestay thoroughly vets their hosts by staying in every property. They only list the creme of the crop on their site.
onefinestay calls their curated collection of homes "unhotels." It's a fitting name that accurately represents their properties. Location is a determining factor for each one. And the owners aren't allowed to be home during your stay. You'll never have to share and you'll always have the place to yourself!
12. Hipcamp: Best Airbnb Alternative for Glamping
If Airbnb and Vrbo aren't your cupt of tea, and you'd prefer to lay your head down under a starry sky, Hipcamp is definitely for you. Hipcamp caters entirely to campers, but the listings here cover a huge range of alternative accommodations, including tents, RV parks, cabins, and treehouses. It's Airbnb for campers.
Hipcamp lists 13,047 parks, 25,978 campgrounds, and 425,938 campsites all over the States. The folks behind the website completely believe that connecting people with nature brings out the best of human nature, and that's something I can get behind.
Like Airbnb, regular people rent out their private spaces to nature lovers—but you can also find unique places to spend the night, like on a blueberry farm or a horse ranch. It's the ultimate option for camping lovers simply because the range of experiences is so wide.
I love the search options, too. You can find sites based on listing type, location, activities in the area, amenities, and even landscapes. Want to set up on a beach, or on a lake? Or near some hiking trails, or a fishing spot? Just use the filters to find the perfect place.
13. Getaway House: Tiny Cabins to Get Away from It All
If you're like me, disconnecting from the constant pressures and distractions of everyday life can be hard, even on vacation. Getaway House is a vacation rental that's designed specifically to help you slow down, relax, and detox from technology and the always-on stress of our world.
Here's how it works: Getaway House has a collection of Tiny Cabins at locations around the country. Each site is within a two-hour drive of a major city, but is located in a quiet, beautiful area surrounded by nature. They make it as easy to get in and disconnect as possible with contactless check-in and lots of included perks. These tiny cabins range from 140-200 sq ft (so they're small), and they're furnished with everything you need and nothing extra.
Each cabin has a bed, bathroom, small kitchen, and not much else. They come stocked with linens, towels, dishes, and some non-perishable cooking supplies like oil and spices. I also love that every cabin has a private outdoor space with a fire pit and picnic table. It's pretty clear that the goal is to get you to spend time relaxing out of doors.
One of the most unique things about Getaway House is the emphasis on disconnecting from technology and making time for relaxation and creativity. There is no WiFi at any of the cabins, and most of them have pretty spotty cell reception (or none at all).
Getaway House has dozens of locations, but most of them are in the Midwest or East Coast. There are a few on the West Coast, but if you're hoping to find somewhere in the Rocky Mountain area, you're out of luck.
You can read our full Getaway House Review to learn more about what to expect from the experience.
14. Agoda Homes: Best for Apartment Rentals in Asia
Agoda has long been touted as the largest online travel agency in Asia, providing more than 1.8 million quality accommodations ranging from hotels, resorts, budget hostels, and now homes.
Agoda Homes differs from other Airbnb websites because listings include only entire apartments or homes listed by the homeowner. Your contact with the host is minimal—you simply arrange for check-in and check-out (although you're more than welcome to ask for local recommendations).
Here's an added perk, though: if you're traveling solo, you can get up to 12% off your rental price! Just select the "solo traveler" option when you're searching.
Finally, a reason to stay single.
15. Third Home: Best Airbnb Competitors for Luxury Rentals
If you are tired of traveling on a budget, staying in dorm rooms and cheap motels, Third Home will put an end to your accommodation woes. Third Home specializes in high-end vacation rentals. We're talking mansions, penthouses, and luxury villas. And, the bar is set high for those who want to list on the website. Your home must be more than $500k, be in a desirable location, not be your primary home, and have luxurious furnishings.
With such stringent criteria, you can be assured that only the finest properties actually make it on to the site. In fact, the average property price on the website is $2.3 million. It beats your average youth hostel, that's for sure. And, the prices are far more reasonable than you might expect, with some glamorous rentals going for just $200 per person per night.
16. 9flats: Best for Getting the Whole Place to Yourself
9flats might not seem too different to Airbnb—and in all honesty, it isn't—but what distinguishes this Airbnb equivalent is its collection of whole apartments to rent. Instead of just a private room in someone's apartment, 9flats gives you the whole place.
The heading of each apartment tells you how many people you can fit in the accommodation and the minimum number of nights you need to stay. This makes your searching even quicker as you don't need to open the ad to get the essential details.
Currently, the website operates on almost every continent, bar Oceania. It has luxury villas on Miami Beach, chalets in the Alps and just about everything else in between.
17. Vacasa: Find Your Perfect Vacation Rental with Professional Property Owners
Vacasa has been referred to as a "tech vacation company" thanks to its many AI-driven tools used for things like scheduling post-stay cleans and setting prices for accommodations. From the get-go, you'll notice that Vacasa is set up with some impressive technology: you can even take 3D tours of the property you're interested in, and the video quality is so incredible you'll feel like you're already there.
They also have 24-hour guest and owner support, and the details of your entire trip are laid out for you in the app, including instructions for WiFi and other details (like how to light the fireplace).
Vacasa is a big supporter of sustainable tourism, and so they hire local housekeepers and on-the-ground property managers. This also means that you get highly professional service and incredibly clean properties all while contributing to the local economy.
Vacasa is really, really good at simplifying the booking process and managing the property for both travelers and homeowners. The result is a smooth, flawless transaction from start to finish.
18. Top Villas: Alternative to Airbnb for Luxurious Vacations
If you're planning a dream vacation and are looking for luxurious places to stay, Top Villas is a fantastic option for finding stunning vacation rentals, from forest cabins to beachside condos.
They have incredibly beautiful accommodations available all over the world, including many of the most popular travel destinations like Venice, Bali, Costa Rica, and more. Unlike sites like Airbnb and Vrbo, all of their vacation rentals are professionally managed, meaning you can count on reliable quality and service.
Many of the rentals they have available are on the pricier side, but you can count on having beautiful and well-furnished rooms, perfect locations, and reliable service for your trip.
19. Trusted Housesitters: Free Homestays in Exchange for Pet Care
If you like the word FREE, are willing to be flexible with your travel arrangements, and like animals, Trusted Housesitters is a fantastic way to get free alternative accommodations in exchange for taking care of someone's pet.
Here's how it works: a property owner who needs a petsitter while they're away opens up their house for certain dates for someone to stay and take care of their pet. You can search for places to stay, chat with the property owner to make sure it's a good fit, and live in their house for free as long as you can provide reliable service taking care of their home and pets. They get free pet care. You get free rooms. It's a win-win.
Best of all, there are locations around the world, from South America to the cities of Europe. If you're looking for a way to travel the world and save money while doing it, this is a great approach.
There is a yearly service fee required to be part of the platform, but after that, you can stay as many places as you want with no extra charge. This really sets it apart from other vacation rentals by owner.
The one downside is that you have to be pretty flexible to fit in when people are away. Owners set the dates they need a sitter, and you choose one of the options. Unlike many other options on the vacation rental market, you can't just pick any date and location you want. But hey, other than the yearly fee, it's free, which is the best price I know of!
20. HomeToGo: Perfect Vacation Rental Companies All in One Place
Unlike the other Airbnb competitors on this list, HomeToGo is a search aggregator. You can use HomeToGo to search and compare over 17 million accommodations in over 200 countries from a huge number of partners, including Airbnb, Booking.com, TripAdvisor, and more.
The search tools are impressively intuitive, with options for setting flexible dates, finding your preferred destination, staying within your budget, and selecting all the right amenities. A castle in Southern Italy with a boat included? Yup, you can search for that. A budget room in Berlin for under $50 a day? No problem!
HomeToGo is one of the best options for people on a strict budget. Since they compare so many prices for rentals from hundreds of providers, you're pretty well guaranteed the best price. Booking is done via the partner website (e.g. TripAdvisor or Booking.com), much like how you would with many flight search engines.
And if you're not exactly sure where you want to vacation, just peruse the listings of some of the most popular travel destinations around the world.
Final Thoughts on Airbnb Alternatives
If you're like me, you owe it to yourself to experience alternative forms of accommodation! Life is too short. It's important to broaden your horizons when it comes to travel and choosing where you're going to stay. So give the competitors of Airbnb a chance. You might just find something that suits you better.
There are more Airbnb alternatives than you may have guessed. They all prove to be useful in their own special way, depending on what you're looking for. Knowing which one to use and when is one of the most important things to remember. Then you can start your search for accommodation.
---
READ MORE: