Renting an Airbnb vacation rental is very different from booking a hotel room, but that doesn't necessarily mean one is better than the other. It's a bit more complicated than you might think.
Ultimately it comes down to the kind of experiences you want to have, and how you want to travel. So let's have a look at how Airbnb vs. hotels differ from one another, and which one is the cheaper option.
What's the Difference Between a Vacation Rental Company Like Airbnb and a Hotel?
For the most part, Airbnb accommodations are privately owned rental spaces run by Airbnb hosts, while a hotel is an actual business. Airbnb's business model is mostly focused on collecting service fees from both the host and the traveler every time there's a booking.
This isn't always the case, however, and sometimes hotels (and other accommodations) will list their properties on Airbnb's booking platform as well.
Airbnb has affordable home sharing options. That might mean you'll stay in a room in the Airbnb host's home or you might have an entire place to yourself. Usually there's a living space you can use (like a living room and kitchen), but a hotel typically doesn't have those things unless you're staying in apartment hotels.
Here are a few benefits for travelers staying in Airbnb rentals:
You'll usually get your own area for cooking meals and relaxing
You'll stay in a home in a residential neighborhood, so you'll get to live like a local
Airbnb rentals are often unique—you can find a place to stay in a treehouse, or a houseboat, or even a castle (and more)
Prices are often cheaper for an Airbnb rental because the property doesn't have as much overhead as a hotel
It's ideal for long-term travelers and digital nomads because you can stay longer in many Airbnb places; one of my best travel tips is to negotiate with the host for better long-term prices
Airbnb vs. Hotels During COVID
While there's no doubt hotels have strict cleaning standards, it's also clear that Airbnb rentals are safer during COVID (as long as you're booking an entire rental just for your household bubble). If you can socially distance from your host, wear a mask, or pick up the keys from a lockbox, then you've entirely removed contact with anyone outside your household.
You don't get that same experience with a hotel. Hotels can practice all the right protocols but at some some point you'll have to check in and come face to face with an employee or someone staying in the hotel. You're also probably going to find yourself sharing an elevator with a stranger more than once.
Airbnb has also introduced lots of new cleaning protocols since the outbreak of COVID 19. Hosts can even participate in training to earn special certificates declaring their properties clean and germ-free. The certification will show up in the listing as Enhanced Clean (or something similar).
Why Stay in an Airbnb vs. Hotels?
Airbnb isn't your average rental company. In the beginning, Airbnb hosts consisted of normal, everyday folks who wanted to rent out their personal home for a bit of extra money. However, that's changed.
While you can still find spare bedrooms on Airbnb, you're more likely to find full-on vacation rentals at steeper prices. If you're booking a spare bedroom, Airbnb can be a great way to save money. If you want an entire place to yourself, it also makes a good choice as a long-term accommodation option.
But…
Is Airbnb Better Than a Hotel?
This is a hot debate, but Airbnbs can be better than hotel rooms if you're the type of traveler who wants plenty of space, a living area, and a more local experience.
Airbnb Pros
There are lots of good reasons to rent an Airbnb on your trip, including:
The ability to rent properties longer term, and even negotiate the cost (this is one of my best travel tips for digital nomads)
You can use the app or text back and forth with the host if there are any issues
More choices for renting larger properties if you're on vacation with a big group of people
Travelers have so much choice in different types of rentals
More affordable options in general, especially in cities where vacation rentals are notoriously expensive
A more immersive experience in a local neighborhood
The chance to meet your Airbnb hosts and ask for insider tips about things to do around town
Airbnb Cons
There are some downsides to renting an Airbnb, like:
You'll be missing out on some awesome hotel amenities, like daily cleaning service (and trips to the hotel bar!)
Airbnb's customer service is notoriously bad at times, and since your hosts are just normal people, there's nothing much stopping them from cancelling your reservation last minute
The added cleaning fee can be more expensive than you think
Airbnb's impact has started crowding out locals in heavily touristed cities around the world, like Barcelona, where new regulations have been introduced to curb tourism and protect long-term housing (this may be an issue for sustainable-minded travelers)
Why Stay in a Hotel vs. Airbnb?
Airbnbs aren't for everyone. You work hard for your vacation time, and hotels can offer a world of luxury and self-pampering that you won't get with other vacation rentals.
Hotel Pros
For some people, the pros of staying in hotels on a trip far outweigh the bad:
A hotel stay has a certain level of service and luxury that often can't be replicated outside of the hotel industry (like free breakfast, room service, or restaurants)
Often hotels will have special deals, like bundled packages
Hotel brands tend to offer lots of incentives for staying with them, like loyalty rewards that in turn will earn you free stays and other perks around the world
No surprise cleaning fees
Greater flexibility when it comes to canceling or changing reservations
Hotels tend to be more secure and safe, with clearly marked emergency exits and working fire alarm systems
Hotel Cons
There are some cons to staying in a hotel, like:
Hotel rates can be quite expensive compared to Airbnbs
Hotels in a hotel chain lack any kind of personal charm after awhile
Hotel rooms have less space than your typical full Airbnb accommodation
Tips are expected for the staff
Airbnb vs. Hotel Prices
What's included in the cost of your accommodation? For Airbnbs, the total price includes:
The nightly fee set by the host
Sometimes a cleaning fee charged by the host (although some hosts will just include this in the nightly fee)
Extra perks, like hot tubs, laundry facilities, or breakfast included
Taxes
Other fees added by the host, including things like extra guest fee, security deposit, late check-in fee, etc.
For hotels, your price will include:
The nightly fee
Daily housekeeping
Taxes
Amenities, including things like toiletries and meals
Of course, for both types of accommodations, the price will fluctuate for a number of reasons including the time of year (peak season or off-season), and the popularity of the city.
Often, when you're booking hotels directly, the rate shown when selecting your dates isn't always the same price when you confirm your booking. However, Airbnb's listed prices in your search results are the same at check-out. If you're searching for an apartment in Santa Monica, California, and you find a spot for $81/night, the price stays that way when you're booking.
Here you can see the nightly rate in the search results:
And the rate broken down at check-out: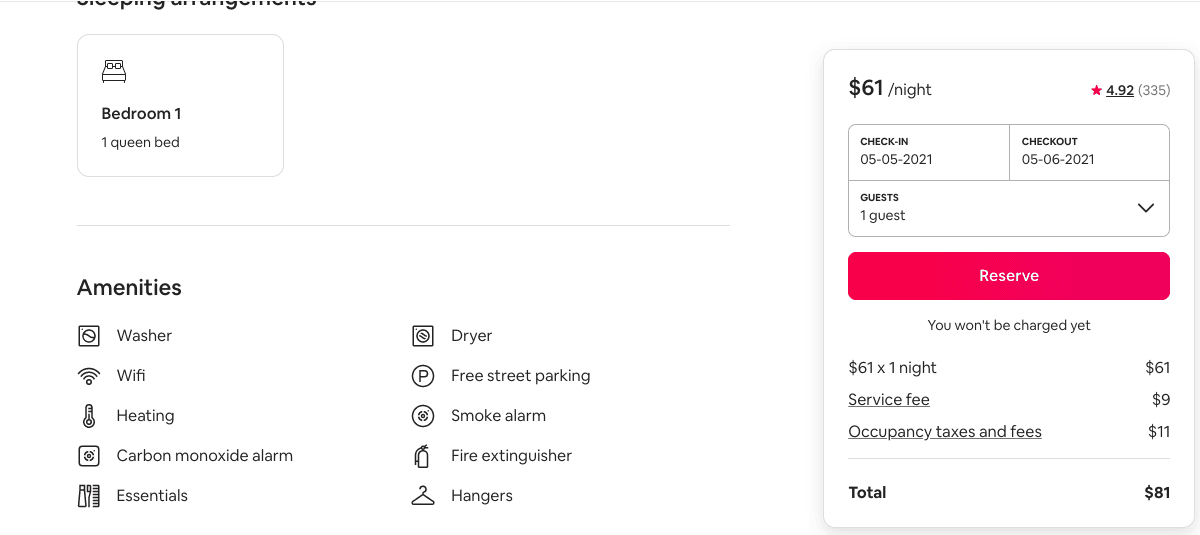 If you use hotel booking websites like Booking.com to reserve a place to stay, you'll also find that the rates shown while searching for an accommodation is consistent with the rate at check-out.
Is Airbnb Cheaper Than a Hotel?
Airbnb prices tend to be cheaper than hotel rates because Airbnb owners don't have the same overhead costs as hotels do. But that doesn't necessarily mean it has the same value.
For example, let's search for two properties for a single person in Phoenix, Arizona, in the City Centre: a listing on Airbnb, and a listing on Booking.com. On Airbnb, you can find a full private casita for less than $100/night.
(Pro tip: you can search for more Airbnbs via the map view.)
When you search within the same price range on Booking.com, the closest similar space is a room at the Super 8 starting from $75. The Hampton is a close second at $119.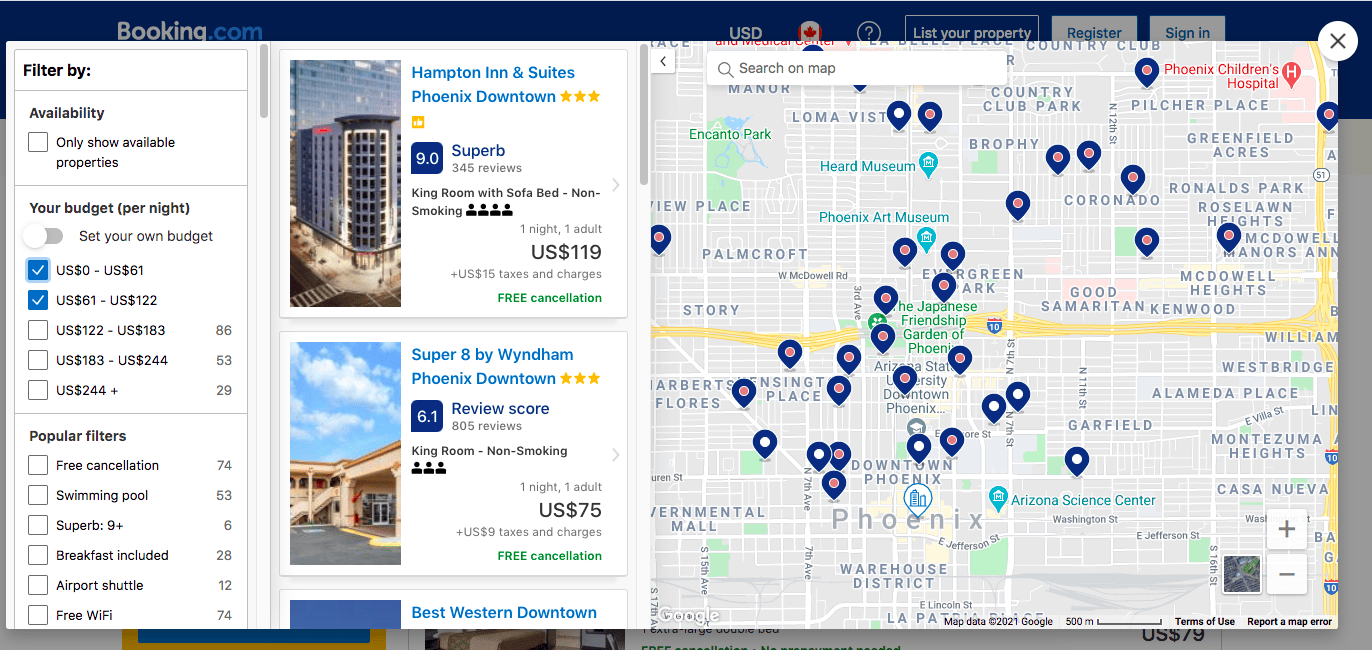 While there's a good chance that the Hampton or Super 8 has a comfier bed, the Airbnb property has a full kitchen, living area, and free parking. You'd save money just on the parking, and by cooking some of your meals.
But it's a toss up. Maybe you're not content with an uncomfortable bed, or you love daily housekeeping and the hotel's bar service. What is the experience worth?
If you want to reduce your costs even further, you can look at booking rooms in Airbnbs with shared amenities. For example, private rooms in the Phoenix city center start at $50/night. Traveling with a group will also reduce the price. A house with a hot tub and fire pit costs $375/night for 6 people. That's $62.50/night for an amazing property!
So, Should You (or Any Traveler) Stay in an Airbnb or a Hotel?
If you're going to try to figure out if a hotel rate compares to an Airbnb rate, you're just going to have to do a bit of information research for both and figure out what makes you most content. Use these hotel booking websites to help you find the best deal.
For the most part, Airbnbs are cheaper than hotels. But sometimes hotel deals are worth the splurge, and sometimes you need a reason to treat yourself.
Compare your options and all the information available to you (including how old you have to be to book an Airbnb), and figure out what gives you the most value. And there are plenty of alternatives to Airbnb as well. You have more than enough places to choose from!