It's Friday. You get off work teaching English in China and head home to munch on some sweet and sour chicken and dumplings while you pack your weekender. You're off to hike Mount Huangshan, the UNESCO World Heritage Site set amidst "the loveliest mountains of China."
Because, why not?
You're there, and you can afford it. How? You've got a lucrative job spending your weekdays in a school teaching children or young adults how to speak and write what already comes naturally to you: English.
Teaching English in China is a dream travel job if you're looking to travel around Asia and make money doing it. But there's a lot of important information you should know about how to land a teaching job in China and how to prep yourself before you go.
The Benefits of Teaching English in China
Teaching English abroad in China is an incredible experience. Not only do you have the opportunity to immerse yourself in a new culture and have the adventure of a lifetime, but you'll also have a meaningful job that makes a positive impact on the lives of your students.
Plus, because the Chinese culture is so different to ours, every day in China is a new challenge that'll not only impact your career but also open your mind.
Benefits for Teachers in China
Average first-year salary of 8,000 – 12,000 RMB/month ($1,150 – $1,700 USD)
Flight reimbursement to and from China
Provided housing or a housing stipend
Free health insurance
Visa application assistance
Help arriving and getting settled in China
Paid Chinese government holidays
Many first year teachers working for private training centers or teach abroad programs may also find additional benefits such as free TEFL certifications, training and orientation, or free Chinese lessons.
Of course, these are just the standard benefits. Schools looking to entice highly qualified or experienced teachers will typically offer more. Here are just a few of the benefits you might see when you're applying to high-level positions:
Average salary for experienced teachers: 16,000 – 30,000 RMB/ month ($2,300 – $4,300 USD)
Moving stipend to pay for extra checked luggage
Up to 20 paid vacation days in addition to government holidays
All visa costs reimbursed
How to Get English Teaching Jobs in China
If the above all sounds enticing to you, here's how to get an English teaching job in China.
1. Complete Your TEFL
First things first: you'll need a "Teaching English as a Foreign Language" (TEFL) certificate. The course will teach you how to teach English as a second language (ESL). Having a TEFL shows schools (and the Chinese government) that you actually know how to teach.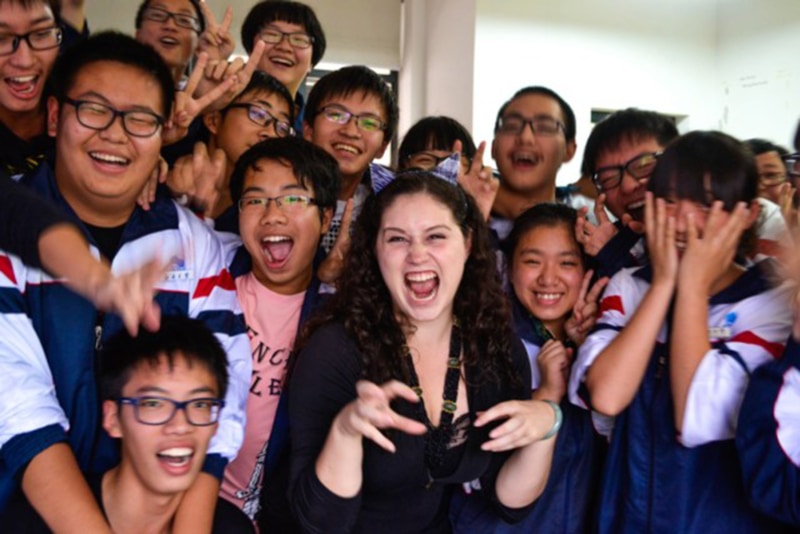 While most teaching positions will require you to have a degree and a teaching qualification such as a TEFL certificate or a CELTA (Certificate in English Language Teaching to Adults), it is possible to work abroad without experience as long as you have a certification.
The most common and easiest qualification for those interested in teaching English in China is the TEFL. The minimum is a 120-hour online course.
TEFL certifications can be done in-person or online, and they range anywhere from about $300 to $3,500. But you can easily get your TEFL online for a pretty reasonable price!
I recommend doing it through i-to-i because it's reasonably priced, and it gives you access to an extensive job board upon completion.
On the other hand, a CELTA is a brand of TEFL from the University of Cambridge, and it's commonly mentioned as the best certification for teaching abroad.
While CELTA certifications will look pretty impressive, they're also really expensive. They also have a fairly high dropout rate because they're more demanding.
You can find more information about the CELTA here.
i-to-i TEFL CERTIFICATE
Getting your TEFL certification through i-to-i is the best way to go! It's reasonably priced, and it gives you access to an extensive job board upon completion. Get started now!
2. Find Jobs
While you can get a job on the ground in China, I highly recommend applying online so that you can show up on the proper visa with the knowledge that everything is prepared for your arrival.
So, once you've got your qualification, you now have to find a job.
Fortunately for you, there are a ton of open English teaching positions in China—and there are a ton of sources to help you find them.
To start your job hunt, make it easier on yourself by narrowing down your options. Consider the following questions to do just that:
Do you want to deal with young children, teenagers or adults?
What cities would you be interested in teaching in?
Do you want to teach in a public or private school? (Private school jobs are usually harder to get and can be more demanding, but they tend to pay better.)
And after you've determined all of that, you can start using job boards like these to look for jobs:
3. Apply for Jobs
There are three different ways you can find jobs in China beyond using TEFL providers like i-to-i that offer job placement as part of their certification.
Apply Directly: You can apply directly on many private school sites, as well as on some job boards. This cuts out the middle man, but it's not always an option for public schools.
Work With a Recruiter: Many public schools and training centers use recruiters to find qualified teachers. These recruiters will help you find a job and may even help you negotiate your contract, apply for your visa and make a decision if you're stuck between a few schools. While some have websites advertising their services, others pose as job boards; some may even request an interview before working with you.
Go through a Teach Abroad Programs: Teach Abroad Programs also help you find jobs in China. However, the emphasis is always on the program, rather than the job itself. You're first accepted to the program and later placed in a school. You may be able to request certain cities or job types, but it's not always guaranteed you'll get the job you want.
Note: I'm not a fan of Teach Abroad Programs for two reasons:
They lure you in with a lot of free stuff (TEFLs, orientation, Chinese lessons), but your salary ends up being much lower than it would have been if you'd just used a recruiter.
You often have little to no say over which school you're placed in, so you might end up all alone teaching on a factory-lined highway where you're the only foreigner for miles… not that I'm speaking from experience or anything.
Teaching English in China Requirements
If you're looking to teach English in China, there are a few things you'll need to meet legal requirements. China is desperate for foreign teachers, so you can easily get a job teaching abroad without any experience.
Here's what you do need to teach in China, however:
Citizen of one of the approved English-speaking countries (US, UK, Canada, Ireland, Australia, New Zealand, South Africa)
Authenticated Bachelor's degree from an accredited college or university
Clean criminal background check from your country of residence
Authenticated 120-hour TEFL certification
If you're looking for better, higher-paying jobs, these qualifications will help, as well:
Prior teaching experience
A Bachelor's or Master's degree in English or Education
CELTA certification
Licensed certified teacher in your home country
Teaching English in China Salary
Salaries teaching in China vary across positions and locations; so don't be surprised if you see a very wide salary range on most job boards. Jobs in China will offer as low as $700 a month (5,000 RMB/month), but that doesn't mean you have to take those low-paying jobs!
Ultimately, you want to make a great English teacher salary.
Let me walk you through the average job salaries and what you should aim for with each type of position and location.
1st Tier Cities in China: $1,150 – $1,700 USD
Most ESL teaching jobs in first-tier cities like Beijing and Shanghai will pay anywhere from $1,150 – $1,700 USD/month after tax (8,000 – 12,000 RMB).
That said, I personally wouldn't take a job that pays less than $1,450 USD/month (10,000 RMB). There's absolutely no need to take the lowest paying jobs, so just apply around to a few positions until you find something in the $1,450 – $1,700 range (10,000 – 12,000 RMB/month).
2nd Tier Cities in China: $700 – $1,450 USD
Smaller, second-tier cities like Nanjing, Xi'an, Chengdu and Hangzhou have a lower cost of living cities like Beijing and Shanghai. This lower cost of living means a slightly lower salary, however, you'll still be able to save big since the cost of food and housing is less than half of what you'll find in the big cities!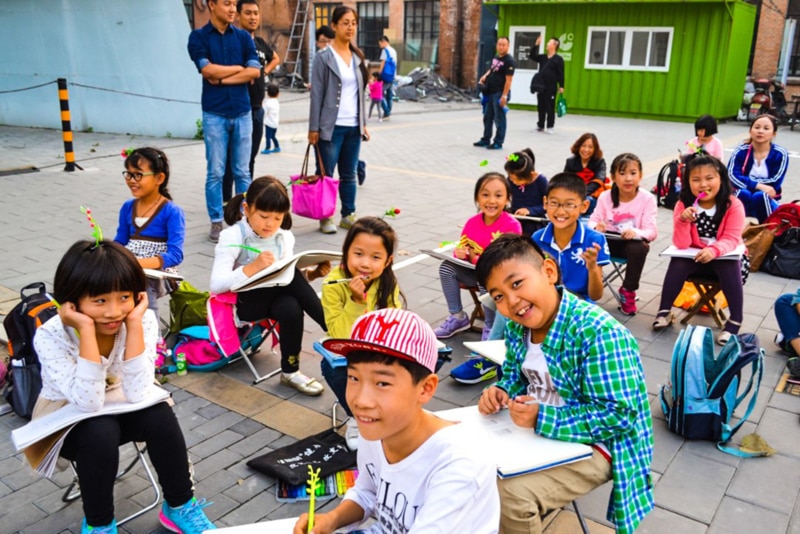 The average salary in a smaller Chinese city is around $700 – $1450 USD/month after taxes (5,000 – 10,000 RMB). That said, I never recommend taking the lowest paying positions.
Look for a position that pays at least $1,150 USD/month (8,000 RMB) with provided housing and you'll be fine!
College and University Teachers in China: $700 – $850 USD
Fun fact: College and university teaching positions are the lowest-paying jobs in China. Why? Who knows!
But seriously, it's extremely difficult to find a college or university ESL position in China that pays more than $850 USD/month (6,000 RMB). Most of these jobs pay just over $700 USD/month (5,000 RMB).
That said, the hours in this position are very minimal, so you can always use your free time to travel around China or tutor English part-time.
International Schools: $2,600 – $4,300
International school jobs are by far the most lucrative positions in China. Experienced international school teachers can make anywhere from $2,600 USD (18,000 RMB) to $4,3000 USD (30,000 RMB) per month.
While this is a huge range, the salary really does vary on the city you're in, as well as the amount of teaching experience and relevant qualifications you have. Most international school teachers with more than two years experience tend to make at least $2,800 a month (20,000 RMB).
Private Tutors in China: $29 – $58 USD/hour
If you're looking for a lucrative side-hustle, you've come to the right place. You can make great money part-time tutoring in China.
In smaller second-tier cities, the going rate is $29 USD (200 RMB) per hour. As you gain experience, you may be able to find jobs offering a bit more. For example, I taught business at a local company for $65 for 1.5 hours (400 RMB).
If you're in a larger city like Beijing or Shanghai, the standard rate is $43 USD/hour (300 RMB). However, with experience, you can always charge more.
Types of English Teaching Schools in China
Once you're certified, you'll need to start thinking about what type of job in China is best for you. There are so many different school and job types in China, it's important to decide which type of school is going to best fit your needs before you start applying to positions.
Private Language Schools
Private language schools, also known as training centers, are a very common place to teach English in China. These for-profit schools typically teach students in the evening or on the weekends.
You'll typically have small classes of anywhere from two to 10 students, teaching oral English to a variety of age groups.
While most private language schools teach ESL, there are actually schools that specialize in other subjects like test prep, public speaking, debate, college counseling, drama and art. Some of these private schools have high-paid positions with plenty of benefits. For example, I worked for over two years as a college counselor in China!
Private language school hire new teachers year-round, so if you're looking to start a new job and can't wait for September or February, this is the place to look.
Public Schools
Chinese public schools are another common place for people to teach English in China. Public schools often hire supplementary oral English teachers to teach students once a week or even once every two weeks.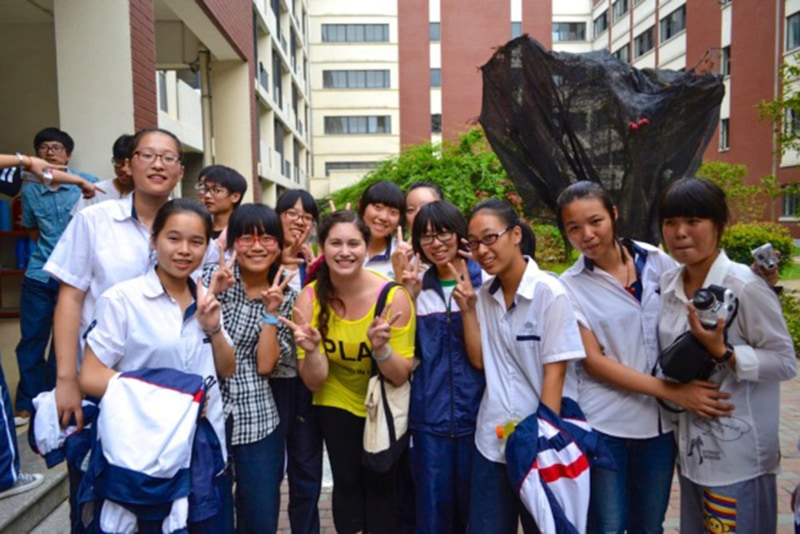 Most public schools in China have Chinese teachers teach English grammar and writing while preparing students for admissions tests. However, these schools have realized that most students have a difficult time speaking English, so they started hiring foreign teachers to fill the gap.
If you work at a public school, you'll typically be working Monday-Friday from around 8 a.m. to 4 p.m., teaching class sizes of 30 to 50 students. Yes, Chinese public school class are huge.
If you do want to work at a public school, these schools only hire new teachers for September and possibly February since they rarely need new teachers to start part-way through a semester.
Colleges and Universities
If you're looking to work a job with fewer hours so you have plenty of time to explore, a college or university job might be best for you. While these positions pay the least, they also have much fewer class and office hours.
Teaching oral English at a college or university can be the perfect opportunity to explore China while supporting yourself financially. If you'd rather spend most of your time enjoying China and don't care much about having a high salary, this might be the perfect job for you.
International Schools
China's highest paying jobs with the most benefits are definitely international school positions. Most international schools in China are looking for teachers that are licensed and certified to teach in their home country with more than two years of professional teaching experience.
International schools are also a great way for non-native speakers of English to teach legally in China. If you are a certified teacher in your home country with at least two years of experience, you can legally teach a subject in English at an International school. For example, I had a Dutch friend who taught math in English.
Private Tutoring
If you're looking to make a little extra cash in China, private tutoring is the way to go. While teaching outside of your contract is technically illegal in China, the government really isn't cracking down on private tutors.
That said, if you do have a full-time teaching job in China, private tutoring can be a violation of your contract, so just be careful and definitely don't poach your students for outside private tutoring.
Personally, I worked as a private tutor while getting my Master's degree in China. Having a few side gigs allowed me to support myself while studying, and it was relatively easy to find jobs once I made my services known around campus.
Some teachers in China do decide to make a full-time job out of multiple tutoring gigs. While this is a fantastic way to make a lot of money with no office hours, just keep in mind that this is technically not legal, and there will be no support system or benefits like vacation time, health insurance or free housing.
Document and Visa Process for English Teachers in China
The visa process for teachers in China is notoriously confusing and time-consuming. Thankfully, most jobs assign someone to walk you through the entire process, so you're not alone.
Here are the documents you'll need for an official Z Work Visa in China:
Valid passport
Chinese visa application form
Authenticated 120-hour TEFL certificate
Authenticated bachelor's degree
Criminal Background Check
Official Acceptance letter (sent from your school)
Foreign Expert Certificate (sent from your school)
The process for procuring these documents can actually take a few weeks, or possibly even a few months. Many schools trying to bend the rules might have issues getting a Foreign Expert Certificate for you, and may need to try multiple times before they can secure one.
For example, I was supposed to have two years of college counseling experience post-graduation for my college counseling job in China. However, I had actually been in China since pretty much the day I graduated from college, so my school had to do a lot of convincing to get me my certificate!
Because the process can be lengthy and time-consuming, you'll want to start applying for jobs at least three to four months early. For a September start, I always recommend applying in May or June.
Once you have all of these documents, you'll need to apply for your Z Work visa either at your local consulate or embassy, with a visa service agency (if you live nowhere near a consulate like me), or in Hong Kong.
When you arrive in China, you'll need to switch from a Z Work Visa to a Residence Permit. Your school will apply for this permit for you, but you will need to get a medical check once you're in China.
Teaching English in China Without a Degree
If you don't have a Bachelor's degree, it is possible to teach in China… just not legally. China's ESL market is booming, and there just aren't enough legally qualified teachers to serve the intense demand in China. That's where you come in.
So many schools are willing to hire teachers without a degree on tourist or business visas. Many of these schools don't have the permits necessary to hire a foreign teacher legally, while others don't have the money to provide salaries for qualified teachers.
If you are working illegally in China, just be sure to work for a school with decent reviews online. The last thing you want is to get scammed teaching in China, and without a legally binding contract to fall back on, you'll have less of a safety net in China if, for some reason, your school doesn't give you everything they'd promised.
When it comes to teaching on a tourist visa, this is a very common practice and I have many friends in China who have done this. Just keep your head down, don't announce to everyone in a crowded bar that you're a teacher, and you should be fine!
Teaching English in China as a Non-Native Speaker
If you're not from one of the seven "native speaker countries" (US, UK, Canada, Ireland, Australia, New Zealand and South Africa), there are two ways you can teach in China:
The legal way
The illegal way
If you're a licensed and certified teacher with two or more years of teaching experience, you can teach a subject in English at an international school. While you won't be able to teach English, you'll get to teach subjects like math, science, psychology, history, art and more!
If you do have a bachelor's degree from a "native speaker" country, some provinces in China might be able to issue you a work visa. You may also be able to find a job teaching your native language, too.
If none of the above are options, you can always teach on a tourist or business visa. Just like those without degrees, be sure to do a ton of research on your school so you don't get scammed in China.
The Best Places to Teach English in China
While most teachers want to teach in the famous cities like Beijing and Shanghai, I personally recommend second-tier cities for first-year teachers in China.
Why move to a city you've never heard of? Smaller cities in China are the perfect place for a first-year teacher in China. Firstly, they're of a tighter-knit expat population, making it easier to meet people and make friends. Second-tier cities are also more immersive with fewer comforts of home (so it's more of a cultural experience).
That said, there's definitely nothing wrong with living and working in a big city like Beijing or Shanghai. I lived in Beijing for two and a half years and loved it.
The process of picking the perfect place to live can be a bit overwhelming, so to make things easier, let's go through some of the best cities to teach English in China. All of these cities have plenty of teaching positions and a great quality of life, so you really can't go wrong with any of the locations on this list.
Nanjing
China's old southern capital, Nanjing is the perfect place for a first-year teacher in China. Just north of Shanghai, Nanjing straddles the Yangtze river and is filled with history from its time as a capital of China.
Spend your weekends exploring Xuanwu Lake or the Presidential Palace, take a trip out to the Ming Tombs or reflect at the Nanjing Massacre Memorial Museum. There's always something to do in Nanjing!
Nanjing is also a very green city, filled with parks where you can find locals playing mahjong or dancing in groups. It's also very central, close to many other cities like Shanghai, Hangzhou and Suzhou.
Xi'an
The ancient capital of China and home to the Terracotta Warriors, Xi'an is an incredible city to teach abroad.
Located in North Central China, Xi'an is famous for its history, incredible food and Muslim culture. In addition to the Terracotta Warriors, Xi'an also has the best preserved ancient city wall in all of China. You can even rent a bike and explore the entire city from above!
Home to delicious noodles, kebabs, and roujiamo (the "Chinese hamburger"), Xi'an is a city for foodies. Spend your weekends wandering the Huiminjie Muslim Market where you can try some of the best food Xi'an has to offer!
Hangzhou
Looking to live and work in a beautiful, serene city full of history and culture? Then Hangzhou is the place for you. An hour outside bustling Shanghai, Hangzhou was dubbed the most beautiful place in the world by Marco Polo.
Spend your free time walking around West Lake, stop by a traditional teahouse or take your Chinese coworkers to KTV and spend the evening belting out pop songs.
Surrounded by other big cities like Shanghai, Suzhou and Nanjing, you'll be able to easily explore much of China on your weekend breaks.
Chengdu
Do you love spicy food? Are you obsessed with pandas? Well, look no further than Chengdu. The birthplace of China's spicy "mala" cuisine, Sichuan is the perfect place to stuff your face with hot pot, mapo tofu, mouthwatering noodles and any spicy Chinese dish your heart could ever desire.
Chengdu is also home to the Giant Panda Reserve, so you can visit these cuddly giants when you're not in class! In Chengdu, you'll also find beautiful bamboo forests lined with teahouses where you can join locals in getting your ears cleaned.
If you're looking for traditional China with a modern (spicy) twist, Chengdu is the city for you.
Beijing
I know I said that second-tier cities are best for first-year teachers, but I couldn't leave out my China home of Beijing!
Do you love learning about international politics? Are you a huge history buff? Do you dream of learning Chinese? Then you belong in Beijing! A giant cosmopolitan city, and the seat of power in China, Beijing is a place no traveler (or exapt) in China can miss.
Beijing is also the standard for Mandarin Chinese, making it one of the best cities to learn Chinese.
In your free time, spend your weekends hiking the Great Wall, wandering the Temple of Heaven or getting lost in Beijing's ancient hutong neighborhoods.
Shenzhen
If you're looking for a vibrant cosmopolitan city with hot weather and great shopping, look no further than Shenzhen.
One of China's newest cities, this economic powerhouse is located right across the water from Hong Kong, making visa (and shopping) trips extremely easy. You can just hop on the subway or ferry and be there by lunch.
If you're looking for hustle and bustle, warm weather and plenty of things to do, Shenzhen is your city. The location also makes it super convenient for those of you who are teaching illegally, since all you need to do is hop on the subway for your visa runs.
Shanghai
While I'm definitely a Beijing person (the Beijing vs. Shanghai rivalry is real) I can't deny that many teachers are drawn to cosmopolitan Shanghai.
Shanghai is China's business center and most international city. Here you'll find plenty of international food, pop stars visiting from around the globe and a pretty hopping nightlife scene.
Grab a drink at a bar in the French Concession, wander the bund and take in the scene of the Shanghai skyline, or take a trip up to the top of one of Shanghai's tallest buildings for an incredible view. You'll never run out of things to do in Shanghai.
Is China a Good Place to Live?
China is often featured by the west in a negative light. We focus on pollution, internet censorship and crowds. However, China is a fantastic place to live if you're looking for the adventure of a lifetime.
Firstly, let's talk about income.
I managed to save $40,000 in two years while working in China without even really trying.
I completely paid off my student loans, and I had a great quality of life while doing it.
In fact, I drank $10 cocktails at fancy bars. I went to Starbucks whenever I felt like it. And I took taxis to work when I accidentally slept in. Yup, I even had my own private office with a view and 20 vacation days!
Beyond that, every day in China was a unique adventure.
While living in China wasn't always easy, it certainly was never boring. I lived in the middle of Beijing's historic hutong neighborhoods where I would explore every weekend. I found cat cafes, amazing hole-in-the-wall restaurants and I hiked nine different sections of the great wall (some of which weren't officially open to tourists!)
Sure, China is vastly different from the US, but that's what I was looking for. I wanted to be challenged to adapt to a new culture and survive in a country where I could barely speak the language. I wanted to be forced to eat new foods and try new things.
Does saving money while having an incredibly immersive adventure sound great to you? Then China is definitely a good place to live.
Is it Safe to Teach English in China?
When I first left to study in China, everyone worried that I'd end up in some prison. I was warned to watch what I say on my blog. (Fun fact: I'm not important enough for the Chinese government to care what I write!). And I was warned about talking politics, as well as government rules and restrictions.
I'll be honest: China's government is not my favorite. China has internet censorship, no freedom of speech and horrible human rights abuses.
But, is China safe?
Honestly, as long as you don't go running around Tiananmen Square with a "free Tibet" sign, you'll be fine. Yes, you'll need to buy a VPN (see reviews for the best ones here) to get around internet censorship. But otherwise, the Chinese government really doesn't affect your day-to-day life.
If you're going to be worried about anything, be worried about getting hit by an e-bike while crossing the road with a green light. That's the real danger.
How to Teach English in China Online
Maybe you don't want to go to an actual school every day. Or maybe you can't actually make it to China right now. The good news for you is that you can teach English in China online, too.
With the advent of new technology, teaching Chinese kids online has never been easier. There are now so many different online schools that hire remote teachers to teach English to students back in China.
The great thing about this job is that there are no office hours and you can do it from anywhere. You can teach online part-time while in China, or you can teach full-time from your hometown or another country.
Simply, just look for online jobs on sites like the following:
You'll still want and maybe even need a TEFL, depending on the job. So follow the same steps for getting a job on the ground.
I can vouch for the fact that teaching English in China is an unbeatable experience. I earned and saved enough money to travel the world while paying off my student loans and hitting up Starbucks on the regular. Beyond that, thanks to my experiences teaching English in China of all places, I've become a more open-minded and adventure-ready traveler.
So what are you waiting for? Get online and start getting certified!
Take Your Teach Abroad Training to the Next Level
This China teach abroad guide only scratches the surface of everything I want to teach you about the ESL industry in China. If you're really interested in taking your training to the next level, I'd love to invite you to join me for my FREE 3-Part Video
Training Series!
In this free video training, I'm going to walk you through everything you need to know before you take a job in China! We'll go through the secrets I've learned through five years of teaching in China, all the many mistakes I've made (and I'll tell you the whole story of what really went down my first year) and I'll be answering the most common and pressing questions I get on pretty much a daily basis.
If you want to teach abroad in China and start out with an amazing high paying job the FIRST time around, while avoiding all my mistakes, I'd love to see you in the video training! Click here to find out more and sign up for free!