Looking for the best leather backpack? Yeah, so was I. As a more adventurous traveler who's typically in the backcountry or international trip, this wouldn't be my typical type of bag. But I decided to level up my style game and start researching leather backpacks as well as my typical adventure bag.
The fact is, while most travel backpacks are incredibly functional and practical, they don't always look great.
I mean, you can't exactly walk into a trendy cocktail bar with a bright green hiking backpack and not feel a bit out of place. If I'm going somewhere a little fancier than usual, I like to bring along a nicer bag.
That's why I love leather backpacks. They're super versatile. You can use them for work, travel, school, and casual day-to-day life.
And best of all? Their style is timeless because leather backpacks are virtually indestructible.
There's a reason for that too. Until 50 or so years ago, leather was the travel material of choice. And though it isn't anymore, there's something so incredibly charming about a leather backpack for travel.
Let's dive into my picks for the best leather backpacks for travel as of 2023.
12 Best Leather Backpacks of 2023
1. Kodiak Katmai: Best Overall Leather Backpack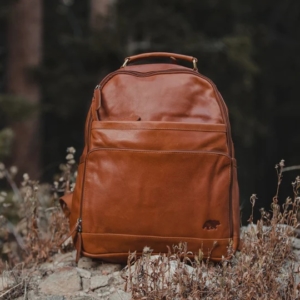 This is my top pick for best leather backpack because it has it all: tons of organization features, a laptop sleeve, added security, and some seriously beautiful style.
Having an organized leather backpack is an absolute godsend for anyone who likes to keep their gear neat and tidy.
Unlike some of the other more simplistic bags on this list, the Kodiak Katmai Leather Backpack has lots of pockets. There's a padded laptop sleeve on the back wall of the main compartment, as well as large and medium zippered pockets on the front. Inside those pockets are smaller pockets for carrying your phone, credit cards, and other small items.
Bonus features: the straps are adjustable, and there's also a luggage strap to hook it onto the handle of your suitcase. The top carry handle is a nice touch.
I just love the timeless look of this bag. Plus, its top-grain cowhide, offered in three colors, ages beautifully!
Pros
There are a ton of pockets on this backpack
Comes with a padded interior laptop sleeve
The interior has an extra zippered pocket for more security
Adjustable backpack straps
Cons
Because it has so many pockets and compartments, the main compartment isn't overly roomy
Kodiak Katmai Leather Backpack Specs:
| | |
| --- | --- |
| Dimensions | 16.5″H x 15″W x 5″D |
| Fabric | Top-Grain Cowhide |
| Quality | Excellent |
| Cost | $$ |
The MAHI Classic Backpack 3.0 is a classic leather backpack that comes at a very affordable price. Each bag is handmade to order, it comes in a variety of colors, is made with full grain leather, brass fittings and YKK zippers…and there's even a vegan option!
Take your pick of personalization options when you order a MAHI Classic Leather Backpack, but the most common option is having your own initials stitched into the bottom of the bag. You'll get three standard thread color options for each color of leather, and even customized font choices. If you have a business, you can request a hand-stitched logo, too! It's clear that a lot of love and care goes into designing these bags.
Other than the design perks, this backpack is incredibly versatile with tons of organization. It has enough space for a 15" laptop in its separately padded laptop compartment, and there are two external water bottle holders. There's also a leather strap on the back of the bag that perfectly slips over the handle of your carry-on suitcase.
The bag also has extendable back straps, a front zip pocket, two interior pockets, and an internal zippered pocket to keep your valuables safe.
Pros
Completely handmade with premium leather
Comes in a variety of colors
Padded laptop pocket to keep your gear safe
Zippered interior pocket for your valuables
Customizable with your initials and other options
Cons
Appears bulky on people with smaller frames
Only has a year warranty
MAHI Classic Backpack 3.0 Specs:
| | |
| --- | --- |
| Dimensions | 17.7" L x 14.5" W x 5.5" D |
| Fabric | 100% full grain leather |
| Quality | Excellent |
| Cost | $$ |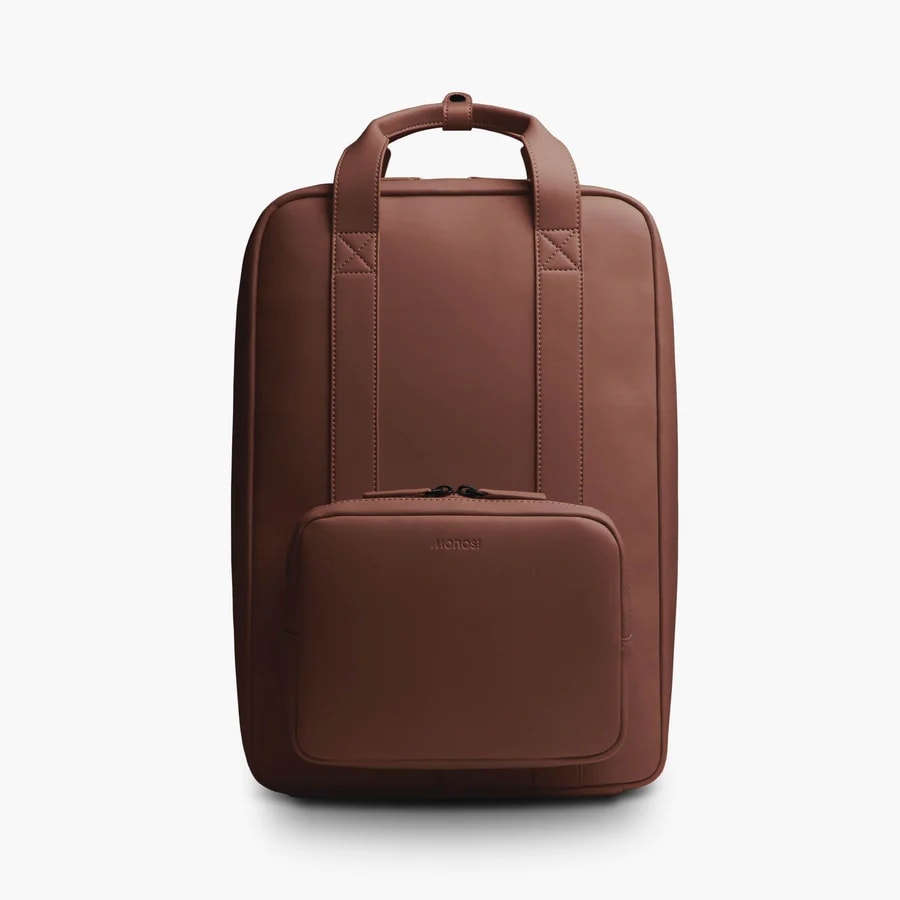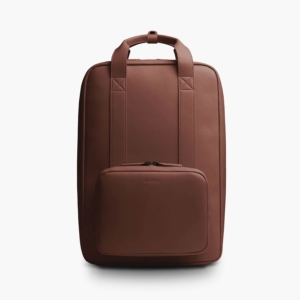 There's a lot to love about this Monos Metro Backpack. Although there's a nylon version, this vegan leather backpack has a sleek profile, is water-resistant, and is multi-purpose built for everything from your daily commute to a weekend getaway. Best of all, it features the unique QuickSnap™ Modular Kit System.
This is something I haven't seen on a leather bag before. The interchangeable Metro Kit is designed to easily detach or swap out for another kit to suit your daily needs. It's meant to hold the things you need in easy reach.
For example, if you're on a long flight and you need to wash your face, brush your teeth, etc., you can just unsnap the kit and take it with you to the bathroom. Each kit fits other Metro bags as well, so you can attach it to your other bags. You can purchase a Folio Kit separately, which is designed to hold things like your phone charger and credit cards.
The clamshell main compartment makes it easy to access everything, and there's a 15″ laptop sleeve inside. Plus there's a built-in luggage sleeve that you can attach to your suitcase while you're in transit.
Pros
Sleek and stylish faux leather
Part of a modular kit system which allows you to snap on and off different compartments, or swap them out
Holds a 15″ laptop

Comes in a few different colors
Cons
Expensively priced for faux leather
Monos Metro Backpack Specs:
| | |
| --- | --- |
| Dimensions | 8.7″H × 6.7″W × 2″D |
| Fabric | Vegan leather |
| Quality | Excellent |
| Cost | $$ |
A great every day carry bag, The Lorimer Backpack is perfect for women on the go. Madewell has been a well-known staple brand for women since 2006, and continues to create clothing, accessories, and bags with innovative and stylish designs.
This backpack is made from Italian vegetable-tanned leather and comes in both a brown and black color. They even offer personalization, so you can add your initials to the bag! I love this option for gifts or differentiating my bag from others in public.
It has an exterior zippered pocket for those items you need to access quickly, and small inside sleeves for a phone, cards, pens, chapstick, and more. There is a larger zippered pocket on the inside back as well.
Pros
Comes in two beautiful colors
You can personalize it with your initials!
Top handle for easy carry
Front zipper pocket for maximum organization and easy access
Cons
No pocket for larger laptops
No luggage strap
While still high quality, the leather is variable in look
Madewell Lorimer Backpack Specs:
| | |
| --- | --- |
| Dimensions | 15.5″H x 11.4″W x 4.75″D |
| Fabric | Italian vegetable-tanned leather |
| Quality | Excellent |
| Cost | $$ |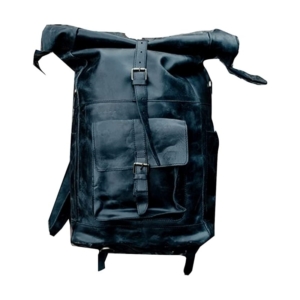 You'll see that leather backpacks from Kodiak keep popping up in this review. You know when one brand appears a few times in a list that they make excellent products.
Their Kobuk Leather Backpack is absolutely beautiful, I have to admit. It has a bit more personality than the other backpacks on this list.
Think handsomely rugged.
It's the perfect leather travel backpack if you want that retro-feel but you need to travel with your tech.
I'm a sucker for that vintage aesthetic. I've purchased many retro bags, but their lack of purpose-made space for tech has always been a problem. I also think this bag offers the best security thanks to the buckles and double closure system.
Pros
A very roomy backpack with lots of storage space in the main compartment
Vintage rugged design meets tech — a laptop sleeve is a must!
Buckled top flap combined with the drawstring closure makes this bag pickpocket-safe
Zippable large interior pocket
Fits snugly under a plane seat
Cons
This bag may not be big enough if you're a heavy packer and you're going anywhere for longer than a weekend
Straps are light on the padding, making it okay for a small load but your back will get fussy if you're carrying a heavy camera
No warranty
Kodiak Kobuk Leather Backpack Specs:
| | |
| --- | --- |
| Dimensions | 21"H x 13"W x 11"D |
| Fabric | Top-Grain leather, interior lining, brass hardware |
| Quality | Excellent |
| Cost | $$ |
This has got to be the most unique leather backpack on this list.
Ultra-slim is the most appropriate way to describe the Harber London Slim Laptop Bag: it's only 1.7 inches wide! It actually comes in two different sizes, referring to the size of the laptop it can carry: the small size holds 13"/14" laptops, while the large size holds 15"/16" laptops.
The primary function of this bag is to be as compact as possible. In fact, 5L is its max capacity, because this backpack isn't meant to carry more than—you guessed it—a laptop.
The zippers are water resistant to make sure your electronics stay dry. There's a front pocket for chargers, a detachable magnetic key holder, comfortable shoulder straps and a grab handle, and a luggage pass-through sleeve for your carry-on.
Each bag is handcrafted with premium full-grain leather, which ages gracefully and adds to the bag's personality over time. It's definitely one of the best-looking bags on this list, and will stand out from other laptop backpacks.
Pros
Less than 2 inches wide
Comes in two different sizes, holding a laptop up to 16 inches
Comes with a padded interior laptop sleeve
Water resistant zippers
Comes in a few different colors
Cons
Very small, holding max 5L
It's thin, so you won't fit much else in here other than a laptop and perhaps a book
Harber London Slim Laptop Backpack Specs:
Dimensions
Medium: 13.4″H x 10.2″W x 1.7″D
Large: 15.7″H x 11″W x 1.7″D
Fabric
Full Grain cowhide leather
Quality
Excellent
Cost
$$$
ISM makes tech-focused leather backpacks sans the luxury price tag. The company's bags are made in the same factory, with the same materials as many of the top-of-the-line luxury bags on the market. With The Backpack, you're getting pretty much the same luxury product, at three to five times cheaper.
It's not just the price point that makes the ISM pack a great leather backpack for men, or even women, however.
They've adopted the hyper-functionality of other tech bags, minus the clutter of all the unnecessary zippers and contraptions that they often come with. They're specifically made for digital freelancers/nomads who love functional simplicity. That definitely sounds like me, what about you?

ISM also takes comfort seriously. That's why their backpack straps echo the excellent support and comfort provided by hiking backpacks.
The ISM backpack comes in large and small. They're not THAT much different in size. Go for the large one if you're taller, or if you want to travel for a weekend or longer with a laptop. If you're shorter than 5"5', go for the small size.
It's great for light-carry commuting and day trips. I love that you can keep your laptop separate from everything else. It's simple but effective.
Pros
Excellent organization and compartmentalization
The pass-through flap makes it super easy to keep your phone charging AND easily accessible
The modern, sleek design is very appealing, ideal for all you minimalists out there
Made with highly durable, quality materials
Lifetime warranty
The unisex frame suits almost everyone
Cons
The back external pocket does not make for easy access – a side pocket would have been better
It's pretty rigid and doesn't have much give when overfilled
Lack of color options (only black)
Not made with 100% natural fibers
ISM The Backpack Specs:
Small
Large
Dimensions
15" H x 11" W x 4" D
Fits a 13-inch laptop
17" H x 12" W x 5" D
Fits a 15-inch laptop
Capacity
10.8L
17.2L
Weight
1.3LBS
1.8LBS
Fabric
Full-grain leather, nylon, twill lining, memory foam padding
Full-grain leather, nylon, twill lining, memory foam padding
Quality
Excellent
Excellent
Cost
$$
$$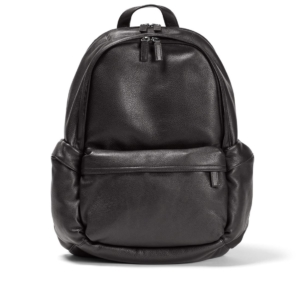 Leatherology is a luxury bag company based in Texas. They do everything, from design to production in-house, so you know you're getting an excellent product that has undergone a ton of quality testing.

Leatherology makes a huge range of timeless leather products for both women and men, including everything from coin holders to full-sized leather travel backpacks. If it's leather, they make it.
Its organization is excellent. There are two huge zippered main compartments and a front zippered outside compartment. Its many pockets include a laptop pocket for slim tech up to 17 inches, 2 x 2-inch exterior side pockets for chargers and keys, and another small exterior zip pocket.
If you're looking for a soft leather backpack for women, then the Leatherology Parker Backpack is a good choice for you. It comes in a range of black leather and brown leather shades, and it's pretty versatile.
Pros
Made with soft leather, making this a very comfortable bag to use
Available in Black Onyx, Cognac, Brown, Ginger, Taupe, Navy, and Charcoal
Very spacious inside — you can easily fit a water bottle and change of clothes
Keeps your tech separate from everything else
Ideal bag for frequent flyers as it fits perfectly under an airline seat
Personalized monogram service is not that expensive
Cons
It's definitely on the expensive side for a travel backpack
The soft leather is beautiful but it's not as durable as other sturdier bags
No warranty (at such a high price, I'd expect something)
While still high quality, the leather grain is variable in look
Leatherology Parker Backpack Specs:
| | |
| --- | --- |
| Dimensions | 17.7" H x 13.8" W x 6.5" D |
| Fabric | Soft, full-grain leather |
| Quality | Excellent |
| Cost | $$$ |
Frye crafts premium Italian leather bags made with some of the best natural materials available.
Their Melissa Medium Backpack is a hybrid between a small weekender backpack and a commuter bag. If you're looking for a beautiful leather backpack that you can slip under an airplane seat, or use around town, this might be the best leather backpack purse for you.
While it's not large, this backpack is a good size if you're a light packer and you just want to carry around the essentials. It has adjustable shoulder straps and a top handle for easy carrying.
It features one outer sleeve pocket to carry small essentials and an interior zippered pocket on the back panel of the bag for those items you want to keep secure and organized.
Pros
Extremely stylish, timeless design
The combined leather drawstring and brass buckle double the security of this bag
Large main compartment
Adjustable shoulder straps
Cons
Expensive for a carry-on backpack, but it's still more affordable than designer brands
It's lacking on the exterior pocket front (I usually like at least two pockets on the outside)
It's too small to comfortably fit a camera or a larger laptop
Frye Melissa Backpack Specs:
| | |
| --- | --- |
| Dimensions | 9.5" W x 13" H |
| Fabric | Antiqued pull up Italian leather, antique metal hardware and leather feet |
| Quality | Excellent |
| Cost | $$$ |
Yet another Kodiak product on this list. The Kodiak Leather Diaper Bag is perfect if you're looking for a small leather backpack that you can sling over your shoulders and take on-the-go. It's casual and perfect for day wear.
For a small bag, the Kodiak Katmai Diaper Bag has great organization. It features a padded laptop sleeve, multiple interior packets, and small slots for cards, pens, a phone, and more. It also has side pockets for small water bottles and other items.
With 20L of carrying capacity, it's the perfect everyday carry bag. Although coined a diaper bag, this pack is perfect for any day use, by anyone!
Pros
Versatile design that enhances organization
Comes in three classic colors
Perfect size for every day carry
Cons
The side pockets aren't very flexible and can't hold larger water bottles
Kodiak Leather Diaper Bag Specs:
| | |
| --- | --- |
| Dimensions | 15″W x 16.5″H x 5″D |
| Fabric | Top-Grain cowhide |
| Quality | Excellent |
| Cost | $$ |
ONA was founded in NYC back in 2010. They design stylish, highly-functional backpacks, especially for creative professionals and freelancers. Their designs are timeless too, so one of their leather backpacks should last you a lifetime.
The ONA's Clifton is a great leather camera backpack for creatives on-the-move. I'm one of those people, so it's only natural that I love this leather backpack.
But here's what I like the most.
It's exceptionally comfortable for long days on the move.
Having a completely separate laptop compartment in a leather backpack is a wonderful addition for us digital nomads out there. Plus, there is still plenty of room for all your other tech. It's also a breath of fresh air to see a camera bag made of natural materials.
Photographers take note: this bag holds between 4-6 lenses and is primarily a tech backpack with removable dividers for when you want to use it as an everyday travel daypack. But if you want to take other personal items (like clothes), go for the ONA Camp's Bay backpack instead. It's not leather, so it doesn't fit on this list, but I highly recommend it for its better use of space.
Pros
There's a ridiculous amount of room for technology
Keep your laptop separate from everything else for better organization and security
The front compartment keeps all the odds and ends like chargers and pens within easy reach
The air mesh padding keeps you comfy and stops your back from sweating
Comes in Black, Antique Cognac, Smoke, and Camouflage colors
Cons
It can't fit everything — if the backpack is loaded with camera gear, there is little to no room for clothes
No locking capability or buckles, so it can be an easy target for thieves It can only fit a 13-inch laptop but a 15-inch capacity would suit a wider group of people
ONA's Clifton Leather Backpack Specs:
| | |
| --- | --- |
| Dimensions | 17.5″L x 11.5″W x 5″D |
| Fabric | Full-grain leather |
| Quality | Excellent |
| Cost | $$$ |
Pad & Quill is an artisan leathercrafting company based in Minneapolis. They started out in 2010 making leather cases for iPads, but they quickly moved into making a large range of leather products.
The Pad & Quill Heritage Rolltop Leather Laptop Backpack is outstanding.
Who doesn't want a brown leather backpack? They're beautiful, and they're vintage-looking (and they're available in black leather if you prefer that look).
This one has that vintage style that I love so much. I am also obsessed with the water-resistant rolltop too. It makes me want to get up from this desk right now and go for a hike through the Tirol.
This one is the most unique backpack, and it offers great little details like side access. You also get some much-needed room in order to store your travel or adventure tech, including a 15-inch laptop. It's perfect for carry-on and commuting.
The Heritage Rolltop is definitely for you if you want to stand out from the crowd with a striking brown leather backpack.
Pros
The rolltop look of this backpack is very unique — I love the retro vibe, and I think you will too
This is the only backpack on this list to offer side access, which is very handy when you need to grab something closer to the bottom of your backpack
Everything about this bag is durable, and the full-grain leather is the kind they use to make horse riding bridles
Tough-as-nails stitching
Brass buckles are way more secure than zips
Great online customer service with free domestic shipping, a 25-year warranty, AND a 30-day money-back guarantee
Cons
No lifetime warranty, despite most other packs in this list of a lesser price have a lifetime warranty
Buckles are more secure than zips, but they're a pain to use if you're in a hurry
It's a very slim bag, so you won't be fitting any cameras in there
At 3 pounds, it's pretty heavy and can weigh you down over the course of a day
Pad & Quill Heritage Rolltop Leather Laptop Backpack Specs:
| | |
| --- | --- |
| Dimensions | 16" L x 12" W x 4.7 " D |
| Weight | 3LBS |
| Fabric | Full-grain American bridle leather |
| Quality | Excellent |
| Cost | $$$ |
Why Choose a Leather Backpack?
A leather backpack is the perfect travel companion if you want to look a little cooler than all of the other backpacking jokers out there.
You're never going to find a full-size trekking backpack made of leather, but if you're looking for a day backpack or overnighter that has a bit of cool factor, then a leather backpack is ideal for you.
While leather backpacks look great, don't choose one based on aesthetics alone. To get the most out of a leather backpack for travel, you want to make sure it's small enough to slide under an airplane seat, that it can carry a change of clothes, and that it can fit a laptop (preferably in a purpose-built sleeve).
Why Should You Invest in a High-Quality Leather Backpack?
First of all, let me get this straight for you. Given that we have so many outstanding purpose-built mountaineering and trekking backpacks out there these days, I wouldn't even think about taking a leather backpack on a proper hike.
However, for a weekender bag or carry-on backpack, a leather backpack is absolutely ideal.
They're especially useful if you're a photographer or digital nomad because they're robust. They are able to hold a lot of gear. Leather has a surprising amount of give and it ages well over time. Scuff marks actually look good.
They add to that creative vibe you're searching for.
If you want a backpack that looks good, but you don't want to pay top dollar, a leather backpack is definitely not for you. You'll have a hard time finding a decent quality leather backpack for under $250.
If it's cheaper than that, it's probably not real leather.
If you feel like a bit of a dork carrying around an ugly daypack that screams "I'M A TOURIST," well, then a leather backpack might be exactly what you're looking for.
These are the best leather backpacks for travel for both women and men. I'll show you how to sort the best leather travel backpacks from ones that are probably better off staying home (or in the warehouse).
The main things you want to look for in a good leather backpack for travel are:
It's not faux leather.
That it can fit a laptop in a purpose-made section.
That it will work as carry-on luggage.
Of course, you want it to be comfortable and secure too. You'll want buckles. I'll run through a few things to look out for so you can be sure your leather backpack fits well and keeps your stuff safe.
Side note: Perhaps you like the look of leather, but you don't like that it's made from cow skin?
That's fair enough, but you're in luck. These days, you don't have to settle for lesser quality, vinyl-based faux leather. There are a lot of brands producing really good synthetic leathers, as well as plant-based leather.
Plant-based leather is made from everything from seaweed to kombucha SCOBYs. Crazy, right?
What to Consider When Purchasing the Best Leather Backpack for You
There's no catch-all leather travel backpack that will suit everyone. We've all got different needs. However, there are a few things I strongly suggest you look out for when choosing a leather backpack.
Genuine Leather or a GOOD Faux Leather
It goes without saying that if you want a leather backpack, you want to make sure it is actually leather. Leather is an expensive material thanks to its incredible quality and durability. Whether you go for a soft or a rigid style, a good leather backpack should last you several lifetimes.
When you're making your purchase, triple check with a salesperson or in the description that the backpack is genuine and/or full-grain leather.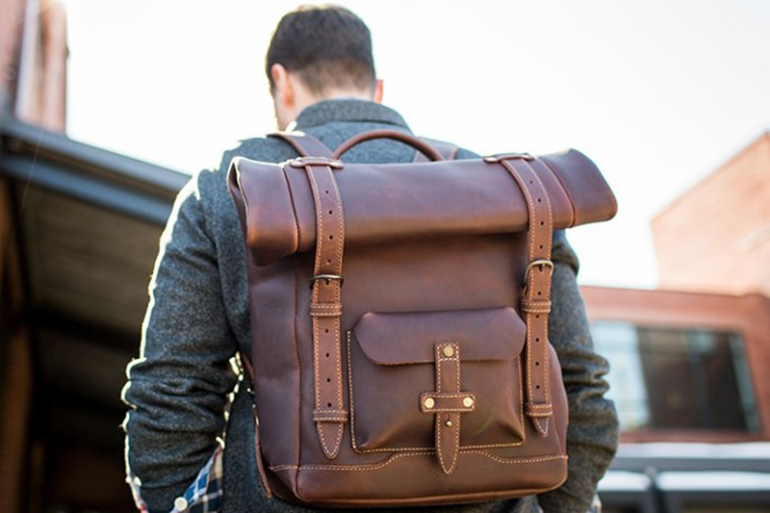 There are some unscrupulous people out there though. So, here's what I think. If the price seems too good to be true, it's probably not real leather.

If you want the leather look without the cow, then a good quality faux leather backpack is what you need.

Rather than going for a cheap vinyl-based faux leather, look for some of the new faux leathers out there that are made of plant materials. Leathers made from seaweed and other tough, fibrous materials are almost as durable as real leather, and they look way better than cheap, faux materials.

If you can't find any like that, go for something a little on the higher end of the pricing scale. Something like the Wilsons Leather/Kenneth Cole Reaction Modern Backpack uses synthetic materials but they're still very robust and high-quality.
Security
If you want to take a leather backpack traveling, it's important that it can be secured.
I personally avoid zips on a daypack. In fact, the only reason I didn't choose the ONA Cliften Leather Backpack is that it only has zippers. This is especially true if I'm going somewhere a little dangerous. Plus, who wants to spoil their beautiful, expensive leather backpack with a big, ugly padlock?
Instead, the best leather backpacks for travel have a double closing mechanism. I like leather backpacks that have a drawstring AND a buckling system. Many of them that I mentioned have this function.
While a genuine leather backpack might suggest you have a ton of money, at least a buckle system will be a good line of defense against pickpockets.
The thick leather is way harder to slash than some synthetic materials that other backpacks are made from too. That's a bonus.
Tech Pockets
Leather backpacks aren't exactly a new phenomenon, but older backpacks don't have tech pockets. These days, it's pretty much impossible to travel without at least a tablet, but you definitely need a laptop if you're a digital nomad like me.
When you're looking for a leather backpack for travel, make sure the backpack has a separate compartment where you can store a laptop.
If it has a place to keep a camera, you're looking at a leather backpack that's better than the best.
Organization
As you will get most of the use of your leather backpack as a day bag, organization is super important, especially external organization.
The best leather backpacks will have a few external pockets where you can keep small, day-to-day items like chargers and keys.
There should also be at least one internal pocket with a zip so you can stash away the more valuable items you're likely to carry around while traveling.
Comfort
While the comfort of a leather backpack for travel isn't as important as a trekking backpack, you still want to make sure it fits well. The best leather backpacks offer adjustability and breathability.
Look for adjustable, thick shoulder straps that are well-padded. Bonus points if they are padded with breathable foam. The same goes for the back panel.
Another important thing to look out for is the placement of the mandatory laptop sleeve. Make sure it sits right at your back. This will maximize comfort.
Carry-On Size
You don't want to end up with a leather backpack that's too big for carry-on luggage requirements.
When you're choosing between backpacks, make sure they are under 20 inches in height. This should set you up to carry your bag onto any flight in the world.
Price
A leather backpack is a fantastic way to spice up your look if you're sick of feeling disheveled on your travels. Leather backpacks are also super durable. Some leather objects have been buried in the earth for 1000 years and have been dug out of the ground semi-usable.
If you get a good backpack, there's a good chance you'll pass it down to your grandkids one day. And that's pretty awesome in my eyes.
However, quality and durability come at a price. For a genuine, high-quality leather backpack with a tech sleeve and a few pockets, you're definitely going to spend upwards of $300. This is considerably more than even some of the best and biggest trekking backpacks on the market.
So, be aware of prices when deciding.
Best Leather Backpack FAQs
What's the best budget leather backpack?
What is the best leather backpack overall?
I'm a huge fan of the Kodiak Katmai leather backpack. It's a little more expensive than some of the other options on this list, but it's still reasonable and it covers all the bases.
Are leather backpacks stylish?
Leather backpacks are timelessly stylish! Leather never goes out of fashion and neither will a leather backpack.
Final Thoughts on the Best Leather Backpacks
It was tough for me to choose the best leather backpack for travel. All of the backpacks I've spoken about here have unique features and they all look good.
So I put it down to a personal favorite.
Based on aesthetics and functionality, my favorite leather backpack for travel is the Kodiak Katmai Leather Backpack. The classic look is a major selling point for me, and I love the pockets for organization.
There was a very close runner up though, so another leather backpack gets a special mention here.
If you want something a little sleeker and more modern, a black leather backpack is for you. In that case, I'd go for the ONA Monterey Backpack. It has the functionality of a tech gear bag, but I love that the makers have adopted the comfort of air mesh on the back panel and shoulder straps.
Leather backpacks are undeniably gorgeous. I can't imagine many people wouldn't want one. It's understandably difficult to get caught up on the look of a leather backpack.
However, you should never make a purchase based on looks alone. You should make a checklist of "must-haves" and try out a few different packs to compare them.
A leather backpack is a big investment, so think carefully about what you need it to do!