I don't often discuss my "other" job on this website. For all intents and purposes of this website, I'm a travel blogger. But, of course, we are not always as we seem.
My "real job," if you want to call it that, is a playground to many, held in high regard by some, and looked down upon by more than a few. But there's more to cocktail bartending than just regular old bartending, or pulling pints at the pub. And the story of how I, former cubicle-rat, ended up in one of the most social jobs that exists is an unusual one.
Up until I was about 25 I thought bartending was what all the "cool kids" were doing. And yeah, I wanted that.
After trying my hand at getting bar jobs in my home city of Boston, my fruitless endeavors waned as my intermittent IT contract jobs continued to shorten in length and I was constantly looking for new contracts to pay the bills with. I had just graduated, the recession had hit, and I was working in an industry that I absolutely loathed.
I decided to pack it in, sell my car (I miss you, baby) and buy a one way ticket to Australia in search of the best travel job I could find—bartending.
I had dreams of serving drinks to beautiful bikini-clad Australian women whom I would woo and seduce. My grandiose dreams were completely shattered, though, when I realized my role as a barback in one of Australia's dirtiest backpacker bars.
I was literally cleaning up piss and puke as drunken backpackers spilled three dollar drinks over my head.
But I got my foot in the door.
Three jobs, four months and 11 cities later, I had exactly what I wanted.
I was serving drinks on the beaches of Australia. I drank beer and flirted with gorgeous women every day. I popped bottles of Corona for surfer dudes and poured vodka, soda, limes for scantily clad beach babes. Though I was behind the bar, I worked in the sun. I walked home along the beach every day after work.
Life was sunny, intoxicating and carefree. I got exactly what it was that I left home to find: paradise.
But, as all good things must come to an end, my one-year Australia working holiday visa expired and I continued my worldly journey in the ever stunning New Zealand.
Here, through some serious determination to find a bartending job (and some twisted miracle), I started working at a cocktail and wine bar in a world-class hotel. My manager, incidentally, was a 1990's veteran of the London bar scene, and had worked at some of London's most highly rated cocktail bars. Milk & Honey, LAB, The Player, Mahiki, Claridges, The Bar at the Dorchester, The Groucho Club, The Ivy Club, SoHo House. He had stepped foot behind them all.
Though he was a terrible manager, he taught me how to be an excellent bartender. He taught me a new drinking philosophy, in which quality is superior to quantity. He taught me techniques, recipes, standards, and the tricks of the trade that only the best bartenders in the world are familiar with. He taught me new ways to make old classics like a Whisky Sour.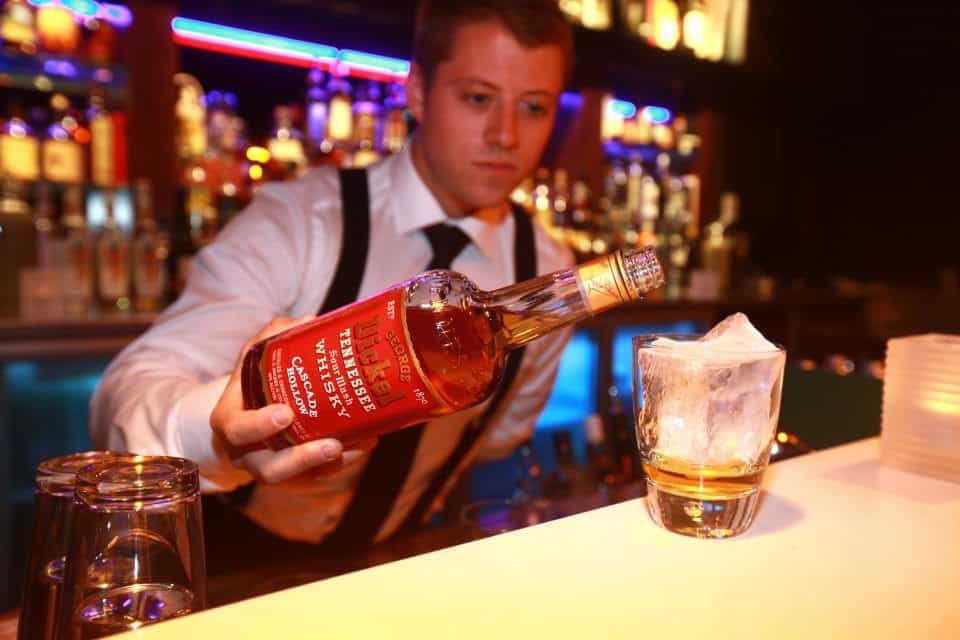 Today, I consider myself very good at what I do, possessing a level of knowledge that a select number of people ever obtain. The three year progression, from where I started to where I am now, is empirically significant. I have continued to get better and improve myself as a professional. With every venue I work at, the quality of the bar, and my role within it, advances.
And I have big things planned for the future.
The point I am making is that I did not develop my career by staying at home and working on it. I found an entirely new direction in life through world exploration. I would not have discovered this passion, and acquired the skills that I have, if I hadn't left home to travel the globe.
Staying in my environment, then, actually would have been detrimental to my career. I would still be working the same cubicle job, wasting my life away in front of a computer screen. Instead, I'm living my life to the fullest, taking advantage of worldly opportunities and improving my craft.
Now, after three years of travel, and working in different towns and cities along the way, my CV is filled with top-notch experience. Since traveling, I have had a vast amount of exposure, and my CV bleeds with well-earned qualifications.
My transient nature meant I (sometimes) carelessly jumped from one job to the next. In this sense, my travels actually expedited my ability to climb the ladder. Albeit, my jobs were for short periods of time (4-6 months each), but my level of comprehension across the board more than makes up for it.
After discovering I was passionate about cocktails, drinks and bars, I realized that the hospitality industry is something I want to continue to be a part of. Now, my goal is to open a place of my own. After all, I'm not going to get rich working behind the bar for the next 30 years.
But I do plan to get rich (doesn't everybody?)! And I've realized that the best place to do this might not be in America. There are opportunities that exist all over the world, and the ones that make the most financial sense probably aren't in your home town.
But how can someone find these opportunities if they never leave home? If you stay in the same city, working the same job, your scope is limited. Want to make big money on a global scale? Then travel the world.
I am not a product of my environment. I am the product of someone who left it. And now I have created something entirely new for myself because, with my particular skill set, and in my current location outside of the United States, I find myself on the verge of some very big possibilities.
It appears that staying at home and working a "stable" career doesn't necessarily make the most sense. It's uncertainty that breeds new opportunity. I had no idea I would take this path, but I never would have discovered just how much of the world was wide open to me if I hadn't started traveling the globe in the first place.
[optin-monster-shortcode id="xmy9gcbzfqynqmhg"]