Until now, I haven't been very open about what I've been going through. Despite this being the most difficult year of my life, I've stayed quiet about it.
"Jeremy, you should be writing about this. Tell the world your story. Write a book!"
My friends have all been strong advocates for airing this thing out, but I didn't want to burden the world with this train wreck of a story. Stories like this don't usually "sell," and even though I maintain a transparent voice and opinion on this website, it's not a very sexy thing to talk about.
Plus, I've felt pressure not to go public with it for professional reasons. Because this website is my job, I fear that this story could make my brand less desirable to potential partners. But it's been long enough, and I need to talk about it. I'm only human, and this is my current reality. You—my friends, family, and readers—need to know what's going on.
The Beginning, When Everything Was (Sorta) Fine and Dandy
Right around this time last year I was traveling in the Middle East, visiting Israel, Jordan, Palestine, and Egypt. It was a pretty remarkable trip, and I did some very cool stuff that I almost couldn't believe myself.
I was really excited to tell you about everything. I had some great stories, and there was a lot I wanted to say. But for some reason I was struggling to get it all on paper. Something was holding me back.
I've never been the type of writer who puts together two or three posts per week, that's true. I can't produce words that fast, and I've never had a desire to. I like writing, but I like writing only when I like writing. Know what I mean?
It took more than a month to start writing about my travels in the Middle East, and instead of writing everything I wanted to, I wrote one big article on each place (except Palestine), and I called it a day.
I felt like I was burning out. I was exhausted, tired of writing, blogging, and traveling, but I kept on going. I couldn't stop—I had a whole summer in Europe ahead of me!
So I flew to Greece and began my summer crossing Europe from east to west by train. I made visits to Macedonia, Albania, Montenegro, Serbia, Hungary, the Czech Republic, and finally Germany. I did a lot of stuff in that time, and there was so much that I wanted to tell you about.
I had a world-shattering experience with refugees in Greece. I went to music festivals on the beach in Montenegro. I had the weirdest train ride of my life in Serbia. I spent a weekend tearing apart the bars in Budapest. And I finally made it to Berlin, my white whale, the city I've been dreaming of for years.
But instead of telling you about any of this, I wrote just one piece on the Balkans.
To be honest, I was kind of okay with that. I like writing long-form pieces that really dig into various elements of a place. I never feel as rewarded by a 500-word article because, sometimes, there's just too much to say. So I focused my efforts on writing fewer, larger articles, and the response was actually great. You guys loved them.
But something wasn't right. I had begun to feel funny. I felt stoned. I was becoming anxious, emotional and lethargic. I'm usually a rational, level-headed, and energetic person, and I didn't know what to attribute this change in my behavior to.
I pushed on, ignoring the fact that I didn't feel like myself. The last thing on my mind was the fact that I might have multiple debilitating infections hijacking my brain and body and affecting every aspect of my consciousness. I thought I was just really, really tired.
And so after an exhausting (but rewarding) summer in Europe, I flew back to the States to see my family. And this is when things started to get weird.
When Bad News Changes Everything: The First (But Not the Worst) Diagnosis
I told my family how tired I was. I told my doctor how tired I was. "Get some rest," they said. "You're just burned out." And I agreed with them.
But after a week at home, sleeping 12-14 hours every night and staying in bed for the remainder of every day, things didn't get any better. My energy didn't come back, and something wasn't right with the way my brain was working. I couldn't process basic information. I had begun to feel disoriented. It didn't make any sense.
I was getting more and more fatigued, and my brain slowed to the point where I couldn't even follow a conversation. I lost all of my spatial awareness and became a generally sluggish and lackluster person.
It's a very peculiar thing when your everyday consciousness begins to shift. It's not an easy thing to explain, and you risk sounding like an inpatient when you tell people that you feel confused and disoriented. "To the loony bin," they'd say.
It was a sunny day in North Carolina and I had borrowed my mother's car to go to shopping. I had just put the car in park, and sitting in the driver's seat in the parking lot, I found myself so offended by the intensity of the sunlight that I couldn't get out of the car. The light reflected off the large white truck next to me and it struck my eyes so fiercely that I had to close them.
This isn't normal, I thought. And that's when I realized what was going on.
Ten years ago I contracted Lyme Disease in my backyard in suburban Boston. The onset of effects were the worst thing I've ever experienced—extreme confusion, severe fatigue, drenching night sweats, and an intense sensitivity to daylight.
When that familiar sensation came rushing back to me, sitting in the driver's seat in that parking lot in North Carolina, I whimpered. It was the only thing I could do.
The next day, I high-tailed it to the local urgent care center and, despite the doctor's peculiar opposition to the notion, I made her test me for Lyme Disease. It came back positive. I was prescribed four weeks of antibiotics and she sent me on my way.
Lyme Disease is a tick-borne infection that is becoming something of an epidemic in the United States. It is, however, found all over the world, including Europe and the Middle East. In America alone, the CDC estimates 300,000 infections every year.
If you catch Lyme Disease early enough, a few weeks of antibiotics (basically) does the trick. Since we had caught it reasonably early, I anticipated that my prescribed treatment would be suitable, and I prepared for my next jaunt to Asia. At the end of September, feeling slightly better but still on antibiotics, I boarded my flight.
This was, by far, the biggest mistake I could have made.
One Miserable Disaster of a Trip to Asia
With my medication packed tightly in my carry-on, I was excited to be heading to Cambodia for the first time since 2013.
I was on a press trip, working with a new sustainable tour company called Hands on Journeys. I was to accompany them for eight days volunteering in some local villages before heading to Bangkok for a travel industry conference.
For the first few days in Cambodia, the tour went well. I wasn't 100%, but I figured it would just take my body a few weeks to recover. I finished my medication that week, and in the last couple days of the tour, things started to take a turn for the worse. One day in the village, more than an hour out of town, I had to request a private escort back to the hotel.
I was delirious and I just couldn't handle the overnight homestay. But I kept pushing. I got this. No worries. I'll be back to normal soon.
I've always been incredibly stubborn.
Flying into Bangkok for TBEX, I was greeted by a congregation of travel bloggers and industry folks. I was looking forward to talking to some brands about partnerships. My blog had seen some recent growth, and I was ready to talk business. Plus loads of my friends and colleagues were there.
Most people at the conference didn't have a clue that anything was wrong. Why would they? I looked healthy. But on the second day of the conference I had enough energy to last one full hour. In the middle of the day, I packed up my bag, took a tuk-tuk back to my apartment, shut off the lights, got in bed, and stared at the ceiling for the rest of the day.
Now off my medication, I was supposed to be getting better. I tried so hard to act normal and to pretend that everything was okay…but things were getting much, much worse.
I spent the next month as a regular at Bumrungrad International Hospital in Bangkok, taking a surplus of medications and supplements, including a daily IV antibiotic that my lovely nurse shot into my arm.
By November, I had spent somewhere in the vicinity of $5,000 at Bumrungrad, and I still wasn't getting any better.
To the outside world I looked fine—I could walk and talk and eat and sit in a coffee shop like anybody else. But inside my head, something was very wrong.
Cognitively, I was paralyzed. My short-term memory didn't last more than a few minutes. I was so fatigued that I couldn't get out of bed in the morning. And I didn't. But then at night I tossed and turned for hours, unable to find the sleep that I so desperately needed to escape the agony I felt during the day.
For a whole month I teetered on the verge of one colossal panic attack. I could feel my inflamed brain squeezing against the inside of my skull so hard I thought my head would pop. My vision became so altered I thought I was going blind. And the depression was so crippling that I wanted to die.
I tried watching movies but couldn't follow the plots. I tried reading books but couldn't absorb the words. I tried sending emails but couldn't form comprehensible sentences. Somebody had flipped the on/off switch to my brain. It's like I was developing dementia, but was completely aware that it was happening.
I felt like I was being waterboarded, but on the inside side of my head, all day. Every. Single. Day.
All the while, I was holed up in my Bangkok apartment, only leaving for my daily hospital run, some dinner, and sometimes a few bottles of water and some toilet paper.
A Wrong Decision Leads to a Hard Decision
My travel plans for the next five months were as follows:
I was supposed to meet my friend Gabe in Bangkok and travel to the north of the country with him for ten days.
Then I was supposed to be on a press trip with Busabout for two weeks, showcasing their new Thai Island Hopper tour. I was definitely looking forward to that.
And in December I was supposed to go to Myanmar with my friend.
And then to Brussels for the holidays.
And then Spain or southern Europe.
And then to India with Hands on Journeys.
And then back to Bangkok. Maybe the Philippines.
And then I was supposed to go home.
I wanted to keep traveling. Despite being totally debilitated, I refused to let this thing stop me. In my mental state, I still hadn't wrapped my head around the severity of it, and the longer I put off cancelling everything, the longer I didn't have to admit that I was dealing with a very serious problem.
Like I said—I'm intolerably stubborn.
Stepping onto the tarmac in Chiang Mai, with my friend in tow behind me, a knot tightened in my stomach. I shouldn't have come here, and I knew it.
I abandoned my friend and four days later I was in Denver, meeting with one of the best Lyme doctors in the country.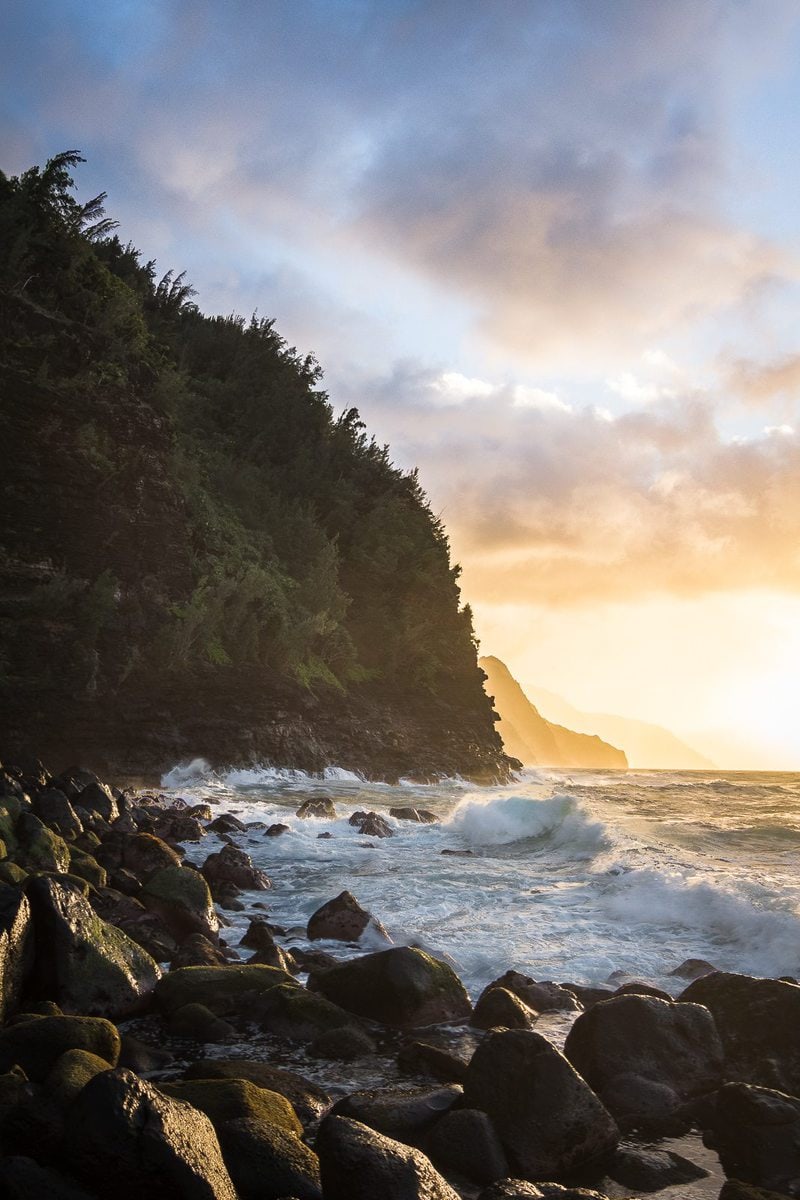 Six Months Later…
I'll spare you the long and drawn out details of what happened in the six months between then and now because they're intricate and exhausting. The long and short of it is this: sometimes a Lyme infection comes with co-infections, and so far, in my body, we've discovered two.
You see, Lyme Disease on its own can be a very problematic thing to treat, and just those symptoms are miserable enough. But when you add another one or two infections to the pot, what you end up with is a really cruel form of torture.
Since starting treatment for the third infection, I'm happy to report that I'm making some progress. Admittedly, it's slow progress, and I don't honestly know if this is the final stretch. There could even be another infection that we haven't caught yet—I'm hoping this is lucky number three. Only time is going to tell, and until then, I'm taking it easy. I have to.
And if this is the home stretch, it's not something that goes away in a couple of weeks. This is something I will be treating for months, and it might be something I'll have to manage, in some form, for the rest of my life.
Since this all began, I've found it difficult to strike a balance between personal and public life. This has been a humbling, isolating experience. I want to be real about what's going on, but as a travel blogger, I want to tell you about my travels, not my illnesses. Plus, a story like this isn't totally conducive to getting paid to do what I do. And everybody needs to get paid.
What does a person do when they get so ill they can't leave the house, but their only source of income is a job that requires them to travel?
It's a tough place to be.
More than anything, I have become thankful, on a very deep level, for the fact that I work for myself. I don't have to leave my bed if I don't want to (or can't), and on days when I'm feeling well enough to attend to this job, I've been able to make enough money to pay for my treatment.
And through all of this, the emails I get on a daily basis, and the enthusiasm I see in you, the people who read what I write, give me a reason to get out of bed in the morning. The community of people who read this blog have a thirst for this world that is unquenchable, and to me, that's inspiring.
The Chinese believe that sickness is a form of rebirth. Though it's undoubtedly an awful experience, a debilitating sickness provides an opportunity for people to re-evaluate their lives. In one of my favorite, but least popular, articles, I talked about the importance of slowing the pace of our lives. Without a pause, we can't appreciate movement.
After six years of travel, I talk a lot about slowing things down. But for some reason, I've been unable to do so. I'm so used to moving around that the real challenge for me is sitting still. This experience, though terrible, has been a lesson in doing exactly that.
I want to thank each and every one of you who reads this blog of mine. Though you may not have known it until now, the work I do here, the work I do for you, has carried me in spirit ever since this began. Every like, comment, and share has literally helped to pay the medical bills that will hopefully allow me to continue to lead the passionate and fulfilling life that I love. I genuinely couldn't get through this without you.
Some Quick Notes About Lyme Disease
Lyme Disease is caused by the Borrelia burgdorferi spirochete, a spiral-shaped bacteria that digs its way into your tissue like a corkscrew.
If treated early enough, three to four weeks of antibiotics will cure Lyme Disease. If caught later, treatment can be much more difficult.
Lyme Disease doesn't manifest itself physically (with the exception of a rash at onset). To others, doctors included, someone with Lyme can appear perfectly healthy. Thousands of people suffer for years without a diagnosis.
Blood tests for Lyme Disease are only 50-80% accurate. This makes diagnosis difficult, and many go undiagnosed because of it.
Doctors who treat longer-term infections are scarce, which makes it a very expensive process. Insurance companies don't cover most, if any, of the treatment. Lyme treatment is often paid for out of pocket.
We're going to look back at what we know now in 50 years and it'll be like bloodletting to relieve people of bad demons.

Tim Ferriss
If you (or anyone you know) has had, or think you might might have, Lyme Disease, please, please meet with a Lyme literate doctor (LLMD). Do not let the price stop you—your health is worth it. For more information on Lyme Disease and finding doctors, please use the links below.
Further Reading on Lyme Disease
---
READ NEXT: Living with Lyme: My Highly Visible Life With an Invisible Disease