Hawaii is recognized around the world for its famed beaches. And Oahu, in particular, draws surfers after the serious swell and more slothful sunbathers alike.
The island, where sandy shores meet city streets, boasts a wealth of paradisiacal adventures, from beautiful hikes high-octane thrills like cliff diving and paragliding to chiller but nonetheless active pursuits like swimming and snorkeling on the North Shore.
And, of course, there are tons of Oahu beaches ideal for doing virtually nothing at all.
In fact, Oahu's culture is largely centered around its beaches—many of which have names more renowned than that of the island itself. Ever hear of Waikiki Beach? What about Sunset Beach and Waimea Beach on the North Shore? You're likely to have heard of these beaches before.
Those aren't the only beaches the island has to offer though. These 12 beaches on Oahu have something for everybody.
1. Kailua Beach: Best Beach for Visiting Year-Round
When it comes to beaches on Oahu, Kailua Beach is somewhere that definitely delivers the full, unadulterated package. Turquoise sea? Check. White sand? Check. Trees leaning into the scene for a postcard-quality vista? Check. There's nothing quite like sitting, lying or otherwise reclining on a spot anywhere on the powdery sand that stretches 2.5 miles long.
And it's not only good for lounging around— it's also pretty much the best place for any sort of water sport activity you can name. Thanks to its decent surf and pristine waters, you can go boogie boarding, surfing, kayaking, swimming and snorkeling, kitesurfing, sailing, you name it..
A fun fact: Due to the real estate scene of nearby Lanikai, many worried residents, and associations put up sea walls. But the magic of erosion has taken the sand from the Kailua residents' beach and deposited it neatly at Kailua.
2. Makua Beach: Best Beach for Hiding Out
Imagine a beach in Oahu with no tourists on it. No, seriously, it exists (hopefully still after we spill this secret), and it's called Makua Beach. It's one of the best beaches on Oahu because it's so secluded. You won't find any tour buses depositing their loads here, which means that it's never packed and you've all the room to BBQ with your friends.
Even the drive there, towards the remote Kaena Point on Oahu's west coast, makes you feel like you're heading into the middle of nowhere. To be fair, you kind of are.
So, yes, secluded. Got it. Secondly, it's very picturesque; the Waianae Mountain Range looms dramatically, making it feel even more like a 'Land Before Time' sorta place. The only thing is, since the shelf drops off pretty quick here, swimming is not so good, though you should stick to the shallows..
3. Cromwell's Beach: Best Beach for Swimming
The chilled out sandy shore of Cromwell's Beach is a hidden gem and a locals' hangout. Given how close of a walk it is to Waikiki, you might assume that it gets crowded. But its public access is hidden behind a row of hotchpotch houses and a maze of lanes, which means only the committed kind really trek to it.
If you're among the dedicated beachgoers, you'll be rewarded for your efforts with golden sands and glistening blue waters. The main attraction here—aside from the beautiful scenery and low-key vibe—is the swimming hole. Take a walk along the rocky wall and you'll discover a set of concrete steps that descend into the blissful crystal-clear water below.
Beach-goers usually head to the cove to jump off of the rock wall, which can stand as tall as six-feet, depending on the tide. Once in the ocean, an underwater world of coral reefs await you. Make sure you bring your snorkel, you'll want to see the colorful life living beneath the waves.
Further along the beach, the soft sand makes this beach perfect for swimming and snorkeling as you don't have to contend with rocks and pebbles that might hurt your delicate feet.
4. Waimea Beach: Best Beach for Cliff Jumping
Yes, that's right, cliff jumping. Waimea Beach—on the North Shore of Oahu, nestled in a little bay between Haleiwa and Pupukeia—is a great spot for getting your adrenaline pumping by hurling yourself off of a cliff face.
Well, it's not exactly a cliff; instead, it's more of a big rock.
In fact, it's known locally as "Da Big Rock." You can swim out to it, make the 30-foot climb and take a leap. If you've got it in you, anyway.
In the summer months, the water is pretty flat and calm, which is great if you've just jumped in since there are no big waves to bamboozle you. But in the winter months it's a whole other story.
This place becomes a mecca for pro-surfers who come to ride the famous waves–the same North Shore swell that gives Banzai Pipeline and Sunset Beach their (more) famous, sky-high waves. At Waimea Bay, they start around 10 to 20 feet and get as high as 30 feet.
Sitting up at the Waimea Beach Park is a great place to watch daredevil surfers zip around the ocean. And when you're done for the day? Head up to Shark's Cove and take your pick of the many awesome food trucks parked up there.
5. Lanikai Beach: Best Beach for Kayaking
When you think of a Hawaiian paradise, this beach pretty much ticks all the boxes. Translating as "Heavenly Ocean," Lanikai is a must-see place on the island. Think translucent waters that slowly fade into the horizon, perfect natural surroundings and white sand. Yep, this is a beach that's totally worth your time.
While navigating urban alleyways to get here might not be super straightforward, it's worth the trek. If you're a keen sun worshiper, this might not be the spot for you; much of the sand has sadly been eroded away over the years, and there are no restrooms, lifeguards or facilities if you plan on lingering for some time. But for kayakers, welcome.
Lanikai is the best beach in Oahu for kayaking as there are huge open spaces, clear seas and panoramic views of the windward coast of the island. Not only are there some spectacular scenes (and wildlife including various birds and seals), you can also head out to explore the Mokulua Islands that aren't too far from the shoreline.
In fact, from Kailua, you can rent kayaks for a half or full day for about $50-$60 from various kayak rental companies and head to both Lanikai Beach and the Mokulua Islands.
Regardless of how you get about, the raw nature of the islands and the calm beauty of Lanikai Beach make this one of the top beaches on Oahu.
6. Sandy Beach: Best Beach for Boogie Boarding and Bodysurfing
It's a pretty obvious name, but I guess it beats the mouthful that was proposed in 2014: "President Barack Obama Sandy Beach Park." Public opposition, however, meant that the proposal was dropped—for better or worse. Aside from that, it's actually known as Sandy Beach because the sand here is particularly fine and gets everywhere and into everything. Everything.
It's not the best beach in Oahu for its sand though, it's all about the boogie boarding and bodysurfing here. That's because of the breaks that occur right near shore—and the consistent barrels along the beach, making it easy to tumble around in the surf without having to swim out.
This also means that getting caught up, dragged and slammed into the sand is all too easy here. In fact, locals have nicknamed it "broke-neck beach": for that exact reason. More injuries occur here per year than at any other Oahu beach. The lifeguards obviously know this and call people out who look like they're about to break themselves.
Perhaps to little surprise, locals don't recommend swimming at Sandy Beach; the rip currents at high tide are actually pretty dangerous. Between this and the 'broke-neck' part, it nevertheless remains one of Oahu's most-loved beaches—probably something to do with it just being an aesthetically appealing beach that's just plain easily accessible.
Oh, and also the Koko Head Stairs are close by. Koko Head Crater Trail is a 1.8-mile, heavily trafficked out-and-back trail with a total of 1,048 steps from the bottom to the top of the ridge. So hikers make there way often.
7. Electric Beach: Best Beach for Swimming with Turtles
Electric Beach itself is pretty tiny, so it's not really a spot for hanging out on the sand, but if you're keen to head out into the water and spot some turtles, then this truly is the perfect beach for you. Called Electric Beach because of the power plant that's close by, this is where you want to go for swimming with turtles.
Electric Beach is an interesting place because, despite the nearby power plant (which you might think would be bad news for the abundant nature and wildlife surrounding the island), the plant plays a major role in the life here.
In fact, the turtles and dolphins love the cooling pipes that stream warm water straight out into the sea. The warm water and industrial structures of the pipe have created an artificial reef that is literally overflowing with life, too. Make sure you take your snorkel and spend some time exploring around the area.
The riptides here can be fairly ferocious though, so we wouldn't recommend this one for beginners. But if you can push out past the breaking waves, you'll more than find a whole array of fish living on the reef, sea turtles and maybe even a pod of spinner dolphins.
8. Hanauma Bay: Best Beach for Snorkeling
Located just next door to Sandy Beach on the South Shore of Oahu is Hanauma Bay. Now, this isn't just a beach but, rather, a much bigger nature reserve that's famous for its marine life. This obviously makes it a prime spot for swimming and snorkeling.
Unfortunately, popularity always comes with a price and, in this instance, the coral, fish and other sea life suffer from the impact of tourism.
But we wouldn't tell you to go somewhere if you were harming the place or its life. If you follow the do's and don'ts (you have to watch a video before you enter the park), then you shouldn't make much of an impact other than the fleeting memory of a human blur before a fish's eyes. The video, and you also have to pay an entrance fee of $7.50.
There's a beach here, too, of course. And it's nice. But the main point here is to head out with a snorkel and a waterproof fish identification sheet (yep, really) and explore. Without standing on coral like a doofus.
Oh, and it's also closed every Tuesday. Maybe the fish are out eating tacos or something.
9. Cockroach Cove: Best Beach for Exploring Rock Formations
Why would you want to go to a beach called Cockroach Cove? Surely it's a cockroach nightmare? Yuck.
Actually, it turns out it's a veritable slice of paradise and the perfect spot to spend the afternoon hanging out, exploring the surrounding nature. Nobody really knows how Cockroach Cove got its nickname, but perhaps the locals made it up to keep the crowds away (it didn't work).
People also call the beach Eternity Beach, after the iconic 1953 movie, From Here to Eternity, filmed scenes here. Likewise, it goes by its real, Hawaiian name, Halona Beach Cove.
Regardless of what you want to call it, the sandy enclave is an incredibly spectacular spot and one of the best beaches on Oahu for rock formations. Huge, black volcanic cliffs shelter the cove, and caves that are perfect for adventures entice you in, while the rocks that form the path to the beach slip off into the sea.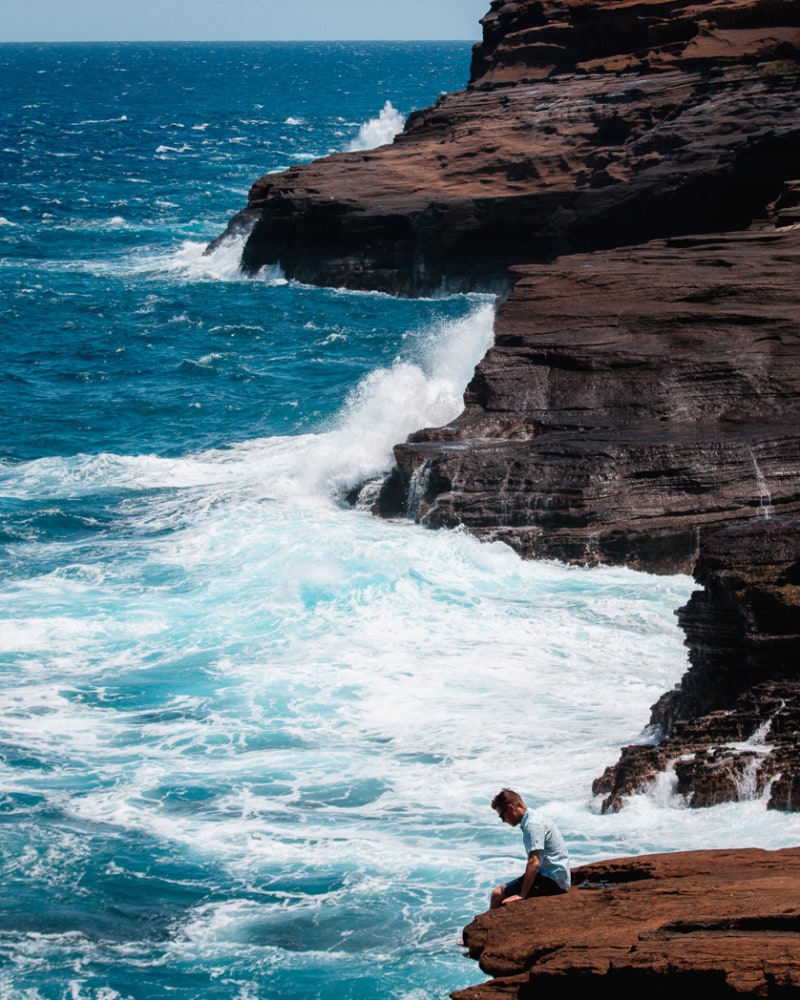 And then there's the iconic Halona Blowhole. The big blowhole, located just above the beach, shoots giant plumes of vapor high into the air and draws coach-loads of tourists all year round. Despite the crowds, the beach is a lot of fun. In fact, rumor has it that there's even a tunnel, which was an old lava tube, running all the way under the highway to a grassy field.
10. Waikiki Beach: Best Beach for Bringing Along the Family
Yeah, yeah, I know. It's a very, very, very popular beach. And famous, too. It's basically "the" beach of Oahu—probably since it's actually part of Honolulu itself.
The city backs it, rather than mountains or cliffs, meaning Waikiki Beach is probably the most accessible beach on Oahu. That's a plus point for the many people that stay here and want to head to the beach.
You can just walk out of your hotel and onto the beautiful white sand. Easy.
Waikiki Beach is also great because of the amount of activity going on pretty much at all times. In fact, it's more like eight different beaches, and they're loosely gathered into eight sections that are good for different things. Here they are (from east to west):
Duke Kahanamoku Beach: Good for swimming and surfing
Fort DeRussy Beach Park: Park-type area
Gray's Beach: Small, basically disappeared
Royal Hawaiian Beach: Good for beach activities and watersports
Kuhio Beach: Crowded with young'uns thanks to calm waters
Queen's Beach: Near relaxing hotels
Sans Souci: Family-friendly and great for snorkeling
Kaimana Beach: Formerly private, now small and charming
If you get bored easily, Waikiki Beach (or Beaches?) is definitely the place for you. Or families, since it's quick and easy to get to with young kids. There's also a lot to do and a whole lotta sand and sea to explore.
11. Waimanalo: Best Beach for Relaxing
The kind of beach that people have as their desktop background on their work computers, this place is what dreams are made of. Waimanalo, with its dazzlingly blue waters and tree-lined, soft yellow sand that stretches for three whole miles long, is picture perfect.
This is one of the best beaches on Oahu for chilling out, its boundless ocean and gentle waves that break close to the shore also makes for a good boogie boarding spot.
Waimanalo is the perfect beach for spending the whole day. Enjoy your time kicking back under the sun, walking along the warm sand and cooling off in the crystalline waters, where you can spend stress-free time relaxing in paradise. There's even a lifeguard, amenities and good parking.
This is the kind of peaceful place that will make you wonder why tourists don't completely pack in. At the weekend, the locals descend with their barbeques and picnics all ready to enjoy their days off together.
During the winter months, the wind does pick up and can make the water a bit more choppy. Prepare yourself.
12. Sunset Beach: Best Beach for Surfing in Oahu
Yep, this is the one for you, surfers. This is the best beach in Oahu for anybody who wants to surf. But that's mainly for those who can make it out here in the winter months.
First of all, it's a long stretch of beach. This means that there's a lot of room for everybody—unlike the smaller Waimea Beach.
Second of all, it has that famous North Shore swell—also known as the Banzai Pipeline—that makes this a place of pilgrimage for anybody who's anybody when it comes to pro surfing. It's one of the locations that hosts the world-famous Triple Crown Surfing Contest.
The waves here are typically 15 to 30 feet, which is pretty gigantic. This makes for an epic view when you rock up and watch the surfers in action. Maybe you should bring a pair of binoculars, too, since the waves do break pretty far from the shore.
And another plus: There's almost always parking. I guess this is the benefit of being a large-ish beach (we can't say the same for Waimea).
In the summertime? The water is calm and becomes a good beach for just about any other beach activity. Beachcombing, sunbathing, swimming—oh, and the snorkeling here is particularly good; the jagged rocks teem with colorful fish.
Whatever kind of beach bum you identify as, Oahu has something for you. If you've got the time on your Oahu itinerary, you might as well surf, swim and snorkel your way around the whole island. With that, I'll throw you a shaka and tell you to go for it 🤙
Where in Oahu are you beach bumming first? Let us know in the comments below!