When I heard about the Tortuga Outbreaker Backpack and all the things going for it, I had to check it out for myself and put together the ultimate Tortuga Outbreaker review.
And I'm willing to make the claim that this really could be the best backpack for traveling the world's urban jungles.
Thanks to its size and stealth, the Tortuga Outbreaker Backpack is arguably a top competitor when it comes to travel backpacks for city ramblers.
It's not for everyone, but it's indisputably impressive whether it's for you or not.
Tortuga Outbreaker Review: Quick Answers
The Tortuga Outbreaker is one of the mightiest backpacks I've seen from one of the best backpack brands out there. And while it certainly doesn't look like a typical travel backpack, it doesn't act like one either. But that's what makes this bag so unique.
First of all, it's simple enough that it doesn't scream, "I'm a tourist!" You want to blend in as much as possible when you're exploring a new country—not stick out like a sore thumb.
But it isn't all about looks, people. Not at all. Especially when it comes to something that's going to be attached to your body the entire time.
In fact, this bag is anything but simple.
So, to kick things off, here's a quick-fire round-up of what this backpack is…packing.
Tortuga Outbreaker Backpack Pros
The Tortuga Outbreaker looks simple, sleek and streamlined.
It comes in two sizes: 35L and 45L. Choose the size that fits your body frame the best—or the amount of stuff you need to pack.
Both versions are sized perfectly for carry-on travel, however, the Tortuga Outbreaker 45L backpack might be too large for some budget airlines. Either way, this bag is meant for lightweight, maneuverable, carry-on travel. You can also spring for the similarly designed Tortuga Outbreaker Daypack—one of the best packable backpacks that will fit nicely into your carry-on.
An adjustable suspension system which can be customized depending on your body size.
Double clamshell design makes packing—and access—really easy. It packs like a suitcase but carries like a backpack. One main compartment for your "stuff" and, on the other side, another clamshell for your laptop and electronics.
Compartments and pockets everywhere! There is a place for everything. Organization is key, especially with this bag.
Built-in packing cubes for extra organization. Custom packing cubes are available for extra organization.
Made from incredibly durable, top-of-the-line, weather-resistant materials (we're talking four-layer waterproof sailcloth)
Lockable top-of-the-line, waterproof YKK-brand zippers. This means no water can drip through the teeth into your stuff
The best backing we've ever seen in a backpack. It's very comfortable to wear, and the padding is super soft, yet somehow sturdy, and really thick. The ventilated backing system makes sure the bag stays off your back, which means no back sweat, which is HUGE!
Tortuga Outbreaker Backpack Cons
All good things come at a price. In this case, the price you pay is its weight. At 4.6 pounds, the Outbreaker is quite heavy for its size, but keep in mind that it's very durable and well-constructed. A more lightweight option is the Tortuga Setout 45L.
Unlike many other bags in this category, the Tortuga's shoulder straps don't tuck away for easy storage.
The lower front pocket is very difficult to access, especially when the bag is full.
The water bottle pockets are a little too skinny. They won't fit big water bottles, but they will fit a Grayl Geopress filtered water bottle.
Summary
After testing more than 20 bags this year, this one is our favorite. It's a carefully designed, all-rounder travel backpack that works great for both urban travel and regular backpacking. And best of all, it's sized for carry-on only!
Who Is the Tortuga Outbreaker For?
Everyone has different tastes; the world would be pretty dull otherwise, wouldn't it? That goes for backpacks, too. The aim of this Tortuga review is to help you figure out whether the Outbreaker will suit you.
If you're the sort of person who doesn't want a backpacker-y backpack, the Tortuga Outbreaker is going to be the perfect bag for you. It doesn't mean that you're going to be walking around with a designer, ill-fitted backpack with no comfort or practicality to it—not at all.
People who actually work remotely and who are digital nomads designed this backpack so, on paper, it should be perfect.
Modern, Urban Travelers: This bag is great for anyone who carries electronics and likes to stay connected. It has a laptop sleeve and is not built for hiking, camping, etc.
Minimalists: The Tortuga Outbreaker Backpack is perfect for minimalists and anybody looking to travel light.
One-Bag Travelers: Anyone who hates airport check-in desks and waiting around for your luggage when you land. The 35L Tortuga Outbreaker Backpack is sized perfectly for carry-on travel.
Ultra-Organized Travelers: The Tortuga Outbreaker Backpack is specifically designed for carrying around electronics and other technical gear. There are plenty of pockets and compartments for all your gear.
Weekend Travelers: Heading to a city for a long weekend? All you need is the Tortuga Outbreaker Backpack. This is the bag for the city.
Anybody obsessed with traveling around cities, not wanting to stand out as a "rugged" backpacker, with limited time to travel but plenty of weekends to use up, or people who aren't mad into hiking… that's who the Tortuga Outbreaker is perfect for.
Who Isn't the Tortuga Outbreaker For?
Even though, for us, the Tortuga Outbreaker is pretty much the bomb when it comes to traveling backpacks, it's definitely not going to tick everybody's boxes. Not everything is perfect to everyone. This is something most Tortuga backpack reviews fail to mention
So who won't love the Tortuga Outbreaker?
Heavy Packers: Anybody who wants to travel with a lot of stuff. Despite the fact that you can fit a lot of stuff into the Tortuga Outbreaker, this is a bag for minimalists. If you have a load of stuff to carry, you'll want something bigger. And if that's the case, the Osprey Atmos AG 65 or Osprey Aether AG 70 might be a better choice. But those will never be carry-on luggage.
Suitcase Travelers: This backpack isn't a good choice if you want a bag you can wheel around. The Tortuga Outbreaker is always going to be on your back.
Hikers/Trekkers: If you're all about the great outdoors, this isn't so good for hiking or trekking. It's a brilliant all-rounder bag, but it's not a practical choice for hiking around mountainous terrain. You'll want something more specialized for that, like the 40L Osprey Farpoint (for men) or Osprey Fairview (for women).
In short: It's an excellent backpack for urban, light travelers; however, it isn't well-suited to the great outdoors.
Tortuga Backpacks: Who Are They?
Let's start with the name. Tortuga is Spanish for tortoise. You get it, right? Tortoises always carry their shells. Backpackers always carry their backpacks—easy reference.
We've seen people refer to backpackers as "snails" before, which are definitely not as cool as tortoises.
But the name, with the whole tortoise thing, implies comfort, natural fit and durability.
This makes sense when you learn that Tortuga was launched in 2009 by two travelers who were fed up with poor-quality backpacks.
They were in Europe at the time, traveling around cities. One of their bags ripped, and the other bag was pretty much falling apart. So the pair decided to go and make their own line of bags, and Tortuga was born.
The manifesto is simple: carry-on size backpacks that are perfect for light, city travel and still offer enough space to fit all your essential stuff.
Since its onset, the team behind Tortuga has developed a whole range of different backpacks to "help you live on your terms." The team is focused on helping remote workers and the products that these digital nomads need.
After all, Tortuga's team is based all over the world, with all employees remotely working towards this shared vision. Sounds pretty cool to me.
These guys have first-hand knowledge of what it's like to travel around and work remotely. And, at the end of the day, Tortuga products like the Outbreaker are designed by travelers, for travelers.
Tortuga Outbreaker Review: Backpack Features
Now that we know a little about this backpack and where it came from, let's get into some more detail about the features that make this backpack awesome (and some that aren't so awesome).
As we mentioned, Tortuga's products are designed by travelers, built for travelers—every inch of this bag has been thought out.
But let's start with the basics.
Dimensions & Specifications
The Tortuga 35L backpack is a carry-on dream. For real. Even the trickiest of budget airlines will accept this one.
The 45L Tortuga Outbreaker Backpack is quite a bit bigger. In fact, it's a little bit too big for budget airlines. Some will let you on, and some won't—it's not guaranteed.
Do your research about carry-on restrictions for the airline you're flying, as this one really does depend on the airline in question.
Tortuga Outbreaker 35L
Tortuga Outbreaker 45L
Dimensions
20.3″ x 12.9″ x 8.2″
Fits a torso of 15–19″
Laptop sleeve fits a 15″ laptop and 13″ tablet
22″ x 14″ x 9″
Fits a torso of 16–20″
Laptop sleeve fits a 17″ laptop and 13″ tablet
Weight
4.6 lbs
5.1 lbs
Carry-on Capability
The 35L Tortuga Outbreaker Backpack is ideal for people who love traveling light. You can carry this baby onto just about every single airline, from budget to not-so-budget.
This makes traveling extra convenient. It also means that lots of different bags won't weigh you down. In fact, we'd say the bag itself sort of inspires slimline travel.
One-bag travel—that's the stuff dreams are made of. And actually, the Tortuga Outbreaker Backpack does make that a reality. As mentioned above, the 45L version may not be accepted as carry-on by all airlines, but a lot of them will still take it.
Double Clamshell Design
The Outbreaker's clamshell design means it packs like a suitcase but carries like a backpack. This is one of the bag's best and most unique features.
The fact that the Tortuga Outbreaker opens like a suitcase means that, whatever size you go for, you won't ever have to dig around trying to find items at the bottom of your backpack.
But, what's better than one clamshell? Two, of course! The double clamshell design is built to carry your "stuff" on one side and your electronics on the other. One side of the bag opens on the long edge for your clothes, the other side opens on the short edge for your electronics.
If you like to stay organized when you travel, this bag is built for you. If you're not organized when you travel, this bag will make you so.
The main compartment of the Tortuga Outbreaker Backpack is pretty big. This is where you'll carry the majority of your clothes, and where the bag packs most of its 35L or 45L capacity.
Within this main compartment are four side pockets, great for smaller items of clothing, like socks and underwear. Even important little valuables like watches or jewelry can slide into these discreet pockets pretty easily.
Again, this makes it great for organization buffs.
On the opposite side of the bag you'll find the second clamshell which has a laptop compartment and holds your tablet, and everything that goes with the two. We're talking headphones, cables, USB wires, video equipment, external hard drives—all the good stuff.
This section of the bag is loaded with fleece-lining and soft padding to ensure your equipment stays safely undamaged.
Front-Loading Organization
Not only can this backpack be opened like a suitcase, but it also has features similar to a rucksack. On the front of the bag, there's an oversized organizational pocket which is just too perfect for neat freaks.
There are specific pockets for just about everything you can think of in this compartment—pens, notebooks, other paper items, tickets, your passport, and there's even a little hook to hang your keys on.
The front of this compartment itself also features a zipped pocket that offers even more space to stash your stuff. These two elements of this third compartment act like a giant wallet; they're perfect for stationery and official items, almost like a mini-office.
Basically, with the Tortuga Outbreaker Backpack, it's fair to say that the compartment game is strong.
Shoulder Straps
This wouldn't be a comprehensive Tortuga Outbreaker backpack review without mentioning the things that actually help you carry it around—the shoulder straps. They're modeled after the ones you'd find on a hiking backpack, which means it's actually incredibly comfortable to carry.
As with all bags, the shoulder straps also come with chest clips. You can fasten these for an even more secure-feeling carry.
Ventilated Backing
You know that feeling. You're traipsing around a city with a backpack on and before you know it you can feel your back is totally dripping with perspiration.
But not here! The ventilated backing on the Tortuga Outbreaker Backpack is mad good. In fact, this backpack has one of the most comfortable and well-ventilated backing systems we've ever seen on a bag. Thanks to thick padding, it actually keeps the backpack off your back.
A bag as comfortable as the Tortuga Outbreaker is pretty much revolutionary.
Adjustable Suspension System
The shoulder straps themselves can be moved up or down the backpack thanks to the suspension system on the back of the bag. Not everybody is the same size, so thanks to this intuitive design, no matter your body size, Tortuga's Outbreaker will fit.
And, of course, you can't just rely on your shoulders alone. The suspension system also includes the amazing…
Hip Belt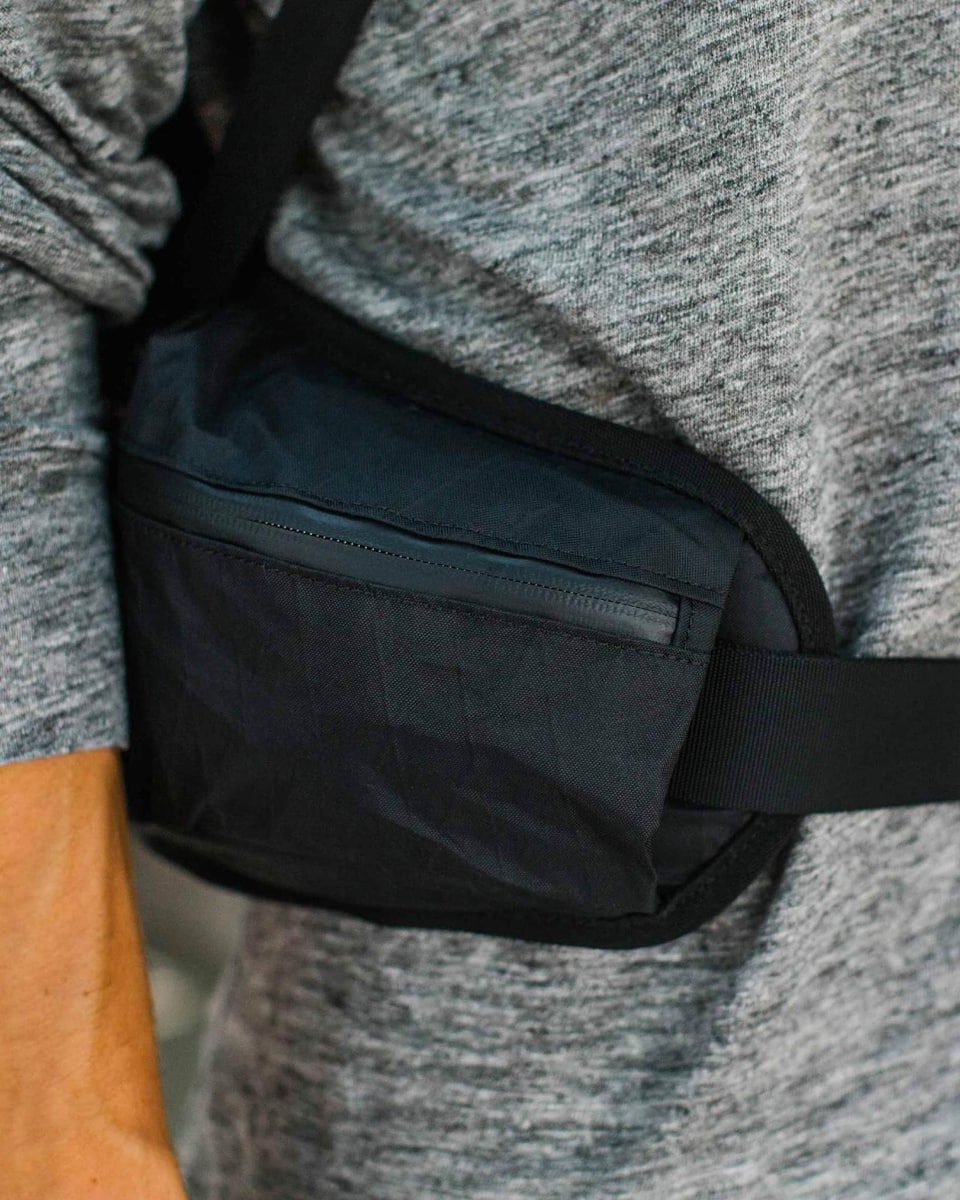 The padded hip belt boasted by this Tortuga travel backpack is another great addition, and it's all to do with weight distribution.
Rather than putting the weight of everything in your bag on your shoulders (and killing them, no matter how much padding there is), you can adjust and fasten the hip straps to reallocate the load.
Unfortunately, the hip belt doesn't have the same sturdy structure as a hiking backpack, but that's understandable since you are not meant to use it for hiking.
The hip belt features its own little zippered pockets, too. Things like train tickets, some cash or any other useful things can fit in these. Even more compartments to add to this backpack's already bursting array of pockets.
And people—the hip belt is removable. Yep. If you don't want straps hanging all over the place while you're wandering around the city, the hip belt can be taken off and stashed inside the bag or left in your hotel or hostel.
What Materials Are the Tortuga Outbreaker Made of?
The Outbreaker is mad durable.
First of all, it boasts four-layer waterproof VX21 X-ply sailcloth (thickness: 210 denier nylon). Yes, sailcloth—think about sails. These things have to deal with a heck of a lot of stuff out at sea. Strong winds. A ton of water from the sea and the sky. So durability and waterproofing is a big deal for this bag.
Traditional fabrics, whatever way you weave 'em, do eventually let water in. But not here. You get the sailcloth credentials combined with an ultra-thin layer of PET for extra waterproofing.
And durability? Just try to rip it. It's hardy as hell. That means it won't distort or crease over time either. And the Duraflex buckles aren't going to break on you anytime soon.
An honorable mention: The YKK zippers are some of the best on the market (you know, the zipper market). These are also sealed for extra waterproofing. No point having a waterproof bag if rain is just going to leak in through the zipper, right?
Basically, this bag isn't going to fall apart on you halfway through your trip. That's pretty much a guarantee.
Tortuga Outbreaker FAQs
Now that you've got a better understanding of the Tortuga Outbreaker travel backpack, you've probably got a few remaining questions about how it'll look and feel, and how much it'll cost you.
Here are answers to some frequently asked questions about the Tortuga Outbreaker Backpack.
Aesthetics: How Does it Look?
"Modern" is the word we'd use to describe this backpack. The Tortuga Outbreaker is definitely cutting edge and has been designed with efficiency in mind. Even though it's a carry-on, urban-style backpack, it's not all about being ultimately trendy. It's just pretty simple.
But then again, some people are going to love the minimalist urban design of this backpack. It's completely black, which helps you blend into stark city environments.
Basically, you won't look like you're going on a hike when you're just wandering around town.
Comfort: Is It Easy to Wear?
The shoulder straps have pads, and the Tortuga Outbreaker's chest clip and hip straps add even more comfort.
Plus, the back panel is an Ariaprena material, which is great if you're getting sweaty on a hot day.
And on that note, like we said earlier, the ventilated backing on the rear of the backpack itself also helps a lot when it comes to comfort. There's tons of ventilation which keeps a sweaty back at bay if you're in a hot country—or if you're just a sweaty individual.
We can't overstate this enough. The comfort level here is one of the best things about the Tortuga Outbreaker—and why it's one of the best backpacks out there.
Weight: Is the Outbreaker Travel Backpack Too Heavy?
Even without anything in it, the 35L Tortuga Outbreaker already weighs 4.6 lbs. It's a bit of a trade-off, because all that extra weight comes from the durable materials it's made out of.
It's still light, sure. But for a 35L capacity backpack, the Tortuga Outbreaker is heavier than usual. And since you'll probably only have the one bag, you'll be packing it to its bursting point. This means it'll be even heavier.
The 45L is around $30 more expensive, but you get a lot more room for the extra dollars. Most airlines will probably take it, but make sure you research ahead of time. Some budget airlines even go so far as to weigh your carry-on luggage.
Organization: How Does It Stack Up?
There are so many different places to stash your stuff in the Tortuga Outbreaker. From the laptop compartment to the front-loading pocket, you have a lot of choices.
This is the ideal backpack for someone who loves to stay organized while they travel.
Durability: Will the Tortuga Outbreaker Last?
It better! Given the materials, the Tortuga Outbreaker won't break under pressure, and it's unlikely to rip. It's one of the most durable bags that we've tried. That's because it's sturdy, boasts solid stitching and it should handle a lot of stress and strain.
It's not a hiking rucksack, but for city travel and regular use, this one is an investment.
Price: How Much Does the Tortuga Outbreaker Backpack Cost?
You're looking at $224 for the 35L Tortuga Outbreaker. For the 45L, that'll be $249.
Quality travel backpacks come at a price, and this is one of them. Remember, you get what you pay for. We strongly believe in buying gear that will last a lifetime, and the Outbreaker definitely will.
Warranty: How Good is the Tortuga Backpack Warranty?
Tortuga as a company doesn't actually offer a warranty. But they do provide what they call a "common decency guarantee." It sounds like jargon, but what that means is, because they're a small company, they'll be more than happy to help you out with your bag.
To put it simply, they'll fix or replace your backpack if it's their fault. If you've done something stupid to your bag yourself, you're on your own.
The designers build these bags to last, but obviously, there's always room for mistakes and accidents. So if your Tortuga Outbreaker has a freak stitching problem, most likely you can get that seen to. Pretty decent.
Shipping: Does Tortuga Ship Their Bags Internationally?
Unfortunately, no, Tortuga stopped shipping internationally at the beginning of 2019. That said, they are looking to expand their services in a more efficient manner. Shipping is free within U.S. territories, however.
Tortuga Outbreaker Backpack Accessories
The Outbreaker also comes with attractive accessories—and, this Tortuga travel backpack review wouldn't be complete without diving into these, too.
Tortuga Outbreaker Wet/Dry Bag
Since you're traveling the world, chances are that, at some point, you're going to find yourself lugging dirty laundry on your back. And since items like damp swimsuits and sweaty gym clothes can grow mildew and mold (and smell), you're going to want to separate them from your clean clothes.
The Wet/Dry Bag—designed to fit the Outbreaker specifically—provides a place for you to store your worn stuff, so it won't contaminate everything else in your backpack.
The three-ounce, antimicrobial and anti-fungal bag can fit up to eight liters of laundry (or other items you'll want to keep dry when the weather gets wet). And it'll roll up and buckle right to your backpack for easy access and toting.
Tortuga Outbreaker Packing Cubes
Speaking of keeping your clothes clean and neat, the Tortuga Packing Cubes will also help you organize your things. The packing cubes come in sailcloth, a strong but lightweight fabric so you can trust that they'll last without adding unnecessary weight to your luggage. In fact, they weigh in at just .55 pounds.
The cubes feature mesh panels so you can see what's inside without having to dig through them all. And they each have top grab handles and double zippers.
Tortuga Outbreaker Review Summary: Final Thoughts
When it comes to carry-on bags, none of them can offer the Tortuga Outbreaker's blend of a simple design with clever features.
Featuring more compartments and pockets than you can shake a stick at, this backpack really is a fortress of organization.
With a separate laptop compartment and the option for a load of packing cubes, we're going to go ahead and say it's one of the best choices for any remote worker on the road. Scratch that, it's probably the best we've ever seen.
And given the materials, it's one of the most durable travel bags on the market.
The Tortuga Outbreaker is an excellent purpose-built backpack for connected, urban travelers. If that's you, then this is the bag you want.
---
READ MORE: