Being a tourist in New York is easy. Check out the Empire State Building, blow all your money on Fifth Avenue, go to a deli and get a bagel. Done.
Working out where to stay in New York is somewhat more challenging. You want to be in the city but you don't want to be in some dingy hole of a hotel. You want comfort but you might not want to empty your bank account in the process. Or maybe you do.
Whatever your budget, I've got the answer. You can find most of these on the major hotel booking websites, but in the meantime, let's take a look at some of my best recommendations on where to stay in New York.
Budget Hotels in New York City Under $100
Let's begin with the cheap-o accommodation. But, when I say cheap, bear in mind it's not Southeast Asia cheap. This is New York City. They have great reviews, so don't worries—you won't be sleeping next to any critters or with any suspicious stains.
1. Q4 Hotel
The Q4 hotel is located outside of Manhattan in the borough of Queens. It is a great place to stay if you want to see a part of New York that is off the standard tourist track. But, if you're not interested in seeing Queens, the hostel is right near a subway station so getting into Manhattan is super easy.
2. HI NYC
If you want to be in among the action of Manhattan then HI NYC is a good shout. The hostel has a huge lounge area and a separate section with a pool table, which makes meeting and hanging out with people a dream. The décor is oh-so New York with lots of exposed brick and blocks of color so if you're of an arty disposition you're going to love this place.
3. Jazz on Columbus Circle
The Jazz on Columbus Circle is the definition of simplicity but don't let that fool you into thinking it's no good. The rooms are kitted out with plush beds and have gorgeous, modern ensuites attached as well as both aircon and heating – so you're covered for any weather.
Mid-Range Hotels in New York City Under $250
The next step up from budget accommodation is the mid-range section. This option is for those who don't have too much cash to blow but still want something comfortable and stylish.
4. Seton Hotel
Just a stone's throw from the Chrysler building, The Seton Hotel has an awesome location. The rooms are decorated with a calming, neutral scheme, spiced up with the odd splash of color here and there. The furniture is plush and clean and they have all the mod cons and amenities you'll need.
5. Pod 39
It is unlikely that you will come across a cooler accommodation than Pod 39 during your time in New York. From the stylish outdoor terrace to the quirky pod rooms, this hotel is as unique as it is classy. The rooms here are compact but effective, with cute pod beds, great lighting, and a desk.
6. Broadway at Times Square Hotel
The Broadway at Times Square Hotel is probably exactly what you visualize when you think of modern comfort. Colourful with just a hint of vintage, the hotel is a great spot for resting up after a day of exploring the city. Incidentally, exploring the city couldn't be easier given the location of this place. Minutes on foot from Broadway, Times Square and Macy's, this hotel puts you right in the heart of everything.
Mid-Range to Luxury Places to Stay in New York City Under $400
Let's break into the higher end of the New York accommodation scale. Expect glitz, glamour and some killer views.
7. The Paper Factory Hotel
What was once a radio factory and then a paper factory is now a hotel in this gigantic, Queens-based building. The interior of The Paper Factory Hotel is probably best described as industrial-chic with an authentic retro feel. Yet, the beauty of this hotel doesn't stop at the décor – the luxurious rooms are also top notch.
8. Hotel Belleclaire
This regal hotel is nestled among some of the trendiest shops and best restaurants in New York. But, as we all know, it's what's on the inside that counts. The rooms in the Belleclaire are flooded with natural light and offer guests plenty of space and a range of modern amenities.
9. Skyline Hotel
One of the main perks of this hotel is its indoor pool. The sizeable pool is freely available to guests and is accompanied by a top of the range fitness center. The property also boasts a rather stylish bar and a beautiful dining room. The Skyline Hotel makes a great base for people wanting to explore Hell's Kitchen.
Luxury Hotels in New York City Under $900
Want to feel like royalty during your trip to NYC and have the bank balance to do so? Here is the crème de la crème of New York accommodation in the city that never sleeps.
10. The Iroquois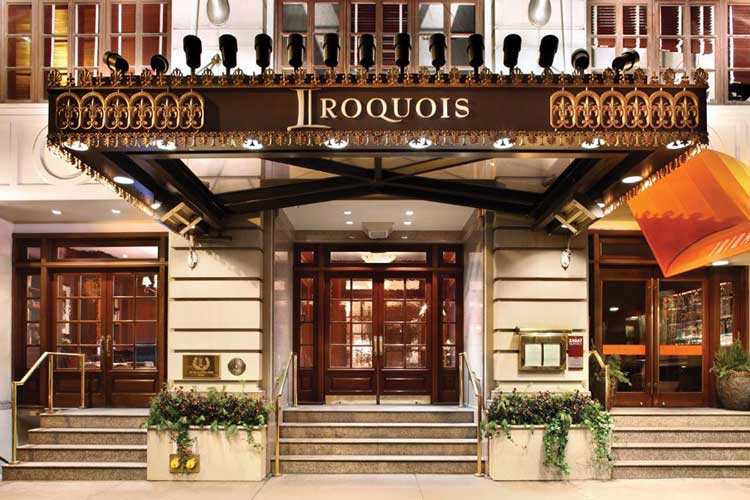 This majestic hotel simply oozes luxury, from its stone façade to its impeccable bedrooms and stunning, marble-tiled ensuite bathrooms. Situated right in the heart of Manhattan, the hotel couldn't be better placed for making the most of New York.
11. High Line Hotel
This striking accommodation has the external appearance of an old European château and its interior décor runs in a similar vein. The rugs and furnishings strike a vintage chord without seeming dated and the exposed brick in the bar adds to that delightful, old-world vibe.
12. The Lowell
The very definition of opulent, The Lowell is a hotel fit for kings, located in the Upper East Side. Its rooms have a gentle white and cream color scheme that instantly instills a sense of tranquillity in its guests. Those looking for a bite to eat can satisfy their cravings with afternoon tea in the Pembroke Room or a full meal in the Majorelle Restaurant.
Did this help you sort out where to stay in New York? The options are endless, but hopefully, this New York accommodation guide fit your needs and you can now focus on just having some fun in the Big Apple.