Though Americans are notorious for traveling internationally less than any other nationality, it's kind of understandable why. With incredible National Parks all over the country, the United States is, geographically, one of the most diverse and remarkable places on the planet.
It's easy to get caught up in the day-to-day grind and to forget about spending time outdoors. If you're spending too much time at the office, or just too much time indoors in general (like many of us do), remember that there are many health benefits of spending time in nature.
In fact, science proves it.
Even if it means printing out one of the following photos and sticking it on the wall next to your desk, your Nature Engagement Levels could probably use a boost. And if you're planning a domestic trip in the near future, it might be worth considering an exploration in your own backyard.
These 11 U.S. National Parks are ripe for adventure.
1. Take a Primitive Escape in California's Channel Islands National Park
Located off the coast of Southern California, the Channel Islands archipelago might be the most primitive national park in the country. To discover the marine life and raw beauty of the islands, you'll need to be completely self-sufficient.
The only way to explore is on foot, by kayak, or by helicopter, and there is nowhere to sleep other than simple campgrounds. You also won't find any corner stores or supermarkets—in fact, there is absolutely nowhere to buy food or water.
Pack a rucksack, tent, and cooking gear—you're going to need it in the Channel Islands.
2. Go Hiking in Glacier National Park, Montana
Most of the U.S. national parks are a haven for hiking, with countless trails providing adventure for both day trippers and serious trekkers alike. Glacier National Park, however, stands out as one of the best—there are over 700 miles of hiking trails winding around 762 different lakes.
The most famous of these is the 110-mile Continental Divide National Scenic Trail, which runs north to south and can be tackled either in one go or in bite-sized chunks. So take a day off or go for a week—either way, going hiking is actually proven to decrease stress, promote happiness, and increase creativity!
3. Feel Humbled by Black Canyon of the Gunnison, Colorado
With its steep cliffs and craggy pinnacles, Black Canyon in Gunnison, Colorado is a vertical wilderness that celebrates some of nature's most dramatic features. This isn't a place that has been tamed or interrupted by mass tourism and it receives just 250,000 annual visitors—compare that to the four million visitors at Yosemite!
A scenic drive offers views from the south rim of the park, or delve deep into the canyon where you're sure to feel humbled by nature's brutal size. If you're looking for a rejuvenating escape from the chaos of daily life, Black Canyon might be your answer.
4. Go Backcountry Biking in Redwood National Park, Northern California
In Northern California, unique redwoods create the skyline of the Redwood National Park, forming an inspiring canopy that is as surreal as it is serene. While the redwood trees are the obvious highlight, this park also has some 40 miles of untouched coastline and vast swathes of prairie land.
With 200 miles of mountain bike trails, mostly on old logging roads, it's one of the only national parks to allow backcountry biking, providing a journey beneath some of the world's highest and most remarkable trees. If you're an avid biker, there may be no better place on the west coast than the Redwood National Park.
5. Watch the Stars in the Great Sand Dunes of Colorado
Many remote national parks offer outstanding star gazing, but it's a different kind of experience when your feet are sunk in the sand. The Great Sand Dunes of Colorado are the highest in North America, which means they offer an ideal vantage point for viewing the night's sky.
The best time to visit is two or three days after the full moon. Hike up the dunes for sunset, then lie back and watch the stars unfold. Two or three hours later a lucid moon rises, providing just enough light to make a hazy descent across the canvas of dunes.
And while you're out there, why not leave the phone behind and disconnect for a little while? Settings like this are the perfect opportunity to destress—you might as well take advantage of it.
6. Get Lost in Yellowstone National Park
Stretching over three states and covering over 2 million acres, Yellowstone was the first of all the U.S. national parks. While it's one of the most popular, it's so big that you could just as easily lost amidst nature.
Grizzly bears roam freely, wolves can be heard at night, and there are 290 waterfalls to find. Geysers explode, muddy pools bubble and volcanic hot springs are found in a kaleidoscope of colors.
During the summer, some of the things you must see in Yellowstone can be crowded with tourists. Yet it's easy to take a backpack and wander into the middle of nowhere, admiring the same volcanic beauty without anyone else around.
7. Relish the Epic Panoramas of Alaska's Kenai Fjords
In Alaska, glistening glaciers are punctured by the sharp peaks of rugged mountains.
At first, you might think the views are the same in every direction—just ice and rock, right? But after a day in Kenai Fjords, you realize that the panoramas are nuanced, that every angle is different, and that the glaciers are changing slowly every single day.
With technology and devices competing for our attention on a daily basis, it's easy to miss small moments of beauty that surround us. When your brain is constantly bombarded with information, you use up your cognitive resources. A few days in the Kenai Fjords could help to replenish your energy levels and give your brain a rest, giving you the space you need to more deeply appreciate the subtleties of life.
8. Explore the Underground at Mammoth Cave National Park, Kentucky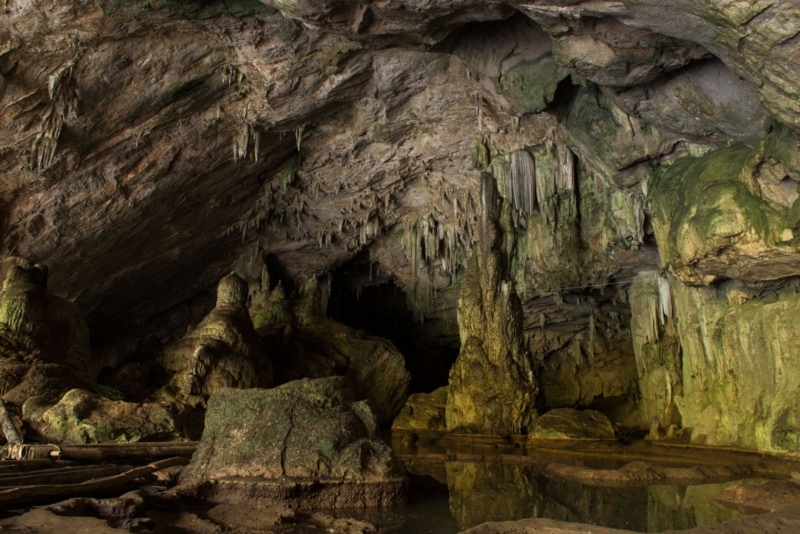 The world's longest known cave system stretches for more than 400 miles through Mammoth Cave National Park in Kentucky. Grand and gloomy, it's a vast complex of chambers that are only just opening to the public. At the moment, just over ten miles of the subterranean secrets are open to visitors, and more is expected to open in the coming years.
Tours led by park rangers depart from the Mammoth Cave entrance – there is only one way in and out! The most spectacular is the Wild Cave Tour, which is four hours of climbing and crawling through small passageways. Claustrophobic souls should consider the four-mile Grand Avenue tour through the largest of the halls and caverns.
9. Nurture the Mind, Body, and Soul in King's Canyon, California
Stark canyon walls rise above oak woodlands in California's King's Canyon. Pristine lakes hide beneath beautiful mountain peaks while hundreds of miles of walking trails weave deep into the wilderness. Nothing is out of place here and the serenity is absolute.
It's the combination of diversity and harmony that makes King's Canyon so special. Interacting with nature is proven to reduce stress, depression, and anxiety—in places like this, everyone can find their own perfect place, and let nature's balance encourage the body, mind, and soul to align.
10. Take Surreal Photos in Arches National Park, Utah
Pretty much every photo of Arches National Park, just north of Moab, Utah, looks like it has come from a distant planet. Nothing appears real on this strange landscape of orange pinnacles, bizarre arches, and red-tinged spires. Most of the 2,000 arches aren't visible by car so you'll definitely need to take your camera along the various hiking trails.
Visit at dawn or dusk and almost every photo looks like it could occupy the front cover of National Geographic. Best of all, it feels even more unbelievable in real life than it does in the photos.
11. Escape the City in Shenandoah National Park, Virginia
Located just 75 miles from Washington D.C., Shenandoah National Park is a land of rolling hills, verdant valleys, and dozens of waterfalls. Backcountry camping permits are free from the park information center and there's ample space to pitch your tent along the 500 miles of forest-dominated hiking trails.
Over 100 miles of the Appalachian Trail run through the park but the most spectacular views come from trails to the west, which open out onto stunning views towards Compton Peak. Especially if you live in the city, it's wildly important to get away from the hustle, bustle, and brick and mortar, and remind yourself of how much beauty there is outside the city limits.
***
With more than 400 sites designated by the National Park Service, there is a whole lot more to discover—from famous Yosemite vistas to the temperate rain forests of the Smoky Mountains to the wetlands and swamps of Florida's Big Cypresses National Preserve.
Everyday life can throw us off balance, but nature has a way of realigning us. Though none of us want to miss out on what's happening on social media, try not to get so consumed by it that you miss out on the real world.
---
READ MORE: