Tibet is a land of mystery in the corner of the world where only the bravest travelers venture off. This distant travel destination is full of intriguing culture, fascinating landscapes, and adventures just waiting to happen. Not convinced yet to put Tibet at the top of your travel bucket list? Then check out the top 10 reasons to travel to Tibet.
1. Pristine Lakes and Snowy Mountains
The first one may not be the most unique, but it is definitely one of the biggest reasons to see Tibet. The landscapes across this wild country are absolutely stunning, and truly have no comparison to anything else in the world.
Crystal clear alpine lakes dotted with wild animals and backdropped by the majestic Himalayas are exactly the types of scenery you will find in Tibet, along with rolling meadows, golden fields of canola flowers, sparklingly-white glaciers and bright, blue skies. Visit places like Heavenly Lake near Lhasa, or the beautiful Yamdroktso Lake, both considered holy lakes and full of divine beauty.
2. Clean Air
Tibet is sometimes called the Roof of the World due to its incredible altitude. Due in part to this, and also in part to the wild nature of this mostly untamed territory, the pollution rate is very low.
The lives that people live here are much simpler and closer to nature. This means that you'll be truly taking in a breath of fresh air when you travel here! Just don't forget that this clear air has 40% less oxygen than you're probably used to, so it's good to pace your physical activity until you adjust.
3. Soul-Searching and Spiritual Culture
Tibet is home to a number of different religions, mainly including Tibetan Buddhism and Hinduism. Because of the great spiritual atmosphere here, you will find perfect places to sit and contemplate heavenly things.
There are three holy lakes in Tibet, and also many sacred mountains, such as the stunning Mount Kailash. Here, you will meet people whose lives are completely devoted to their religion, and seeing their deep spirituality is quite an experience. Visit the Potala Palace in Lhasa to see the home of generations of Dalai Lamas, but don't forget the many other remote and beautiful temples and monasteries when you tour Tibet.
4. Colorful Architecture
Although its alpine nature tends towards the greyscale colors of snow, the Tibetans have compensated with the creative and color-filled designs of their cities and villages.
A mixture of different styles, the architecture of everything from homes to temples to supermarkets and more will surprise and delight you.
5. Unique Foods
When in Rome, eat as the Romans do!  Don't be afraid to try different and interesting dishes, including fried momos, Tibetan soup (Thenthuk), yak meat dishes, and of course delicious bread!
The style of food is as much of a mixture as the architecture and the culture of Tibet, taking spices and herbs and ways of cooking from both traditional Chinese food and those of the surrounding countries. For those with an open mind, these new and exciting dishes will become an integral part of your visit to Tibet.
6. Interesting Festivals
There are over 100 festivals that go on throughout Tibet at different times of the year, so the odds are that your visit will land on one of these intriguing occasions!
Most of the festivals are connected with Tibetan Buddhism, and have deep spiritual relevance.  Some of the most popularly celebrated are Tibetan New Year (also called Losar), which falls during the month of February, the Saga Dawa Festival around May to June, and the Shoton (Yogurt) Festival in September. Get in on the dancing, celebrating, and pilgrimage that take place during these times.
7. Finding Friends in Unexpected Places
Tibetan people are kind, humble, and generous. While wandering around local markets, tea houses, or monasteries, you will likely strike up conversations with friendly locals.
These are fantastic opportunities to learn more about Tibetan culture and religion, so be sure to take advantage and speak as much as you can with them.
8. Snowcapped Safaris
Although you may think of the wild Sahara or the dense rainforest when you hear the word safari, Tibet's alpine landscape is actually a great place to have a safari and witness the beautiful wildlife of this untamed land.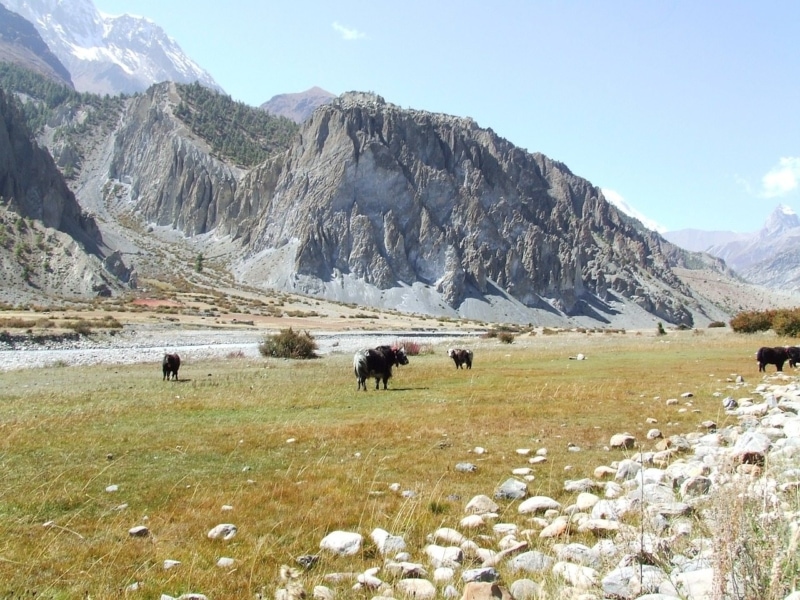 You'll see animals such as antelopes, snow leopards, bears, foxes, and rare birds such as black-necked cranes. These high-altitude creatures thrive in the snowy and beautiful terrain of Tibet. If you get the chance, head to the especially uninhabited area of Ngari to see some beautiful creatures.
9. Seeing the Tallest Mountain in the World
Although you already knew about this, Everest is absolutely one thing that you need to see if you are traveling to Tibet. The fantastic view from the northern Everest Base Camp is absolutely unforgettable, and its jagged peak will remind you of the dangerous efforts made to climb it.
It's a the innate struggle that we all have to keep reaching out for harder and higher challenges.
What's more, the cost to hike Everest Base Camp is quite affordable! Expect to spend about $35 USD per day—but plan to spend a few months beforehand training 😉
10. Get Your Heart Pumping
Tibet is a great place to get that adrenaline rush. If you're a hiker, then you'll love the wild trails that lead off into uninhabited land, where you can climb over mountains and through deep valleys, trekking for days without seeing a single human being.
Bicycling is also a great way to travel in this vast land, visiting its rough mountain trails and being witness to some of the most incredible views on earth.
All in all, Tibet is absolutely one of the most underrated travel destinations for adventure seekers and culture lovers. If you're ready for exhilarating experiences, spiritual depth, beautiful scenery and hospitable people, then you are ready for Tibet! In this wild land of mostly untamed natural beauty, you will be able to breathe in fresh air and get a taste of some of the most exciting adventures available on earth now. Don't miss your opportunity to be a part of this incredible travel experience!