One look at this building and I knew I was going to like it here.
Once upon a time, in 1975, a meditating monk discovered, what he said, were tigers roaming through the caves. This encounter led to the naming of the Tiger Cave Temple, or Wat Tham Suea.
Most well known for the journey to the top, there are 1,237 steps to the summit of the Tiger Cave Temple.
Oftentimes, this set of stairs is referred to as the Stairway to Heaven. 1,237 is not a small number, and glorious Buddha statues await your arrival at the peak.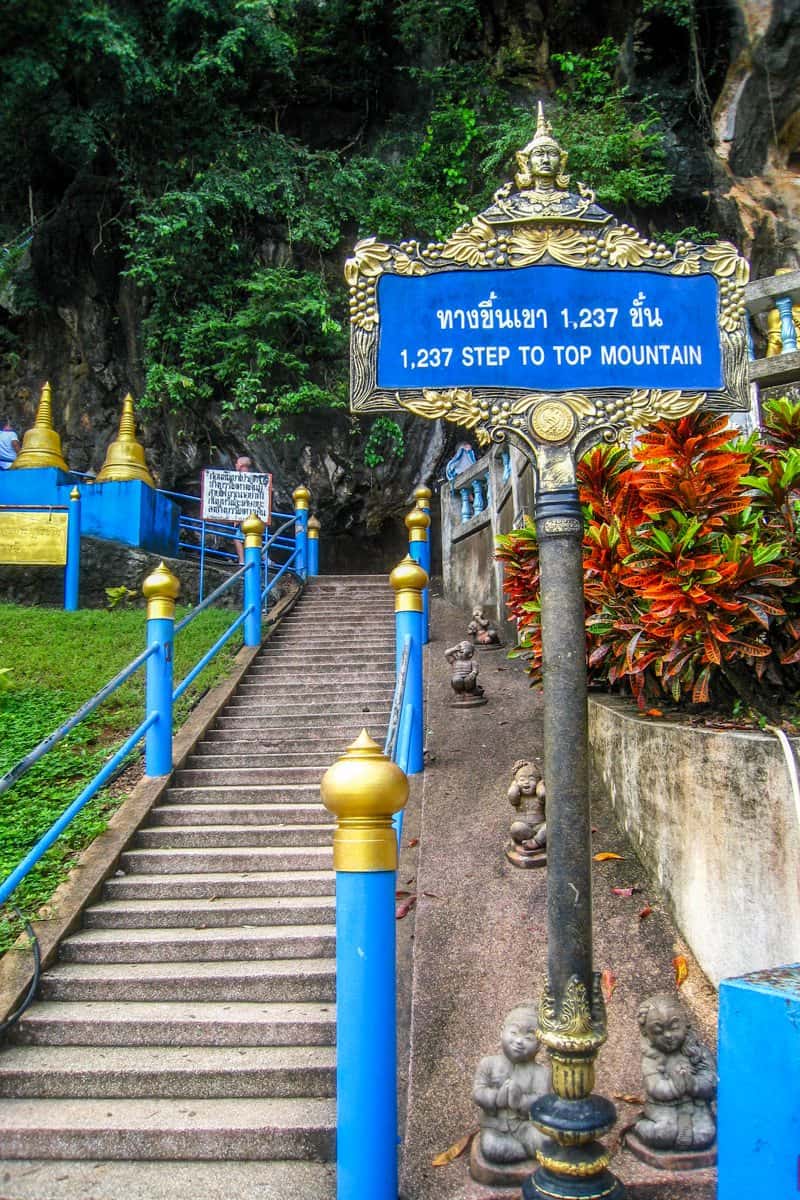 346 steps in and I was only a quarter of the way there. I had been promised killer views and vistas stretching out beyond all of Krabi. Peering over the light blue railing, I wasn't quite impressed yet.
650 steps and I was dripping sweat. People were turning around, questioning if they even had the strength in them. 1,237 is quite a lot of stairs, friend.
833 and everyone's pace had slowed drastically. Shirts had been soaked through, and words of encouragement were being passed along by those who were descending from the top. "It's worth it," they said.
The stairs got larger, each step feeling more like the size of two. My thighs were killing me.
And when number 1,237 finally approached, I looked around me, my reward presenting itself in the form of big Buddhas, karst mountains, and extensive views of the Thai landscape.
Avoiding the storm that had been approaching, I raced back down the stairs, jumped on my scooter, and raced back to my local beach in Ao Nang, just in time for sunset.
Perfect.
More Information
Name: Tiger Cave Temple (Wat Tham Suea)
Price: Free
Location: Krabi, Thailand
Notes: Most travelers stay on the nearby beach of Ao Nang, rather than the actual town of Krabi. It's much nicer there, anywhere. Renting a scooter for the day will cost about $5. Get a map from a local tour desk and ask for directions. Expect to be driving on major highways and following local Thai driving rules (read: none).
---
READ NEXT: Why You Shouldn't Ride Elephants in Thailand