Craggy coastlines of limestone cliffs engulf turquoise lagoons and white sand beaches, where people party to celebrate full moons.
Budget-friendly prices make the tastiest food you've ever devoured—Pad Thai, red and green curries, coconut soup and more—even tastier, and the pulsating nightlife that much more exciting.
Green jungles, mangrove forests and offshore islands characterize the south, and mountainous terrains make up the north. The culture is dense with decades of history, and the locals have stories to tell…
No, Thailand doesn't leave a lot to desire. No matter who you are or where you're from, Thailand is a paradise for most.
But we all know there is such a thing as trouble in Paradise.
Thailand has become a hotspot for travelers the world over, due to its Western-friendly culture and affordable prices (last year Thailand hosted more than 30 million foreign tourists).
And while Thailand is generally full of friendly, smiling locals (they call it "The Land of Smiles" for a reason!), some local Thais have made a business out of taking advantage of Westerners.
The good news is these common scams usually just affect your pockets (and your dignity). The bad news is, you might feel used, miffed, and, depending on how badly you got burned, out a serious chunk of change.
The best way to avoid getting deceived and departing with more cash than you bargained for is to be informed. Here are nine of Thailand's worst travel scams—and how to avoid them.
1. The Rigged Taxi Meter Scam in Thailand
I jumped into a taxi and we agreed that I'd pay the metered rate. Unbeknownst to me at the time, some taxi drivers get their meters hooked up with a special button that, when pressed, charges—and properly displays—a fare up to 10 times the standard rate (or more!).
You'd hop into a taxi, thinking you're getting charged the standard fare, but unwittingly you'd be getting charged a preposterous amount.
After about five or ten minutes, my fare was almost $20 USD—that's even more than New York! Luckily, I already knew what taxis are supposed to charge, so I knew what was going on. I grabbed my bags and jumped out, waved him away, and hailed another cab.
By this point, I was in a very local part of town—not a tourist in sight—and therefore the cabbies were just regular Thais doing their job. I watched the meter increase at a much slower, more normal rate.
This can be a hard scam to spot unless you already know the average price for a taxi. If you see the price on the meter going up way too fast, and the price is starting to match—or even exceed—Western prices, you're in a taxi that you need to get out of! Tell the driver to stop or simply open the door (he'll stop then!), get out of the taxi and walk away (side note: don't ever put your bags in the trunk of a taxi).
2. The Bangkok Tuk-Tuk Scam
"I was headed to the Grand Palace in Bangkok and a tuk-tuk driver offered me a rate that was way too cheap. Regardless, I got in and went for it anyway.
Instead of taking me to the most popular attractions in Bangkok, he took me to a tourism agency! Once I realized that he wanted me to go inside I said, "no" and got out.
He didn't fight me on it or demand money, but then I was in the middle of nowhere and had to figure out how to get to the Palace. As it turns out, I could have just walked there from my original location.
It's pretty funny, I knew this was one of the most popular scams in Thailand and I still got duped!"
—Kristin Addis, Be My Travel Muse
"Don't take tuk-tuks from Khao San Road." Drivers get a commission for bringing tourists to travel agencies, so they're quick to offer a cheap ride instead. "If it's too cheap or even free, it's probably just a scam."
3. The Infamous Gem Scam
"I was on the way to a shopping mall when a local man approached me. He told me he was a teacher and, since it was a holiday today, the mall was shut. His friend had a shop, though, and he was the only one open today. The man told me he could take me there. How lucky!
From where I was standing, I could see people walking into the mall. Obviously, I declined. From past experience, I knew that, if I were to accept his invitation, he'd drive me to a gem store where I'd be pressured to buy something."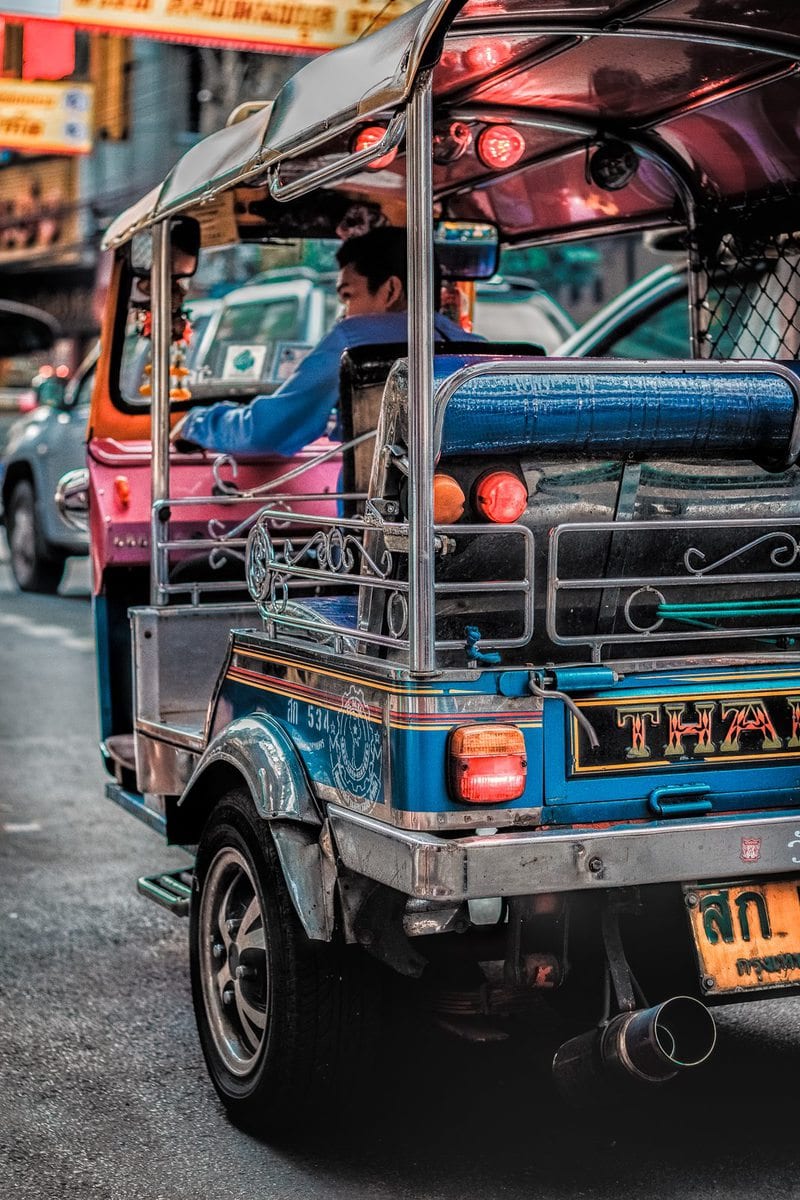 Similar to the tuk-tuk scam, drivers get a commission (or, sometimes, vouchers for free gas). They'll often offer false information just to lure you into their cabin hoping for a commission or gas voucher.
"They usually hang around the mall and temples convincing tourists to grab a cheap cab or tuk-tuk, as long as you stop at the gem stores."
—Erin Bender, Explore With Erin
"Avoid being convinced by "well-meaning" Thai people, especially in touristy areas. This man seemed so honest, but something just didn't sit right in my stomach. Go and check the mall or temple first—if it's shut, you can always leave afterward, rather than before."
4. The "Local Price" Onward Travel Scam
"After the tuk-tuk scam looped us in, and taking a ride through a tailor and gem shop, our tuk-tuk driver's friend came over for a chat. He asked us about our travels and made it seem like we were crazy for not having anything booked beyond our time in Bangkok. We were missing out on the best deals, he told us.
Luckily he knew a local travel agency that could book us all our flights and hotels for the next month—and not at tourist prices, but local prices!
Paying local prices instead of inflated tourist rates? Let's do it!
We spent an hour in the travel agency and purchased plane tickets, bus tickets, and hotels.
The next morning, a bus that was supposed to bring us to Krabi didn't show up. Upon further investigation, we realized that no one booked anything from our itinerary, but they had charged our credit card.
We should've already realized that the driver had scammed us when the same tuk-tuk driver simply disappeared while we were visiting a temple before we even paid him. He got a commission from the booking, so of course, he wasn't going to wait for our 10 baht.
We had no idea where the travel agency was so had no way of going back to complain. This was an expensive lesson to learn."
—Dani, Globetrotter Girls
"Always beware of tuk-tuk drivers offering all-day tours for prices as low as 10 baht, or other tours that seem too cheap to be true. Don't fall for it, or you'll be spending all day in tailor shops and gem stores. And someone may end up talking you into buying something at a much higher price than it's actually worth."
---
A Word to the Wise…
I always recommend traveling with travel insurance. If anything goes awry while you're in Thailand—even theft—an insurance plan covers you, and you can claim your lost expenses back. World Nomads is the gold standard and my recommended choice of travel insurance.
Click here to read our full World Nomads review or just fill out the form below for a quote!
5. The Airport Security Theft Scam
"When we put our items through the X-ray scan we put a money belt on its own in the tray. They'd hurried us through and we lost sight of the tray for a few moments. In that time, one (or more) of the airport security staff went into our money belt and took all the big Thai baht bills (but they left the small ones).
We realized what happened while we were waiting for our flight and raised the issue with the security staff. We asked them to review the CCTV videos to find out what happened.
Before we boarded our flight the security manager acknowledged that one of their staff had taken our money, asked us to fill out forms for the theft, and gave us his contact details.
It was a strange series of communications, but eventually, we received our money back by bank transfer."
—Daniel Noll and Audrey Scott, Uncornered Market
"When you go through security at the airport, secure all small items in a backpack or another bag behind a zipper or a lock."
6. The Litter Bug Scam
"I had dropped a piece of litter outside the Skytrain (metro) station. A man dressed in camouflage approached and told me he was the tourist police—he took me to a small hidden card table around the corner.
He told me littering was a crime and that I had to pay a $150 USD fine. He showed me all the tickets he'd written to foreigners to prove he was legitimate. Then said he liked my watch and, if we traded watches, then we'd be friends and friends don't give friends tickets.
Since my watch was worth $50, I made the trade and walked away with a lesson learned—and a fake Omega watch."
—Matt Long, Landlopers
"First, always obey all rules and laws overseas. Second, know your rights in every country you travel to. The people who accosted me were intimidating but had no legal power to write me a ticket and were pro Thai scammers."
7. The "Get Off the Bus" Scam
"All of a sudden, in the middle of nowhere, the bus stops and a bus attendant goes row to row yelling at you to get off the bus.
When he got to my row, he told me that the bus didn't go to the new bus station but the old bus station—I needed to get off now. I decided to be combative and stayed in my seat, telling the man that I would be going to the bus station that the ticket showed.
The next day I met up with some friends who had taken that same bus earlier in the week. They said the same thing happened to them and that they got off the bus. The bus driver had told them that his friend would come get them and then left them stranded on the side of the road.
This is when the scam really starts. First, a taxi comes and the driver will say he can't take you to the bus station since it's too late in the day—you'll have to stay at a hostel just up the road. In the end, you'll (over)pay an exorbitant amount for the first taxi ride, the hostel rooms and then another taxi to the bus station where the original bus was supposed to take you in the first place."
—Garrett Galvan, The Travel Human
"Stay on the bus until you get to your destination, no matter what. A bonus tip is to avoid tourist buses as they are often targets for vendors. Frequent stops to little gift shops along the way will make a 4-hour bus ride closer to 8.
Make sure you're buying bus tickets directly from the bus station and riding the same buses Thai people use. They will be much cheaper and have fewer vendors board."
8. The Drink Scam
"In the party areas of Bangkok, there are many shows on offer to tourists which, of course, have cover charges.
Many street vendors will say you can go in for free if you just buy one beer. But when the bill comes, the beer will cost a fortune and there will be extra charges for watching the show.
In our case, a large security guard blocked the doorway to leave and said they would call the police if we didn't pay. We gave them the fair amount for our beers and said, "call the police." We pushed past.
It was a little scary as I'm not sure what would have happened if they didn't let us through!"
—Rachel Jones, Hippie in Heels
"Don't fall into the trap of these Thai scammers on the street. If it sounds too good to be true (or "free") it probably is! Go to bars and clubs you want to go to and always check prices before you order anything."
9. The Fixed-Price Taxi Scam
"Often—especially in touristy areas—taxi drivers will insist on negotiating a rate for the trip rather than using the meter. This is one of the easiest ways for someone to scam you in Thailand.
They charge anywhere from double to five times the actual cost of the trip. In very touristy areas, many taxi drivers will outright refuse to use the meter and would rather pass up your business at the correct rate in favor of waiting for an unwitting tourist willing to pay an inflated fare."
—Matt Gibson, Xpat Matt
"If you're in a super touristy area, you may find that no taxis are willing to drive you on the meter. Walking a few blocks away will often enable you to find a regular taxi. But, I prefer just using Grab (Thailand's version of Uber) as it bypasses the problem altogether."
***
Thailand is a major backpacker hub of the universe. It attracts gutsy solo travelers who've traversed the globe and back. Most of them could smell a scam from a mile away. But because there are so many travelers flocking to the Southeast Asian cultural and spiritual haven. And some practiced locals have become quite the professional con artists.
If you keep yourself informed and keep a watchful eye on money-making schemes, you can enjoy Thailand for everything it has to offer, devoid of the swindlers.
And if you are heading to Thailand, make sure you check World Nomads for a travel insurance quote just in case!
Has someone ever scammed you in Thailand before? Let us know what happened in the comments below!
---
READ NEXT: The Cost of Travel in Thailand