Close your eyes and think of your dream vacation. You're lounging on a sun-soaked beach, with your toes in the sand and the ocean waves splashing in the distance. And although you're full from lunch, you're already daydreaming about the seared snapper and fish tacos you want to eat for dinner.
If you're looking for a warm, tropical vacation, you don't need to escape to Southeast Asia or the Caribbean! You can find a slice of paradise right here in Panama City Beach, Florida.
Sure, Florida is home to dozens of resort towns and sugar sand beaches. But Panama City Beach beats them all, and particularly for one reason—scuba diving!
Known as the "Wreck Diving Capital" of the South, Panama City Beach is scattered with dive sites and artificial reefs. It's one of the top diving destinations in the United States, and one of the only cities with dozens of sunken ships and bridges.
Although your second day of vacation is reserved for an offshore dive trip, you could realistically dive each day if you wanted! Most excursions last between four and five hours, which means you could head out in the morning and return back to shore just in time for lunch.
So get ready to treat yourself to a weekend full of sun, mouth-watering cuisine and crystal, clear waters!
Day 1
Your first day in Panama City Beach is all about sightseeing. Once you touch down in Florida and check into your hotel, it's time to explore the area and get the lay of the land. It might be tempting to hit the beach right away, but don't worry, you'll have lots of time for that later!
Morning
Your first stop is at Pier Park, a fun-filled entertainment center with exciting shops, restaurants, and entertainment activities. And best of all, it's located right on the shores of Panama City Beach.
With over 120 stores and brands, Pier Park is a shopper's paradise. Whether you're picking up an extra bottle of sunscreen or treating yourself to a brand new swimsuit, Pier Park has it all.
And for sweeping, panoramic views of Panama City Beach, take a leisurely ride on the towering SkyWheel! From the top of the giant Ferris wheel, you'll have an unobstructed, birds-eye-view of the ocean and coastal shoreline.
Afternoon
After a relaxing morning of shopping, head to Chewie's Kitchen for lunch. Everything from the Chewie Style Cheese Steak to the Loaded Chewtato Chips is made from scratch with love. Even the flavorful salad dressings are made right here in-house!
And if you happen to visit during the weekend, you can sample their brunch menu, which includes breakfast classics like omelets, egg and cheese sandwiches, and even a Chewie Cristo – their spin on the mouthwatering monte cristo sandwich.
With a full, happy belly, you can then walk to the sandy shores and spend a few hours at the beach. Soak in your first few rays of the sun, or go for a swim in the warm, turquoise waters. It's time to relax and have some fun—you're on vacation, after all!
Evening
Once the sun goes down, head back to your hotel to freshen up. Then, get ready to head out for your first exciting night in Panama City Beach.
There are tons of restaurants to choose from, but the Saltwater Grill is an excellent choice to sample traditional coastal cuisine. Serving fresh seafood, juicy steaks and strong cocktails, the Saltwater Grill is the perfect restaurant for a delicious dinner.
And while the food is nothing short of spectacular, it's the floor to ceiling 25,000-gallon aquarium that will make your jaw drop. As the perfect backdrop for your dinner, the aquarium is teeming with tropical fish and exotic sea life to watch.
But try not to knock back too many mojitos. You have to wake up bright and early tomorrow for an action-packed day of diving!
Day 2
Set your alarm early, because you'll be spending the morning diving through the pristine waters of the Gulf Coast. And try not to be late; your tour with Diver's Den leaves right at 8 am!
Morning
As the Diver's Den charter pulls out into the ocean, you'll be fitted with a wetsuit, mask and oxygen tank as you wave goodbye to the shores in the distance.
Plunging into the waters of the Gulf of Mexico, you'll see schools of tropical fish, stingrays, and possibly sharks! The deep, blue ocean is home to a variety of colorful limestone cliffs as well as artificial reefs. And since you're diving in the "Wreck Capital of the South," you won't want to miss the sunken ships and bridges that lie deep beneath the surface.
Reaching depths between 45-80 feet, you'll have the opportunity to explore the wrecks of historic ocean tankers, tug boats, and even Navy Class Minesweepers! Swim through the decommissioned USS Accokeek, or crawl along the ridges of the 19th century S.S. Tarpon for striking underwater views.
And as you snake through hallways of the sunken ships, you'll also find that the water is brimming with sea life. Hidden inside the small nooks and crannies of the wrecks, you'll see spiny lobsters, batfish, and even a few fire worms! Just stay away from those guys—they will cause you nothing but pain if touched!
Depending on how long you want to spend in the water, Diver's Den offers two or three tank trips. And if you're looking for something more extreme, choose one of their deep offshore charters, which takes you down to the natural bottom at 110 feet.
As you conclude your last dive of the morning, you'll be taken back to shore to clean up and rest. And if you want to book another trip, go for it! There are so many dive spots around the ocean that you'll want to check them all out.
Afternoon
Once you return to shore, you'll probably be exhausted (and starving) after spending the morning scuba diving.
So, grab a quick bite to eat at Finn's Island Style Grub, a gourmet food truck that serves some of the best fish tacos in Florida. Or try their epic quesadillas and beach bum burritos, both made-to-order with only the freshest ingredients.
Whatever you choose, you can enjoy your meal from the outdoor picnic tables while soaking in the sun.
After such a long morning, you deserve a well-earned break, so take it easy for the rest of the day! Hit the beach, do some shopping, or simply unwind on the balcony of your hotel room.
Evening
After a few relaxing hours to yourself, you'll be refreshed and ready to hit the town! And hopefully, you'll be hungry again too, because Panama City Beach is overflowing with restaurants catering to every taste palette.
Like the Runaway Island Beach Bar and Grill. This Panama City Beach staple has prime real estate right on the shores of the ocean, making it the perfect place to watch the sunset. And if you haven't gotten your fill of seafood yet, Runaway Island serves up everything from grilled shrimp and clam chowder to burgers and crab cakes.
And to help burn a few of those extra dinner calories, head to Pier Park for a nighttime stroll. It's peaceful to walk along the bank with the city illuminated in the distance and the moon reflecting off the ocean. Not to mention, Pier Park is an entirely different vibe when the sun goes down!
Day 3
It's not time to go home yet! Although it's your last day in Panama Beach City, you can still enjoy a ton of exciting activities before heading back to the airport. Your last day should be spent outdoors, where you can really sink your teeth into this fabulous city!
Morning
Start your day off right by enjoying a delicious breakfast at Thomas' Donuts & Snack Shop. Situated right on the beach, this restaurant specializes in American favorites like hot dogs, pizza and, of course, donuts! Grab a few of your favorites and enjoy the morning views from their outdoor deck.
Now that you're fully revitalized take a short drive over to Camp Helen State Park, a coastal slice of paradise right on the shores of the gulf. Explore one of the park's hiking trails, or rent a kayak or paddleboard for a relaxing morning on the lake. You can even do fresh and saltwater fishing right off the pier!
The beaches at Camp Helen State Park are also worth visiting. Stop by for a quick dip in the ocean or post-breakfast nap on the white, sandy coast. Either way, the park is an excellent escape from the sometimes overly crowded public beaches in the city!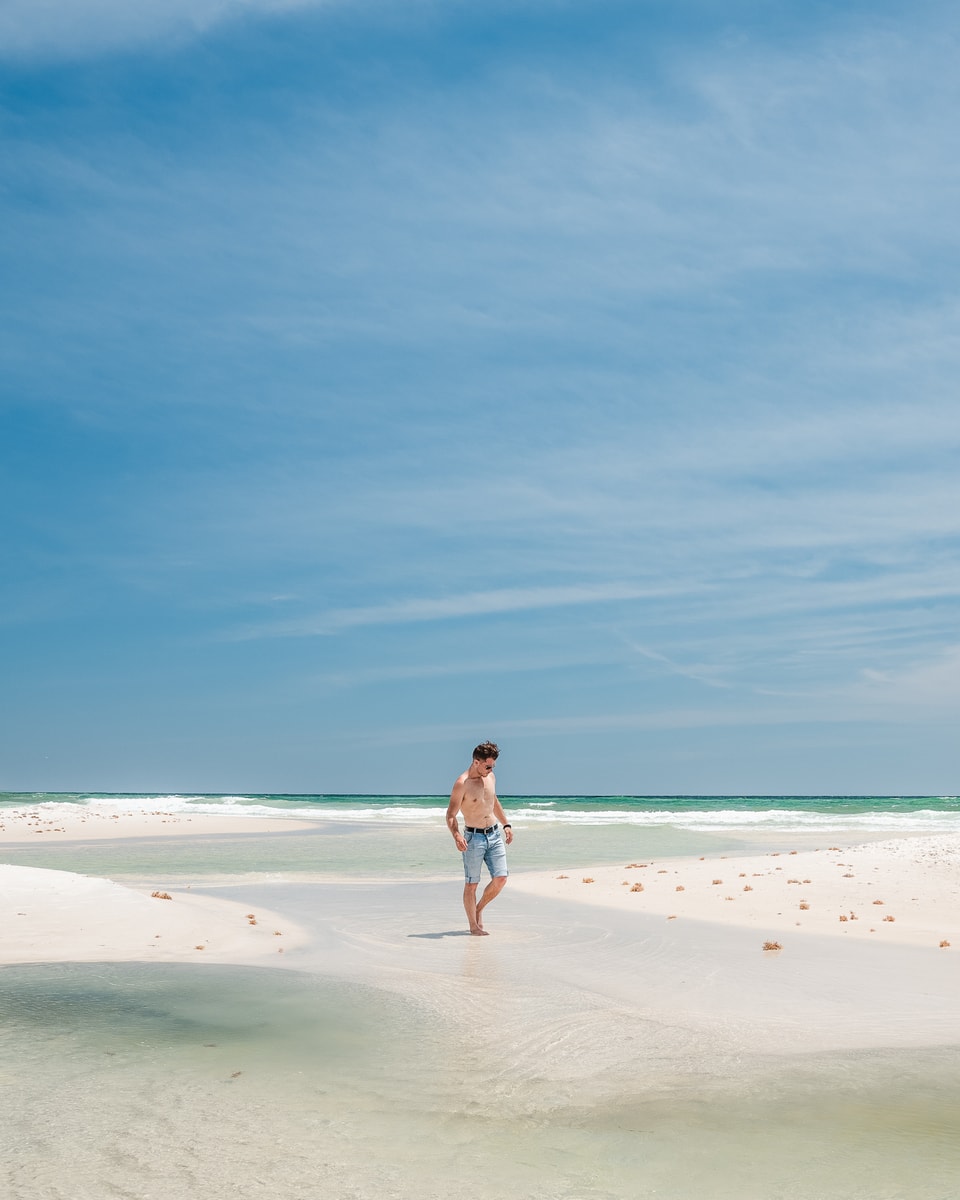 Afternoon
It's time to head back into the city after a beautiful morning exploring the wilderness of the park. Next up: Lunchtime!
Indulge in a classic, Panama City Beach cuisine at Hook'd Pier Bar & Grill. Featuring an outdoor terrace with stunning water views, this casual beach-themed restaurant is known for freshly caught seafood and cold beer. Here, you can treat yourself to lobster or shrimp tacos, fried bay scallops, or the catch of the day seafood platter.
With the sun going down, you'll want to soak in the last few hours of your Panama City Beach vacation. Do some last minute shopping, take a walk along the pier, or relax in one of the city's many parks.
Evening
There's no better way to spend your last night in Panama City Beach than with a bonfire! Grab a few friends and head to the shores for a fun night of fire-side s'mores, beach games and music.
Back Beach Rentals provides all-inclusive beach packages for the ultimate bonfire evening. They deliver and set up your party with beach chairs, side tables, hammocks, and fire pits. All you need to do is bring your favorite BBQ dishes and a couple of drinks, and you're ready to go!
The fire slowly starts to die, signaling that it's time to say goodbye to your buddies and to your fantastic vacation. From diving among the vibrant schools of fish to a Ferris wheel ride with sweeping views of the Gulf, your action-packed trip was one for the books.
Where to Stay in Panama City Beach
In Panama City Beach, there are tons of hotels, inns, and resorts to choose from. But for the perfect vacation, you'll want a hotel that offers direct beach access, views of the emerald green ocean, and spacious rooms to catch some shuteye. And the Wyndham's Tidewater Beach Resort has it all, plus more!
Situated on its own private beach, this condominium resort is the tallest high-rise in the entire city. Which means even if you aren't on a high floor, you get to enjoy outstanding ocean views from every one of the gulf-facing rooms.
Other amenities include an indoor and outdoor lagoon pool, fitness center with a Roman spa, and an on-site restaurant. But best of all, you can't beat the resort's location. It's just a short walk from all of Panama City Beach's top attractions, including the exciting Pier Park.
At the Tidewater Beach Resort, you can wake up refreshed and ready to explore everything Panama City Beach has to offer!
Final Thoughts
Panama City Beach is more than just a family-fun resort town. It's a playground full of exciting outdoor adventures, on land and in the water! Not to mention that you'll eat some of the freshest and most delicious seafood available.
And if you want to explore one of the best scuba diving destinations in the US, then there are a ton of amazing spots here to check off your bucket list. Whether you're looking for tropical fish or wanting to swim through the sunken ruins of navy ships, Panama City Beach has something for every diver.
And although this itinerary highlights the best things to do here, it's just a recommended guide! Because in reality, there's no right or wrong way to travel. As long as you have an open mind (and lots of sunscreen), you'll have no problem finding adventure in Panama City Beach.