The sun was just starting to set when I threw $3,000 into the sea.
We reached China Rock Vista early evening, and as that golden California light started to fade across the coastline, I excitedly hobbled out onto the jagged rocks for a photo op.
I composed my shot, and as soon as I let go of my camera, one tripod leg slipped on the rocks and my brand new mirrorless camera—wide-angle lens and all—toppled over into the salty ocean.
SPLASH.
Is this really how I'm starting off my Pacific Coast Highway road trip?
Now here's the thing about water damage: though water isn't really that good for electronics, it will dry eventually. But when the water is from the ocean, the salt will eat away at your camera's insides.
Therefore, the best thing you can do is wash it out with fresh water.
And let me tell you—the feeling when you willingly pour two gallons of bottled water over $3,000 worth of brand new camera equipment…well, it hurts. It rips at your soul.
It's like torturing a newborn baby in order to save its life (okay, I have NO idea why that would ever happen, but that's what it feels like).
With my heart still racing, and my camera now short-circuiting, sopping wet and quite possibly junked, I did my best to enjoy the rest of the sunset, in perhaps one of the most beautiful spots on my Pacific Coast Highway road trip. (I'll be honest, under the circumstances it was hard to enjoy, but I tried.)
And that night, in Carmel-By-The-Sea, my baby Fuji slept inside a 5-pound bag of rice.
The Traveler's Dilemma: Inside or Outside Your Comfort Zone?
Despite growing up in the United States, I never once saw the western side of my own country.
It's funny because I'll be the first one to eulogize about getting outside your comfort zone and traveling internationally—but when it comes to the United States…well, I've seen far too little of my own country.
What about the idea of traveling within your comfort zone?
I think most international travelers are probably guilty of this mindset. We're always looking as far away as we possibly can. The longer the flight, the better!
Plus, home breeds complacency. "I'll do it eventually" is one of those phrases I think we're all too familiar with, traveler or not.
In short, I found myself needing a good excuse to discover the rest of my own country—literally, a side that I'd never seen.
I was therefore utterly chuffed when American Tourister reached out and asked me to take their new line of luggage for a spin (they've got 4 wheels, so, literally, a spin). They challenged me to come up with a six-word itinerary for a trip, and then actually do it!
I chose: "California sun. Coastal adventure. Explore everything."
Using a road trip to thoroughly put their luggage through its paces, my choice of road was a no-brainer.
"TO CALIFORNIA!" I proclaimed. "Why not?" they replied.
A Pacific Coast Highway road trip was the epitome of these thoughtfully chosen words.
So off I went.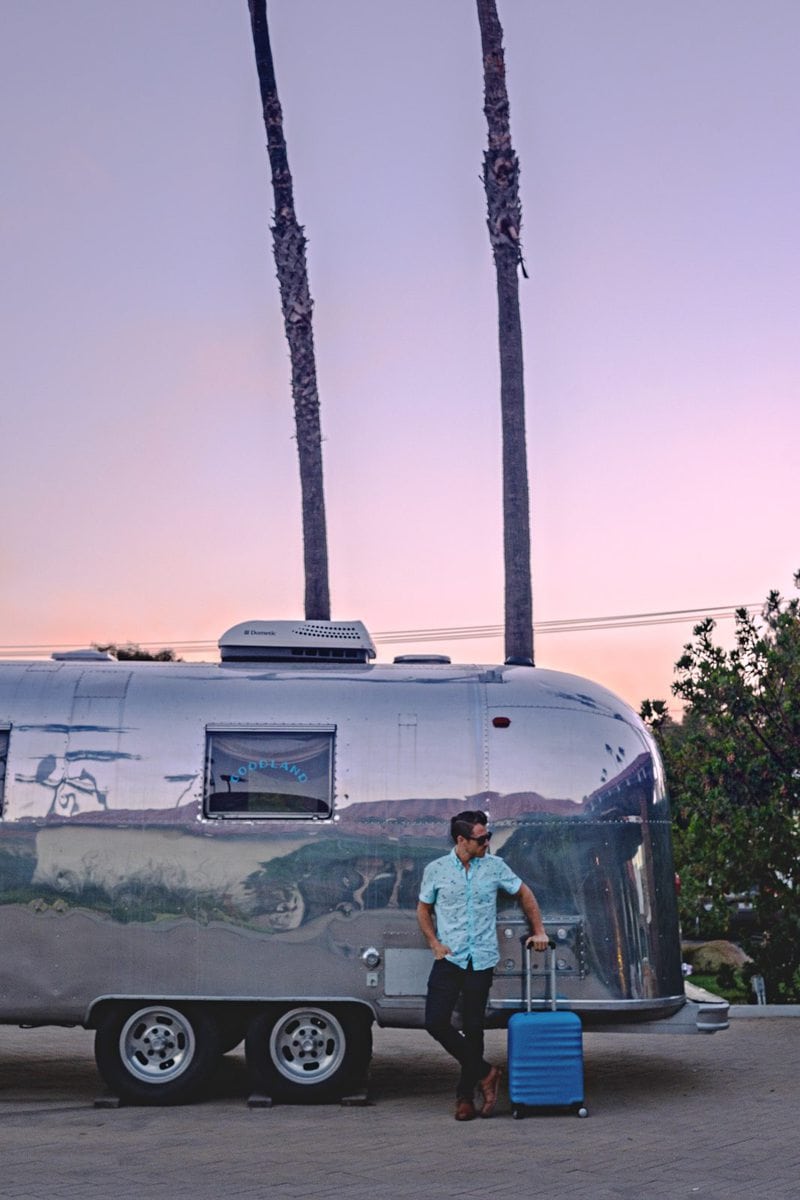 A Pacific Coast Highway Road Trip: The Great American Tradition of Freedom
The phrases "American" and "road trip" go together like apple pie and ice cream—and everyone knows it.
It's classic, timeless fun.
There's no better way to see a big stretch of The States than through the open window of a car—and there's no better way for me to become acquainted with the West Coast than going on a Pacific Coast Highway road trip, a legendary stretch of road.
To start, nobody agrees on how long it is. National Geographic has it pegged as less than 150 miles long. Wikitravel will tell you it's no less than 500 miles. Other people confused it with the whole of California State 1 (which the PCH is part of) and say it's 650 miles in length. It's a slippery thing to define.
For my Pacific Coast Highway road trip, I chose to measure it as the stretch of coast road between San Francisco and San Diego—a (typically) nicely manageable 500-mile journey. If you're in a rush, you could burn through it in 8 hours—but when you're in scenery this beautiful, why do that?
It's a stretch of America known for its saw-toothed coastline, laid-back beach towns, and having the best surf breaks anywhere in the country (barring perhaps Hawaii).
It's known to be one of the best California road trips and one of the most beautiful road trips in the United States—and I absolutely couldn't wait.
But, of course, every trip has its up and down moments—and as I set off from San Francisco on a bright, sunny day, I had only some idea of what lay ahead of me.
Road Closures on the Pacific Coast Highway
2017 was a rough year for the Pacific Coast Highway. Heavy rains loosened mudslides and downed trees, forcing major rebuilding work. Then the Pfeiffer Canyon bridge tumbled down in March, and in late May, a landslide in Big Sur brought more than a million tons of rock and earth down onto the highway, burying it over 40 feet deep.
The road through Big Sur has seen better days.
But no matter. One of the elements of a successful road trip is finding your way around all obstacles. There were other roads that would take me where I needed to go, and much of the coastline was, in fact, still accessible, just not as easily.
It would be an adventure.
I mapped out a basic route to road trip from San Francisco to San Diego, and, in classic Jeremy fashion, showed up with the intent to figure most of it out once I got there.
I thought these road closures would be my biggest obstacle—but I was proven so, so wrong.
First Things First: Doors Off Above San Francisco
San Francisco was the city I was most excited to see. When I moved to New York three years ago, San Francisco was the other option I had been considering.
It's a tech metropolis and startup capital of the world mushed together, with that famous laid back Cali vibe to take the stressful edge off it. San Francisco's been high on my to-do list for years.
(Plus, that little bridge San Francisco is so famous for? Yeah—I was going to need to see that.)
With three days in the city, I explored Fisherman's Wharf and Haight Street. I rode the cable cars all over town, went for views of the Golden Gate Bridge and, of course, took a doors-off helicopter ride over the city.
With this view, how could you not?
Day 1: From San Francisco via Monterey to Carmel-By-The-Sea
On my way out of the city, I opened up the throttle on my drop-top Camaro and the real trip began.
I tried to limit my driving time to three hours per day. There are so many things to see along the way, so many opportunities to indulge your curiosity, that I knew three hours could easily be turned into eight. EASILY.
I turned the nose of my ride south, and the road opened up beneath its wheels. There's that sense of freedom I was craving.
I may have spent a great deal of the last decade getting off the beaten track all around the world, but my day-to-day right now is being surrounded by buildings. As I drove away from San Francisco's tangle of freeways and into open oceanside country, with nothing but my bags in the back seat, my heart soared. I really missed this.
Road trips are all about the freedom. There's the freedom from urban, built-up places, and the freedom to explore them and leave them quickly. There's the freedom of being able to choose exactly where you want to go, indulging every whim.
And most of all, something that any long-term traveler really gets: the freedom to have everything you need, bundled into one neat transportable package—and therefore the freedom to live anywhere you choose, however temporarily.
Since there's hardly any trunk space in a convertible, all your luggage goes in the backseat. Our two Z-Lite DLX's and my aqua blue 20″ Wavebreaker fit like a glove.
I've never owned 4-wheeled, spinning luggage before, and was delighted at how smooth and easy it was to wheel these puppies from place to place. The suitcases were not only bright, fun colors but durable. They're the perfect luggage for a road trip.
The drive from San Francisco to Carmel-By-The-Sea is about 2.5 hours today (plus curiosity-stops) and we head down Route 1 in not too much of a hurry to get there.
One stop we couldn't resist: Santa Cruz, for a quick snack and stroll down the boardwalk—but the highlight of the day's driving came when we took a right off Route 1, onto the famous 17 Mile Drive.
Seriously, wow.
17 Mile Drive is Outlandishly Beautiful
I had heard of a few iconic photo stops around Monterey, in the Del Monte Forest, but hadn't yet heard of 17 Mile Drive. Entry was about $10 per person, and my God, it was worth every penny.
I would never normally endorse a road that you had to pay just to drive along—but 17-Mile Drive is an exception to this rule. Passing through an exclusive neighborhood full of gorgeous, multi-million dollar houses, this drive offers some of the most stunning views of the Pacific I've seen.
It may very well take you several hours to complete those measly 17 miles because you'll be craning your neck this way and that, and constantly hunting for your lower jaw. It's mesmerizingly beautiful.
Along the way, there are dozens of places to pull over and take photos, like Spanish Bay, China Rock, Bird Rock, Fan Shell Beach, and the Lone Cypress. I recommend them all.
I was having the perfect first day.
But then I reached China Vista Rock, halfway down 17 Mile Drive, and decided it was worthy of a few good photos.
And that's when it happened.
Clutching my half-drowned camera and fighting my plunging spirits, I went in search of a bag of rice.
Day 2: Big Sur…or Not (Road Closures on Route 1)
The second day of driving was slated to be the longest on our Pacific Coast Highway road trip. This we already knew.
After exploring some of Carmel and stopping into the only camera shop in town for advice (they had none), we headed south to Big Sur—but the old rice trick seemed to be working! It was sucking the moisture out of my camera and returning it to a functioning state. I could still see moisture and condensation around the dials, but she worked! Sort of. I'd know more at the end of the day.
We drove on—and hit our first major obstacle of the trip. Because of course.
Under normal circumstances, you'd be able to continue your drive south, through the Big Sur State Park. But due to the road closures, you can drive as far south as the collapsed Pfeiffer Canyon Bridge before having to turn around and backtrack for an hour.
NOTE: The Pfeiffer Canyon Bridge is set to reopen in October.
Then, you have two choices: drive the backcountry roads through Carmel Valley on the G16, or make your way to the next best highway—Route 101 via Salinas, and head south for three hours, through wine country, to San Luis Obispo. That was our choice.
It was the end of a long day of driving on our Pacific Coast Highway road trip, and though we were staying in San Luis Obispo (SLO for short), we pushed on past the town for another 20 minutes to Pismo Beach.
We arrived just in time to watch the final rays of sun cast a gorgeous golden glow over a straggling gaggle of surfers trying to catch just one last wave before packing it in for the night.
Day 3: They Call it SLO for a Reason
"You have to go to San Luis Obispo."
Just about everyone I talked to before this trip offered the very same advice. And when everyone tells you the same thing, you do exactly as they say.
There are two reasons they're right on the money. The first is the frankly incredible Big Sur scenery you'll find between Monterey and SLO—huge expanses of steep cliffs plunging into blue sea, and dark green forests swallowing the day's heat, laced with sunbeams.
You'll see mile after mile of it, and after a while, it'll put you into a happy, calming trance.
It's also relatively quiet right now. Since the Pacific Coast Highway has had such a rough time this year, tourist numbers have dropped significantly (worryingly so, for small-town local residents who depend on tourism). It's a great time to visit—and you'd be helping to keep this great American tradition alive and well.
The other reason to visit San Luis Obispo by road is, of course, San Luis Obispo.
There are the two local attractions that make San Luis Obispo a local curiosity: the famous Bubblegum Alley and the Madonna Inn.
Bubblegum Alley is now the graveyard for more than 2 million pieces of chewed bubble gum. Stop into the store next door, where they have a giant quarter-operated gumball machine if you want to make your own contribution.
Remember when gum balls cost a nickel? Yeah, me neither.
The Madonna Inn is like no motel inn you've ever seen. For a start, there's the mock Swiss Alps exterior. And then you step inside, and everything goes completely bananas—it's like stepping into a cake, with swirling architecture, walls covered in pink roses, and some of the most lavish and eccentric decor I think I've ever seen anywhere in the world.
It's a cute little town where everything runs just a little bit slower—and after a few days on a Pacific Coast Highway road trip, you'll be suffering from stimulus overload, so it's a good place to stop, take inventory of your stuff, and internally process all the wonders you've seen.
It's also a place where you can stop and unpack your camera to see if you're $3,000 out of pocket.
I pulled it out the bag of rice, a sick feeling in my stomach. Would it work? Was this going to be a far more costly trip than I thought?