I had been searching for the cheapest flight and, by golly, I had found it. I was in Brisbane, Australia at the time and was researching flights to Hong Kong. My friend Emily had arranged for me to relocate to Xi'an, China to teach English to kids! I was excited, but funds were not a-plenty.
There's a new budget Asian airline called Scoot, and they were offering a stellar price between Sydney and Singapore. The final price of my flights was about $200AUD less than the standard itinerary, but there was one stipulation: a 20 hour layover in Changi Airport, Singapore.
Inside Changi Airport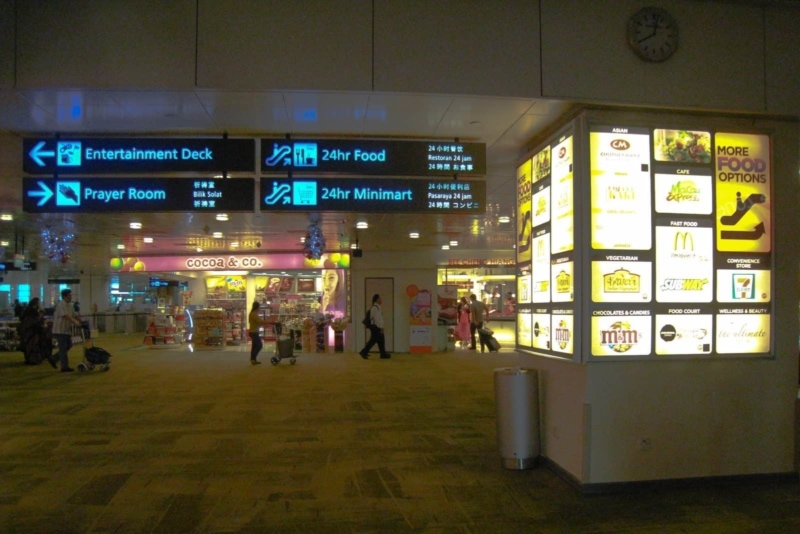 I didn't know much about Changi, so I did my research. This airport is stuffed with movie theaters, bars with live music, restaurants, free internet terminals, high end shopping, gaming venues, sleeper rooms, showers, the lot! If there's one airport to spend the night in, this is definitely it.
I booked my tickets, and was almost more excited to sleep over in Changi than I was to go to China!
Visions of beautiful women in the same situation as me danced in my head. I mean, isn't everybody looking for a bit of fun in an airport? I would go to the cinema, take naps, check my Twitter account, drink beer and flirt with girls. This was quickly shaping up to be the best overnight in an airport. Ever.
All of a sudden, I had arrived in Singapore. Still delirious from my flight, I walk off the plane and straight through customs.
What I didn't realize, though, is that you can't actually clear customs twice in the same day! I wouldn't be able to re-enter the terminal until the next day.
I had considered staying in a hotel overnight but decided it wouldn't be necessary. There were napping sanctuaries in the airport! But those sanctuaries were only inside the terminal. I should have stayed in the terminal and avoided customs. Instead, I walked through, claimed my bag, and was essentially left in Singapore with nowhere to go and nothing to do!
"Screw it." I said. "I'm going out!"
I dragged my bag into the bathroom, quickly changed clothes, sprayed Bleu de Chanel and put my contact lenses in. I stored my bags and hit the metro—Clarke Quay or bust.
Clarke Quay, Party Central
Clarke Quay is the party central of Singapore. Blocks upon blocks are overcrowded with overpriced bars.
And prostitutes, apparently. And, apparently, ladyboy prostitutes.
For those unfamiliar with the ladyboys of Southeast Asia, these men dress as women and, far more often than not, pull if off remarkably well. Many have had their Adam's Apple removed (among other appendages). Their slender physique resembles that of a woman very, very closely.
And frankly, some of them look downright hot.
Not in a gay way, or even a weird way. Ask anybody who's encountered them–they'll tell you the same thing.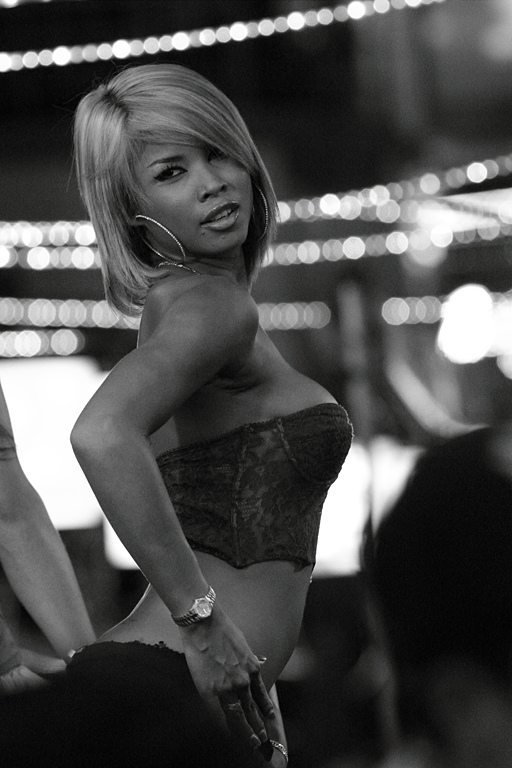 I stepped foot in Clarke Quay and began to wander. Instantaneously, one of these men of the night accosted me! She grabbed my arm, and pulled me to her. I smiled, said hello, and backed away. I was stunned.
I found a bar that looked inviting and I sat in the smoking area outside. I figured I could bum a smoke off somebody and I'd make a friend for the night. This gentleman was a middle-aged, Aussie-bred Londoner with a bit of a tick.
As I sat there, ladies and ladyboys alike were signaling to me from a distance. They gave the thumbs up, the A-OK symbol, they winked and they "come hithered."
One came inside the bar and asked if she could sit on my lap. A polite "no, thank you" prompted a request for me to sit on hers. Again, a "no, thank you" was in order. She asked if I would buy her a drink. At $16 per pint, there was no way that was going to happen. She finally got the hint and stormed off.
I think my Aussie counterpart was a bit jealous.
Two beers and an entree later, I bid my new friend farewell, took a taxi back to the airport, and found myself a nice bench in Starbucks to sleep for the night.
It wasn't the most comfortable place I've ever slept, but it's one night I definitely won't forget.
And the lesson I've learned? Ladyboys love me. Aren't I lucky?