It was 5:30 in the morning and I could barely open my eyes. I had avoided tubing in Vang Vieng so I could wake up early enough to catch a sunrise hot air balloon ride over the hills of Vang Vieng.
Yes, believe it or not, I went to Vang Vieng and didn't partake in the average party-goer debauchery of drinking in inner-tubes
.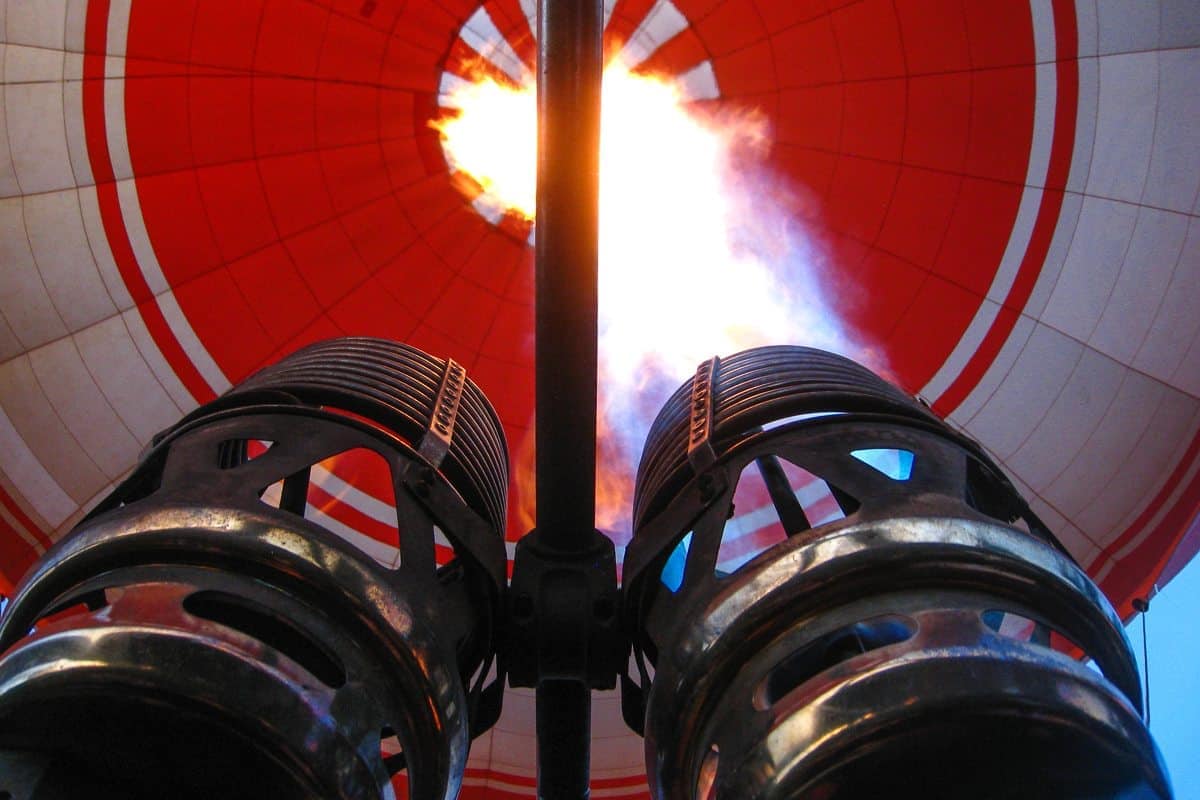 With a sense of excitement and stifled sleepy yawns, I quickly prepared for the adventure ahead. (Read more on what to wear for a hot air ballooning experience below.)
I was cutting it fine, given the collection time, but I just couldn't bring myself to set the alarm for any earlier.
My muscles hadn't quite started working yet, but I jumped in the bed of a pick-up truck and, before it even pulled out onto the field, I could hear a deep whoosh from around the corner. I had never heard the sound before, but I already knew what it was. It sounded exactly like I thought it would. Two flamethrowers exploded in thunder as they shot fire into a giant red balloon that billowed in the air.
A man sat inside a flimsy little basket. He reached out to us and ushered us inside. I was about to fly through the air, confined to a straw hamper.
Two Dutch boys, a Chinese couple, a Japanese girl and I squeezed into the wickerwork. It was crisp outside and the sky was illuminated, but shadows still rested upon everything below it. The sun was nowhere to be seen.
And then, without even realizing it, our basket was off the ground. The treetops scraped the bottom of our pannier. Just like that, I was floating through the air.
With one flick of our pilot's finger on the trigger, flames shot upward and the balloon abruptly rose to the roar and with far greater speed than I would have expected. In 20 seconds we went from 15 feet in the air to 1.2km. I popped my ears.
The fire-shooters went quiet and we hung in the air with perfect buoyancy. It felt like we were dangling from a piece of string, suspended above the deep-green earth. A layer of cotton hugged the curvature of the earth. The mountains poked their little green hats out from the silky expanse as we dangled more than a kilometer above them.
The sun rose and cast its shiny orange glow on the mountains, rivers and homes below, the rice fields and agricultural lands spread like patchwork below.
I couldn't believe what I was actually seeing. What it must be like to be a bird!
With the world waking to a new day, people rousing from their slumber and daily life about to kick into action, here was I, awake, alert and suitably amazed, drifting above everything. Time seems almost meaningless when you're not connected with the ground, and are instead peeking down in a kind of earth-focused voyeurism. Despite the trip lasting for less than an hour (around 40 minutes to be exact), I truly came to appreciate what people mean when they talk of time standing still.
And so, you see, this is why I travel–for the unexpected delights that unexpectedly fill my senses with joy in a way that resounds through the timeline of my life. I'll never forget the day I went hot air ballooning over Vang Vieng. It was truly something special.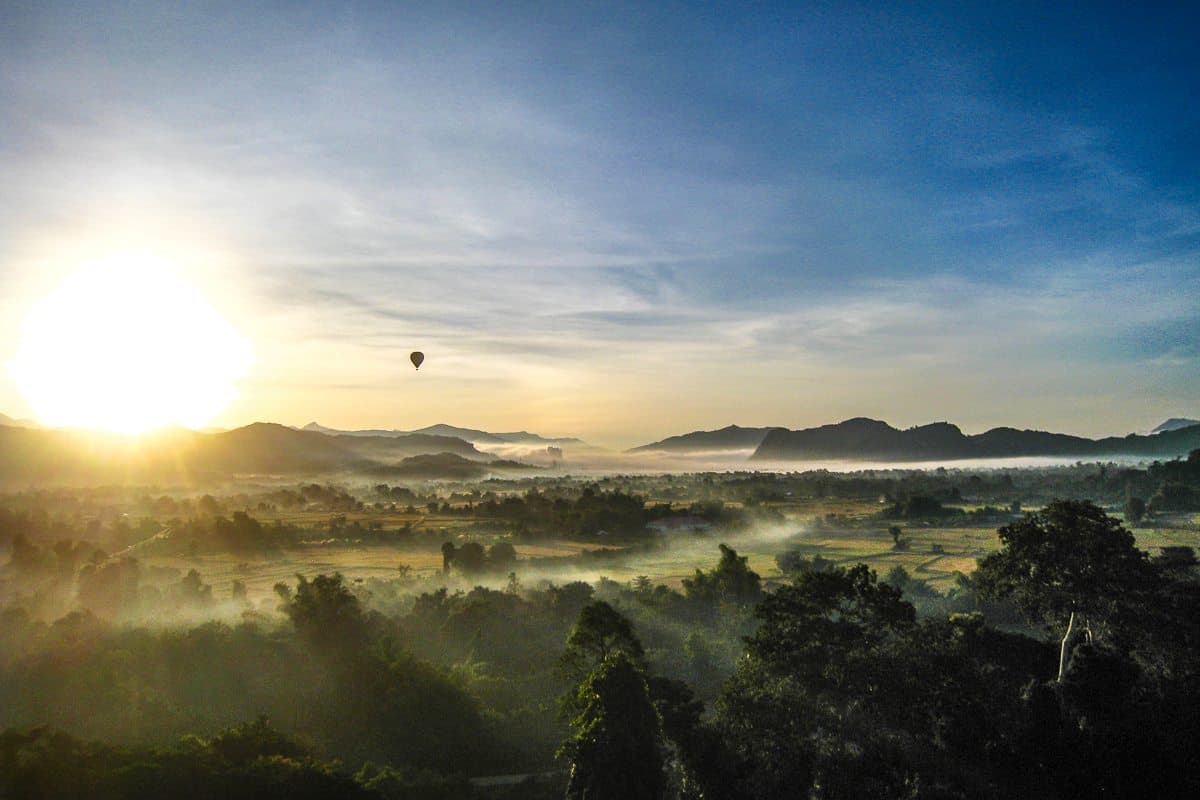 More Information Hot Air Ballooning in Vang Vieng, Laos
Location: Vang Vieng, Laos, Southeast Asia
Price: Approximately $90 USD per person (It was $75 USD at the time of writing this post) Prices can be even cheaper in the off-peak season. It's worth keeping in mind that Laos is one of the cheapest places on earth where you can take a hot air balloon flight.
Details: You can arrange this tour at any travel agent in Vang Vieng. There is only one company that operates the hot air balloons in town, Vang Vieng Balloons. Different agencies offer slightly different prices though, so it's worth comparing a couple of options if you want to save $5-10 USD. It is also possible to book online through several agencies, though you can end up paying significantly more than if you book in the town.
Tour Times: There are sunrise, afternoon and sunset rides. The sunrise adventure (that I did) collects you from your accommodation at around 5:40 am, ready for a 6:30 am take-off. If you value sleeping in, there is a later trip at 4pm, with pick-ups starting around 3:15. For sunset rides, prepare for pick-up around 4:40pm for a flight time of 5pm. Do note that times may change depending on the weather, time of year, and other conditions.
Extra Notes: Make sure that you are ready at your designated pick-up time. If you are delayed, it delays picking others up and can ultimately delay the launch time. This may mean you miss sunset or sunrise. Do you want to be the person sitting in the basket with multiple pairs of angry eyes burning into you? Didn't think so.
What to Wear: The temperature in the air isn't really much different to being on the ground. If it's warm when you set off, shorts and a t-shirt will be fine. If it's a chilly morning, take a light jacket or sweater. It's better to take an outer later in case you feel cold, though it's also worth noting that it can be pretty warm underneath the fire so wear something under your jacket that you're happy to strip down to.
Ladies, it may be better to avoid skirts and dresses, especially those that blow up easily. You'll need to clamber in and out of the basket and a sudden gust could leave you a little red faced! Your call.
Essentially, wear something that's casual and comfortable and take a couple of layers.
Sunglasses are recommended for watching the sun. A cap could come in handy to protect your head from the heat from above and also the sunshine (depending on the time of day).
And, one final tip: make sure your travel camera is fully charged and that you have plenty of space on your memory card! You don't want to miss these shots.