Winter is finally here! And while the days may be dark, cold, and short, it's still an excellent time to stock up on travel gear and outdoor clothing.
In fact, we think that treating yourself to a new jacket or suitcase is one of the best ways to beat those dreary winter blues.
Maybe you need a little inspiration for last-minute travel gifts, or perhaps you want to splurge on a new gadget or two. Either way, we've picked out the best travel products to add to your shopping list this winter!
Ideal for day trips or a short weekend away, the ultra-lightweight WANDRD VEER 18L is one of our favorite travel products for winter. This backpack is completely water-resistant, so you won't have to worry about your valuables getting wet if it rains or snows. WANDRD, of PRVKE fame, also makes one of the best camera backpacks for hiking.
The WANDRD VEER 18L takes comfort to a whole new level. It's one of the only backpacks with inflatable back panels, which adds an extra padded layer of cushion (this also makes it one of the most unique packable backpacks on the market). And with air mesh shoulder straps, the backpack sits comfortably even if you're wearing it for hours.
Photographers will also love the inflatable camera cube attachment. It protects your camera, lenses, or any other piece of valuable gear you're traveling with.
Peak Design is one of the most innovative travel accessory company on the market today and one of the top backpack brands you can buy from. They recently released the Everyday Zip backpack, which is arguably one of the coolest bags for traveling.
As the baby brother of the iconic Everyday Backpack, the Everyday Zip is a great compact bag for photographers. The 270-degree zipper gives you the ability to access your gear from the top or sides without taking the backpack off.
You can also customize the configuration of the inside with the included FlexFold dividers. Not to mention, the backpack has tons of pockets to keep all your gear organized. There several internal compartments for small gadgets, and two external pockets for tripods and larger items.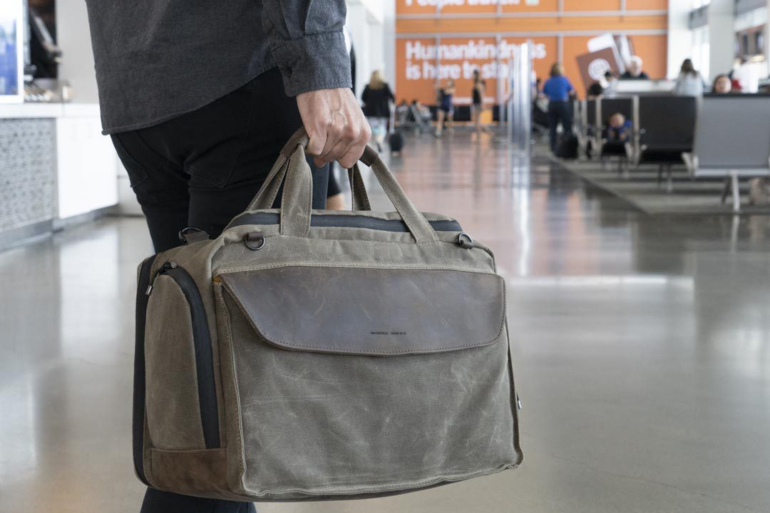 Sure, you have the perfect carry-on luggage for your flight, but have you thought about what to bring for your personal item? If you want to make the most of your carry-on allowance, then you'll want to invest in the Waterfield Air Duffel.
Designed to maximize the space under your seat, the Waterfield Air Duffel is the perfect travel companion for winter. In fact, the large interior compartment is roomy enough to fit 1-2 days worth of clothes.
The duffel also comes with zippered front and side pockets for all your smaller items and travel documents. That way, you can quickly access everything you need while going through the dreaded TSA security check!
Give'r Frontier Mittens are more than your average pair of gloves. These bad boys are completely fire and waterproof and can withstand temperatures between -40 and 400 degrees Fahrenheit. Made from leather and coated in a protective natural wax, they'll keep you warm and safe even in the harshest of winters.
Use them for skiing, ice-trekking, or for building a snowman. Once you break them in, they'll fit like a glove (literally)!
Take on winter with a pair of waterproof Vessi Everyday shoes. These sneakers are made from breathable, stretchy knit fibers which will keep your toes dry and warm all season. You can literally jump in puddles or walk through a rainstorm without getting your socks wet!
As one of the lightest shoes for traveling, you can toss them in your bag no matter where you're going. They're versatile and easy to pack, which means they might be the only pair of shoes you'll need on the road. With a pair of Vessi Everyday, you won't have to worry about packing those tacky rubber rainboots or bulky snowshoes on your winter trip. Not convinced? Read our Vessi Footwear Review.
A pair of warm and cozy socks are a must-have staple for winter. Now, you can stay warm even through the coldest of winters with the Sundried Cycle Socks.
Unlike other socks, which can be thick and bulky, Sundried Cycle Socks are made from super-soft Italian fabrics. And although they're thin, the ventilated sweat-wicking fibers are guaranteed to stay dry all day.
Best of all, the cushioned bottom sole provides extra padding and cushion that keep your feet comfortable and blister-free. Wear them hiking up the mountain or simply lounging by the fireplace. No matter what you do, you won't want to take them off.
As one of the most trusted outdoor brands on the market, Arc'teryx is known for producing high-quality gear for almost every type of activity, from backpacks and footwear to travel accessories and climbing harnesses.
The Cerium LT is no exception. This versatile down hoody can be worn as a standalone jacket or layered with a heavier coat for extra warmth. It's made from premium 850 fill-power down that provides excellent insulation without being overly bulky.
Ideal for winter (or any other season for that matter), the Cerium LT is a durable jacket that lives up to the standards that you can expect from the Arc'teryx brand.
True to the high standards of German engineering, the Horizn Studios Cabin Suitcase will easily become your new favorite carry-on luggage. The exterior is crafted with aerospace-grade German polycarbonate which is resistant to all types of scratches, dings and dents.
The waterfront pocket is spacious enough to fit your laptop, travel documents and any other items you need during your flight. And the built-in removable backup charger makes sure you'll never have to suffer from a dead phone battery again.
As one of our favorite minimalist suitcases for winter, the Cabin Suitcase will make flying a breeze.
Whether you're hitting the ski slopes or jetting off to warmer weather, winter is a great season for adventure. And what better way to endure the post-holiday season than with a few extra travel goodies?
From high-tech suitcases to warm down-filled jackets, you can stock up on all your favorite travel items this winter. After all, it is indeed the most wonderful time of the year!
What travel products are you loving this season? Let us know in the comments below!