Sputtering tuk-tuks, the chaotic bustle of the night markets, finger-licking street food, Buddhist temples of yore…and a heavy stream of tourists. Bangkok is the hub of Southeast Asia, maybe even all of Asia, attracting over 18 million international visitors every year.
Bangkok is a colorful city, imparted with a wide range of sights and smells, redolent of ancient times yet infused with modern culture. There's a lot to love about Bangkok.
And, frankly, there's a lot that's hard to love.
It's one of those cities—you've got a crush on it or you don't. I've had my qualms with Bangkok, as most people probably do at some point, and despite spending a couple months there, I've struggled to connect with it. And though I know I'm not the only one, there are plenty of people who adore Bangkok. It's a city you have to experience for yourself.
In a way, traveling to Bangkok is a rite of passage. If you're going to Asia, you have to go to Bangkok. But, in its own artful way, despite Thailand being an extremely affordable destination, Bangkok has a way of sneaking away with your money, dignity, or both. She's cheeky like that.
While you can learn about the best things to do in Bangkok from the guidebooks, there are some things you just won't know until you visit. These are six classic mistakes to avoid on your first-time visit to Bangkok.
1. Spending All Your Time on Khao San Road
You'll be hard-pressed to find a traveler who doesn't know about Khao San Road. Since the 1970s, it's been the heart of backpacking culture in Asia. It's stuffed with cheap bars, cheap hotels, cheap tourist shops, cheap massage parlors, and cheap travelers drinking cheap beer.
But, look, you have to go to Khao San Road. It's part of what makes Bangkok, Bangkok. That being said, it's a bit of a grotty neighborhood—a small box of flashing lights and noise without any charm. It's like a backpacker ghetto. Everyone should see it, and there's no doubt that Khao San Road is one of the best places in the world to meet—and get drunk with—other travelers.
But Khao San Road is a tiny part of Bangkok and it's been built to accommodate tourists. This is not Bangkok. There is nothing local or authentic here, including the Polo t-shirts and $3 Havaianas. Even the street food doesn't taste as good as it does a couple neighborhoods over (note: avoid KSR pad thai at all costs).
If you spend all your time on Khao San Road, you'll probably run into someone from your hometown. But if you wanted to party with someone from back home, why fly halfway across the world?
2. The Bangkok Tuk-Tuk Sightseeing Scam
There's something charming about riding around the city in a tuk-tuk. If you're not from Asia or haven't spent a lot of time in Asia, you might find that you're a little too eager to jump in a tuk-tuk and experience it for yourself. That's why this scam works so well.
Full disclosure: I fell for this despite already knowing about it. And that's because the local police were in on it, too.
When you arrive at a popular temple or attraction, you might get stopped by a local offering you some (seemingly) well-meaning advice. He'll tell you that the attraction is closed or that it will be better later in the day. Or, they might tell you that the place you want to visit is too expensive and touristy, but fear not, because he'll show you the local gems of the city!
Just get in his tuk-tuk he'll take you to some free places that are off the tourist trail, like hidden temples and monuments! He might even show you a map of the route, and he promises it will be worth it!
After showing you some underwhelming sights, the driver will bring you to a tailor or jewelry shop. "They give me gas tokens in exchange for bringing them tourists," he says. "Just five minutes! Please!"
You're left feeling guilty, so instead of arguing, you oblige. Some drivers become annoyingly persistent in getting you to make a purchase.
When the scam route is complete, or when you're finally fed up and you've walked away in a huff, you'll realize that you've wasted half a day, paid way too much, and the place you wanted to go in the first place was not only open, it was just around the corner from where you got the tuk-tuk!
---
Don't Forget!
If you're traveling in Thailand, travel insurance is a must-have item. They say if you can't afford travel insurance, you can't afford to travel because you never know what could happen.
My go-to choice is World Nomads—check out my full World Nomads review or just fill out the form below for a quote!
3. Taking a "Black Taxi" From the Airport
When you arrive in Bangkok, you're going to be exhausted. Public transport into the city seems like the obvious, budget-friendly option, but it's likely a solid 90-minute journey from door-to-door. Taxis from the airport to the city are well-regulated, and it should only cost you about $10 and take 1/3 of the time.
But there is a caveat. Some taxi drivers will approach you directly in the airport. "Taxi, taxi!" they'll say. They will be pushy, and they may even make you a reasonable offer for a ride into the city. No matter what, DO NOT GET IN THE CAR. They are hawkers—scam artists.
At the international airport, Suvarnabhumi, there is an official taxi stand on level 1. The price to the city is a fixed-rate, but if the driver takes the highway, you may have to pay an additional $5-10 for tolls.
Bangkok's traffic can be horrendous so the other option is to take the Suvarnabhumi Airport Rail Link, which can be a quicker route into the city, depending on the time of day. Just figure out the closest MRT station to your hotel, travel there by train, then take a taxi from outside the station–the fare should only be $1 – 2 once you're in the city.
From Don Mueang Airport (remember, there are two airports in Bangkok) there's a cheap and regular bus service that sidesteps a lot of the traffic. Again, once you're in Central Bangkok the taxi or tuk-tuk ride will only be a couple of dollars.
4. Spending Half Your Month's Travel Budget in One Night of Partying
Guilty.
I spent $400 in one night partying in Bangkok. It's the classic mistake.
Hotels in Bangkok are affordable and private rooms can be found for as little as $10—a four-star hotel will only cost you about $100 per night. In NYC, that same room would cost you $400. Hostels are even cheaper and many places offer dorm beds for less than 150 baht ($4.30). Food is incredibly cheap in Bangkok and a tasty meal from a street vendor won't be more than 50 baht ($1.50).
But one beer at the club? That's 150 baht. Have a few of those, plus factor in the door charge, some late night munchies, maybe a few other dollars spent unscrupulously, and a taxi ride home? A big night out can easily cost the same as in any other major city around the world.
It's easy to travel in Thailand on a budget of $1,000 a month or less. A budget of $30 per day is very achievable but maybe not after a couple big nights out in Bangkok!
I'm not saying don't have a beer or five (who would say such a thing!?) but there are better things to do in Bangkok (and Thailand, for that matter) for the same price.
5. Booking Your Entire Trip With a Bangkok Travel Agent
Bangkok makes travel easy in Southeast Asia. There are literally thousands of travel agents, selling everything from flight tickets to guided tours to full moon party packages.
The agents sell tours and accommodation all across Southeast Asia. They'll plan three months of your trip if you let them. It's how they get paid.
But this is a rookie mistake (and again, full disclosure, I'm not innocent here). The problem is that they'll not only charge you a premium, but you'll have almost zero room to maneuver when you want to change your plans. And you will want to change your plans.
What's more, many of these agents sell subpar tours that have the highest profit margin. And frankly, there's no need to book in advance when you're in Southeast Asia. Booking your whole trip is overpriced, unnecessary and inflexible.
6. Getting High…and Ending Up on Locked Up Abroad
Thailand has a seedy underbelly. But remember—Thailand has been under military rule since 2014.
Many guys on the streets of Bangkok will offer you weed or other drugs if you look like a young, "down" traveler. Many of them work with local police, so as soon as it's in your pocket you're stopped and searched. The police give the drugs back to the dealer and you pay a huge fine (which, in reality, is a bribe) to stay out of prison.
If you want to smoke, I'm not going to tell you not to. Just save it for a remote Thai island where there's nobody for miles!
If you've been to Bangkok, is there a classic mistake you wish you hadn't made? Tell us in the comments below!
---
Pin it for Later!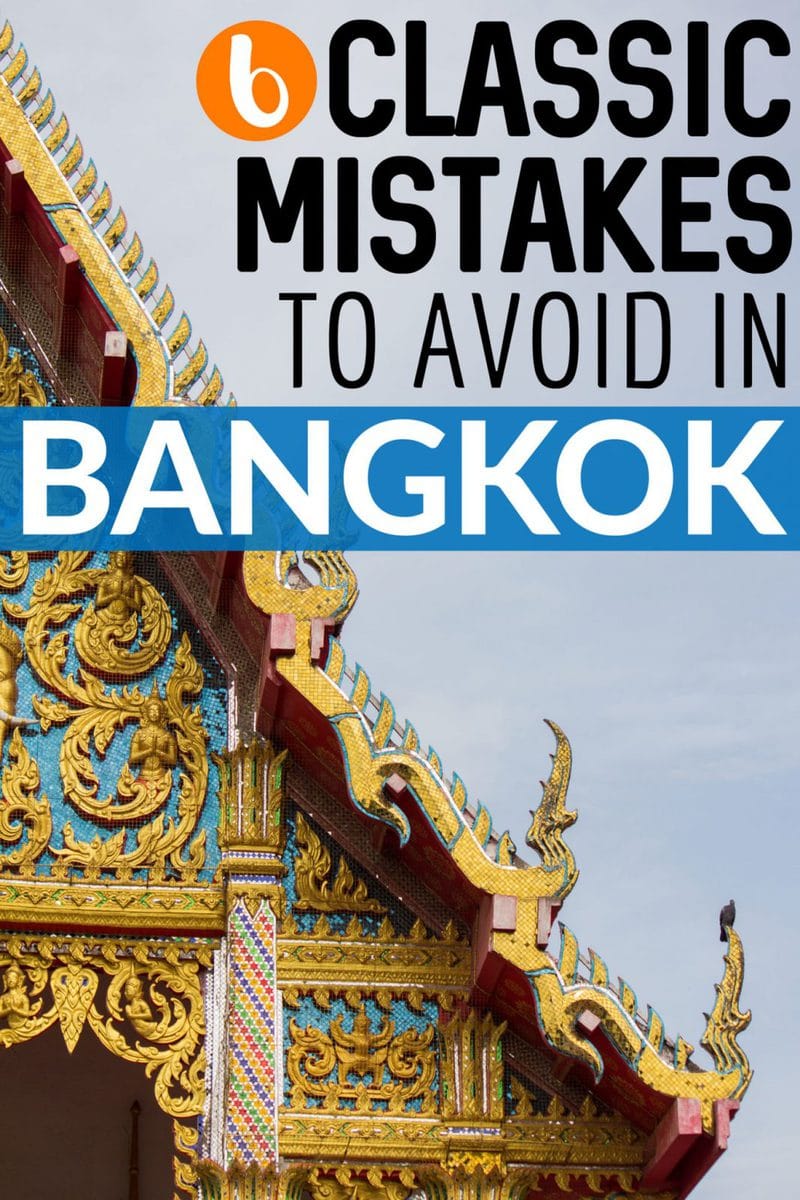 ---
READ MORE: