It's that time of year again! You know, that time of year when your inbox fills up with so many Black Friday deals that you can't help but just delete them all.
Well, instead of forcing them down your throat, I compiled every offer I've gotten in the past couple weeks and listed them below so you can choose.
No queuing up in five-hour lines, no getting trampled at the stores, and no real reason to even get out of your PJs this weekend. Avoid going out in public altogether and grab these deals straight from your computer.
Everything travel related that's on sale this weekend is right here for the taking. So upgrade your travel gear, pick up that new camera you've been eyeing, or get the perfect gift at a much better price.
It's all on sale, my friends!
???? Featured Black Friday Travel Deal ????
The TEFL Academy is running what I think is the best deal of the weekend. If you've thought about teaching English abroad and want to get certified, they're taking 60% off their Level 5 certification! That means, quite literally, if you want to travel the world, you can do it for less than half the price.
They're running a #TEFL2020 campaign in which they commit to helping you get your TEFL by 2020 if you purchase this weekend. That's less than two months away! Just click here for more information on this incredible offer.
Black Friday Travel Gear Deals on Amazon
Amazon has a TON of deals on this weekend! Like…
They're running massive discounts on Amazon devices , and you can save 15-50% on the following:
There are honestly just too many good deals happening on Amazon this weekend, so be sure to check out what else they've got on sale.
---
Deals on Outdoor Adventure Gear at REI
Once again, REI is shuttering their doors for Black Friday and they're running an #OptOutside campaign by paying their staff to take the day off and do some environmental good like trail cleanups around the country! Gotta love REI and everything they stand for. BUT, they still have some killer deals happening all season long: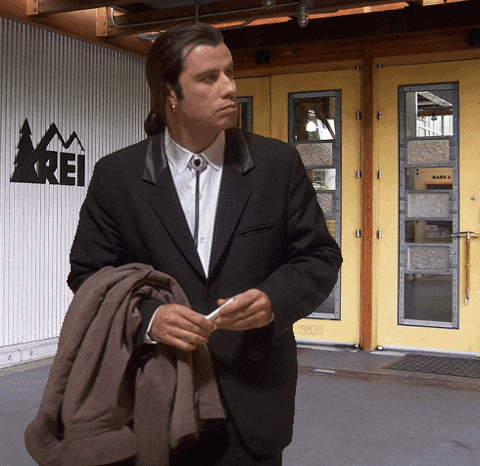 Arc'tery x is one of my favorite outdoor clothing brands and they've got some insane deals happening right now—up to 50% off! They're an expensive brand, so don't miss these deals.
The North Face – One of the most famous brands for outdoor apparel, and REI has 50% off a boatload of their gear
Columbia – Take 25% off select Columbia jackets and pants
Garmin – Up to 20% off Garmin GPS systems
Thule – Up to 20% off select Thule car racks
REI Outlet – Up to 30% off REI Outlet products
Mountain Hard w ea r – Up to 25% off Mountain Hardwear hats and gloves
Stance Socks – Up to 30% off select Stance Socks
REI is still going ahead with its Cyber Monday Sale, however, so don't forget to check in starting on Saturday.
Independent Black Friday Travel Gear Deals
This is my favorite section—where all the good brands that we personally know and love start offering up their high quality wares at insanely low prices.
Vessi Footwear is offering the following deal on their line of travel shoes (I own three pairs and seriously love them). These also make a fantastic travel gift!
Buy 1 get $20 off, receive $20 Gift Card
Buy 2 get $50 off, receive $50 Gift Card
Buy 3 get $80 off, receive $80 Gift Card
Buy 4 get $120 off, receive $120 Gift Card
Bluffworks make stylish and practical travel clothes. They've focused on men's stuff for a while now but they just launched a line of women's travel clothes, too. TravelFreak team favorites include the Field Jacket , Gramercy Blazer and the Trevi Dress for women.
NOMAD – Everything on the website is up to 70% off, including leather iPhone cases, leather AirPods cases, wireless charging stations and more. NOMAD is one of our favorite travel brands for stylish accessories.
Coalatree makes eco-friendly apparel and goods, and right now you can get up to 50% OFF on hammocks, trailheads, kachulas (packable blankets), and more!
Western Rise is an outdoor clothing brand offering 20% off sitewide. They make great stuff and rarely hold deals, so get in while the gettin's good.
ZAGG is having a 40% off sale on ALL its products, including portable batteries and emergency car kits!
SleepPhones has the world's most comfortable sleep headphones, and right now they're 20% off with the BLACKFRIDAY19 code.
Pad and Quill is offering up to 35% of all their artisan-made bags and leather accessories, plus an additional 10% off with the promo code "X" at check-out. Right now they also have up to 50% off certain products!
Kammok has up to 55% off its hammocks, winter bundles, and sleep outside kits now through Monday, including:
35% off Mantis, Roo Double, Python 15 (Today only!)
35% off Mountain Blanket (11/30 only!)
35% off Glider (12/1 only!)
35% off all gear kits, 55% off Roo single, 55% off Python 10 (12/2 only!)
BioLite makes eco-friendly, off-grid energy products. Everything is 35% off storewide, and on Friday the first 100 orders of $100+ receive a FREE Charge 10. Other deals include:
On Cyber Monday, the first 50 orders $100+ receive a free SunLight + BioLite Hat. The next 100 orders $100+ receive a free SunLight!
If you want to learn a new language (or the basics) before your next big trip, Rosetta Stone has $110 OFF a Rosetta Stone Lifetime Subscription.
Black Friday Travel Deals on Backpacks
Peak Design , one of our all-time favorite backpack brands, has a whopping 20% discount on their award-winning Everyday Line v1 bags! Plus other bags and camera accessories are up to 15% off.
Nomatic is chopping up to 50% off their travel bags—plus you can get 2 FREE accessories with purchase of their sweet new Roller Luggage! That's a steal.
WANDRD has some of the most practical camera bags out there—and their brand new, game-changing Duo Daypack and D1 Fanny Pack are 20% with FREE shipping until December 5th! Spend over $100 and get a free limited edition beanie. (You must add the beanie to your cart, and the discount will automatically be added with a qualifying order.)
Boundary Suppl y makes tough, modular backpacks and they're offering 20% off all packs and bundles, and up to 40% off accessories and apparel! I, personally, love the Prima Pack.
Incase is offering 70% off ALL factory items and select accessories.
Pakt has 15% off all Pakt One bags—the duffel that packs like a suitcase.
Flights, Hotels, Tours and Other Black Friday Travel Deals
Skyscanner – The number of flight deals via Skyscanner is outrageous—there are too many to count and list here.
Check out their top Black Friday flight deals from the US
P riority Pass offers access to the largest network of airport lounges around the world—and they're offering up to 40% off for Black Friday! Plus you can receive up to $150 off in a Roam Luggage when you purchase a membership.
Booking.com is offering 40% off select stays worldwide until December 2.
Orbitz has a 60% off sale on select hotels, plus you can save 15% on select hotels until December 1 using the code: ALLWEEK15.
G Adventures has some epic tours on sale all around the world. From China to Indonesia to the Galapagos and Kilimanjaro, save up to 35% on their adventure tours !
GetYourGuide is offering up to 25% off all tours and activities — including their best-in-class GetYourGuide Original tours.
Klook is an excellent tour operator in Asia. If you're headed that way book any of their tours at 10% off using the code: USBLACKFRI.
---
Camera Gear Deals
Adorama is offering up to $1,000 off or up to 70% off some of their camera gear. Yeah, that's not a typo! So which brand is your favorite? There's no better time to gift yourself some sick new camera gear…
Plus there's an exclusive Deal of the Day featuring spectacular deals on popular products daily!
B& H is also coming out with some great Black Friday deals on everything electronics…
Adobe – Now is the perfect time to get in on deals from Adobe, including Lightroom, Photoshop, Premiere and more! 25%-70% certain products can be found here.
DJI is offering up to 34% off their drones, cameras, gimbals, and extension rods!
Olloclip is also offering up to 60% off their mobile phone lenses and cases.
KUVRD makes weather-resistant universal lens caps that fit any lens. If you want a more rugged lens cap, they're currently offering 40% off sitewide with the code HOLIDAY40.
KEH buys and sells used cameras, lenses, gear, & other photography equipment. You can get 15% off sitewide, plus 30% off accessories at KEH with code BFSALE2019A at checkout. (To learn more about KEH, check out my KEH camera review.)
GoPro has all kinds of great deals, including: