Every traveler knows the pain of a depleting bank balance. We spend enough money just getting around the world—there's no reason to spend even more on unnecessary bank fees.
When you use a standard issue debit card abroad, the bank typically charges a foreign transaction fee, usually somewhere in the vicinity of 3%. So, if you want to spend $100, it'll actually cost you $103 (at least).
The situation is no better if you choose to withdraw cash at an ATM, either. Most banks charge a fee to withdraw from an out-of-network ATM, and the ATM itself might charge you a fee, as well. So when you withdraw cash abroad, you could end up getting double charged for fees, sometimes up to as much as $10 for a single withdrawal (I'm looking at you, Australia)!
While some of the fees might seem small at first glance, they add up quickly and, before you know it, you've wasted hundreds of dollars on bank charges (and, okay, yes, also really cool pants and one or two faux leather bracelets and, fine, a bongo).
The solution? Withdraw loads of cash at once, carry it all with you, and make it last as long as possible, right?
Wrong.
However careful you think you are, carrying a lot of cash while you travel is never a good idea. Money can (and will) get lost or stolen no matter how prudent you are—and when you've got it on you, you may be more likely to spend it on stuff you don't need, too.
You see the dilemma?
Unfortunately, the world of international banking is a complex labyrinth for the average Joe (and even the above-average Joe). Most of us just go to our local bank, open up a checking or debit account and call it a day without ever thinking about international charges.
But bank fees can make a pretty big dent in your budget.
However, there are a few banks out there that are serving travelers all over the world well. Finding the right bank account is one of the best travel tips I can offer you. These are the best bank accounts for international travelers from both the US and UK.
The Best Bank Accounts for International Travelers from the United States
Travelers from the United States are lucky because, unlike other countries, American travelers are spoiled for choice when it comes to bank accounts for travel. So I've narrowed them down. The three bank accounts outlined below are ideal for American travelers looking to travel internationally.
Charles Schwab High Yield Checking
The Charles Schwab High Yield Checking account is the one bank account every American traveler needs in their arsenal. It's free to open, has no monthly or annual fees, doesn't require a minimum balance and charges no foreign transaction fees. Already off to a good start, this account comes with a secret weapon: no ATM fees anywhere in the world.
Whether you're at home or abroad—literally anywhere in the world—if the ATM charges you a fee, Charles Schwab reimburses you at the end of each month. That means you have access to every single ATM network in the world for free.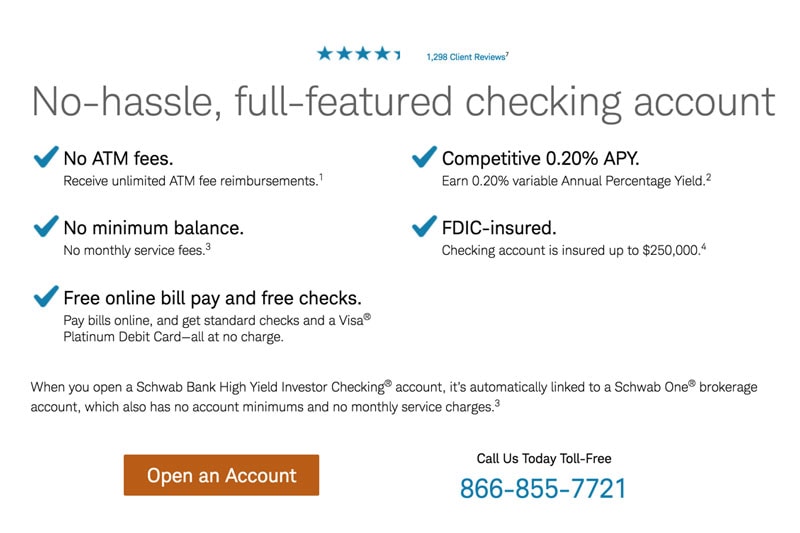 There isn't a single other bank out there that offers this. It's a one-of-a-kind account and is used—and loved—by American travelers all over the world.
Plus, if you lose your card abroad, they'll ship you a new one—anywhere in the world—within a matter of days.
If you're an American traveler, this account is the first and only checking account you will ever need. Plus, if you use this link to sign up, you'll get a $100 bonus! You can thank me later.
Account Highlights:
Free to open
No minimum balance
No monthly or annual fees
No ATM fees anywhere in the world, even if the ATM charges a local fee
Capital One 360 Savings
Capital One 360 is an online bank, meaning they don't have branches anywhere in the world. This lowers their overhead fees, which means they can offer savings and checking accounts with no fees or minimum balance. And because the bank operates strictly online, you can do every aspect of your banking without ever stepping foot inside an actual bank.
Note: You can still get some level of support at the Capital One branches, but 360 operates as a totally separate entity.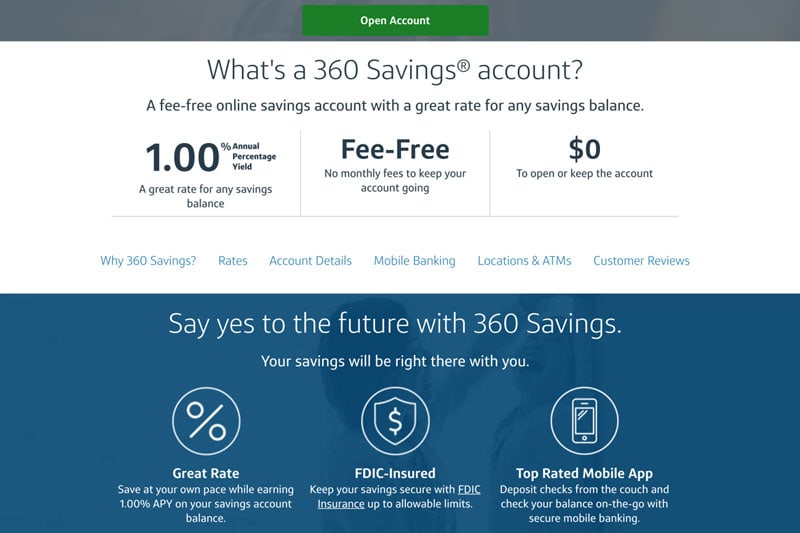 Capital One 360 savings accounts offer a 1% APY (interest rate), which—although small—is higher than you'll find for any other savings account with comparable features.
As with all savings accounts, you can't withdraw funds from an ATM; that's not what savings accounts are for. But you can link your Capital One 360 savings to your Charles Schwab account in your online banking portal and transfer money between them from your laptop.
Account Highlights:
Free to open
No minimum balance
No monthly or annual fees
High interest rate for a savings account[/box]
Wise Borderless (Formerly TransferWise Borderless)
The Wise Borderless account is one of the newest to join the banking scene, and it brings with it some cutting edge features unlike anything else on the market. And given its borderless nature, this account is actually available to people all over the world—not just US residents.
Physical cards, however, are only available to European residents at the moment, though this is due to change soon.
This bank account is ideal for travelers who are constantly on the go and, therefore, handling different currencies all the time. It's also an excellent choice for digital nomads who regularly receive international payments since they can receive multiple currencies free of charge.
Every Borderless account comes with four sub-accounts, one in the US, UK, Australia and the Eurozone. Each account is treated as if it's a local account in each of the respective countries, which means you get a US routing (ABA) and account number, a UK account number and sort code, an Australian account number and BSB number, and a European SWIFT/BIC and IBAN number. All in one account!
This means you can receive money from more than 30 countries around the world with zero fees.
Within your Borderless account, you can also hold and convert more than 40 different currencies. These are not held in local bank accounts, so to speak, so it will cost a small fee to send and receive payments in those currencies. And while there is a currency conversion fee, the charges are low and Wise is transparent about what they charge—between 0.35% and 2%, depending on the currency.
There are no fees for using your card abroad, provided you have a balance in that currency in your account. You can also withdraw up to £200 (apprx. $275 USD) from the ATM for free every month. Higher withdrawal amounts are charged at a flat rate of 2%.
Plus, just like the original Wise service, if you want to transfer money, you avoid paying exorbitant international transfer fees because Wise treats them as if the funds are being sent domestically (click here for a full Wise review and explanation on how this works).
Account Highlights:
No monthly fees, no minimum balance
Hold accounts in USD, GBP, EUR and AUD
No transaction fee for currencies held in your account
Receive money from more than 30 countries around the world with zero fees
Hold 40+ currencies and convert between them instantly with low fees
Receive payments in GBP, USD EUR and AUD free of charge
Withdraw £200 per month for free, and pay only 2% beyond that
Bank Accounts for International Travelers from the UK
The banking system in the UK is unnecessarily complex and obtuse (from this American's perspective, anyway!). However, the nature of banking in the UK is in major transition right now, and there are some new banks who are disrupting the entire ecosystem and offering debit/current accounts that are perfect for travelers.
Before diving into the below, make sure you read up on the Wise Borderless account, outlined above, which is a fantastic bank account for travelers from the UK as well.
Starling Bank Personal Account
The Starling Personal account is easily the best bank account for travelers from the UK—and they tout themselves as "the ultimate travel buddy" for good reason. Starling offers zero fees abroad—something totally unparalleled for debit accounts in the UK.
This means no foreign transaction fees or ATM fees anywhere in the world (note that local ATMs may still charge a fee).
TIP: To avoid local ATM fees, look for supermarkets that offer fee-free cash back.
The other standout feature that makes this the best bank account for UK travelers is the ability to withdraw up to £300 daily. Every other bank that offers similar features limit cash withdrawals to £200 per month.
You shouldn't be carrying much cash with you when you travel, but in case of emergency—or extenuating circumstances—Starling gives you the option.
Like many other accounts, Starling offers real exchange rates provided by Mastercard, with no fees on top.
Starling is an mobile-only bank, making it convenient for travelers who need quick and efficient banking from anywhere in the world. They provide real time transaction notifications on your phone and you can even access their customer service through an in-app chat feature.
You'll also get daily and monthly spending reports so you can keep an eye on exactly what you're spending your money on.
The Starling Bank Personal account offers an interest rate of 0.5% on balances up to £2,000, so it also acts like a savings account! They'll also deliver a lost card to you anywhere in the world.
Lastly, if you're saving up for a trip, the Starling app has a "Goals" feature that allows you to enter saving targets, deposit money to these targets, and shows you how close you are to reaching them. This visual aid is surprisingly helpful and could be the key to helping you save up money for travel.
Account Highlights:
Free international ATM withdrawals up to £300/day
No foreign transaction fees
Real exchange rates provided by Mastercard
Daily/monthly spending reports
In-app savings goals
Revolut Personal Account
A close second to Starling, the Revolut Personal account is an app-only bank account for UK travelers (US accounts are coming soon!), which gives you both a UK current account and a Euro IBAN account for free. They offer free international money transfers to bank accounts in over 120 countries using the real exchange rate.
They don't charge foreign transaction fees in 130 different currencies and they use the real exchange rate provided by Visa with no added fees on top.
Revolut also offers free ATM withdrawals at any ATM around the world, though local ATMs may still charge a fee.
Note that Revolut offers a free account and a paid one, each with different limits and features. The most notable difference is that the free account offers £200 in free ATM withdrawals per month whereas the paid account—which costs £6.99/mo—offer £400 in free ATM withdrawals. It also has a number of extras features, including overseas medical insurance, global express card delivery to 180 countries, and more.
Cryptocurrencies are coming to banks now, and the Revolut Personal account lets you buy and exchange Bitcoin, Ether and Litecoin with 25 fiat currencies. No longer do you need to use Coinbase or Binance to buy or hold your cryptocurrencies. You can see your holdings—in regular currency and cryptocurrency—all in one place.
As travelers, we're particularly prone to losing things, especially money and bank cards (I am, anyway). If you lose your bank card—whether you leave it on the train or it gets stolen from your backpack—you can instantly deactivate it from the Revolut app with the touch of a button.
And if you happen to find your card again (because you hid it in your luggage so well that even you couldn't find it), unfreeze your card in a tap.
Account Highlights:
No foreign transaction fees in 130+ currencies
Free international ATM withdrawals up to £200/£400 per month
Send and receive money to and from international bank accounts for free
Buy and exchange cryptocurrencies in-app
Freeze and unfreeze your card with the tap of a button[/box]
Monzo
Monzo has been undergoing some major changes lately—all for the better! Though they used to operate like a prepaid credit card, they have recently added a number of new account features and have become a fully licensed UK bank, protected by the FSCS for up to £85,000.
Like Revolut, Monzo is an online-only bank, meaning there are no brick-and-mortar banks anywhere in the world. This keeps overhead costs low and allows for unparalleled features like free transactions abroad, both online and in person.
Monzo uses the Mastercard exchange rate for all transactions, which means you don't lose any money to conversion fees.
Monzo also offers free international ATM withdrawals up to £200 per month. If you exceed £200, Monzo charges 3% on whatever you withdraw.
Though Monzo offers excellent features for travelers, it's the app that makes Monzo stand out from the rest.
Once you land in a new country, the Monzo app checks your location and sends you up-to-date information on the current exchange rate. It also sends you tips for traveling with your card in that country and it lets you categorize transactions as travel expenses or home-based expenditures.
The app provides a detailed, real time breakdown of your spending plus a final report at the end of your trip so, once you arrive back home, you know exactly what you spent on your holiday.
You can also freeze and "defrost" your card within the app, should you lose (or find) your card on the road.
If this all sounds too good to be true, unfortunately, at the moment, it is. Due to high demand, there is currently a waiting list to get a Monzo account. If you're in a rush to find a bank account for travel, this won't be it. But if you're not in a rush, get yourself on the waiting list today and you'll be notified as soon as they have a spot for you.
Account Highlights:
No foreign transaction fees
Currency conversions using real exchange rates from Mastercard
Free international ATM withdrawals up to £200 every 30 days
In-app budgeting and expenditure reports
Instantly deactivate and reactivate your card
Traveling is fun, and oftentimes we get so caught up in planning and packing that we forget to think about how we'll be spending our money abroad. But especially when traveling, it's super important to be responsible with your money.
Avoiding bank fees is by far the easiest way to cut down on costs while traveling. Whether you're on a two-week vacation or living as a digital nomad, choosing a bank account that lets you do this is key.
Choose your bank accounts wisely and you could end up saving hundreds of dollars a year! That's, like, another 50 beers or something.
---
READ NEXT: Money Management for Expats: 7 Tips For Handling Your Finances Abroad